Hits: 276
Puerto Vallarta or my nickname for it – a pearl of Mexican Pacific coast – has made a great first impression on me and I believe it was a love at the first sight. I decided to spend seven days in and around Vallarta with a budget of 1000 CAD  in order to escape from cold Canada and relax my mind from everyday routine. And I couldn´t have chosen better place to do so.
So why have I fallen in love with Puerto Vallarta? Which unique places and things have I done or visited while being in Vallarta? Here is the list.
GREEN MOUNTAINS EVERYWHERE
I am freak (in a good way) when it comes to mountains. I love hiking and spending time in nature. And I was impressed how beautiful the mountains are around Puerto Vallarta. Green hills surround the whole city and the combination of blue and green sea with breathtaking mountains makes it a perfect spot for nature lovers.
That is why Vallarta is also a great place for extreme sport activities such as zip-line, canopy and ATV rides. And naturally it comes with many options for sea excursions such as dolphin and whale watching. Click HERE to find out more about Vallarta excursions. A lot of nature with a lot of fun activities.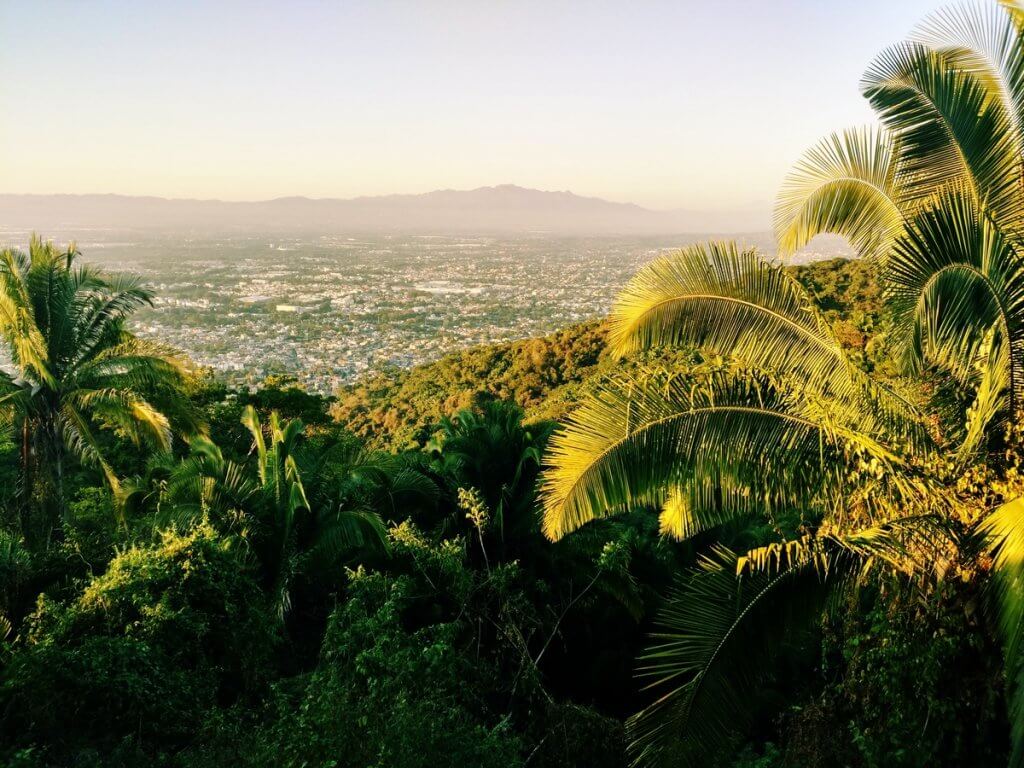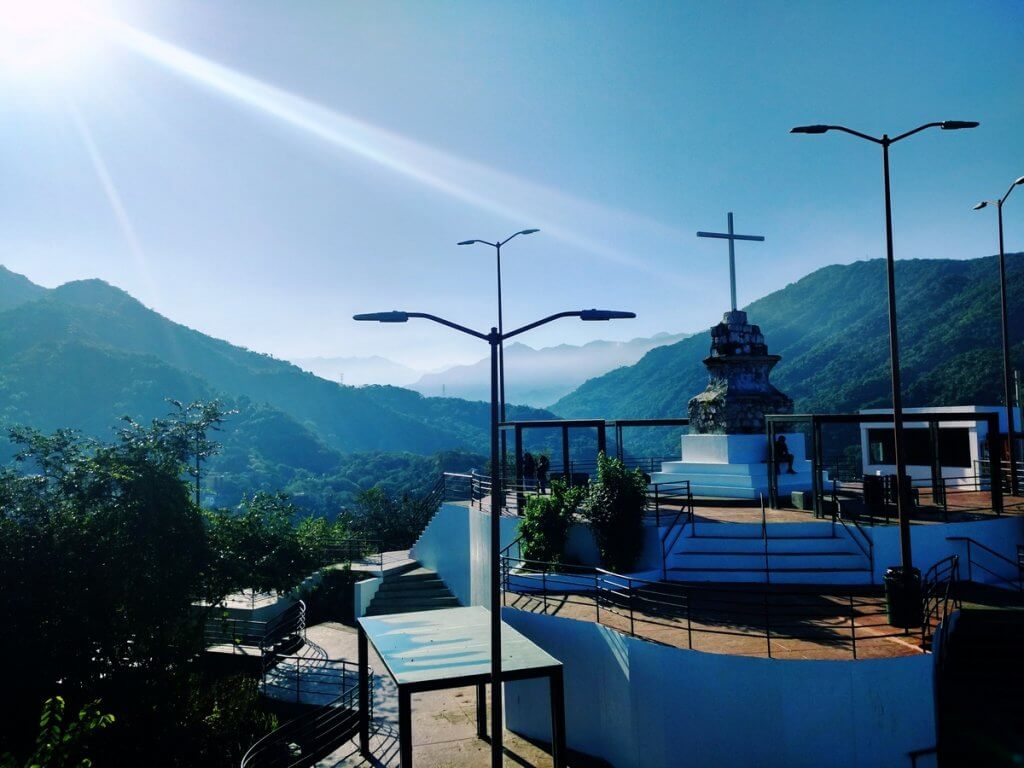 DELICIOUS STREET FOOD
I love Mexican food. Delicious grilled quesadillas, tacos, gorditas, enchiladas … And what is perfect about Vallarta is that you can get such great food not only in expensive and touristy restaurants but also straight in the streets. Mexican street food has been one of my highlights of my vacation. Not only it is cheap and delicious, but I could experience real Mexican atmosphere, eating with locals and talking to street food sellers, hearing their life stories and sharing each other´s experiences.
Simple, delicious, cheap and local – that´s Mexican street food in Puerto Vallarta.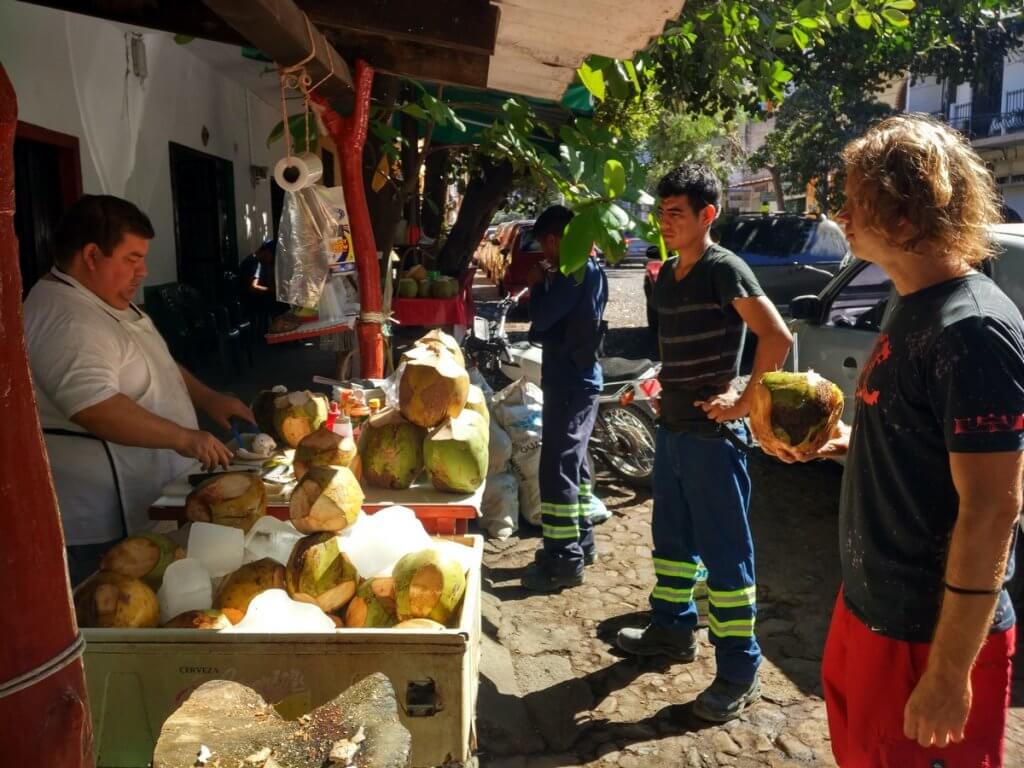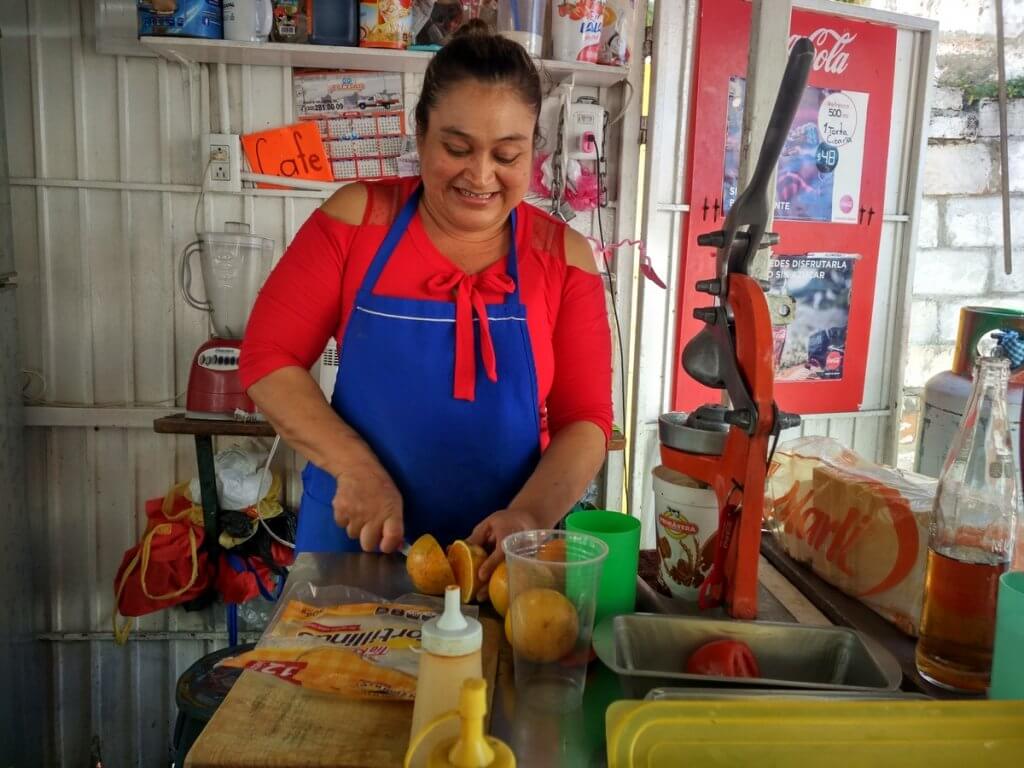 FRIENDLY LOCALS
Mexicans, or generally latino people are super friendly. I spent 8 months in South America and 4 months in Central America and I haven´t met friendlier people anywhere else than in Latin America. Mexicans, or more specifically locals in Vallarta seemed to be easy-going, happy, friendly and full of positive energy. They always smile and try to spread their positive energy all around.
Also because of locals in Vallarta, I thought for a second how my life would look like if I moved there … 🙂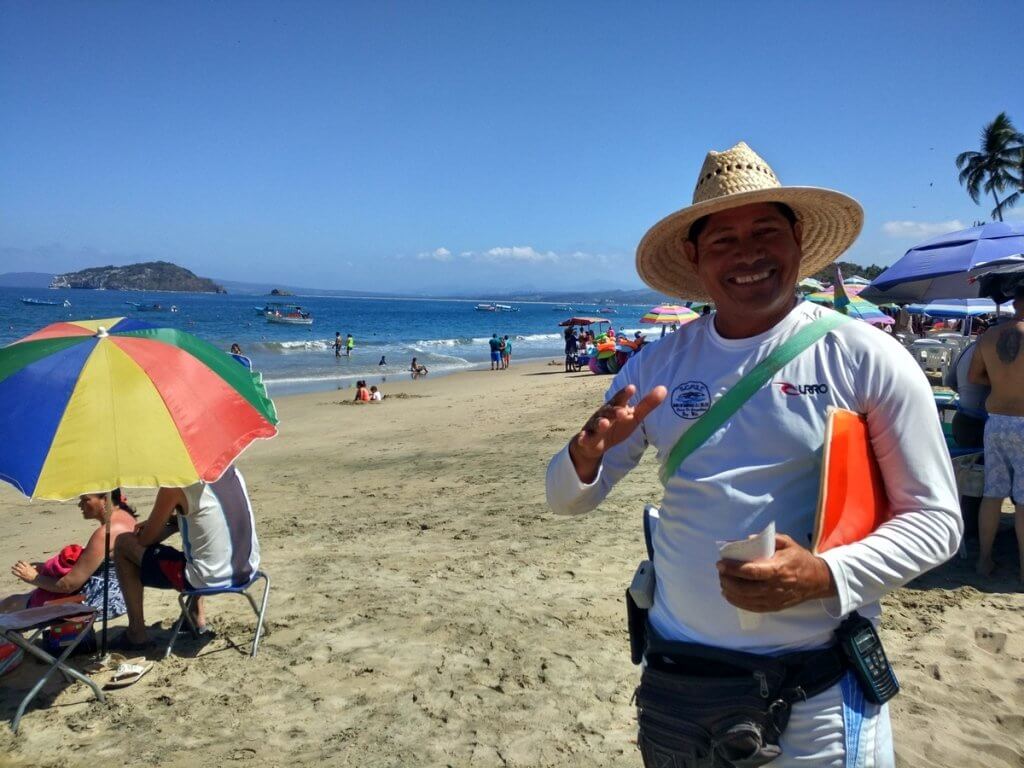 BREATHTAKING VIEWPOINTS
Wherever I travel, I always try to find great viewpoints which would provide me with bird perspective over a visited place. And hell yeah, Vallarta has few such places which I am happy to share with you. The very first viewpoint I visited is called Mirador de la Cruz (viewpoint of the cross) which is pretty popular. You can get there from historic centre of Vallarta but keep in mind that stairs going up are almost never ending and pretty steep. However, the views are worth doing it. The second viewpoint which I discovered thanks to my couchsurfing host is called Mirador del Faro (lighthouse viewpoint) which is located on street Matamoros and is easily accessible. And the views are also breathtaking …
As the historical centre is kind of built on a hill, you will find many viewpoints which take your breath away. Just don´t be afraid to get lost in the cobbled streets of Vallarta and explore its beauty by yourself.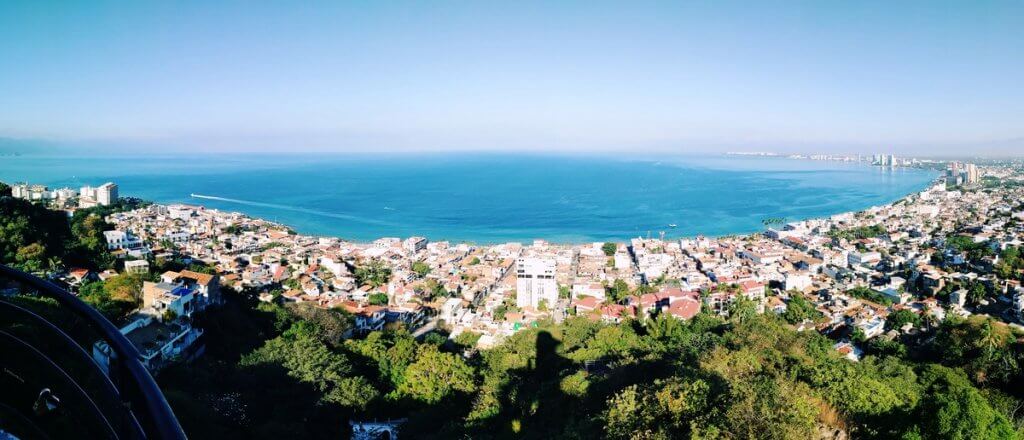 LAS CARMELITAS RESTAURANT
Last but not the least spot from my list of Vallarta is a unique restaurant called Las Carmelitas. I am not a big fan of luxurious or expensive restaurants and I  truly prefer local street food, however, visit of this restaurant is more than recommended. My host and his family took me there for a dinner and I couldn´t be happier with their choice of restaurant. So what makes it so special? Besides its delicious food and great atmosphere, its LOCATION makes it so unique. This restaurant is built up in the green hills of Vallarta mountains and offers breathtaking views over Vallarta.
 Imagine Las Carmelitas during sunset with Mexican live music and colourful flowers all around. You know what? Simply look at my photos and video and you will understand how special it is.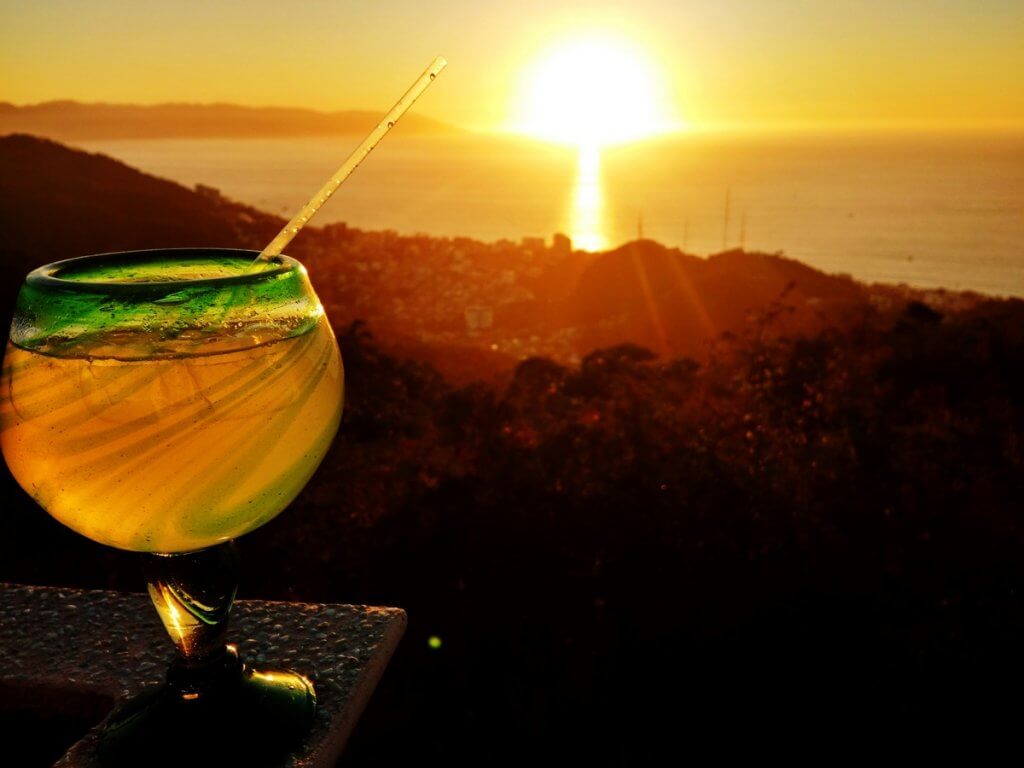 So what do you say about Puerto Vallarta? Would you consider it as your next vacation spot? If you need more information about Puerto Vallarta, visit website of Puerto Vallarta Travel Guide. 🙂
If you wish to receive my latest articles on your email, sign up below.
And if you want to contribute for MiliMundo travels, don´t hesitate and do it now. 🙂
And if you are interested in articles on CENTRAL AMERICA – click HERE. On SOUTH AMERICA click HERE. 🙂
Please follow and like us: