Hits: 9934
In my previous articles you could read about specific tips & tricks for specific places of the Philippines such as Puerto Princesa, El Nido, Coron, Bayaca Island or Rice Terraces of Banaue. However, now I would like to summarize how 3 week itinerary for the Philippines may look like and how much money you will need. So let´s have a look. 😉 
3 WEEK ITINERARY for THE PHILIPPINES
The Philippines consist of more than 7 000 islands. It is impossible to visit all of them within such a short time. However, which one to choose for 3 weeks? Well, difficult question! But I hope that my itinerary will help you decide for your future vacation in the Philippines.
My suggested itinerary for 3 weeks in the Philippines would be:
Puerto Princesa(4 days) →→→ El Nido (5 days) →→→Busuanga/Coron (6 days) →→→Rice terraces of Banaue (4 days) →→→ Tagaytay & Taal lake (1 day)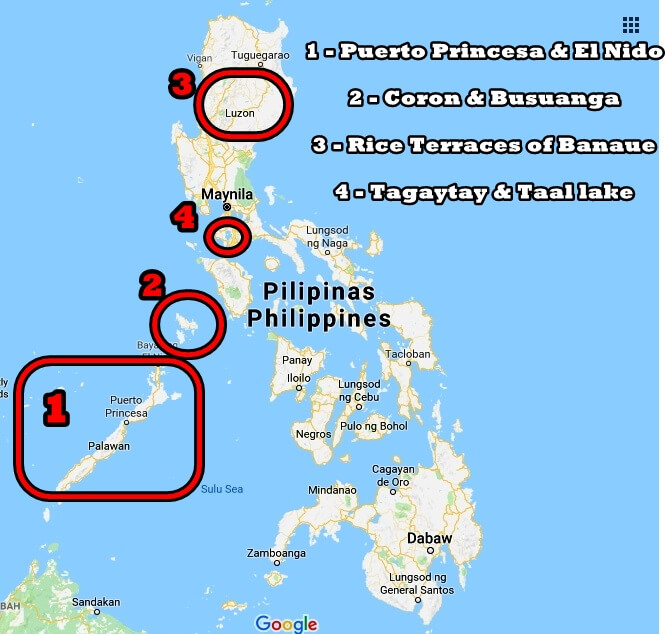 1. PALAWAN (9 days + 1 travel day)
Palawan is one of the most popular islands of the Philippines, though not yet too touristic. I spent in total 9 days on Palawan, out of which 4 days in its capital Puerto Princesa and 5 days in El Nido doing island hopping tours with Northern Hope Tours.
Then I took a ferry from El Nido to Coron town on Busuanga island (1200 pesos, 6 hours, ticket bought on a spot day before departure).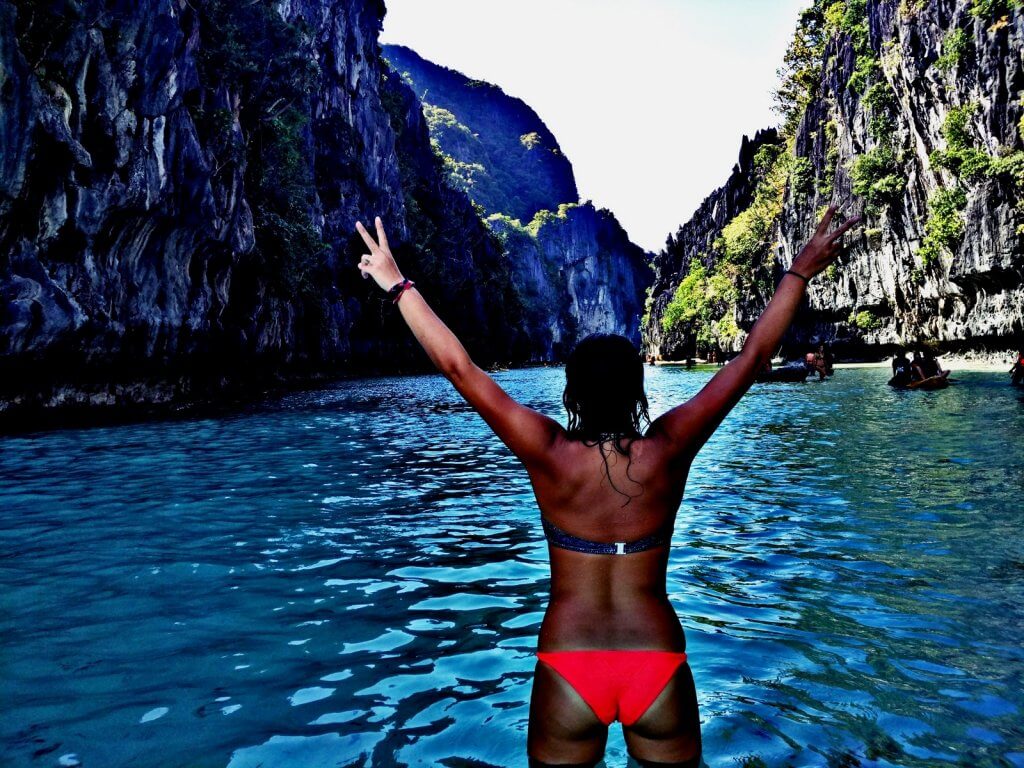 Although, Coron & Busuanga islands are officially part of Palawan, I like to separate them from Puerto Princesa and El Nido. In total, I spent 6 days around Busuanga island, out of which  1 chill day in Coron town, 1 full day on motorbike across Busuanga island, 2 full days on private Bayaca island thanks to couchsurfing, 1 day on island hopping tour around Malcapuyan & Banana islands and 1 full day on private tour around Coron Island – Twin lagoon & Kayangan lake.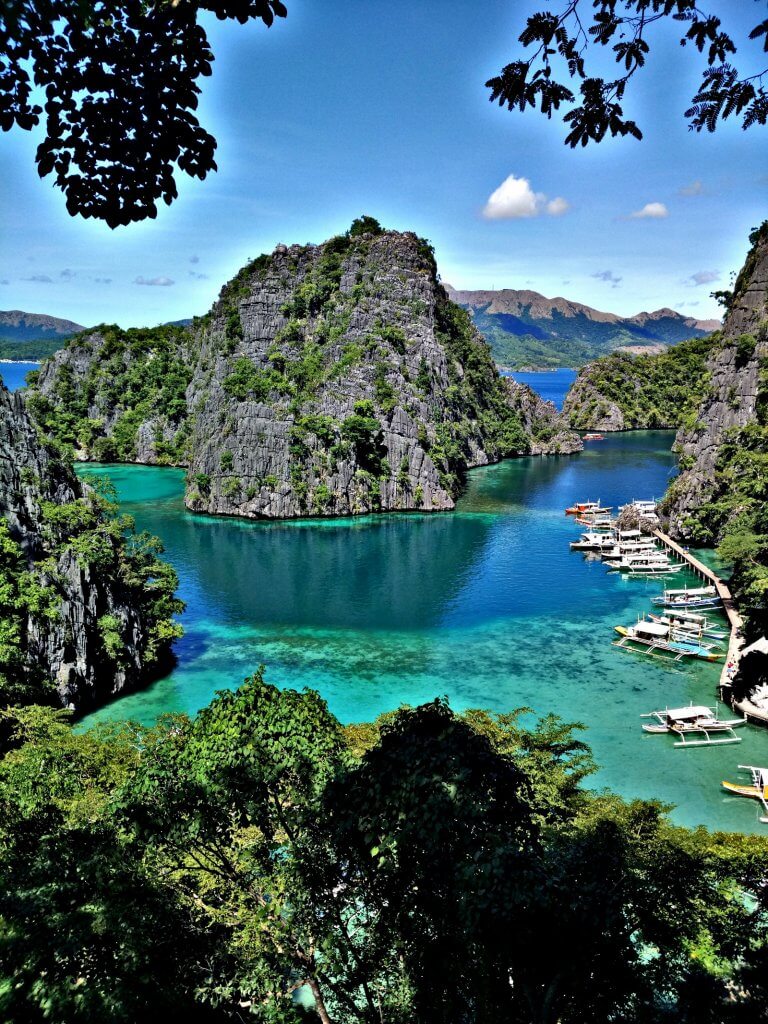 Most people coming to the Philippines forget about its highlight – rice terraces of Banaue. I believe it is a must! I spent 2 full days in surrounding of Banaue doing day trips on tricycle with a private guide and 2 full days in Sagada which is famous for hanging coffins.
Don´t forget that the best time to visit rice terraces are MARCH & APRIL. In these months you get to see super nice green rice terraces of villages such as Batad, Bangaan or Hapao.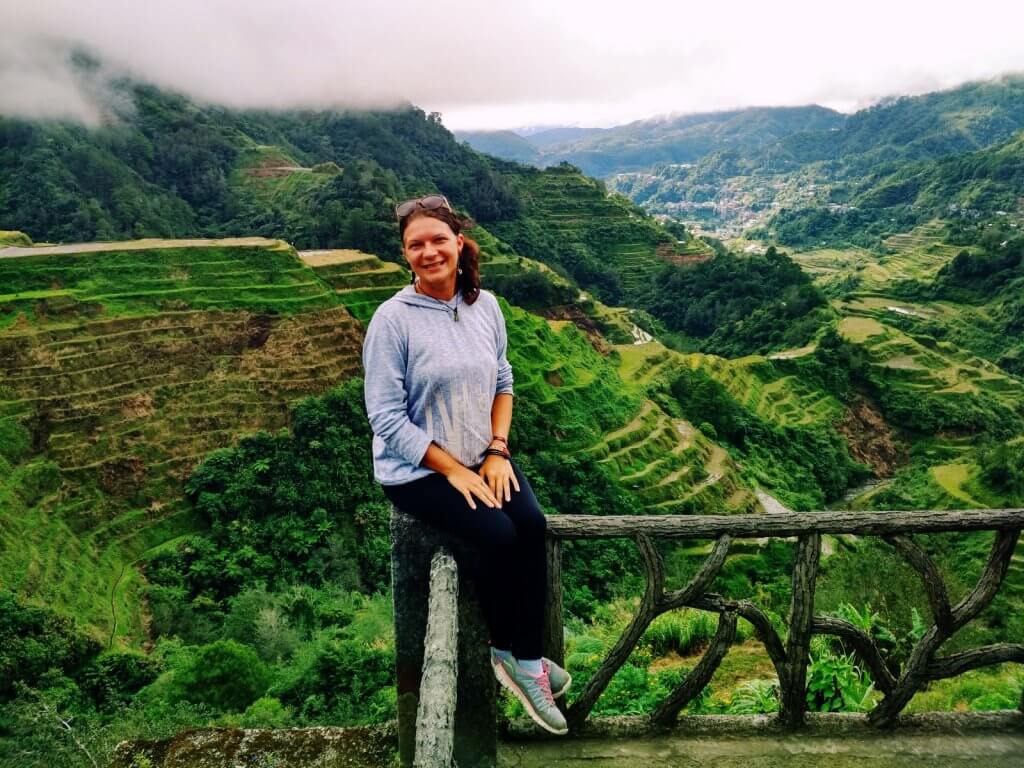 4. TAGAYTAY & Taal lake (1 day)
My last day I decided to avoid super crowded capital of the Philippines – Manila – and spend it with my couchsurfing host Rex who decided to take me to Tagaytay. Tagaytay is a city located around 60 km from Manila and offers a spectacular views of special Taal volcano – still active volcano in the middle of the Taal lake with another lake inside of it. Simply crazy!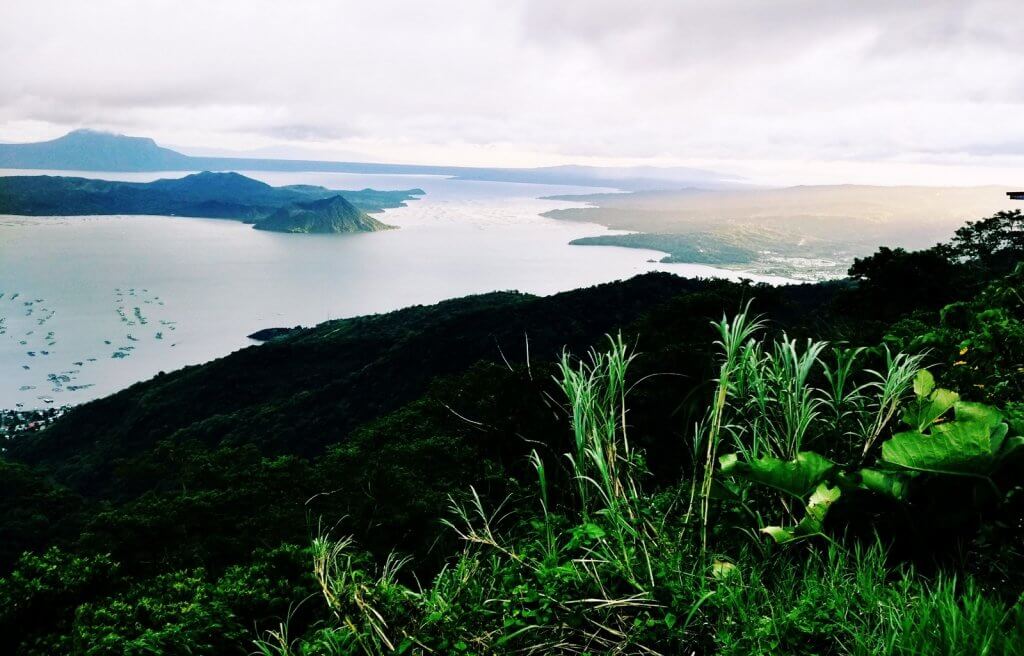 3 WEEK BUDGET for THE PHILIPPINES
No one is interested in long speeches or articles about such an important matter like MONEY! Therefore, I say it straight. My budget for 3 weeks in the Philippines together with all flight tickets from Slovakia was exactly 925 euro!
COST OF FLIGHT TICKETS
Bratislava – London – Bratislava →→→ 58 euro with RYANAIR
London – Manila – London →→→ 342 euro with AirChina booked through SKYSCANNER
Manila – Puerto Princesa →→→ 30 euro with AirAsia
Busuanga – Manila →→→ 64 euro with Cebu Airlines
TOTAL for FLIGHTS →→→ 494 euro
COST OF ACCOMMODATION
4 nights in Puerto Princesa (Puerto BayView Backpackers) →→→ 1200 php or 20 euro
5 nights in El Nido (OMP hostel) →→→ 2700 php or 45 euro
6 nights in Coron (5 for free thanks couchsurfing + 1 in Angel hostel) →→→ 400 php or 6,60 euro
2 nights in Banaue (Evergreen hostel) →→→ 800 php or 13,30 euro
1 night in Sagada (Labanet hostel) →→→ 400 php or 6,60 euro
1 night in Manila (where I didn´t stay at the end) →→→ 500 php or 8,30 euro
TOTAL for ACCOMMODATION →→→ 6000 PHP or 100 euro
PS: Use booking.com with my code to make reservation and receive $15 as a reward!! 😉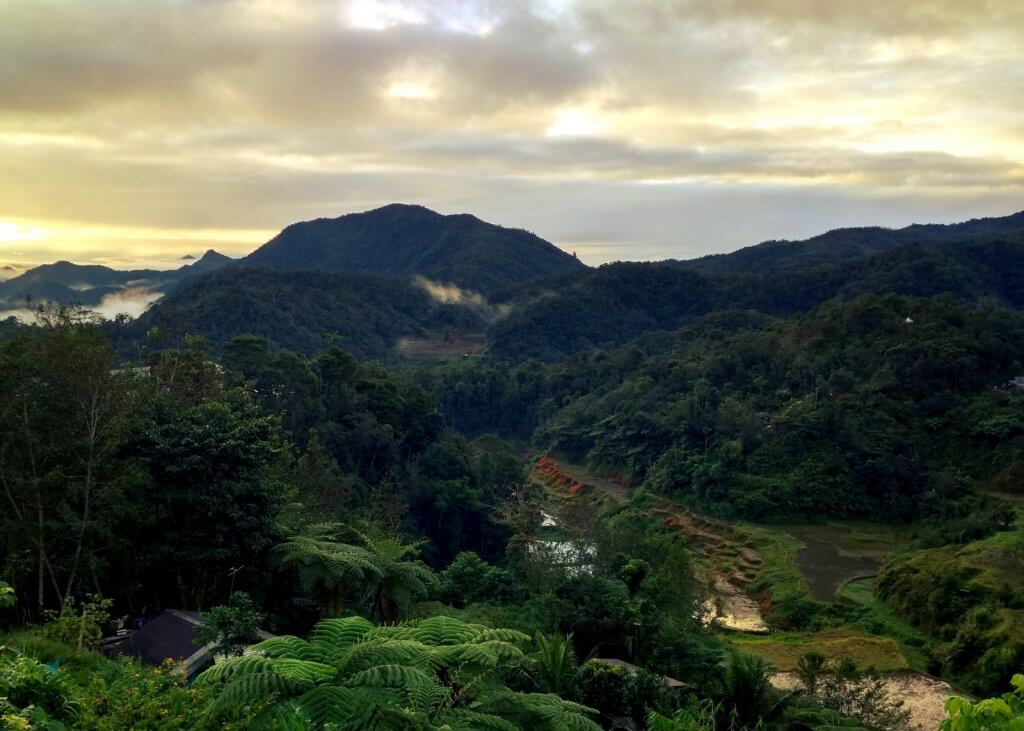 COST OF TRANSPORTATION ON ISLANDS
I don´t want to write down every price item per every tricycle ride but in total I spent 4755 pesos, around 80 euro on tricycles, taxis, ferries, local buses.
Examples of prices: 10 hour bus from Manila to Banaue was 555php, 12 hour bus from Sagada to Manila 720php, ferry from El Nido to Coron was 1200 php …
TOTAL for ISLAND TRANSPORTATION →→→ 4755 PHP or 80 euro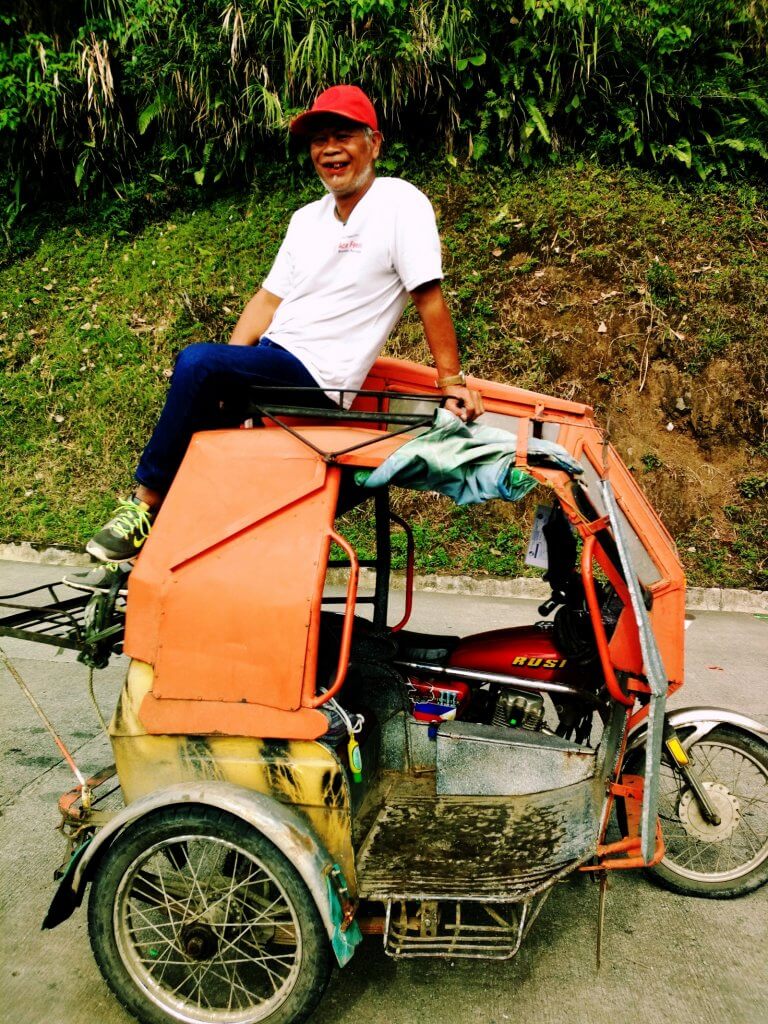 COST FOR EXCURSIONS
Each full day excursion with lunch or dinner included will cost you between 1000 & 1300 pesos, 16 to 21 euro. It purely depends on you how many excursions and island hopping tours you want to take. Just take into account then at almost every tour you will need some extra money for snorkelling gear or tips. 😉
TOTAL for EXCURSIONS →→→ 4500 PHP or 76 euro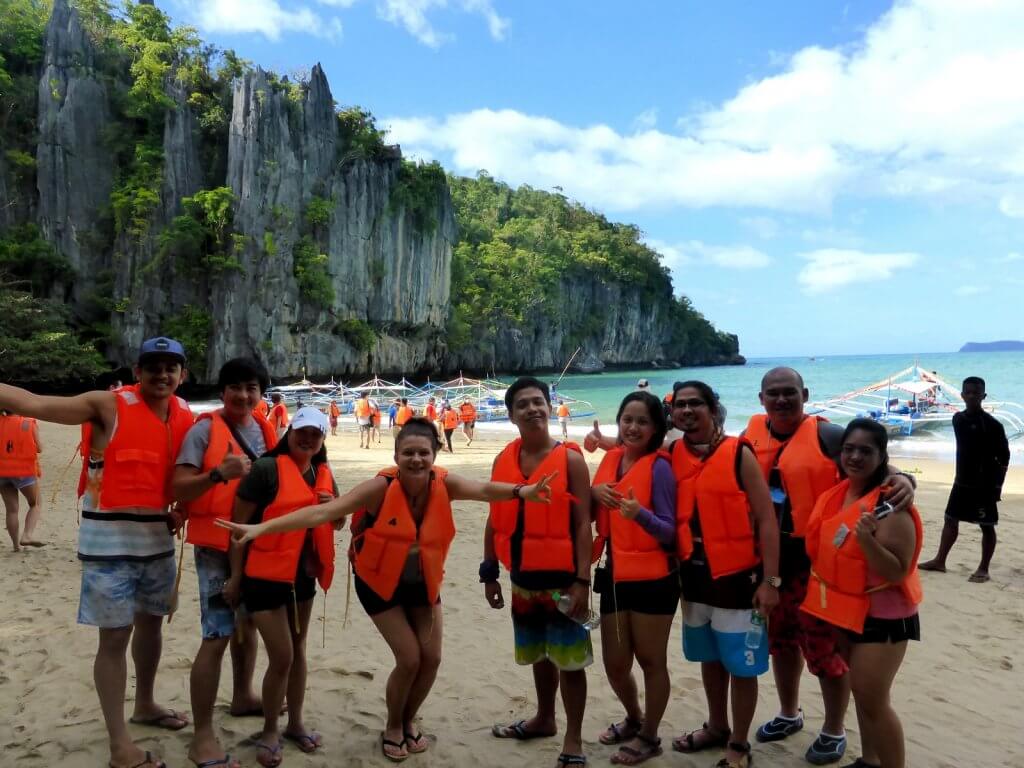 COST FOR FOOD & DRINKS
Again, it is very individual how much money you will spend. It depends whether you want to eat like a local or only at the restaurants. I usually prefer street food & local markets but from time to time I need "normal" food and go for some nice meal to some nice restaurant.
I found the cheapest meal option in Puerto Princesa – 110 pesos for 2 persons which is less than 2 euro. The most expensive was El Nido. Also prices in Sagada were a bit higher. Regular meal there you would find for around 200 to 300 pesos.
TOTAL for FOOD & DRINKS  →→→ 6565 PHP or 111 euro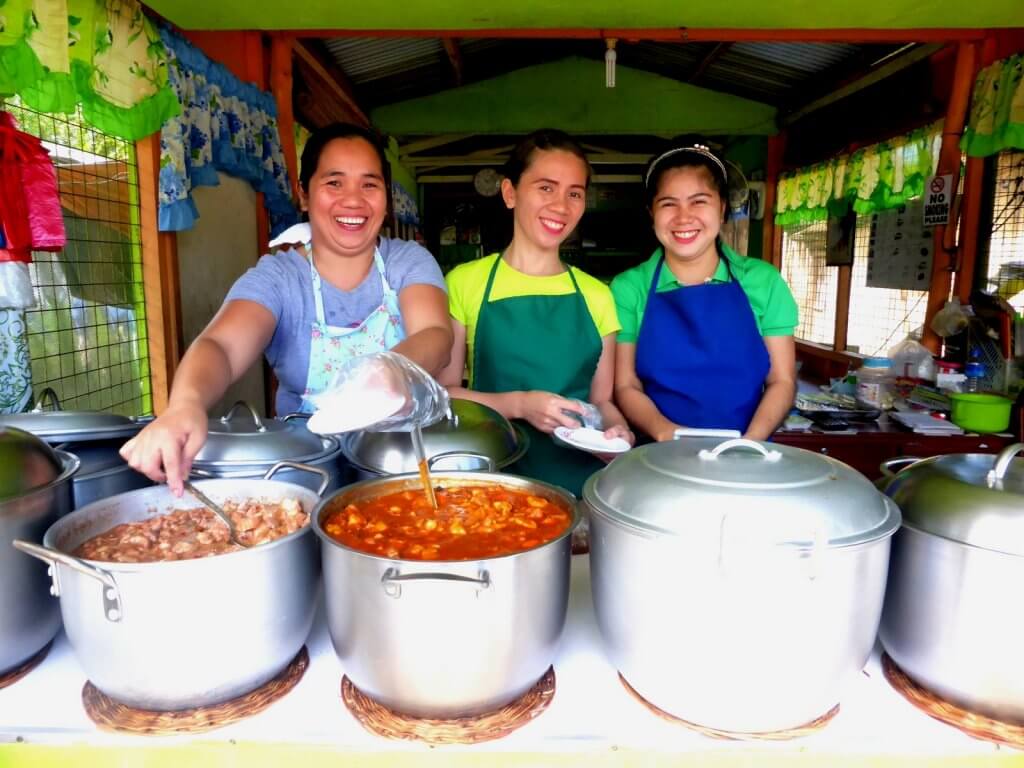 OTHER COST
There is always some extra cost which you don´t expect to come. Or sometimes you do. In my case it was emergency fee in the hospital in Sagada (I was bitten by a spider – maybe I will tell you more about it in next article), new flip flops, souvenirs, massage, etc …
TOTAL for OTHER COST →→→3790 PHP or 64 euro
Check the video of talented vlogger Tal who depicted our private tour around Coron island 🙂
To sum up the whole article, total amount I spent in 3 weeks in the Philippines was 925 euro including all flight tickets. If I don´t count the flight tickets, that will be 431 euro in 3 weeks what makes around 20 euro an average per day!
Within 3 weeks I got a chance to explore many parts of Palawan including Puerto Princesa, El Nido, Busuanga & Coron. I got to see rice terraces of Banaue & Taal volcano located 60 km out of Manila. If you were in hurry, you would manage to see much more, but I prefer slower travelling. 🙂
Dear readers, I truly hope that this article will help you make an idea how (in)expensive the Philippines is and how to prepare your itinerary for the vacation of your life!
More questions?? Feel free – it´s my pleasure to help you. 🙂
If you wish to receive my latest articles on your email, sign up below.
And if you want to contribute for 2018 MiliMundo travels, don´t hesitate and do it now. 🙂
And if you are interested in articles on CENTRAL AMERICA – click HERE. On SOUTH AMERICA click HERE. 🙂
PS: Looking for great travel insurance with great prices? Insurance which you can book even when your journey has already started? Have a look at The True Traveller. I am more than happy with them. 🙂

Please follow and like us: