Hits: 2797
Accidents & unpleasant situations during travelling are simply part of travelling. Sometimes it cannot be avoided. It cannot be planned. Not even expected. In this article I would like to describe my NOT very pleasant incident with a Philippine spider which caused me so much trouble…
It was already the last part of my 3 week backpacking trip in the Philippines. After breathtaking islands and beaches with crystal clear sea I started exploring beauty of the Philippine rice terraces of Banaue. I was a on a short one day trek with my friend in the village Hapao, on a way to the thermal natural pool across rice terraces. After full day trip & hike I arrived to my hostel and found out that my elbow really hurts and it´s all red. After having a closer look we found out that it must have been bitten by some insect.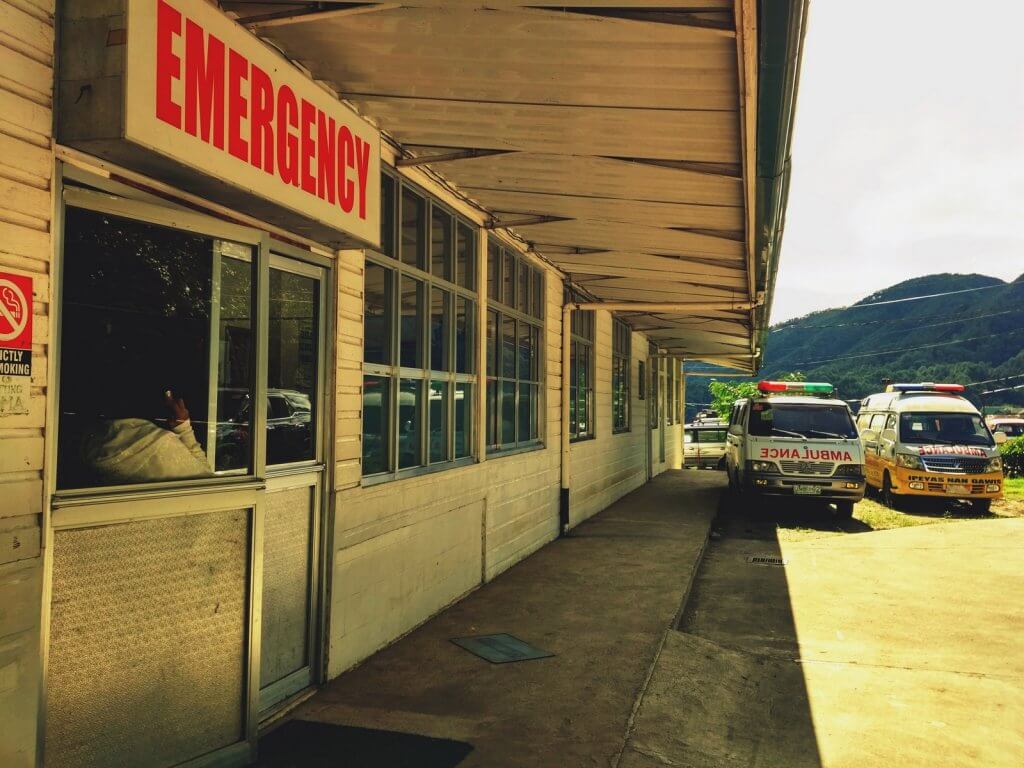 As pain didn´t disappear and my arm got more swollen, next day after we arrived to Sagada, I decided (after some short push of my friend) to visit an emergency hospital just to have a brief check at my elbow. The hospital was completely empty, nothing was going on and I was the only "patient" that time. A nurse measured my blood pressure, wrote down what happened and then a young doctor had a look at my elbow.
She said it must have been a spider bite but I shouldn´t be worried. Spiders in the Philippines are not deadly poisonous. Well, what a relief! 🙂
She gave me prescription for ibuprofen which I was supposed to take every 4 hours, I paid 200 pesos for the examination and I left hoping my problem was solved. It wasn´t …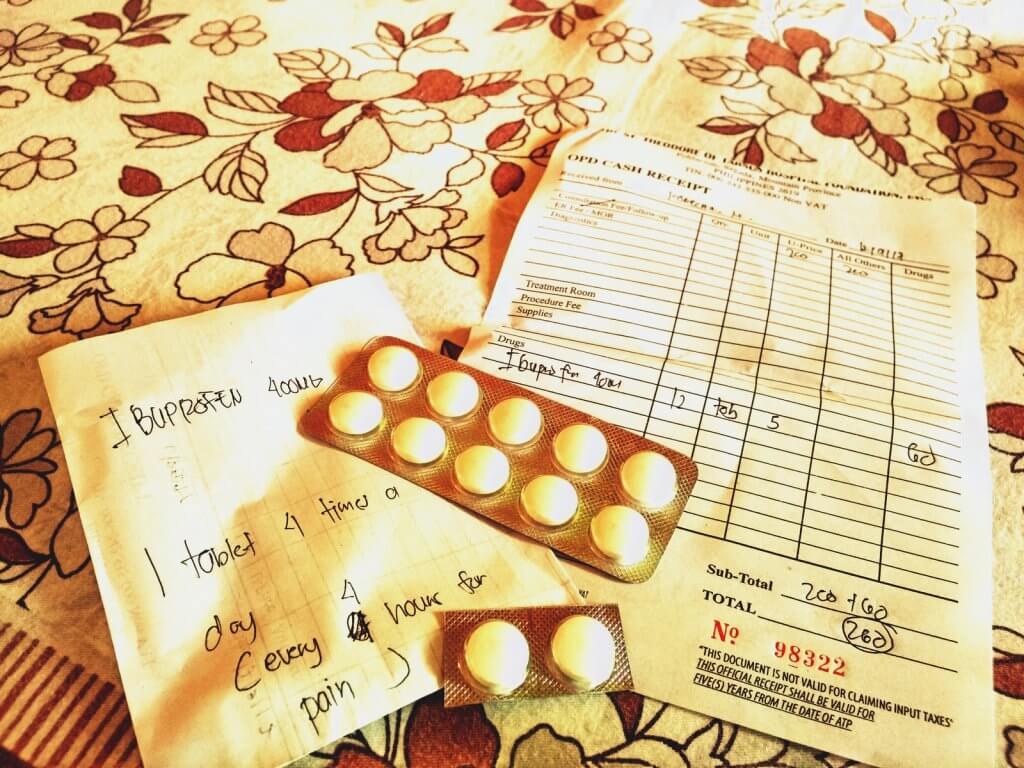 Two days later after I woke up at 3am in order to hurry up to the airport as my flight back to Europe was at 6am, I found out that instead of small red spot on my elbow there were two bloody spots with a white blister. I don´t have to mention how painful it was during all that time. At that moment I realised that my wound got badly infected and I needed antibiotics. But what could I have done at 3 am – 3 hours before my flight? I simple boarded my plane and hoped it won´t get worse. How wrong was I! My flight to London was never ending story full of pain. I wasn´t able to sleep, to relax, I was trying to cool my elbow down with wet cloth, taking pills for pain. Nothing worked. I arrived to my uncle´s place in London around 10pm knowing that my flight back home to Slovakia was at 7am following day. My auntie tried to clean my wound and gave me some more pills.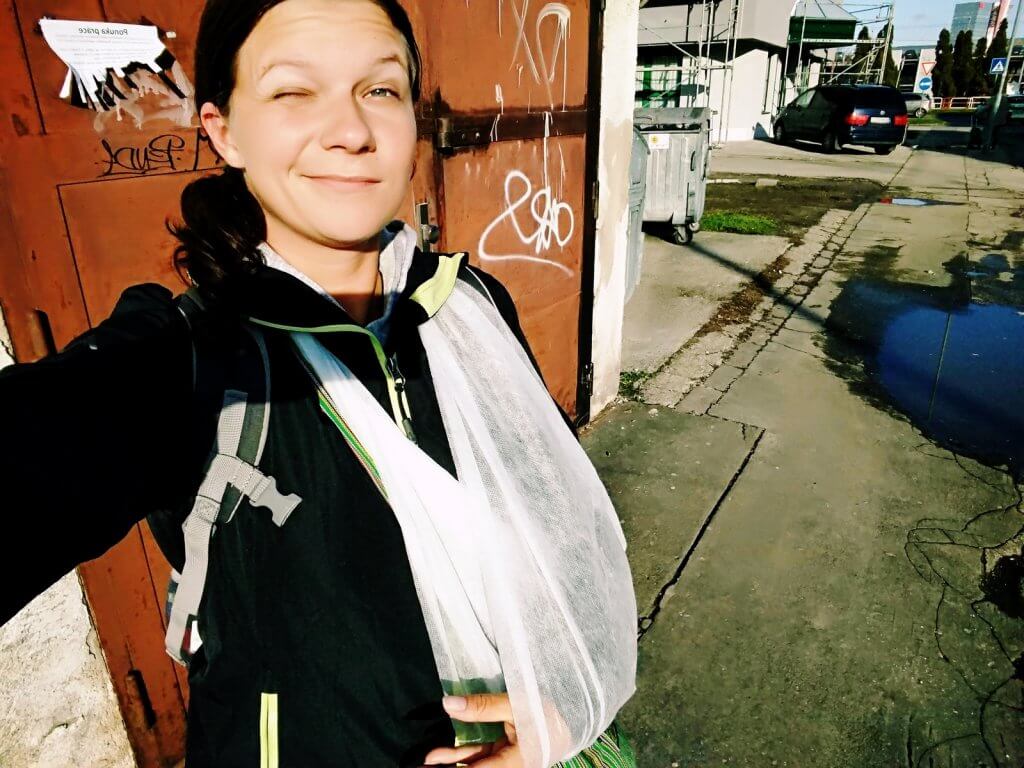 Next day after I arrive around 10am to Bratislava airport, I was picked up by my uncle who took me straight to the hospital where I expected to be taken care of immediately! Guess what! People at the information desk at the hospital wanted to send me to the department of allergist! Would you believe it? The wound was bleeding, full of pus, swollen and badly infected and they want to send me to allergist... After half an hour of trying to find proper help, I finally ended up at surgical outpatient department where FINALLY a doctor cleaned my wound properly, bandaged my elbow and prescribed me strong antibiotics.
Two days later I went for another examination at the hospital already close to my hometown in the Eastern Slovakia and after surgeon looked at my elbow full of pus, not getting better at all, he told me: "Well young lady, it doesn´t look any good. If it doesn´t get better during weekend, you will have to undergo surgery". My face got pale and the only thing I was thinking that time was how I am going to be ready to fly to Colombia in 3 weeks if I have to undergo surgery.
So how did it end up?
Nurse put on my whole arm some special cream which was supposed to pull whole pus out of my elbow. I was supposed to have my elbow bandaged whole weekend but my grandma decided to take care of me. She insisted on cleaning wound with camomile and put more of "Visnovskeho" balm. On Sunday night my grandma was able to take whole pus out of my elbow so pretty large hole was left  behind. Since that day my elbow was getting better, surgery was not necessary and my pain was releasing … It took me one more week to be more or less OK and to have "normal" scab on my elbow. But even now when I am writing this article, almost a month after this incident I still feel some pain. Would you believe what a small Philippine (or any) spider can cause???
So what is the point of my article? To frighten people away from travelling?? NO NO NO! The point is that such unpleasant situations may happen. That sometimes we cannot avoid them. The point is to keep our head cool, find doctors when we need them, have proper travel insurance and try to take everything positively. And also to trust our grandmas !! 😉
AND BE RESPONSIBLE WHILE TRAVELLING!
What about you? What have been your unpleasant situations during travelling? Do you have any similar story?
More articles on the PHILIPPINES, can be found HERE! 🙂
If you wish to receive my latest articles on your email, sign up below.
And if you want to contribute for 2018 MiliMundo travels, don´t hesitate and do it now. 🙂
Please follow and like us: