Hits: 1698
Belgium – country of chocolate, beer and waffles – who wouldn´t like to taste some of these Belgian specialties at least during one weekend off?
When I travel, I try to stay in one country as long as possible in order to learn as much as possible about its culture and people. However, when your time is limited, budget too, it is still better to visit a country at least for a weekend than not to travel at all. At least this works for me.
So what can be done in BELGIUM during one short weekend, meaning 2 nights and almost 2 full days? Here you can find out what I managed to see and do during 2 days in the country of importance for the European Union:
THINGS TO DO AND SEE IN BELGIUM IN 2 DAYS
Do the typical sightseeing of Brussels – capital of Belgium – including visit of the European Parliament and its museum, visit of Grand Place (one of the most wealthy looking squares I have ever been to), visit of typical symbols of Brussels – Atomium and Manneken Pis (statue of little peeing boy – there are many legends about it) and walk through breathtaking green parks
in case you want to get to ATOMIUM and buy ticket in advance without waiting, click HERE 😉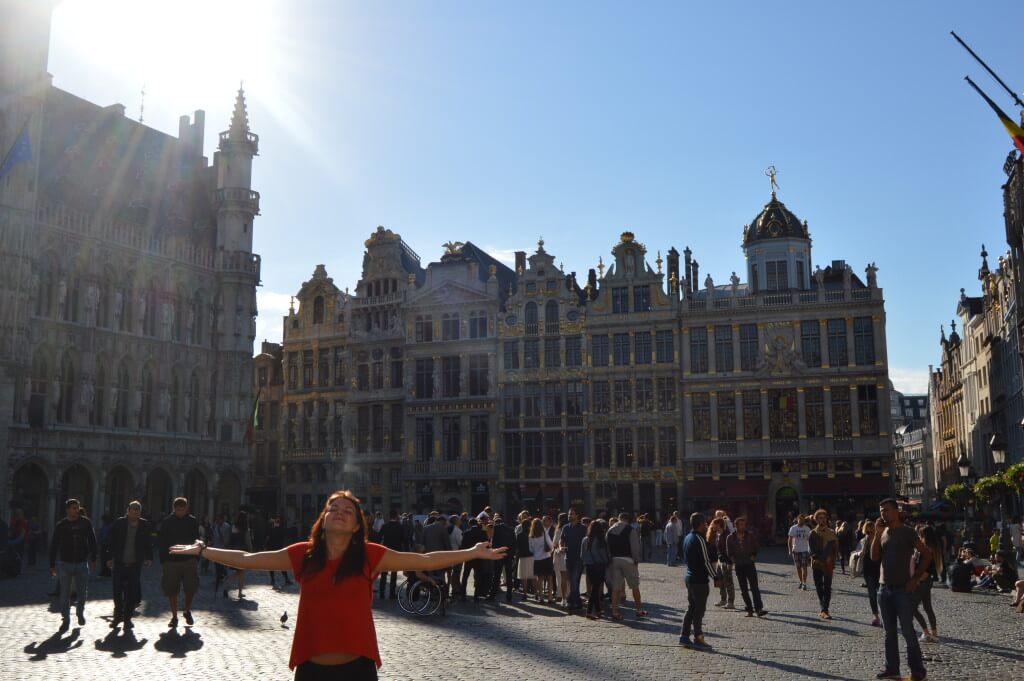 Explore historical town "BRUGES" which is less than hour from Brussels and which I personally call Venice of Belgium as it is surrounded by canals and filled by charming, romantic atmosphere thanks to special medieval architecture. The historic center of Bruges also belongs to a UNESCO World Heritage Site.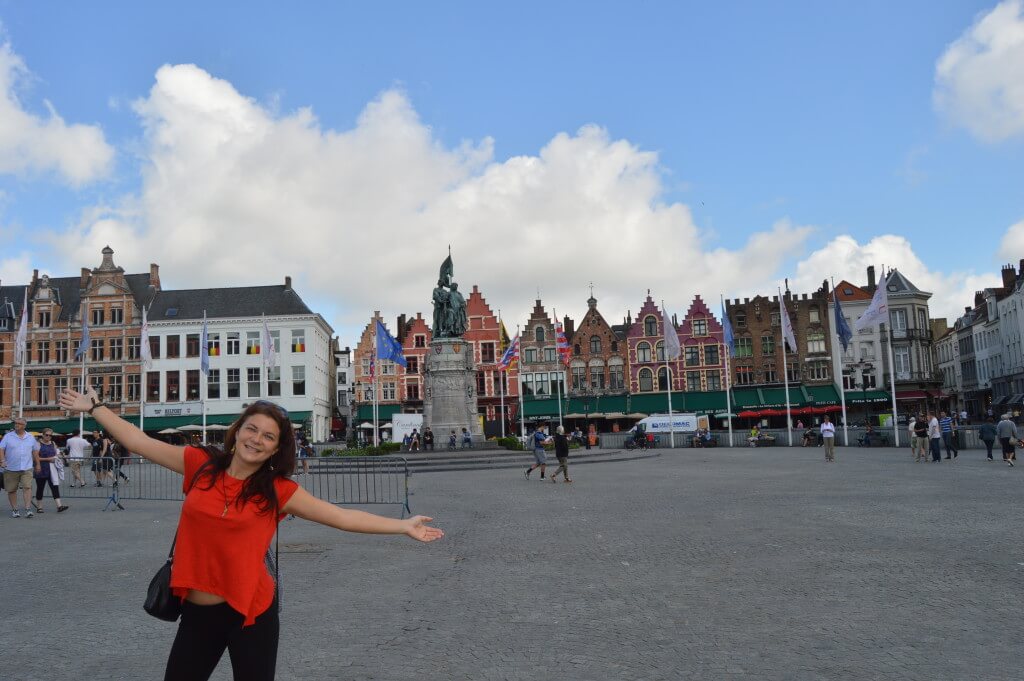 Relax on the beach at North Sea in one of the coast Belgian towns (I, personally, managed to visit Ostend – coastal town where seafood festival took place during my visit, how lucky am I, right? 🙂 )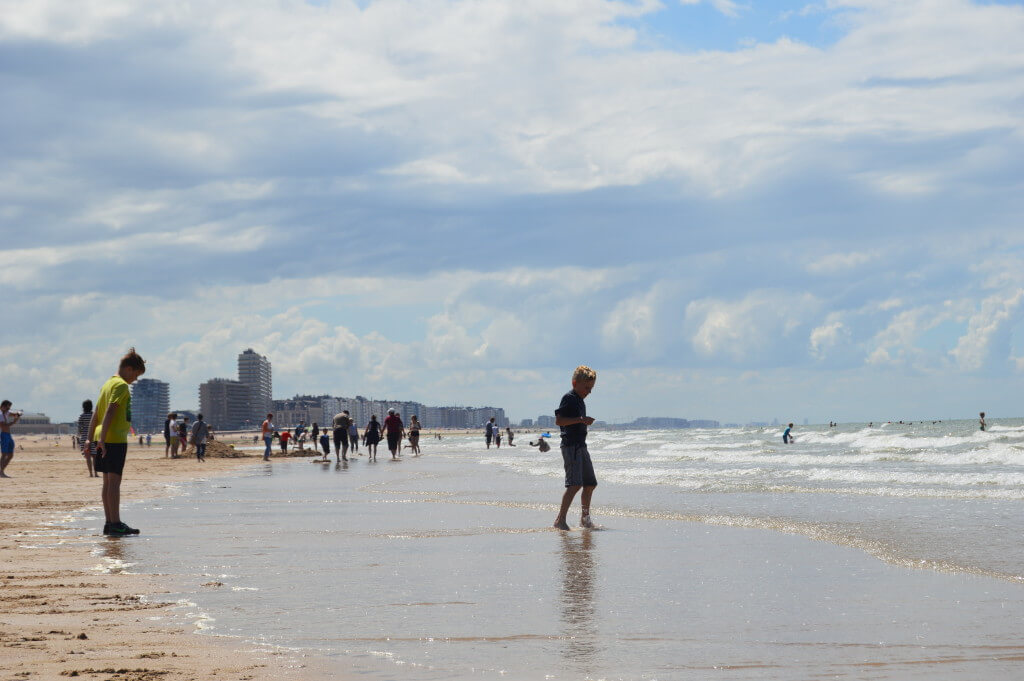 Taste Belgian specialties and traditional meals – FRENCH FRIES (truly different from others), WAFFLES (delicious and can be bought on each corner), CHOCOLATE of all types (salty, spicy, with liquors, simply uncountable amount of chocolate types) and especially BEER – very typical is Cherrie beer which is more like a lemonade to me than a real beer
Attend different social events such as food festivals, music festivals, local markets, chocolate tasting – Brussels is city of unlimited opportunities in this area and I, personally, managed to attend Portuguese food festival and Seafood festival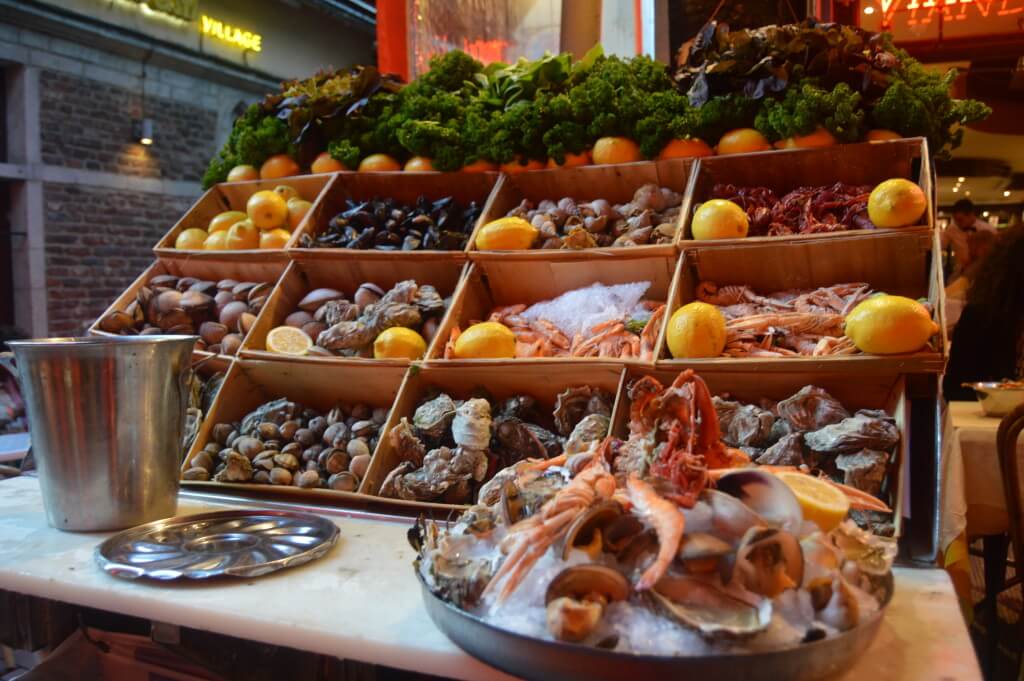 Talk to locals and learn as much as you can in such short time, most of them are truly friendly and always willing to help you and give you the explanations of their traditions and culture
Eat CHOCOLATE for breakfast, for lunch and for dinner – actually 24/7 – chocolate shops are on each corner and most of them offer free chocolate tasting – there is definitely no lack of chocolate endorphins in BELGIUM!!! 🙂
TRAVEL TIPS FOR BELGIUM
One of the cheapest ways how to get to Brussels from European country is to book the flight through Ryanair airline – my returned ticket costed around 47 euro
Find out in advance what airport you are flying to – there is the large one close to center called Zaventem (BRU) and another, pretty far from the center, called Charleroi – you may have some problems to get in the city at night especially while strikes (as happened to me + strikes are quite frequent in Brussels), otherwise pretty easy – either by buses or trains, or more expensive way – taxis
Train to and from airport Zaventem to center of Brussels leaves every 20 minutes, journey takes 20 minutes and price is around 9 euro
While travelling to the Zaventem airport by train, keep your train ticket with you all the time as before the entrance to the airport, there is control which will be checking your ticket
Try to find your accommodation close to train stations – it will save up your time and money while travelling out of Brussels
Ask for weekend round tickets while travelling out of the city – it is definitely cheaper
Try French Fries at FRITLAND – few minutes walking from Grand Place – they will serve you large amount of French fries and service is very kind and friendly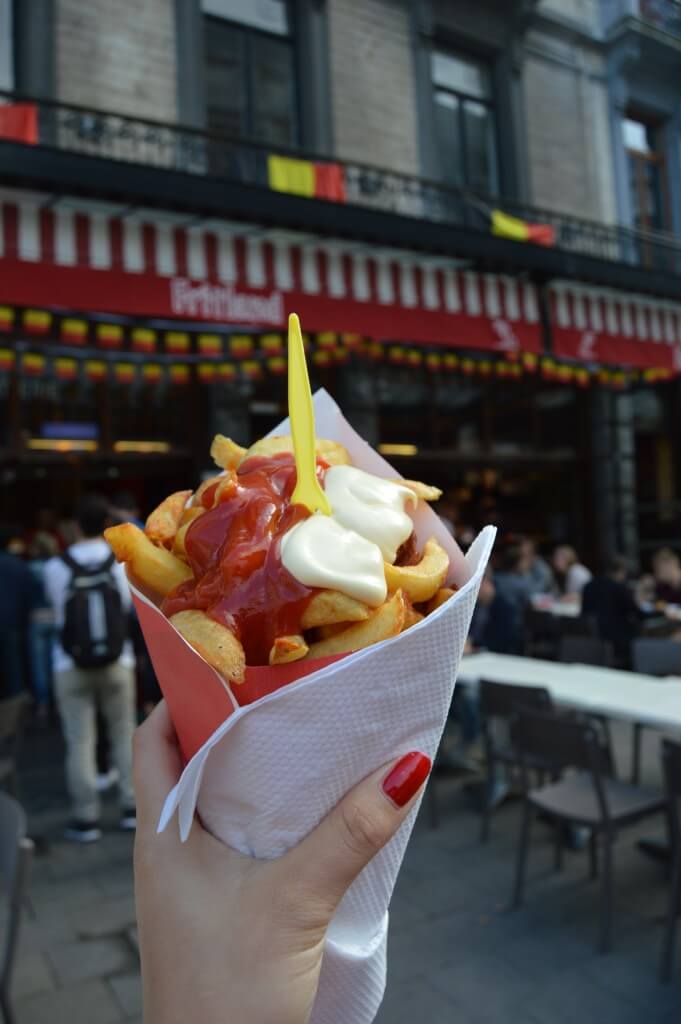 Experience the atmosphere of street "Bouchers Beenhouwers" – narrow cobbled street full of restaurants of different types with friendly people on each corner – it is paradise for gastronomy
Whole center can be done walking – surely, if you are not lazy – no need to buy metro tickets
Metro ticket costs 2,10 euro for those lazy ones 😉
Gare du Midi area (located in the South of Brussels, close to South Train Station) is said to be more dangerous, less safe – I stayed there 2 nights, walking there and back couple of times and didn´t feel unsafe at all
Accommodation can be book through EXPEDIA or BOOKING. (Or you can use couchsurfing) For less demanding travelers I recommend hotel Continental (can be reviewed through TRIPADVISOR), service has been great, staff extremely kind and supportive, rooms clean and tidy, room service included in price which is by the way not that high compared to Belgian standards (around 25 euro per night), and most importantly location is perfect thanks to South Train Station which is only few minutes walking from hotel and around 15 minutes walking from the city center – highly recommended
Be always smiley and nice – people there will be the same 🙂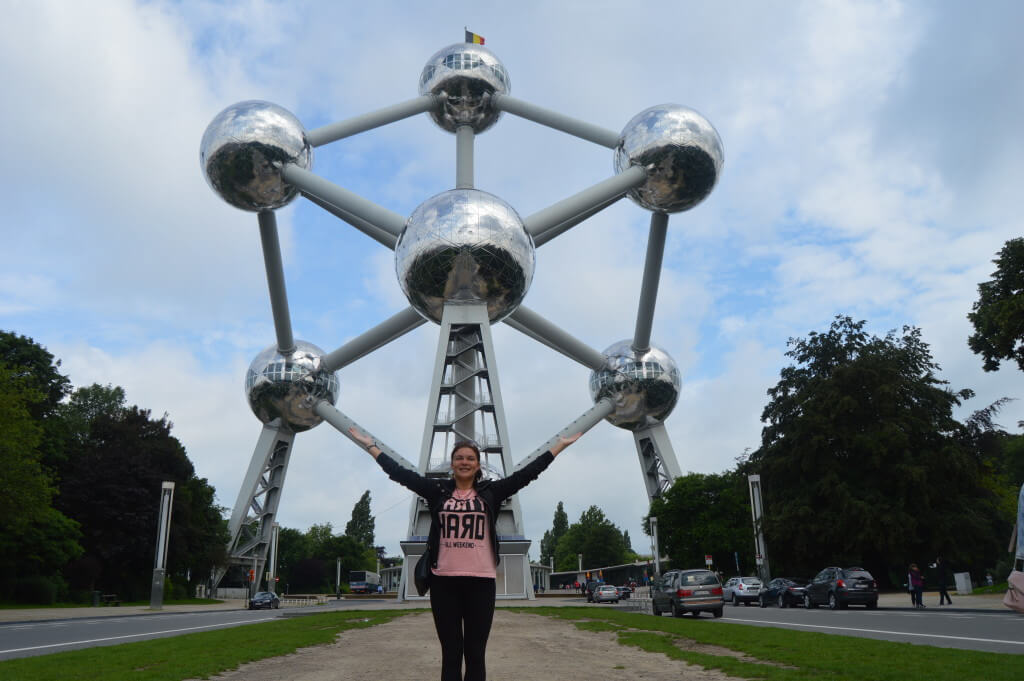 The answer to my question from the introduction would be YES – it is wort visiting Belgium at least for a weekend. There are so many things to do and places to see and if you don´t mind walking more than usually then you will get the chance to experience a lot there. Surely, I would recommend to stay there at least 10 days so you could travel to neighboring Netherlands and Luxembourg but weekend in Belgium is better option than weekend of doing nothing back home.
I am pretty sure that you are alredy looking for accommodation in Belgium via EXPEDIA and flight tickets via RYANAIR or CheapAir. So go and travel – there are so many options and opportunities what to do and where to go on your weekend off! 🙂
Please follow and like us: