Hits: 4584
Amazonia – South American rainforest full of beauty, secrets, dangers. Who would like to explore it?
Amazonia or the Amazon jungle which covers most of the Amazon basin of South America, represents over half of the planet´s remaining rainforests. I was lucky to explore at least one tiny part of this large tropical rainforest thanks to couchsurfing and thanks to small travel agency AningaTravel which is located in natural paradise on Earth – in Baños de Agua Santa, Ecuador.
Baños de Agua Santa is little but famous Ecuadorian town located in Ecuadorian part called "Sierra". This town has a lot to offer – hiking in breathtaking nature, beautiful mountains, clean rivers, numerous waterfalls, thermal waters, extreme sports activities but most importantly friendly people on each corner. One of the top relaxing places close to Baňos is so called "Casa del Arbol" (Tree House) which is located around 20 min out of town. It´s a small wooden house with two swings where you can enjoy your time while watching active volcano "Tungurahua" and amazing natural landscape.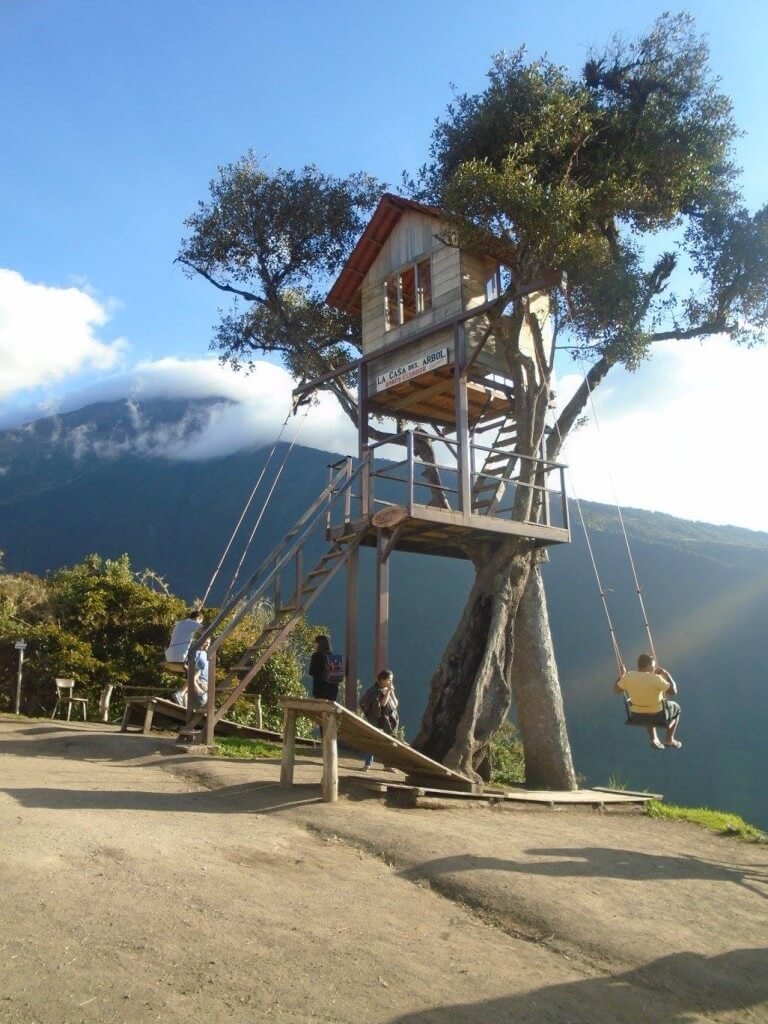 AningaTravel, as one of many other travel agencies in Baños, offer various extreme sports activities. The most adrenaline one is "puenting" – jumping from the 100m high bridge, canyoning – climbing down waterfalls, zip-line, river rafting, paragliding… But this travel agency also organizes trips to Amazonia and thanks to the owner of AningaTravel who was my CS host I got the chance to explore the beauty and secrets of Ecuadorian Amazonia.
My trip to Amazonia, more specifically in Puyopungo part, took two days and two nights. The owner of AningaTravel, Juan who is also indigenous person, was my VIP tour guide. By other words, there were no more tourists with me and I was able to experience the real jungle only in presence of Juan and local indigenous people from tribe "quichua". The first stop which we made was at the community called "cotokocha". At this place, a 13 year old indigenous girl painted my face (duration of painting –  two weeks haha) and offered me to try traditional indigenous clothes used for special events at tribe.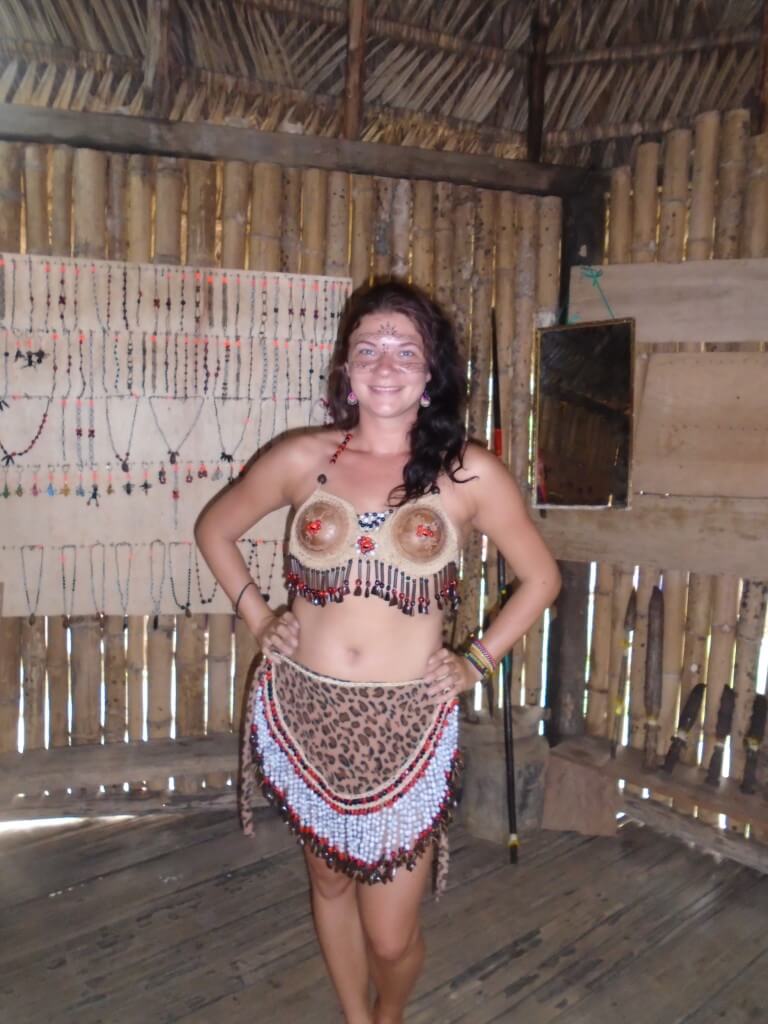 Moreover, I was given the first bowl of sacred alcoholic drink called "chicha" that is prepared in very special conditions and in a very special way. The indigenous women chew so called "yuca" and certain type of potatoes in their mouths. Then they spit it out and keep it in a closed container for couple of days while. Thanks to their saliva it goes through fermentation process. So can you imagine drinking this "chica" made of saliva of indigenous women? It wasn´t tasty at all BUT it is considered to be very impolite to refuse the hospitality of indigenous people. And unfortunately in this case, the indigenous people are too hospitable and offered me at least three bowls of "chicha" within couple of hours… Well, it is part of travelling, to try untried. 🙂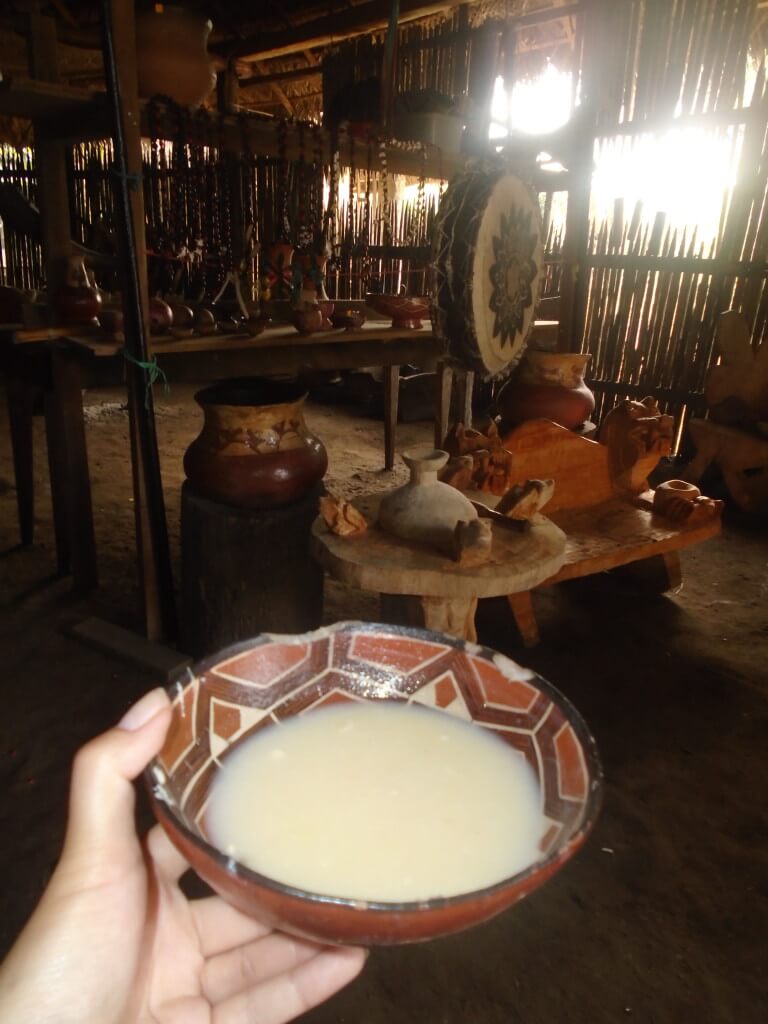 During the exploration of the jungle forest I was able to observe free living animals such as monkeys, parrots, caimans, large spiders (having them in my hands too), to learn about the plants with medical purpose, to drink bamboo water from bamboo trees, to wade through mud, to swim completely naked in the sacred indigenous waterfall "Hola Vida", to do meditation in the middle of natural paradise, and much more …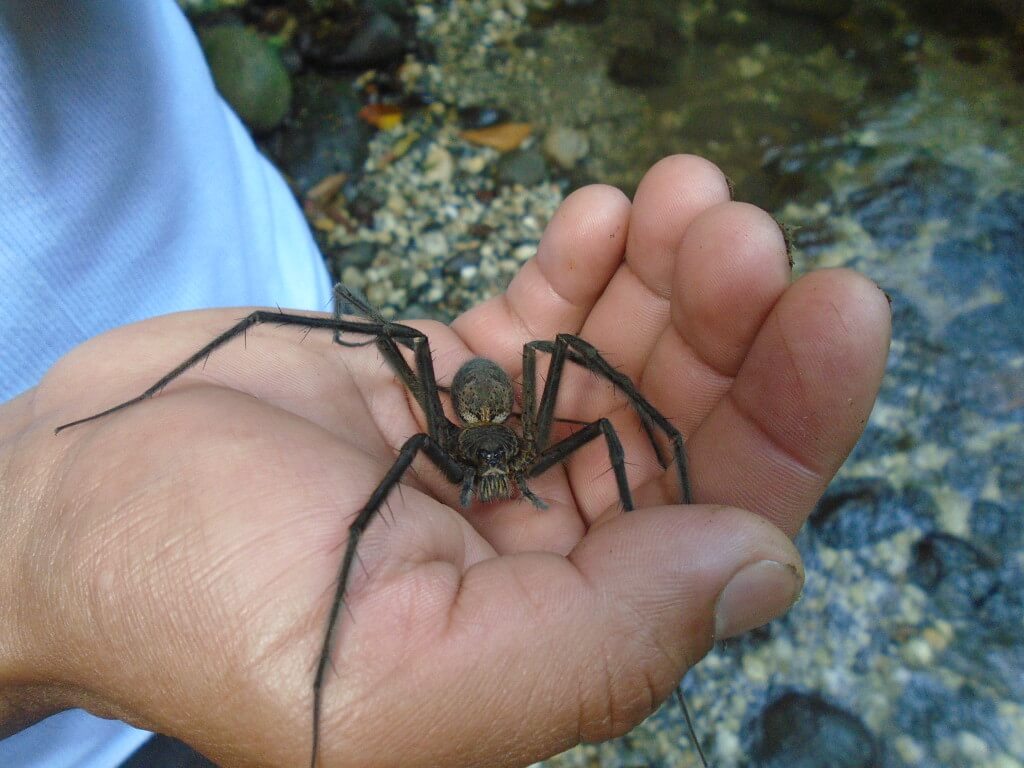 On the second day of my trip, I got the chance to swing on liana in the height of 200m over the jungle with the best views ever… However, thanks to my carelessness, I almost fell down to the yawn what could be fatal. Luckily, I survived and tried swinging one more time. 🙂 Feel free to watch the video of how I almost got killed.
The nights at camp with local indigenous tribes were not that comfortable as cockroaches were biting me all nights long, but I can´t describe by words how grateful I am for the opportunity to have this unique experience in the Ecuadorian AMAZONIA.
Those who are interested in exploring this paradise on Earth, do not hesitate to contact FB of AningaTravel or simply go to Ecuadorian town Baños de Agua Santa and find your way to ECUADORIAN AMAZONIA!
SUBSCRIBE to MiliMundo
Please follow and like us: