Hits: 2273
Prague, capital of Czech Republic, capital of country which is considered to be the largest consumer of beer per person and year. But do you know what else is special about this country? Or better said, about its capital Prague? This city is a center of crazy, unforgettable and very well organized stag and hen parties of people all over the Europe.
At the beginning of 2016 I became a guide for groups of foreign guys coming to Prague to say GOOD-BYE to FREEDOM. Yeah, I am talking about stag parties – parties where bunch of drunk guys do crazy stuff on the weekend as they think it is the last weekend of their life (well, most of them take it like that, wedding means the end of old sweet time when they could do whatever they wanted).
You haven´t heard about such job position? Don´t worry, me neither, until I found such job advertisement on the internet while looking for full time job after coming back from my backpacking through South America. Do you ask what the main responsibilities of such job are? Well, let me explain you in specific points:
Responsibilities of Guide for Stag/Hen Parties in Prague
Be super friendly, super nice and super cool person who makes the best of the best first impression on the bunch of already drunk guys taking off the airplane
Make sure the guys are having blast by showing them the best night bars, pubs, dance clubs and/or strip clubs of Prague (not only showing them where they are but also staying with them all the time)
Be as spontaneous and creative as possible at creating crazy drinking games and rules which make the whole weekend unforgettable
Be a guide who takes them to super cool day activities such as shooting at range, real tank driving, karting, bubble football, brewery excursions, steak dinners, river cruises with extremely fat female or even male strippers, VIP casinos with topless waitress, and much more….
Be a person to have a lot of fun with, to be able to rely on and who they can ask about any hesitations they have during the whole weekend
Be interpreter, organizer, tour guide, entertainer, dancer, singer, friend and sometimes even mom in one single person!!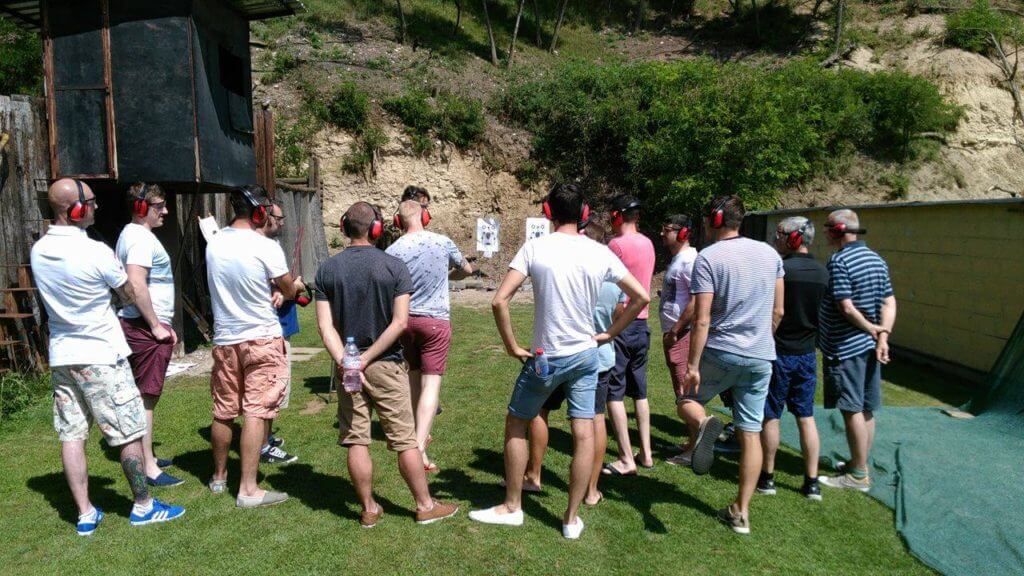 So what do you say – does it sound like a lot of fun?? Trust me, this job is not for everyone. As every job, this one has its pros and cons, too. The drawbacks of this job is that you have to have a lot of patience with the guys, make sure they follow you when you lead them (well, sounds easy but imagine to get group of 15 drunk guys in the labyrinth of Prague streets from one bar to another, can be tricky). You also may have lack of sleep as this job includes pub crawls, night clubs, and dancing till early in the morning every weekend, etc. Moreover, you must be very flexible and liberal at the same time. Not all girls I know would be able to watch an hour show of lesbian strippers in Goldfingers strip club, or watch extremely fat "Rolly-Polly" stripper showing "the best of her" to all of you in details. These are the things that not everyone could do.
On the other hand, to the highlights of this job belong the fact that most of the time I AM HAVING A LOT OF FUN WHILE WORKING – I go for karting, I shoot at shooting ranges, I drive military tanks, I attend brewery excursions – I simply do everything what the guys do because they want me to be part of the weekend and they want me to have fun, too.
In addition, don´t forget, at stag parties I GET PAID for having FUN!
For dancing all night long, for getting to know places I haven´t been to before, for trying things I haven´t tried before, for meeting people all over Europe, for practicing foreign languages, for opening my mind in completely different world … Maybe some of you say what a weird job I found, how disgusting it is to go to strip clubs on weekend basis, but trust me, this job makes me stay in Prague and helps me get used to European way of life, which is completely different from the one I was having in South America. Thanks to this job I feel adrenaline from time to time, I meet people from different parts of the world and thanks to this job I earn money while having fun. Who wouldn´t like to have a job that makes him/her happy???
Prague is beautiful city full of opportunities. Though it probably will not be my home for whole life, but the time spent here I try to live to the fullest! With the motto: "CARPE DIEM"
Do the same with your life. Find job that makes you happy. Surround yourself with people who make you happy and simply do things that make you happy.
Because life is too short not to be fully happy. 😉
SUBSCRIBE to MiliMundo
Please follow and like us: