Hits: 2846
I spent on the biggest Greek island Crete around one month, based in its capital Heraklion. I was determined to work online around three and half days in a week while the rest would be devoted to exploring of unexplored. I was not interested in popular well known and famous beaches such as Elafonisi or Balos. I was craving something less known. More secluded. More off the beaten…
In this article I will sum up my TOP secluded off the beaten beach on Crete, most of them being located in the South of this island. Hopefully, it will bring you as much inspiration as possible.
PS: all the mentioned beaches (besides Matala & Red beach) were accessed by cars & walking/hiking, not by buses.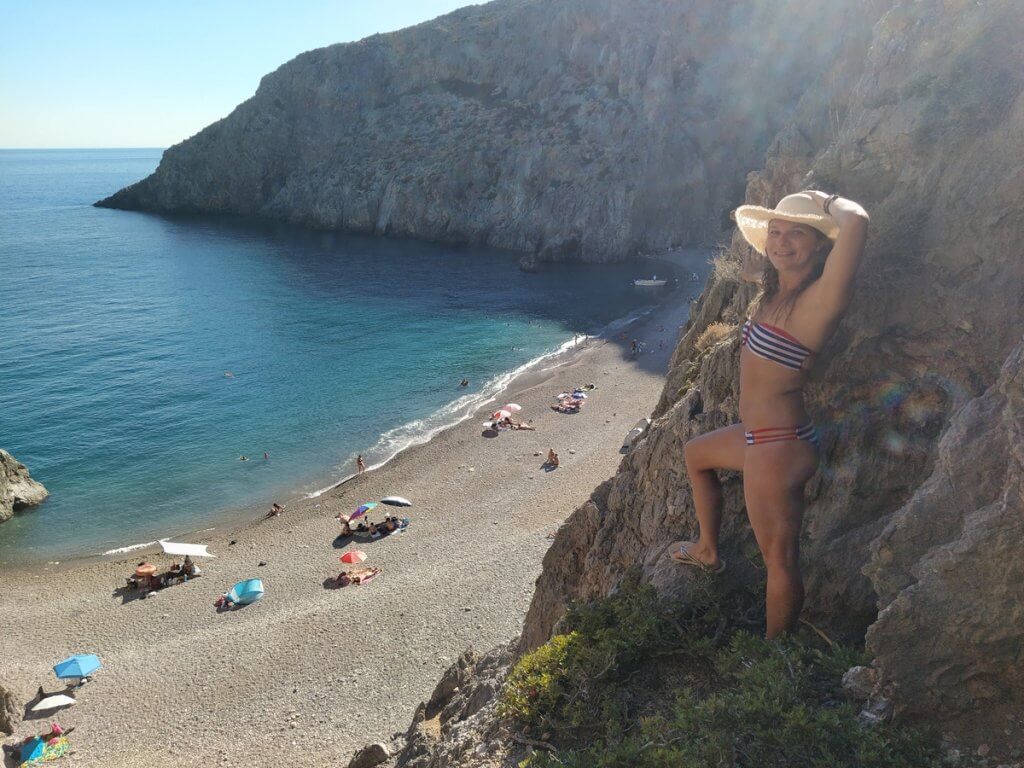 1 Beach Listis
Listis beach was my first off the beaten beach in Crete which I visited. It was my third day in Crete and my new buddy from couchsurfing picked me up by his car and drove to the Southeast of Heraklion (about 70km). In order to get to the beach, we had to descend short but a steep slope. I was wearing flip-flops but maybe sports sneakers would be more useful.
Listis beach is unorganized in a way there are no bars, restaurants, refreshment. It prides itself with sand and shallow crystal clear waters. What really makes it special is the big rocks inside the sea and also on the shore. You can also find few caves around and legend says that bandits used to live there. That's why the name Listis – Bandit in translation.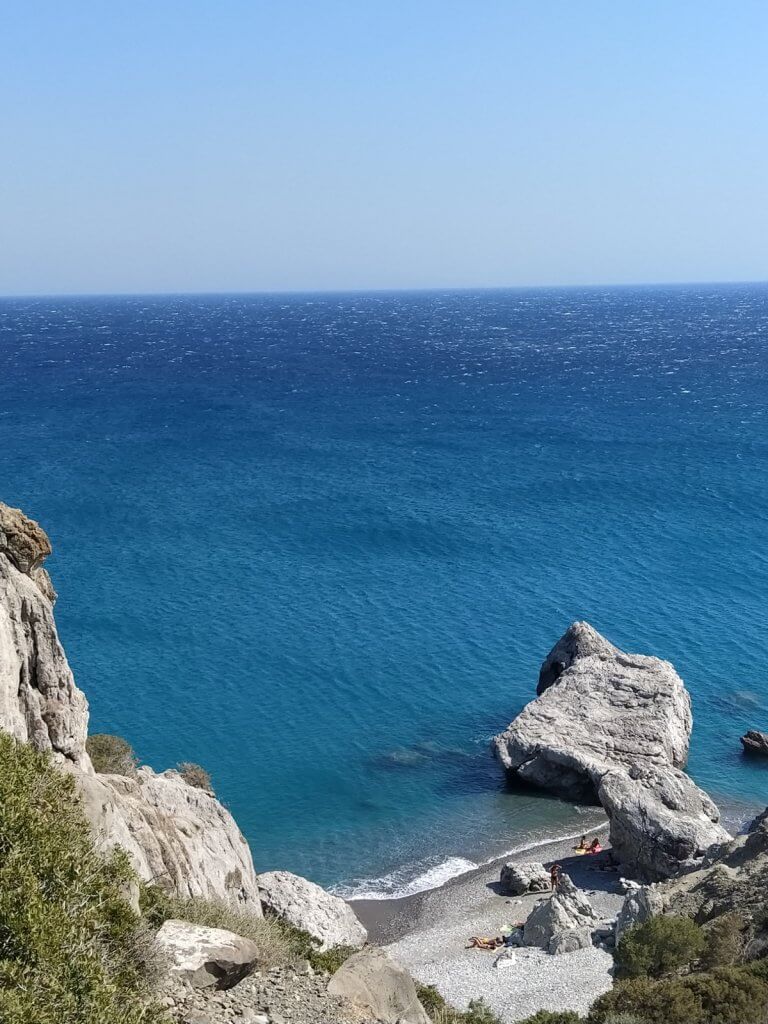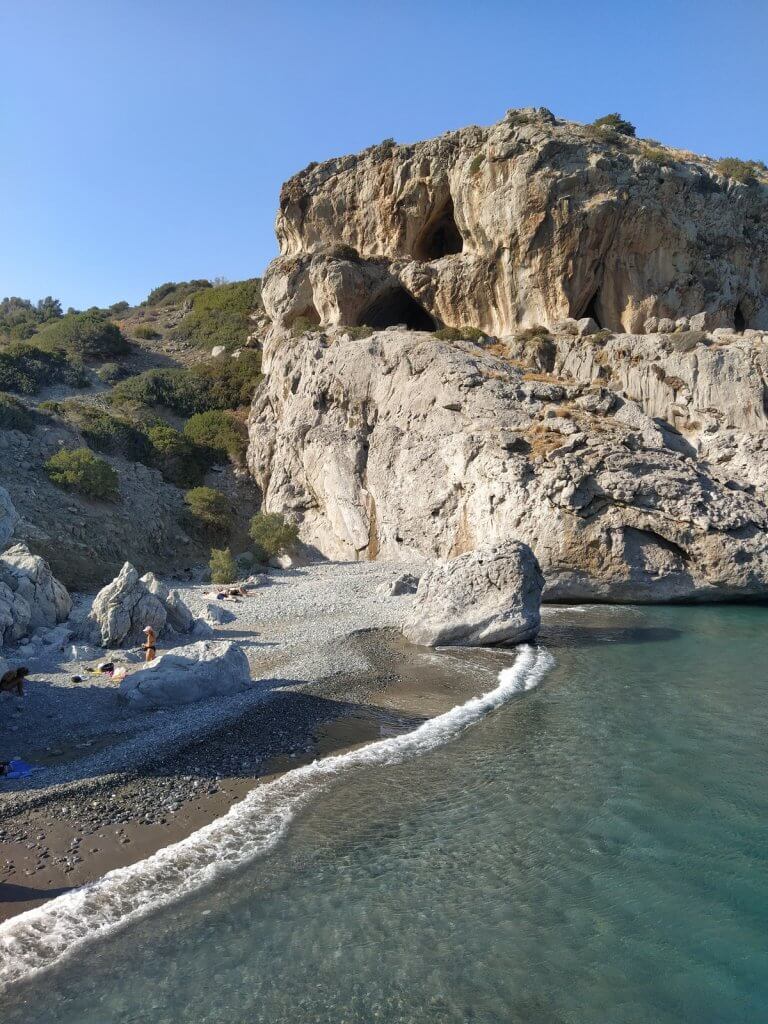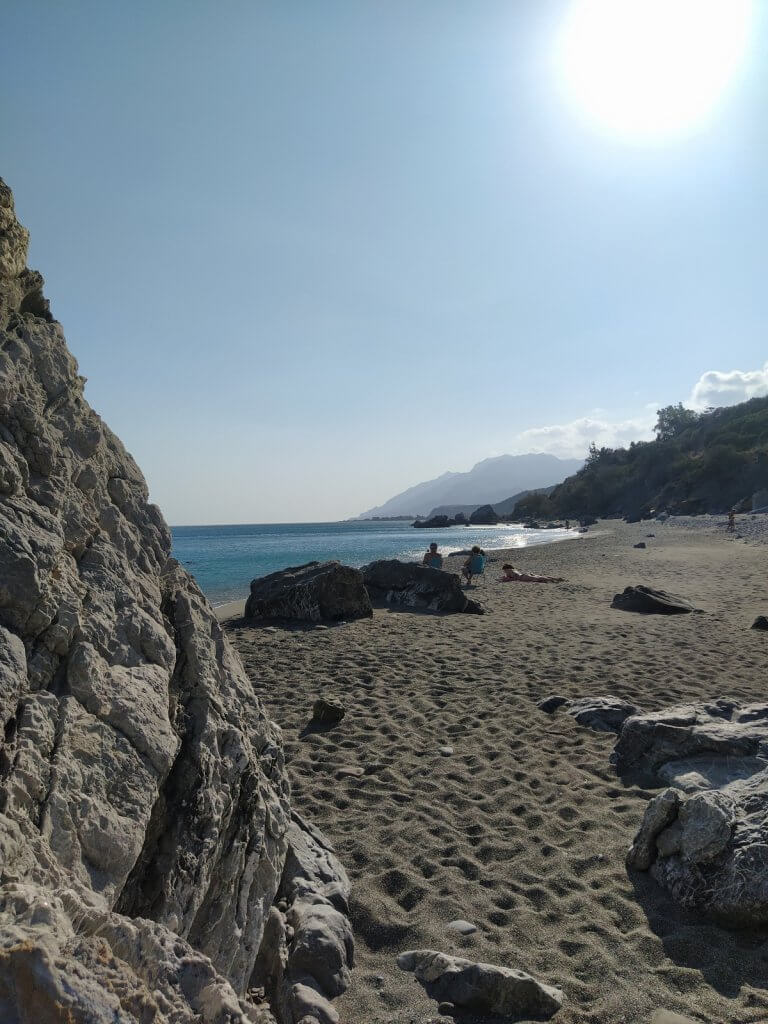 2 Beach Lendas & Trafoulas
Lendas is actually a pretty remote coastal village located in the South of Heraklion (around 70km). What I liked about this beach was crystally clear sea, imposing mountains around and a fact that I was able to use my hammock here. We found a cute kind of private spot for me and my group of friends, just under taverna El Greco. After few hours spent here and also in taverna, we moved to more secluded beach.
We headed towards Trafoulas gorge. Road between Lendas and Trafoulas gorge was kind of challenging, especially, the last steep rocky bumpy part. But our little cars made it and we started to descent this ineffable gorge.
It took us around 20 minutes of conquering some rocks and stairs till we found this hidden gem of Crete – partly sandy and partly rocky Trafoulas beach.
Almost no people, crystally blue sea, white rocks all around. It was simply ineffable. No bars, restaurants. You had better bring your own refreshment.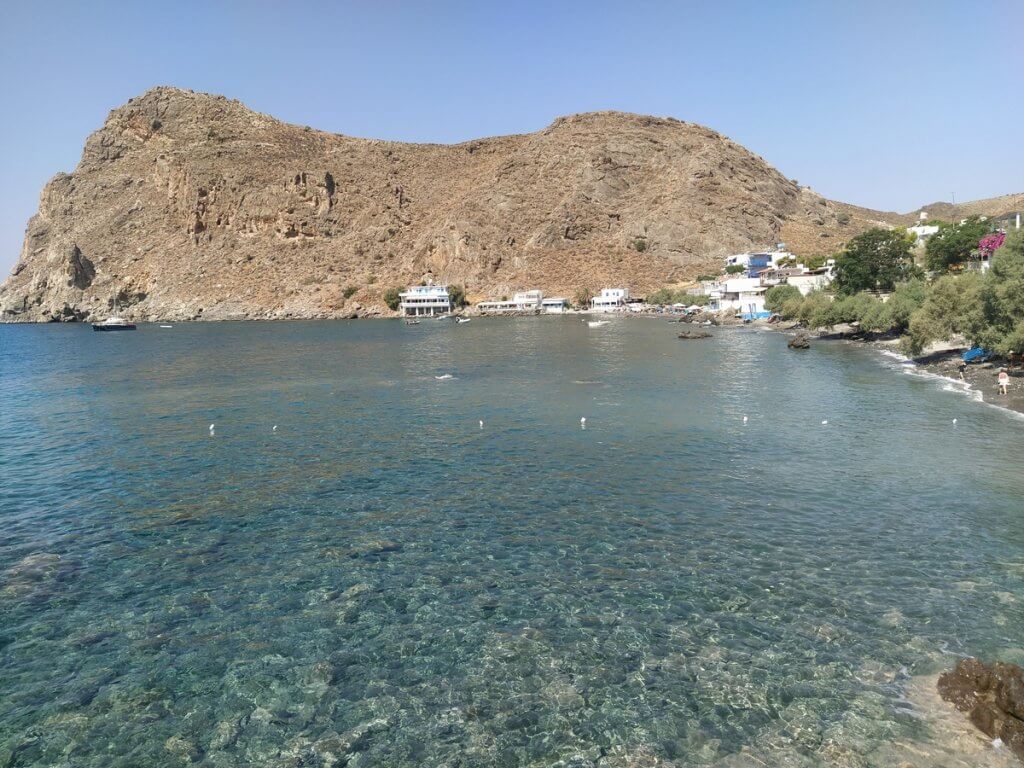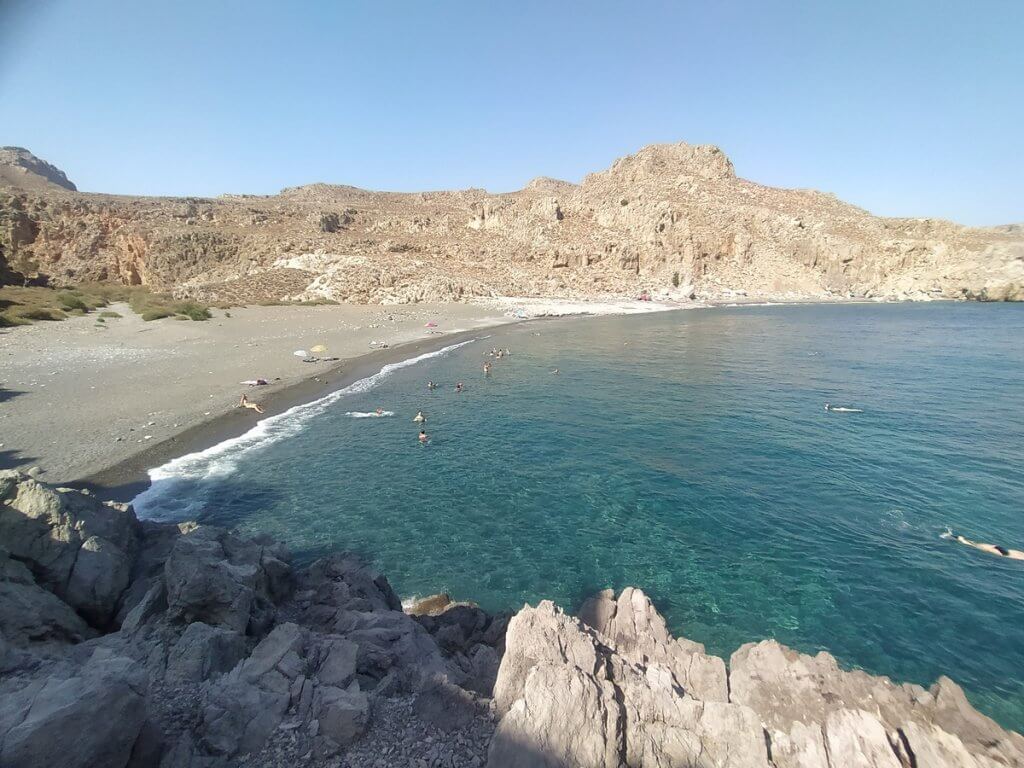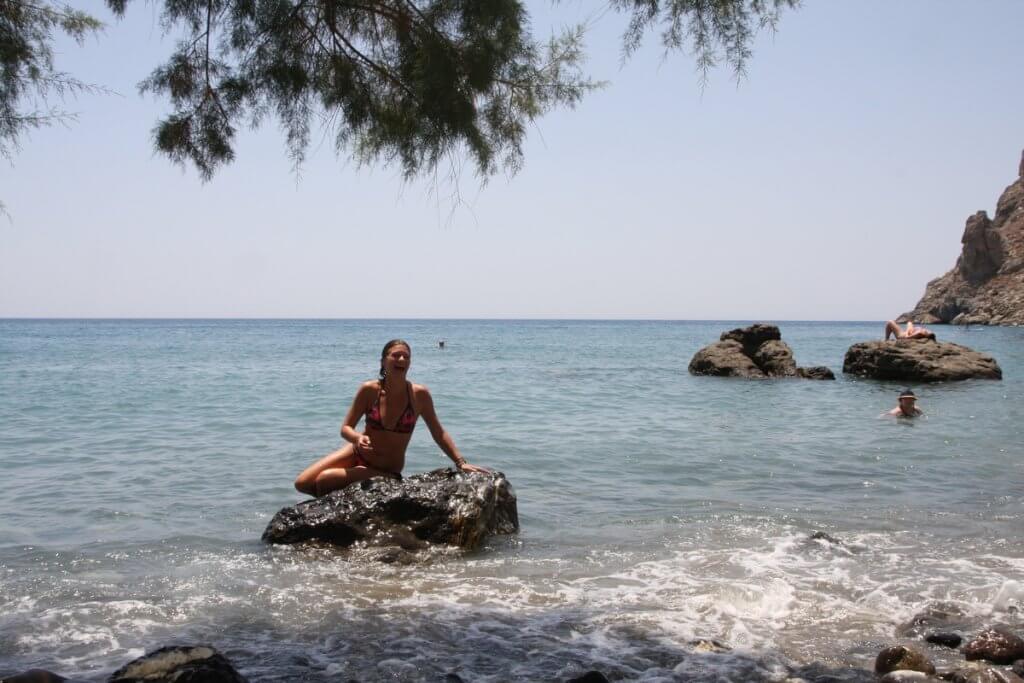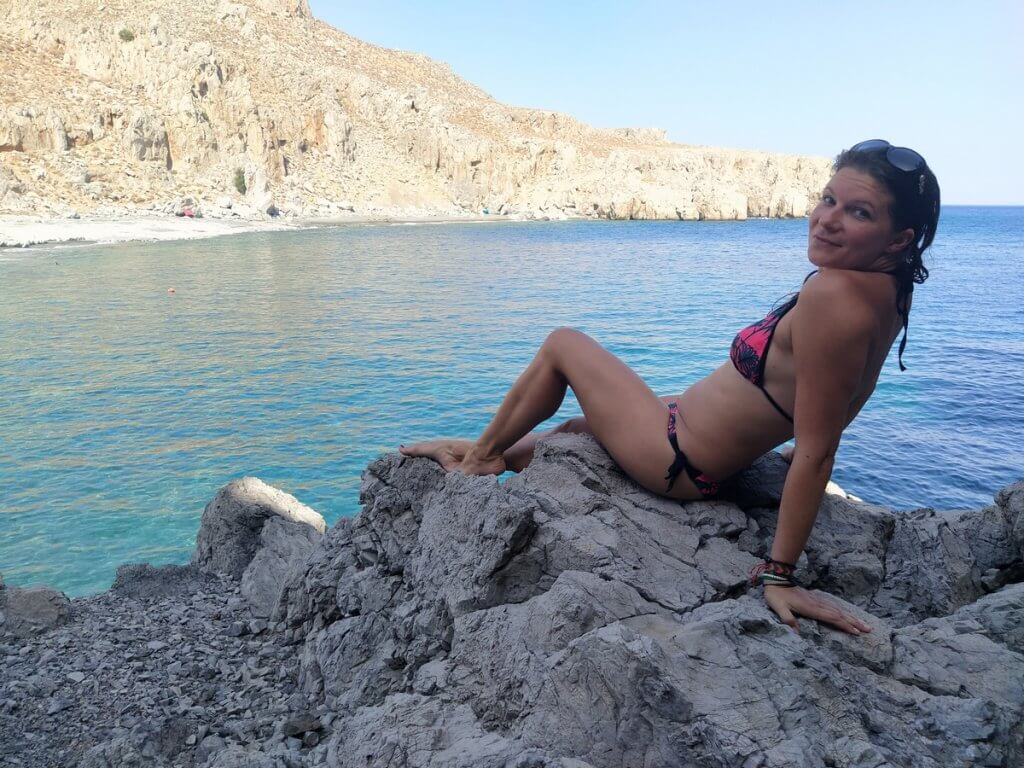 3 Beach Voidomato
I was taken to the beach by a local couchsurfing guy from Heraklion. It is located around 60km South of Heraklion, only few km from little village called Treis Ekklisies (Three churches). The road from the village towards Voidomato was off-road, bumpy and dusty. We planned to continue towards Kaminaki beach, however, we didn´t have SUV car, so we didn´t make it. Therefore, we parked the car under huge rocky cliff and descended a bit towards Voidomato beach which was pretty empty.
The highlight of this rocky (not sandy) beach were sea caves and colour of water. Simply impressive.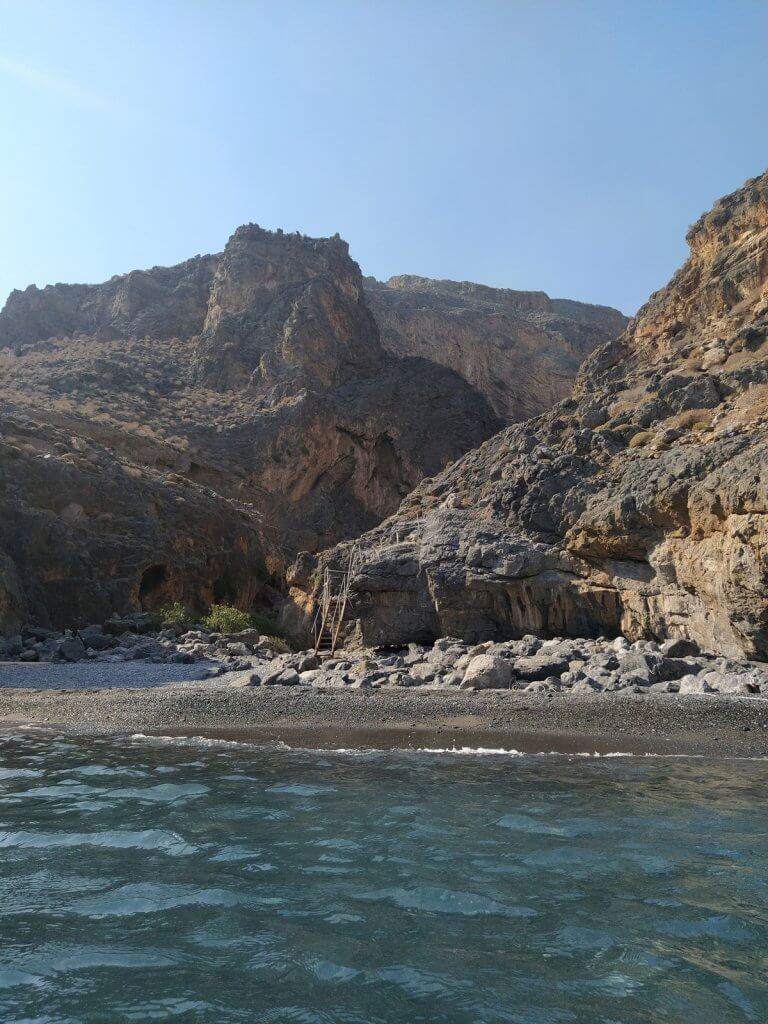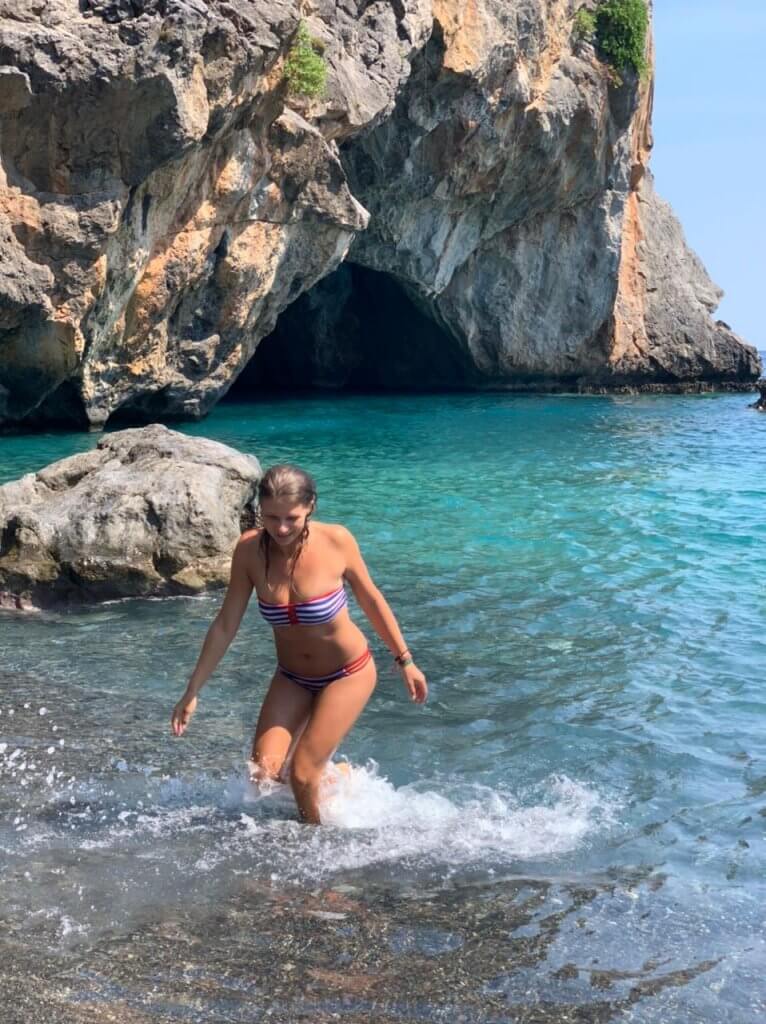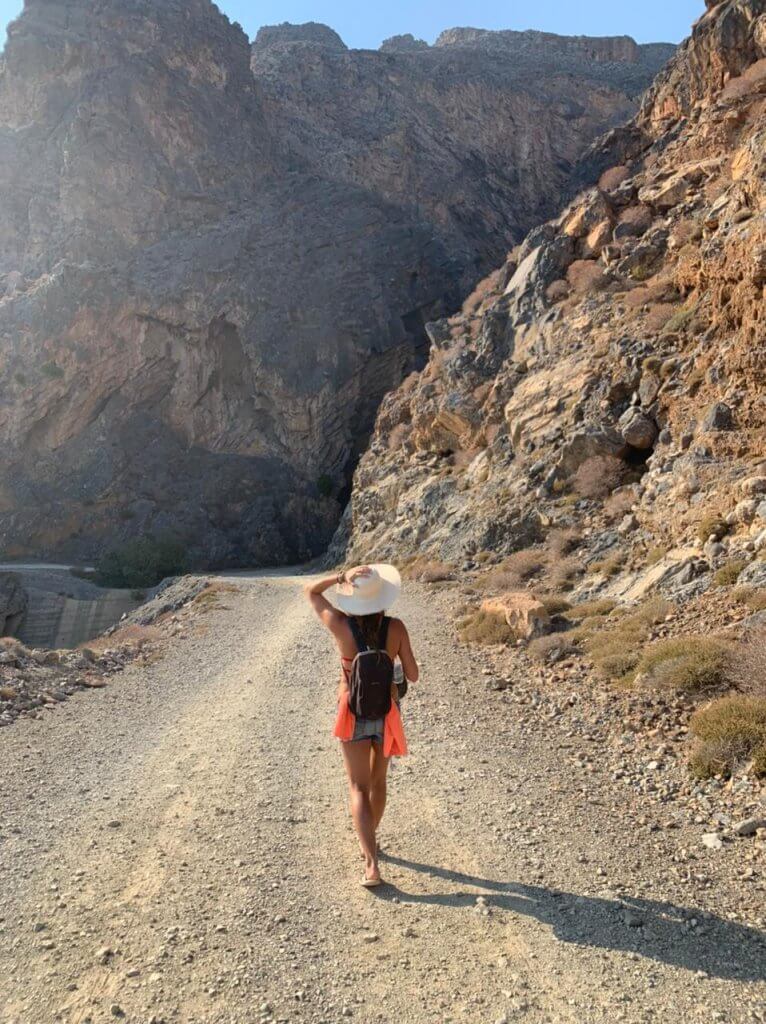 4 Beach Agiofaraggo
Well, well, well. This beach definitely took my breath away. Two hours of "normal" driving with scenic views, half an hour of bumpy off-road driving (without SUV car) and then around 30 min walking through nice gorge. At the beginning of the gorge, at the parking spot, you will be able to find little stall with some refreshment and a board telling you that you are 177 miles from Africa. So close from another continent. That´s crazy!
Eventually, you will get to this secluded rocky beach which is just perfect for camping and rock climbing.
Please, don´t make the same mistake as I did and bring some proper shoes with you. I was wearing only flip-flops and made it only to the middle of the rocky mountain (such a pity, supposedly the views from top are ineffable). And all the way towards the beach you will find plenty of trees perfect for hammocking and many goats as good evening companions.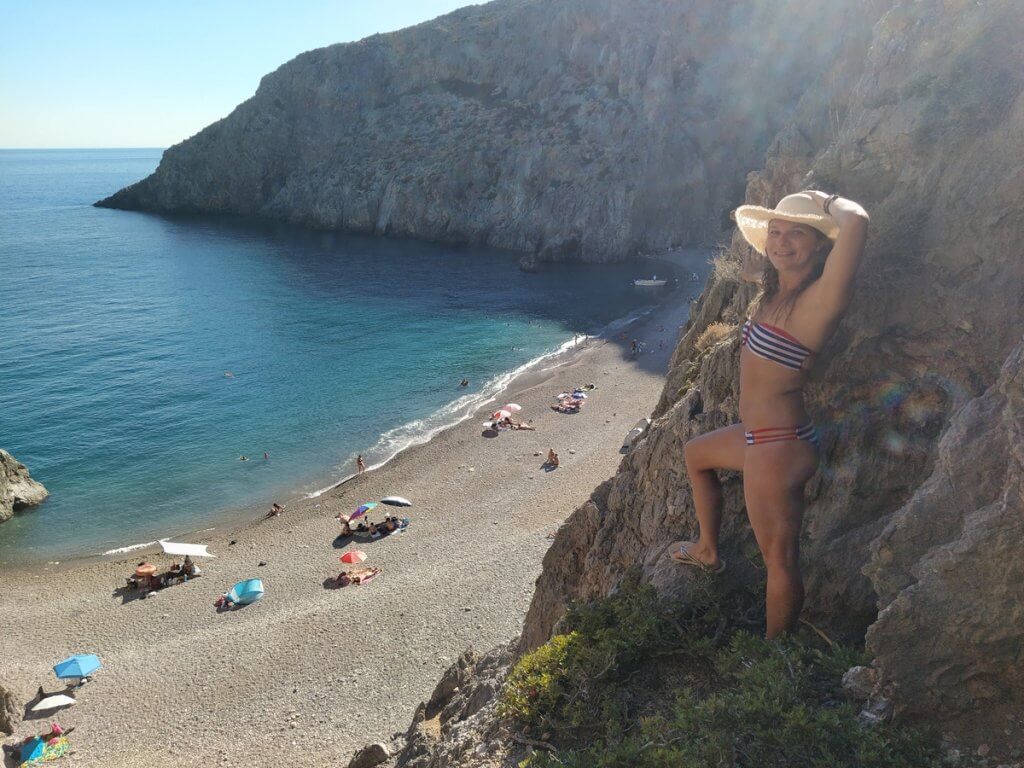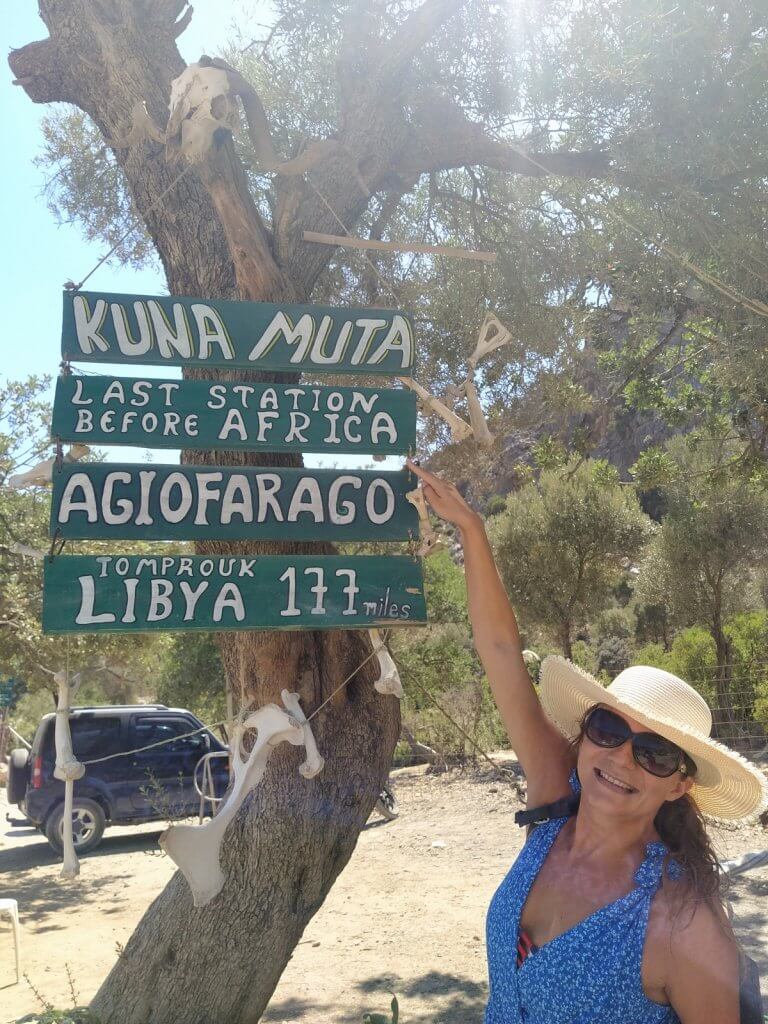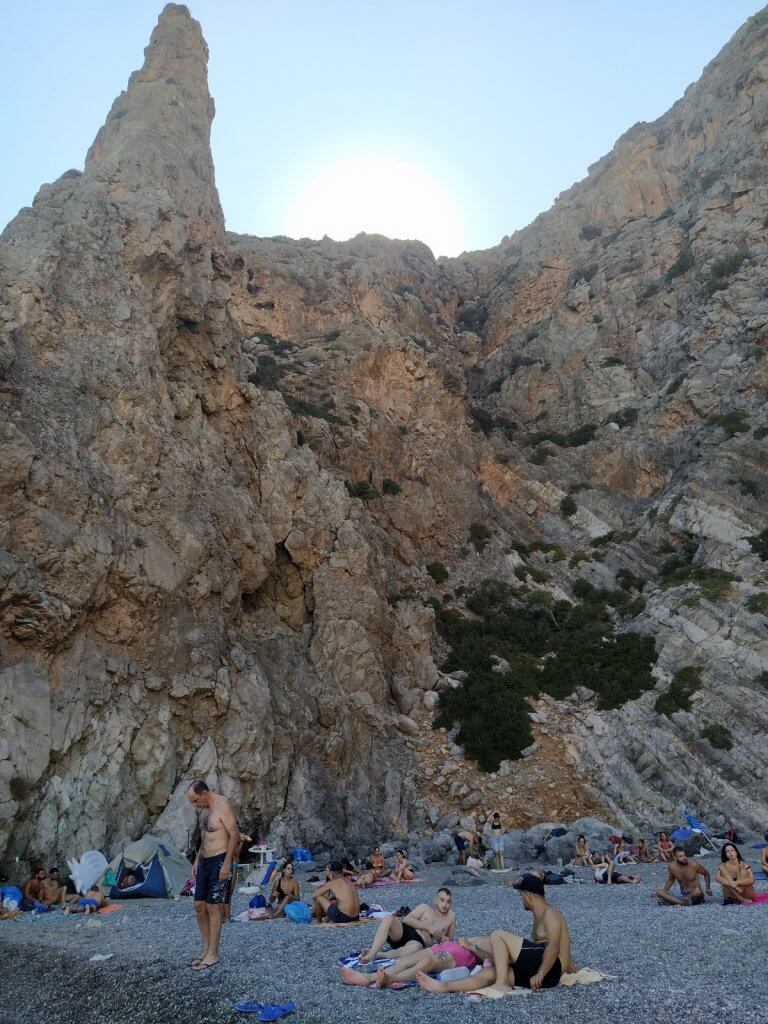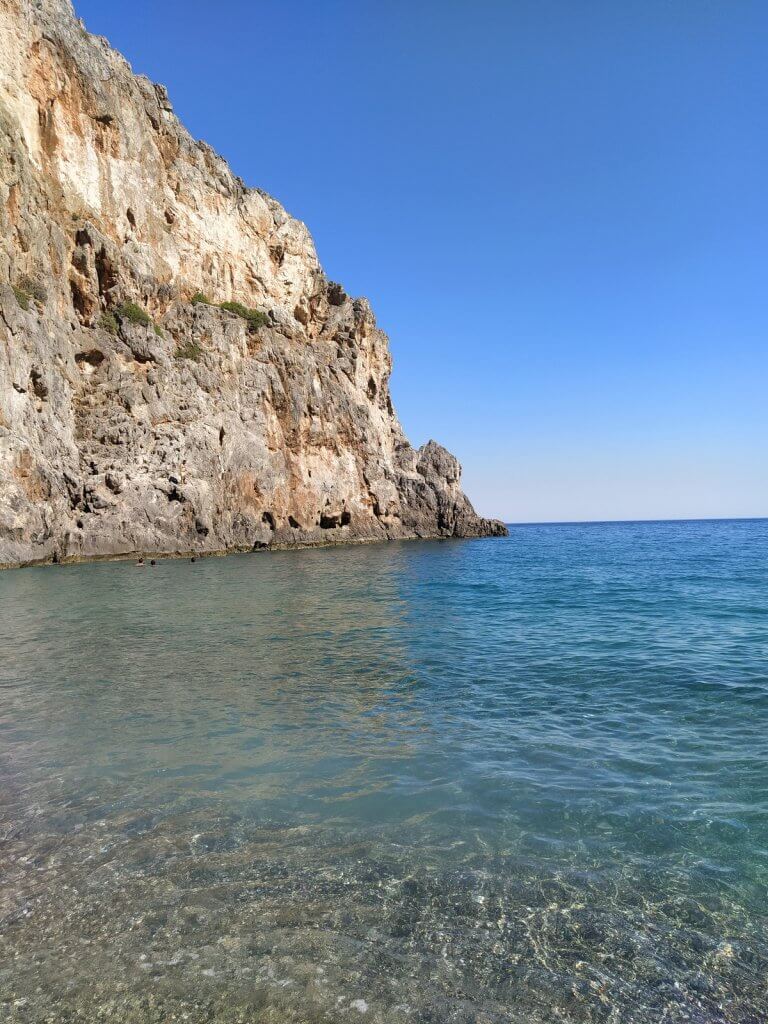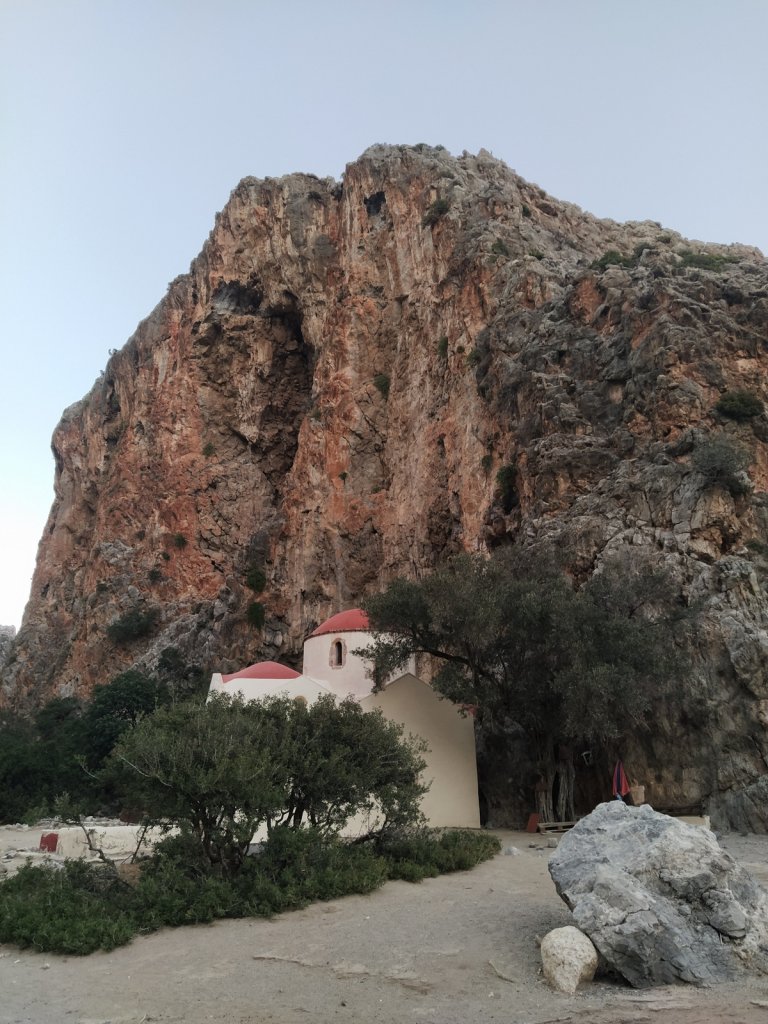 5 Red beach
Another beach on my off the beaten list of beaches of Crete is Red beach located just a while walking from famous hippie town Matala, located in the South of Crete. We managed to take a bus from Heraklion central bus station at 07:30 for around 8 euro one way with one stopover in the village Mires towards Matala. Because of extremely high temperatures (above 42 degrees), the famous caves in Matala were closed and we decided to head towards Red beach.
The best will be if you wear proper shoes if you are planning to visit Red Beach. The terrain is pretty rocky, first half of this mini hike is going up, the second is going down. It took me around 25 minutes. Views from the top over Red Beach are ineffable. Once you get down, you will find small cute bar with flags from countries all over the world. Bit overpriced mojito (9 euro) will definitely put you in a mood as it is pretty strong.
Red Beach is partially nudist beach so those who are fans of such beaches, this is the place where you can get completely naked and you won´t be judged!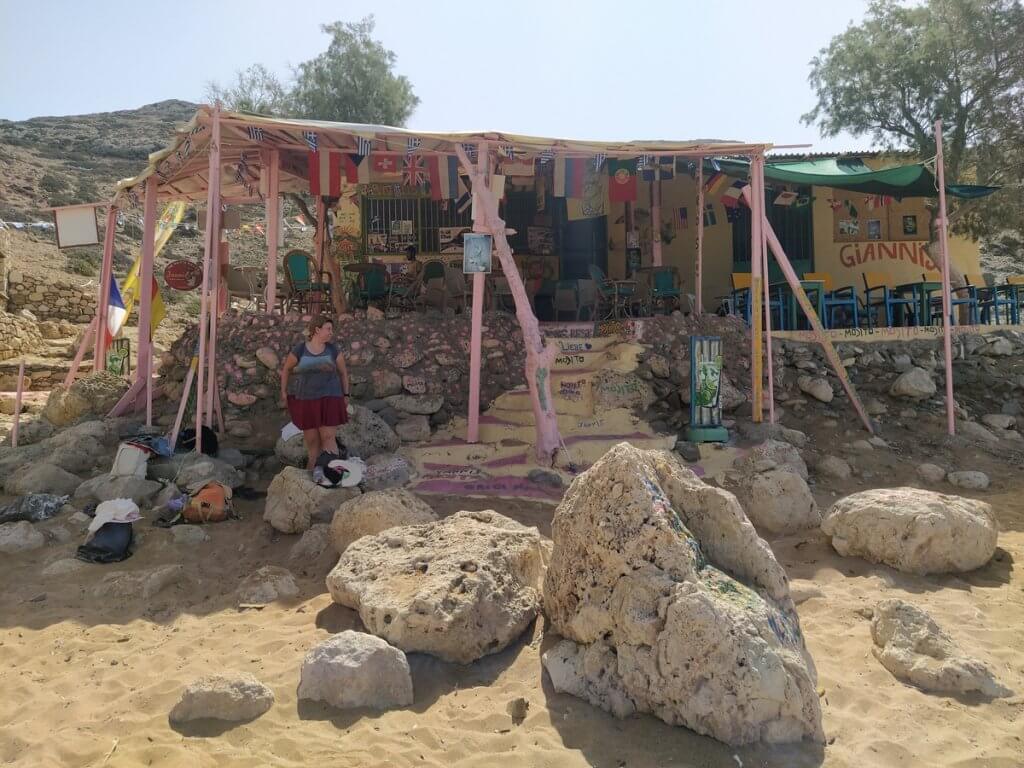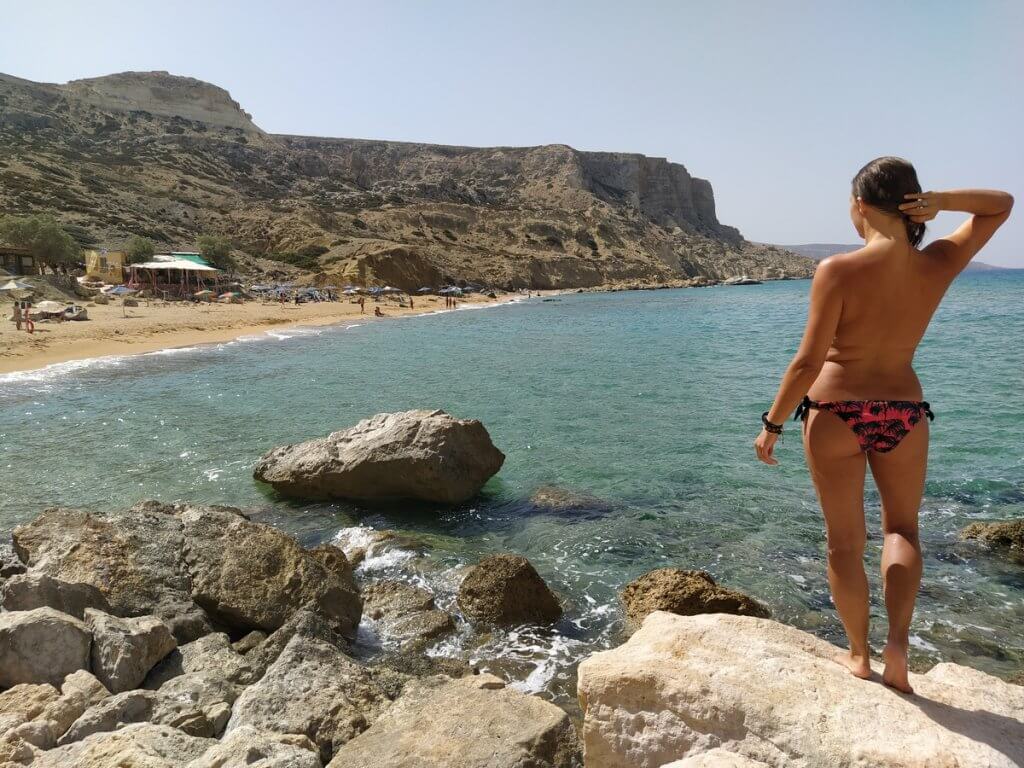 6 Kedrodasos beach
Everyone heading to Crete definitely heard of famous pink Elafonisi beach (which is overrated in my opinion) but not that many people heard of close by (3km away) Kedradosos beach. In order to get to this beach you will need to go bit of off road (still manageable by normal car) and parking can be challenging. However, the beach is breathtaking.
Colour of sea has variety of crystal blue, it is super clear and transparent and less overcrowded. Get ready to walk a bit in order to get to this beach.
And as it is not an organized beach, bring water and food with you. Once you get down, there is a trail which continues further form the main beach.
Further you get, less people you will find. And this is the way how we found the cute small hidden nudist beach over there. Simply breath-taking. This beach is definitely one of my favourites. Another reason why are the trees all over the beach where you can hang your hammock for some chilling time.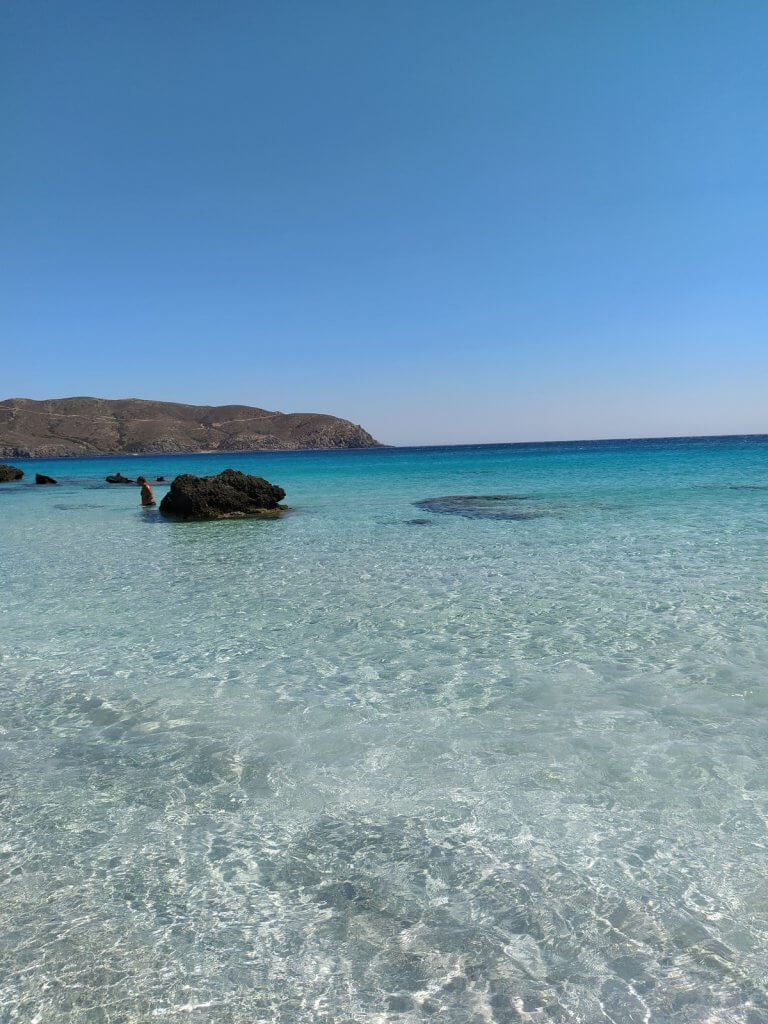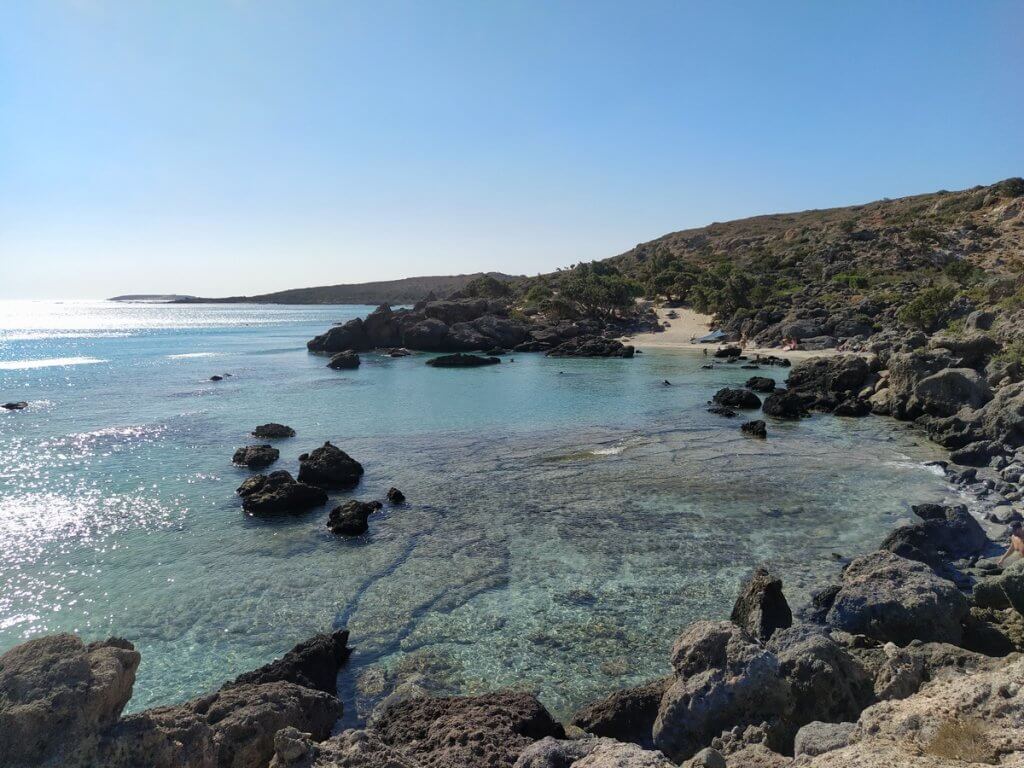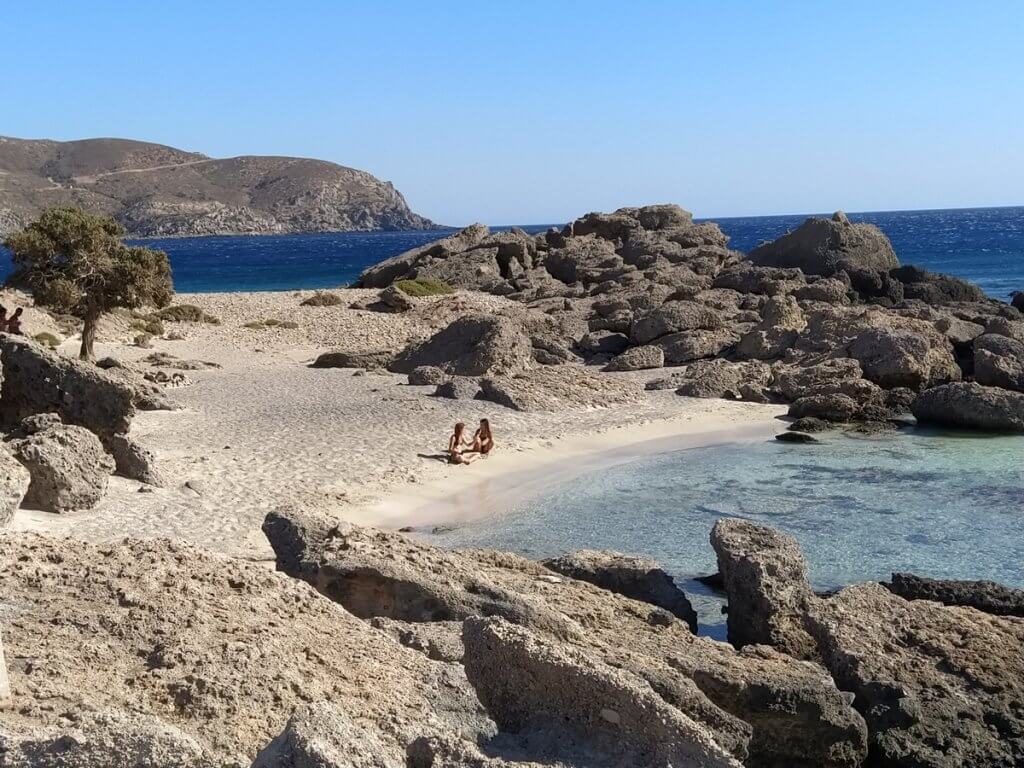 7 Triopetra Beach & Agios Pavlos sand dunes 
Triopetra might not be completely off the beaten beach but it is not a very popular beach around Crete. It is located in the South of Rethimno and prides itself with three huge rocks (that´s why the name Triopetra – three rocks). The highlight of this beach was breath-taking sunset which we watched from the rocky cliff on the beach where you can climb easily even in flip-flops (at least in my case). Beach is huge, sandy and has three tavernas and few sunchairs.
It also has beautiful hidden spot between rocks (amazing spot for camping) and few trees where we hanged our hammocks and stayed overnight.
What a beautiful night sleeping in hammock, watching stars and listening to the waves of the sea. One of the best nights of my Cretan adventure.
Only few kilometres to the East from Triopetra (watch out, some off road over there) you can spot beautiful sand dunes of Agios Pavlos. You can definitely roll over them and end up on cute Agios Pavlos beaches which have few hidden caves. Cool place to be. No bars, tavernas or restaurants. Just you, plenty of sand and beautiful sea. And yeah the walk up to sand dunes was pretty challenging haha.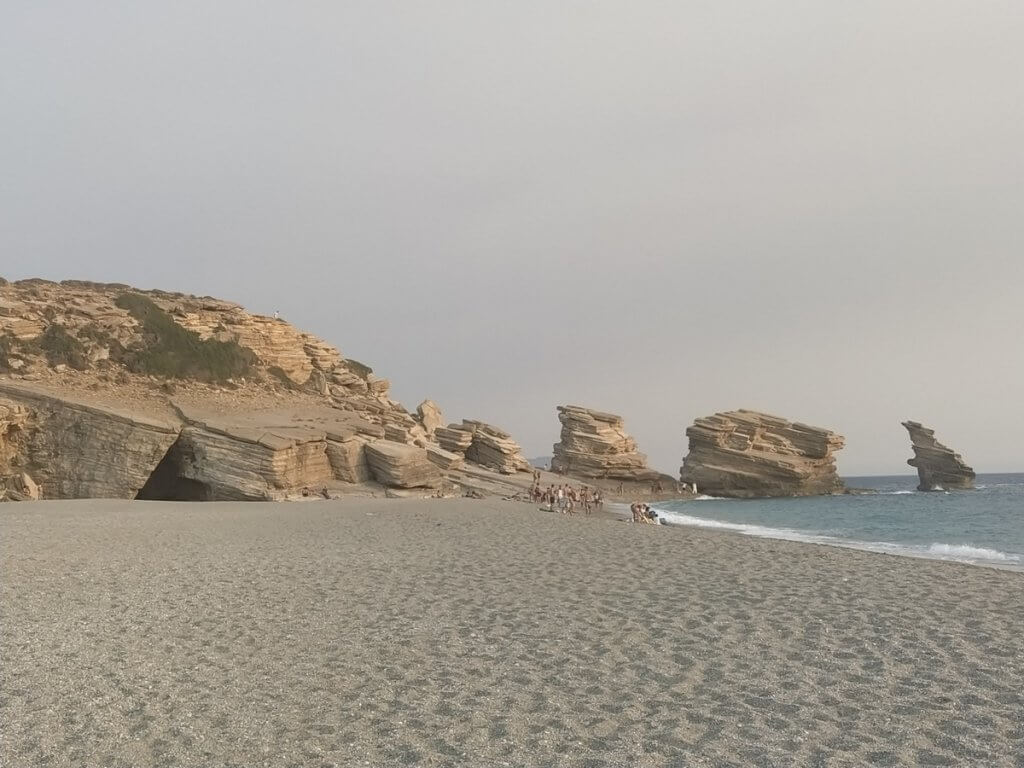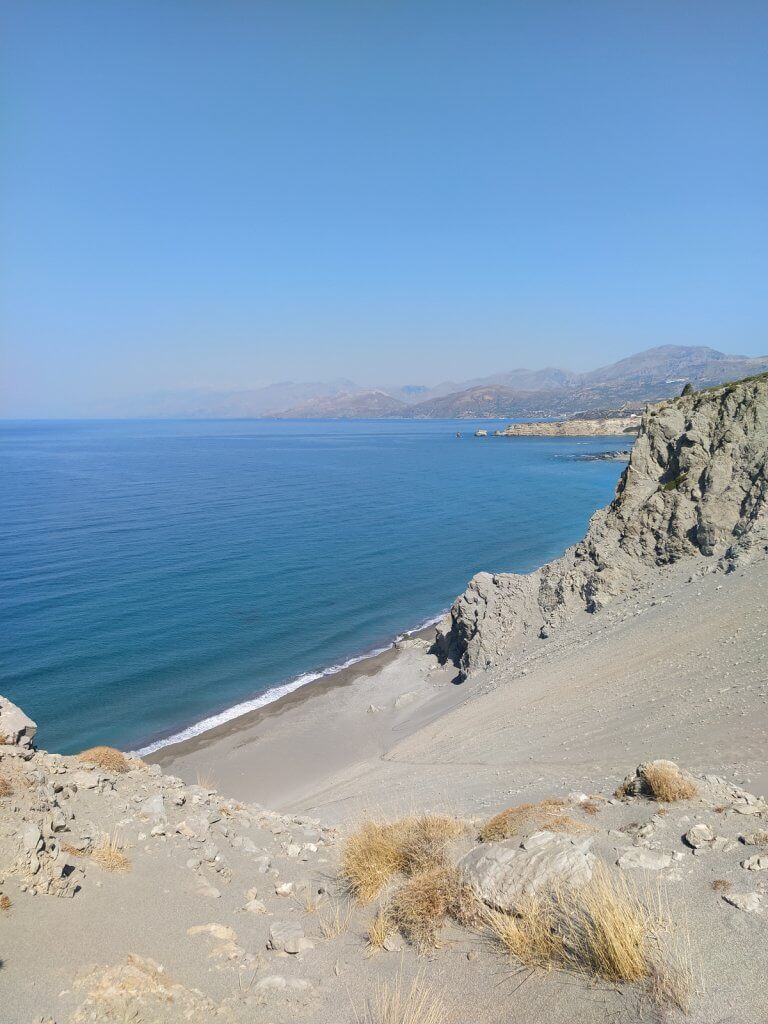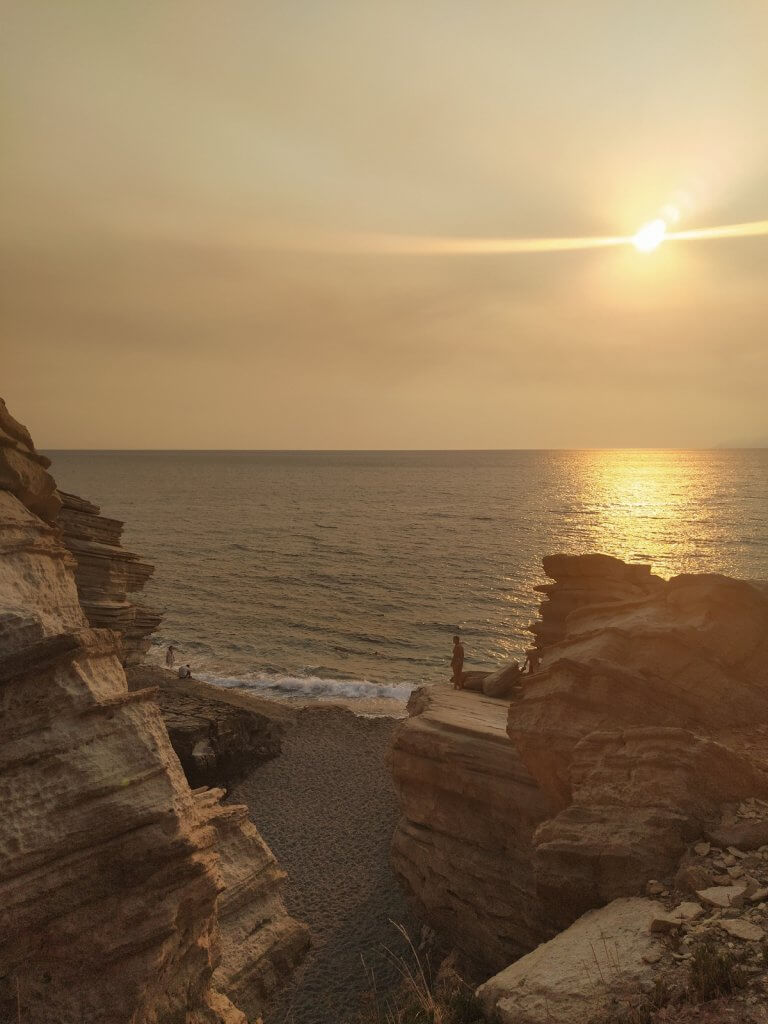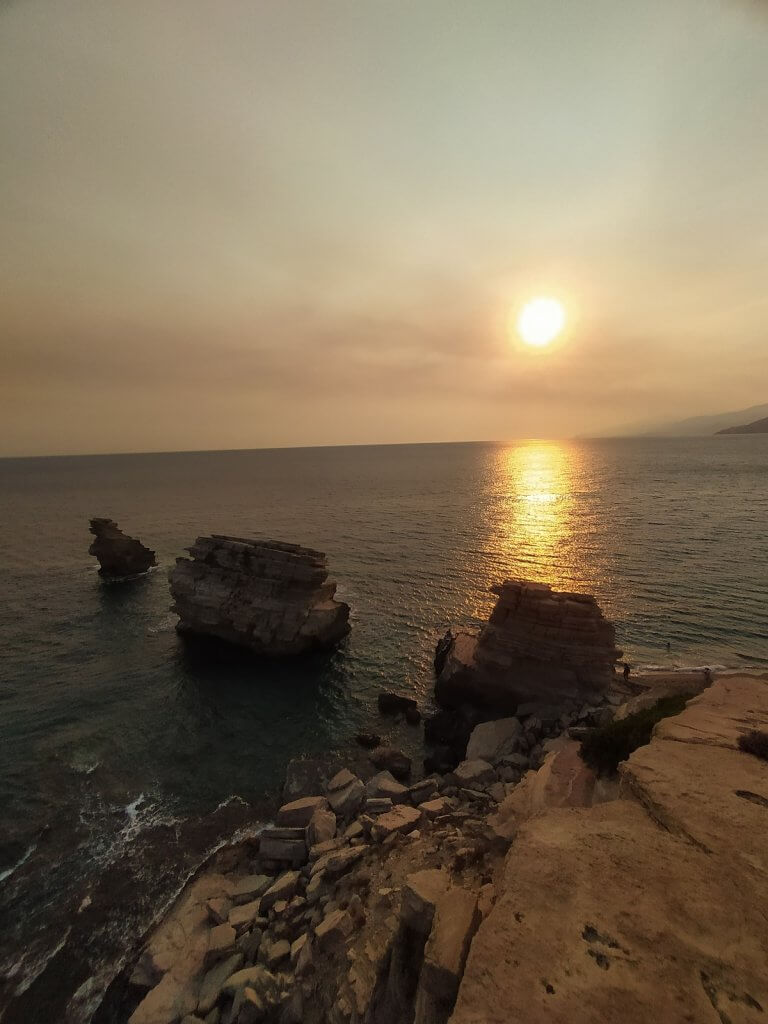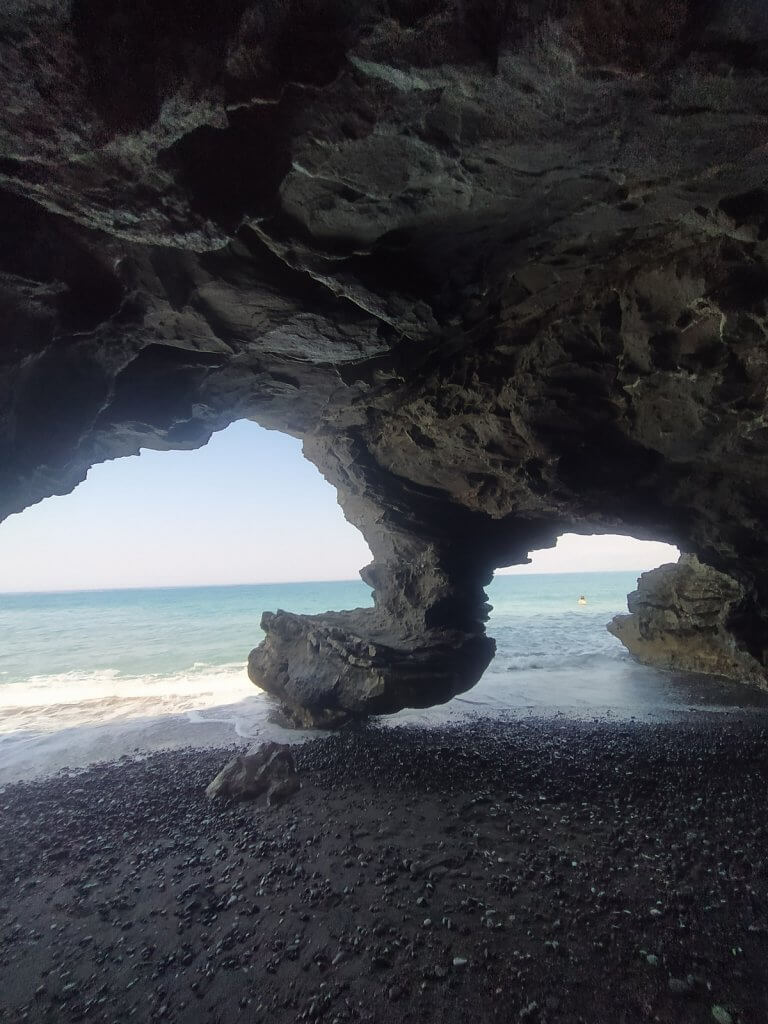 8 Agriomandra
And the best at the end – cherry on the top of my list of secluded beaches of Crete. Agriomandra is located around 90km East from Heraklion on the Northern shore of Crete. Get ready for short off-road in order to get to the entrance of Agriomandra gorge which you will have to hike down in order to get to this hidden gem of Crete.
No people at all, ineffable sunset, brilliant stars, beautiful colour of sea. We spent there a night in sleeping bags while watching stars most of the night.
Make sure to bring some comfortable shoes, refreshment and good energy. By the way, this place used to harbour ships form other parts of Crete which came to this natural port up till the WW2 to take on local products such as olive oil.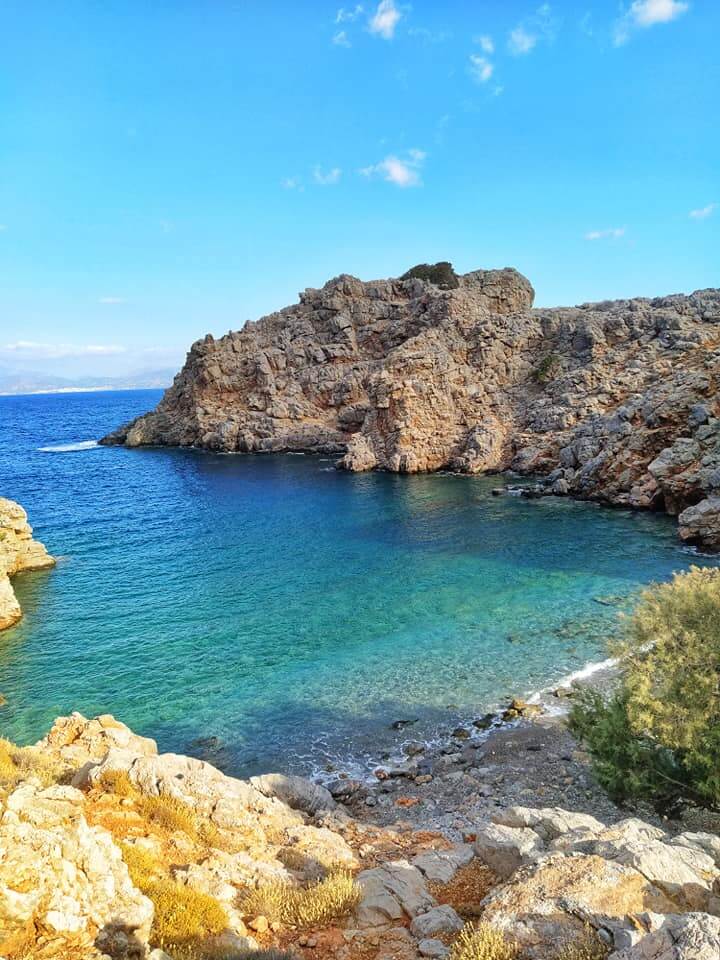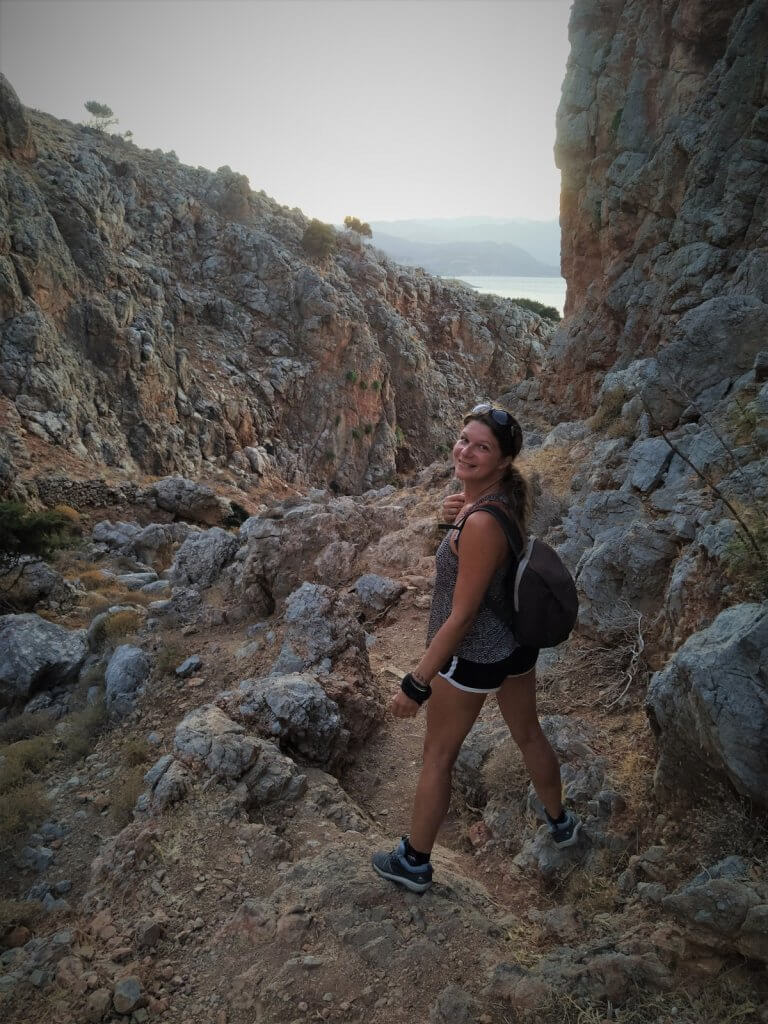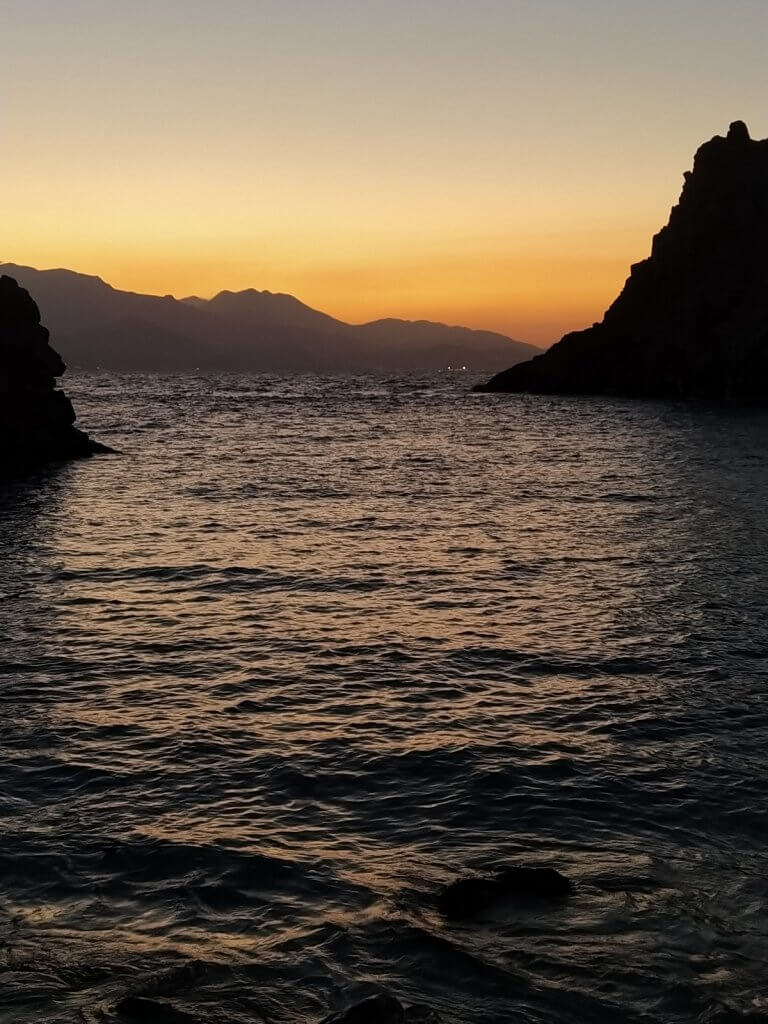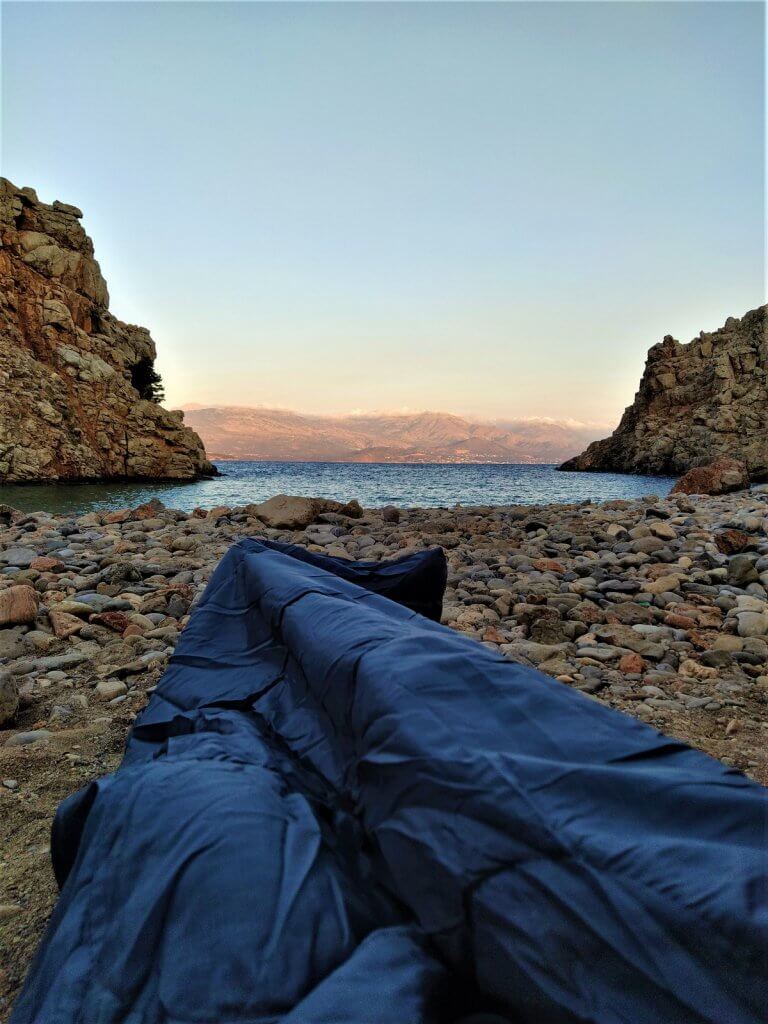 So here was the list of my favourite mostly secluded, off the beaten beaches of Crete. If you would like to add few of yours, don´t hesitate and do it in the comments below.
If you wish to receive my latest articles on your email and find more inspiration – sign up below.
And if you liked the article and you want to contribute for my future MiliMundo travels, don´t hesitate and do it now.
And if you are interested in articles on CENTRAL AMERICA – click HERE. On SOUTH AMERICA click HERE. And more articles about my beloved SLOVAKIA, then click HERE.
Please follow and like us: