Hits: 4031
My very first trip to Mexico was in the region Quintana Roo, Yucatan. I spent 2 weeks in Yucatan, exploring places such as Bacalar, Tulum, Cozumel or Isla Holbox. My second trip was devoted to Pacific coast of Mexico – to the surrounding of PUERTO VALLARTA.
In this article I will give you my 7 day itinerary of places and things to do in and around Puerto Vallarta with all the expenses I have had during my adventurous vacation. Those who read my blog  know that I am not type of traveller who would go for all-inclusive resort vacation. But neither I save on things I want to do on my travels.
MY 7 DAY ITINERARY FOR PUERTO VALLARTA
DAY 1 – PUERTO VALLARTA
I arrived to Vallarta around 5pm and my couchsurfing host Daniel picked me at the airport and immediately took me to beach Camarones to watch beautiful sunset. From there we headed to the historical centre of Vallarta and to so called "malecon" to experience a bit touristy but still charming atmosphere. After this lovely part, Daniel took me for more local experience, to play football with his Mexican friends. 🙂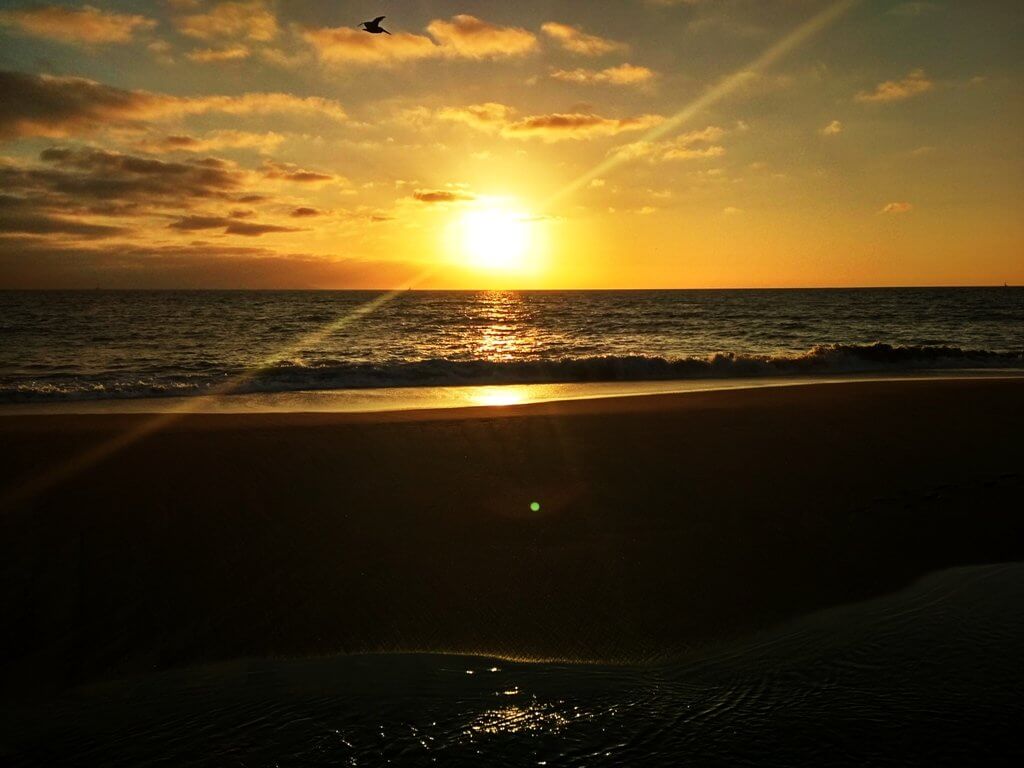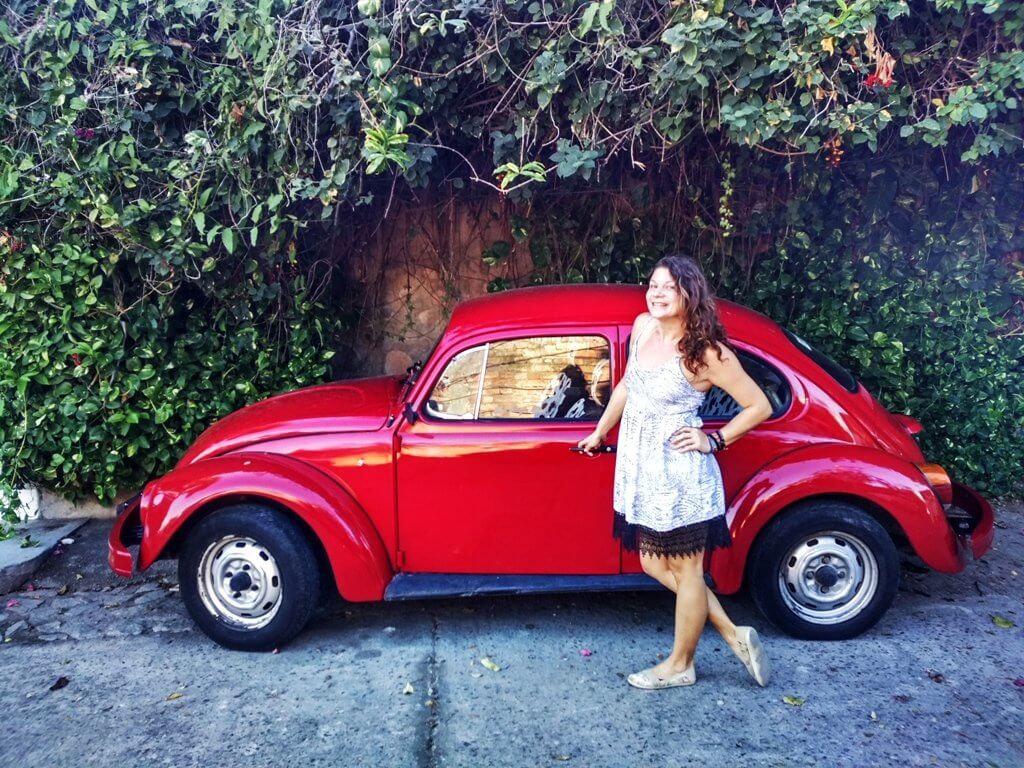 DAY 2 – HIKE TO BEACHES FROM BOCA DE TOMATLAN
In "Zona Romantica" of Vallarta me and Daniel took a local bus (so called camion) for 10 pesos to village Boca de Tomatlan where we got lucky to watch some whales from the port (not even a need for boat excursion). From Boca de Tomatlan  we started a 3 hour hike through very well marked trail into direction of the beach Quimixto.
People usually pay water taxi (boats) to get there, I preferred walking and we didn´t regret my decision. On our way we discovered many untouched isolated beautiful beaches such as Playa Escondida, Playa de Caballos, Los Animas (that one is pretty touristy though). My favourite was the first one, cute and small Colomitos. At our last stop in a tiny village Quimixto we hiked 20 more minutes to get to the waterfall where we swam for a while and got few drinks and quesadillas in a local restaurant. On our way back, we took a boat for 50 pesos back to Boca de Tomatlan and from there another bus to Vallarta.
I truly recommend this day hike for everyone who loves walking, jungle and views over ocean. Colour of water was incredibly green, trail was pretty easy and I believe that most people would manage  this hike without problems. 🙂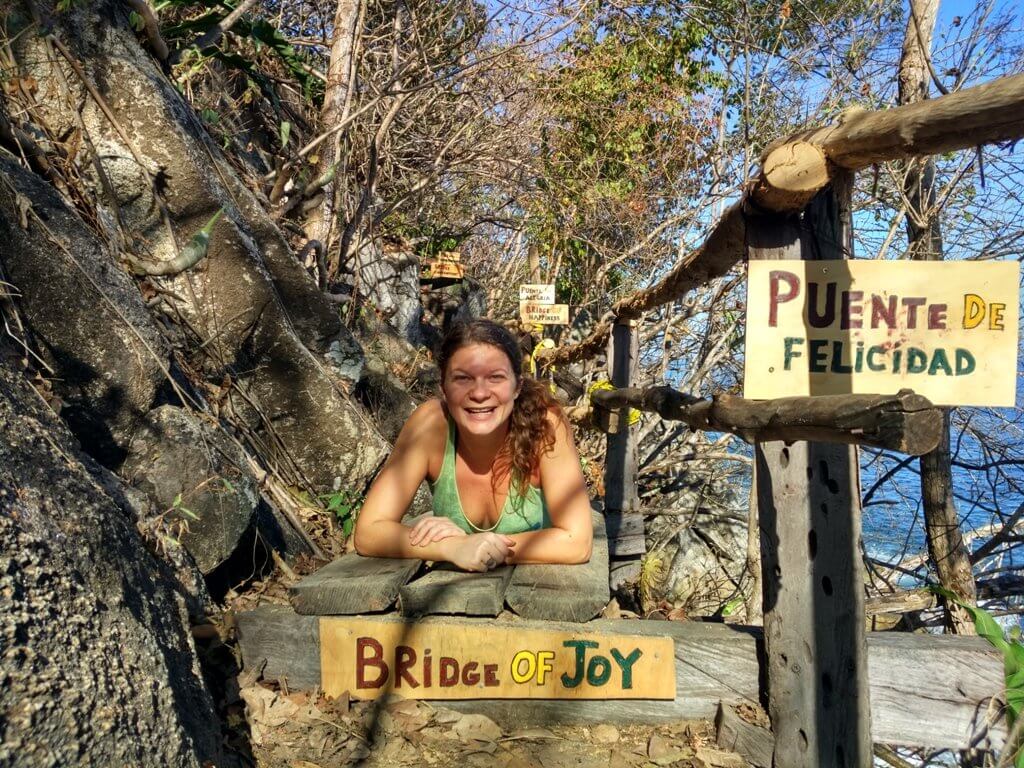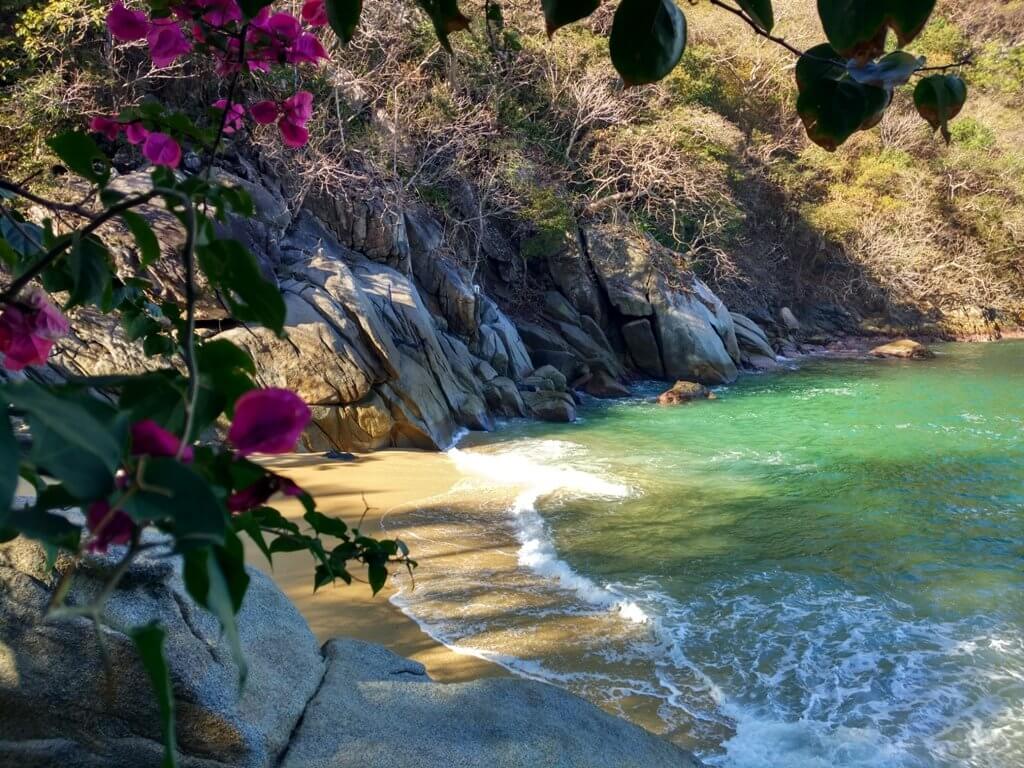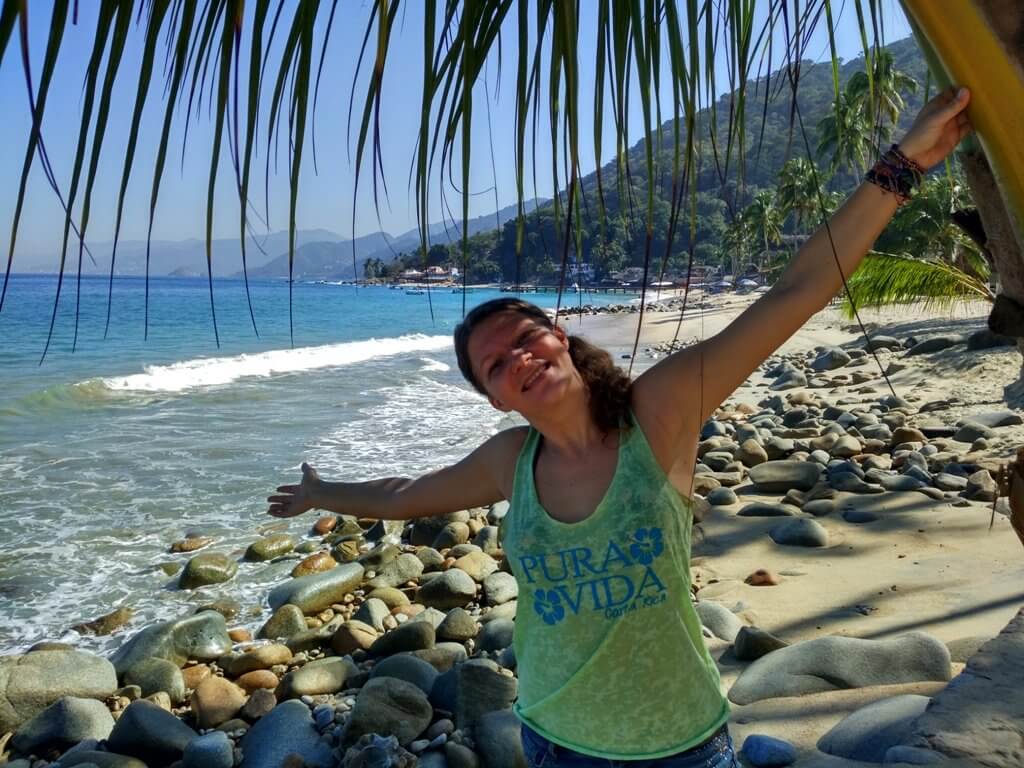 DAY 3 – PUERTO VALLARTA
This day I devoted fully to exploring of Puerto Vallarta. I started with a viewpoint Mirador de la Cruz from where you get to see the whole city and its green mountains surrounding it. The steps are pretty steep and difficult but worth doing it. After that I got lost in charming colourful cobbled streets of Vallarta experiencing local atmosphere and local food. I walked through whole "malecon" , famous beach Playa de los Muertos and ended my day at another viewpoint called Mirador de Faro which is almost unknown to tourists.
At the end of the day, Daniel took me for a game of baseball with his Mexican friends and I got to have another local experience. I truly love couchsurfing. 🙂
PS: If you are interested in whale watching organized by reliable travel agency from Puerto Vallarta towards Nayarit, try Ecotours whale watching excursion.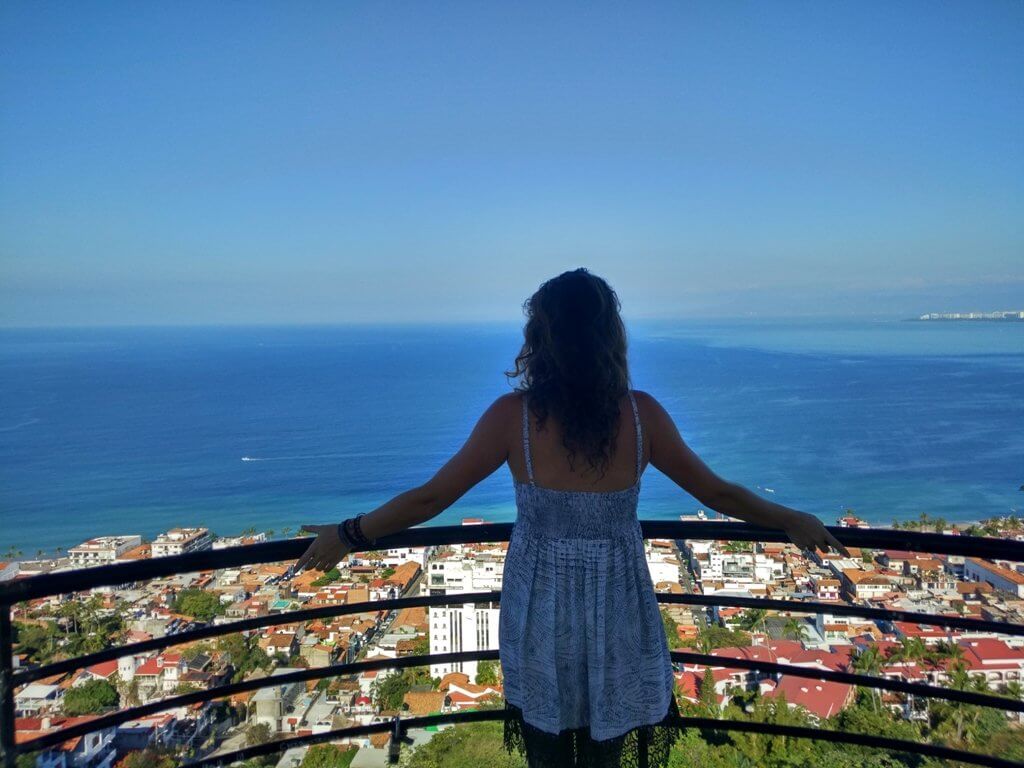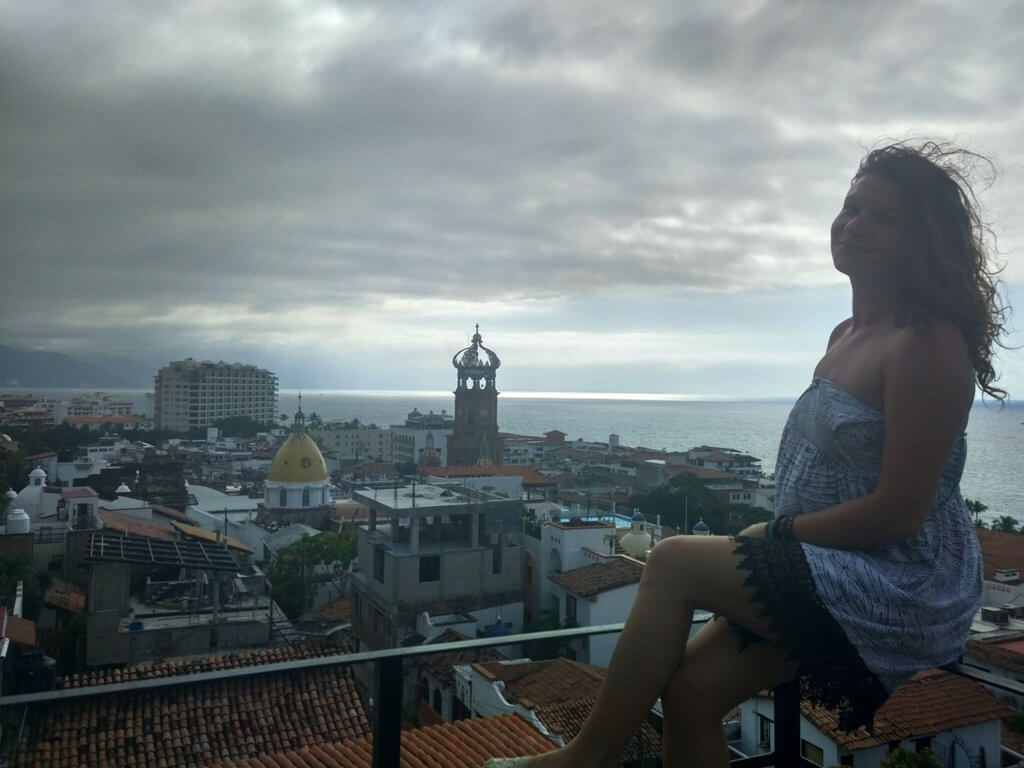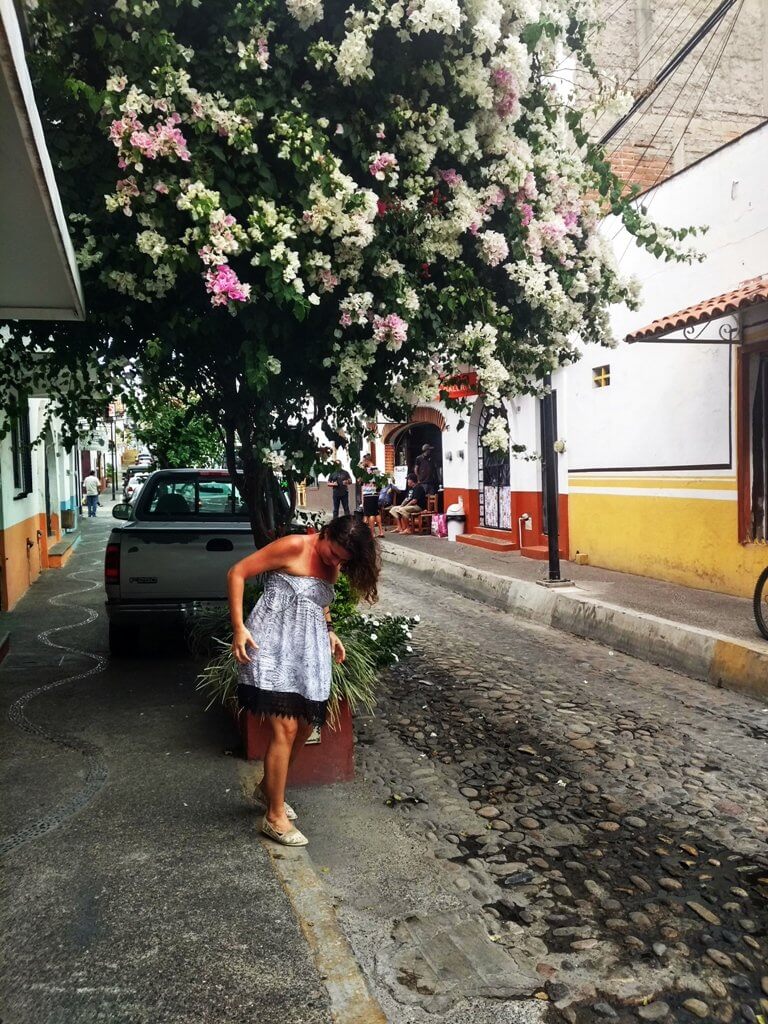 DAY 4 – PUNTA de MITA & ISLAS MARIETAS
Most people travelling to Puerto Vallarta won´t skip famous protected islands of Marietas. Every tour operator organizes boat excursions to these two islands taking you also to famous Hidden Beach or so called Beach of Love. I wasn´t an exception but instead of taking more expensive tours from Vallarta, I took a local bus for 30 pesos to village Punta de Mita and from there a boat trip to Islas Marietas for 585 pesos (27 euro), excluding Hidden Beach (that would be 1200 pesos extra).
And whether I recommend these islands? Honestly, I have seen nicer and more interesting islands with more precious beaches. I wouldn´t go there again for sure. But everything depends on our taste. I took a boat trip through local agency called Isla Pelayo and was happy with their services.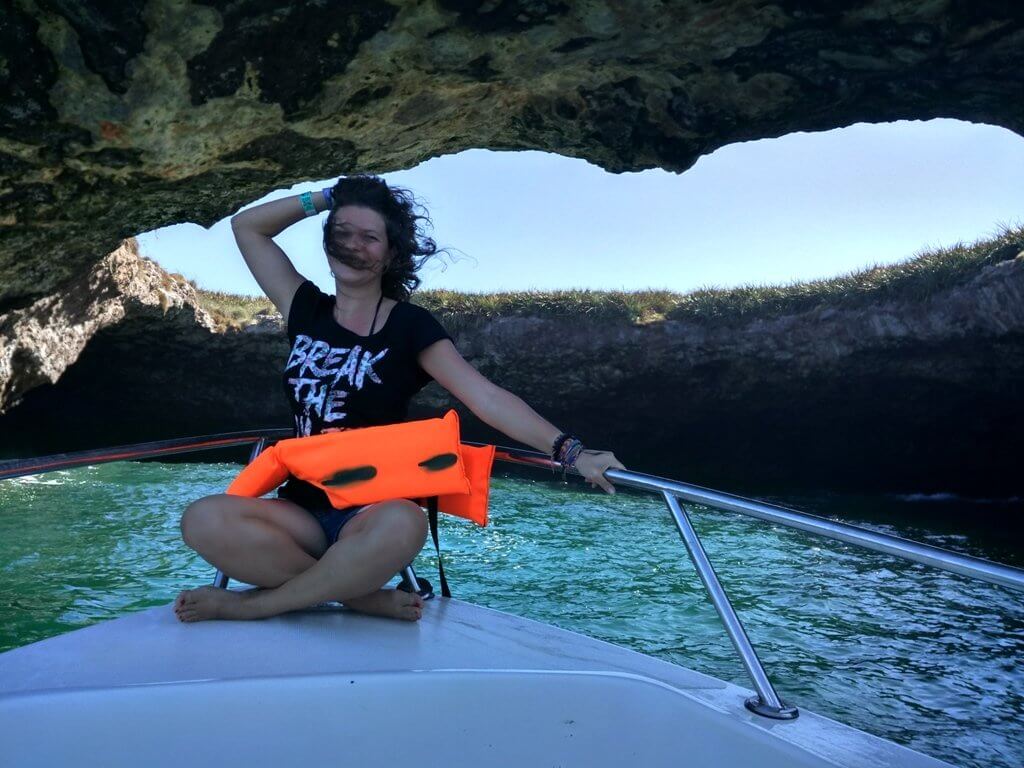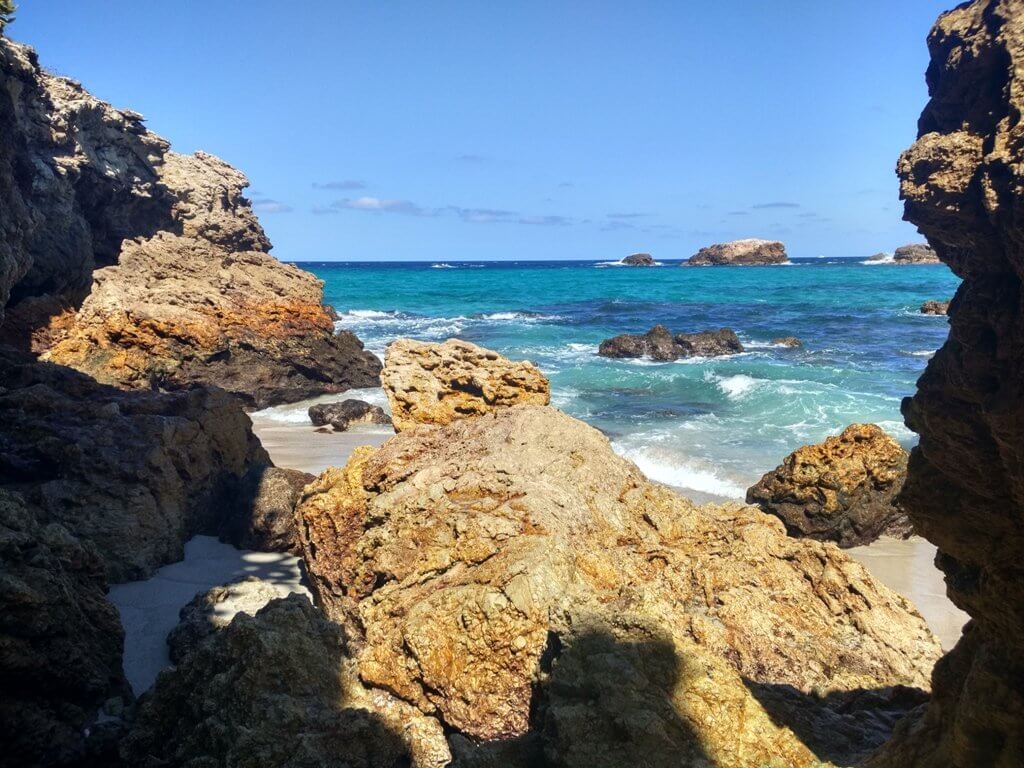 DAY 5 – SAN SEBASTIAN DEL OESTE
My CS host Daniel and his family took me for a day trip to "pueblo magico" San Sebastion del Oeste. Small, charming village in the middle of the green mountains. We had delicious but cheap breakfast in restaurant Eva Maria and after that we rented so called "cuatromoto (ATV)" at a local grocery shop for 400 pesos per ATV per hour. We took motos and after 45 minutes of crazy steep ride we arrived to viewpoint called La Bufa with the altitude of 2600 meters above sea level. And that gave us amazing views all over the valley.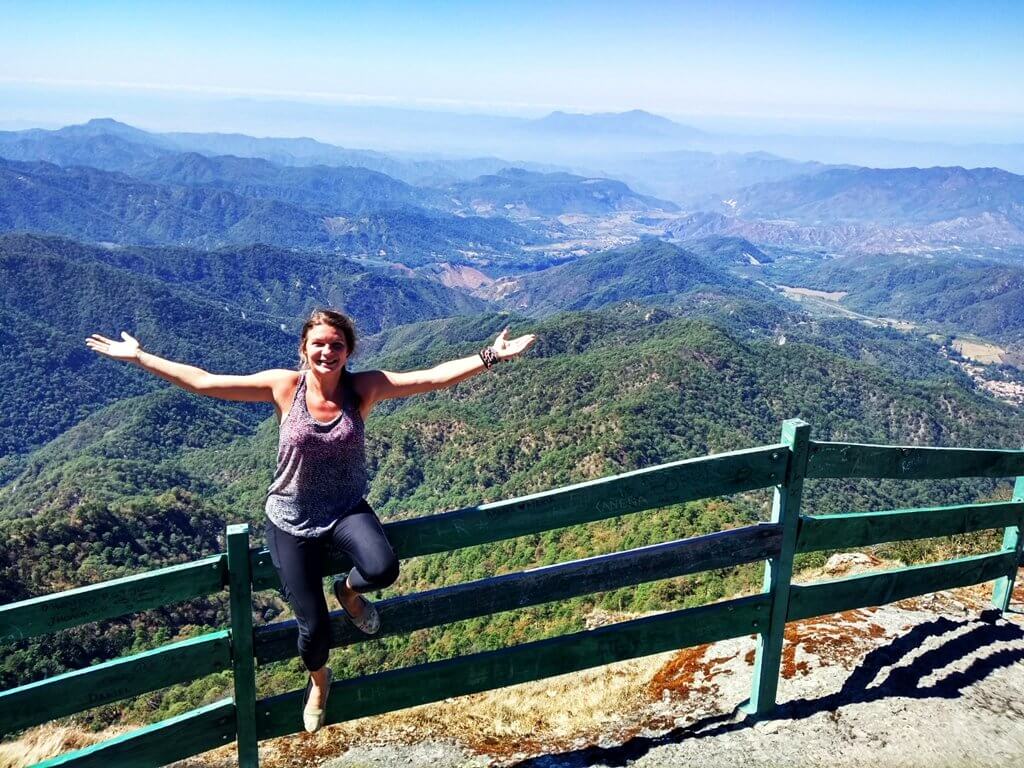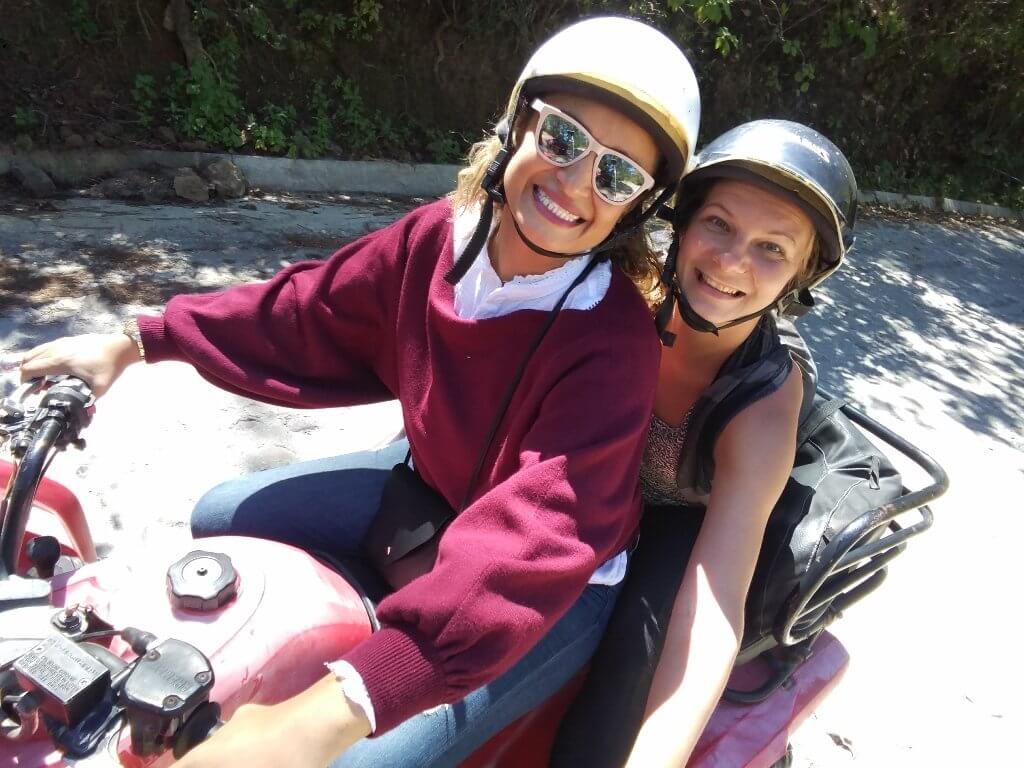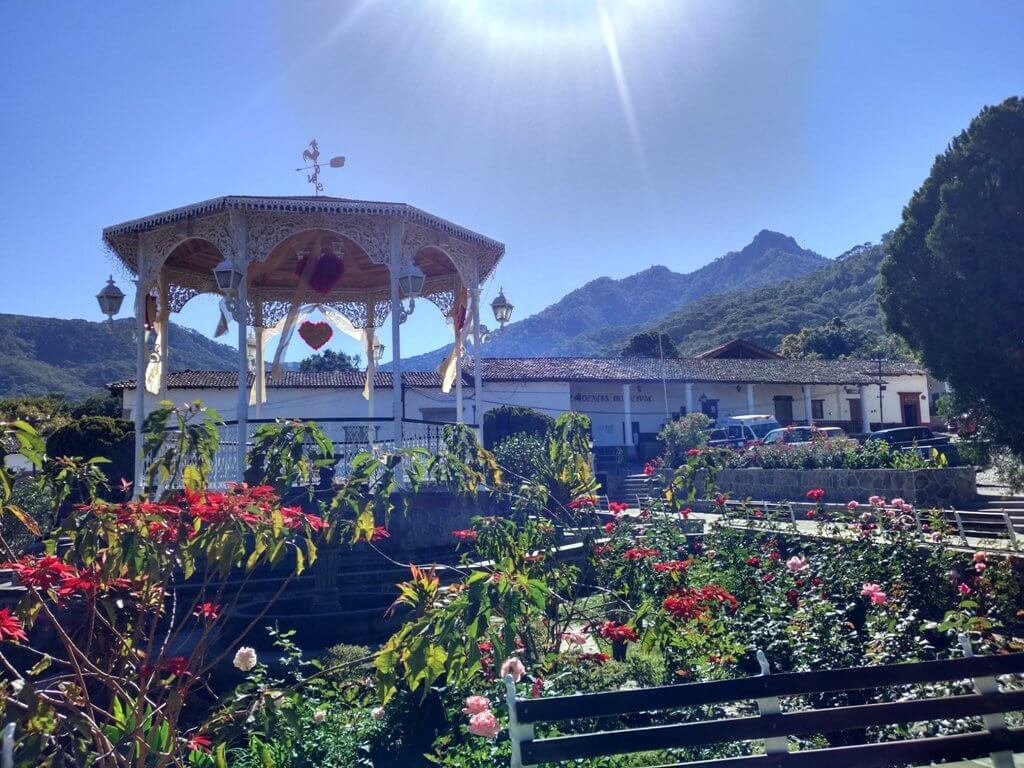 DAY 6 – SICK DAY otherwise SAYULITA & SAN PANCHO
Unfortunately, I got sick on this day, probably food poisoning and I had to stay in bed all day. All day running to bathroom and back. What an unfortunate vacation day. However, such things happen. If I hadn´t got sick that day, I would have visited close by villages called Sayulita and San Pancho (officially called San Francisco).
DAY 7 – RINCON DEL GUAYABITOS, LOS AYALA & ISLA DEL CORAL
My last full day in Mexico was devoted to exploring other small villages north of Vallarta, in region Nayarit. The first village of Rincon de Guayabitos prides itself with a small local market with local hand made products. I walked through the village, its nice beach and hiked up the viewpoint. Then I took a small bus for 12 pesos and arrived to town Los Ayala which has cute beach with many beach sellers of fresh coconut water, oysters, shrimps, etc …
One of the local promoters persuaded me for few hour boat trip for only 300 pesos. We managed to observe few whales, visited Isla del Coral and its beach (which wasn´t very suitable for swimming because of sharp rocks) and experienced very relaxed atmosphere. Highly recommended.
On my way back I stopped at San Pancho for delicious dinner directly on the beach watching breathtaking sunset. Perfect end to perfect vacation. 🙂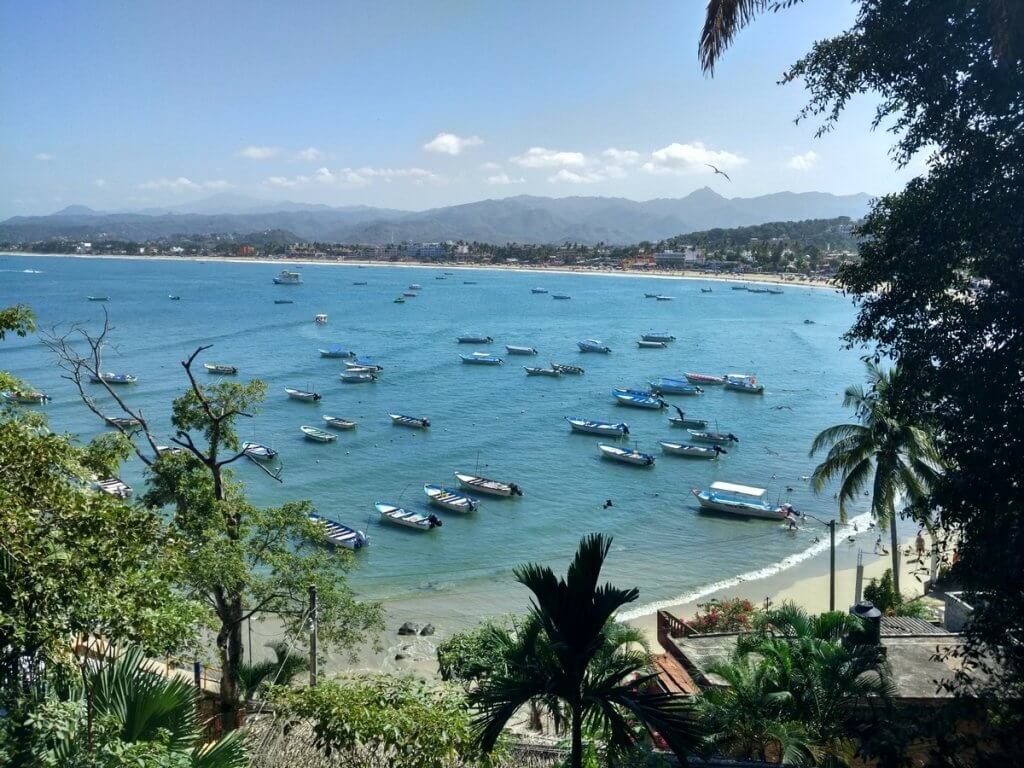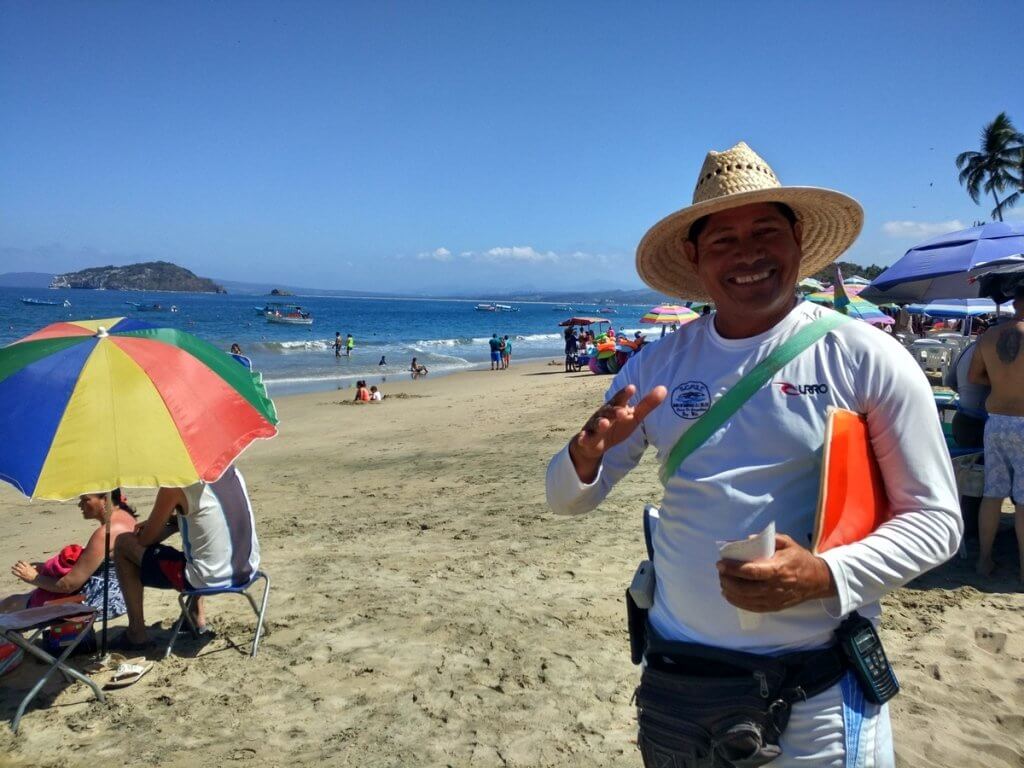 MY 7 DAY BUDGET FOR PUERTO VALLARTA
As I always say, budget is a very personal and subjective matter and it depends solely on you how much money you spend on your travels and vacations. I will summarize my expenses and hopefully this might give you an idea how much money you need to save for your trip. I will sum up prices in Mexican pesos and Canadian dollars as I live in Canada now and I was changing Canadian dollars for Mexican pesos. 1 CAD – 14,50 pesos in February, 2019.
FLIGHT TICKETS: 580 CAD
 A bit more expensive as expected but I booked flights only few weeks before flying. I booked it through my favourite Skyscanner and flew through West Jet. It was direct flight and it took me 5 hours to get there from Vancouver.
ACCOMMODATION: 0 – NADA – NOTHING
I am travelling through couchsurfing where locals opens their homes for you for free. Actually for cultural exchange. Read more about couchsurfing HERE. My host was amazing Mexican guy Daniel who gave me luxury of having my own room, bed, bathroom and even huge TV with wifi. I couldn´t get luckier.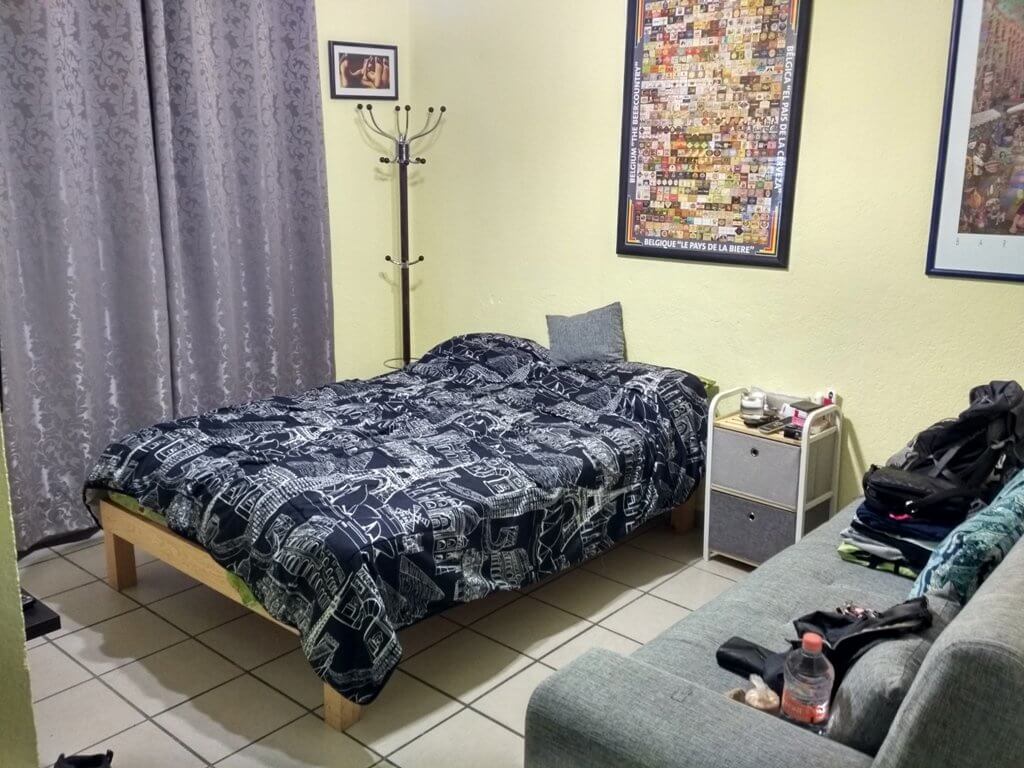 TRANSPORTATION: 414 pesos (28 CAD)
Transportation in Mexico is pretty cheap especially if you take local "camiones" which mean buses. They are not 100% comfortable but are safe and take you from point A to point B. Journey from Vallarta to Boca de Tomatlan 10 pesos. From Vallarta to Punta de Mita 30 Pesos. From Vallarta to San Pancho 55 pesos. A bit more expensive are official bus lines such as Pacifico. Journey from Vallarta to Rincon de Guayabitos cost me 170 pesos with Pacifico line.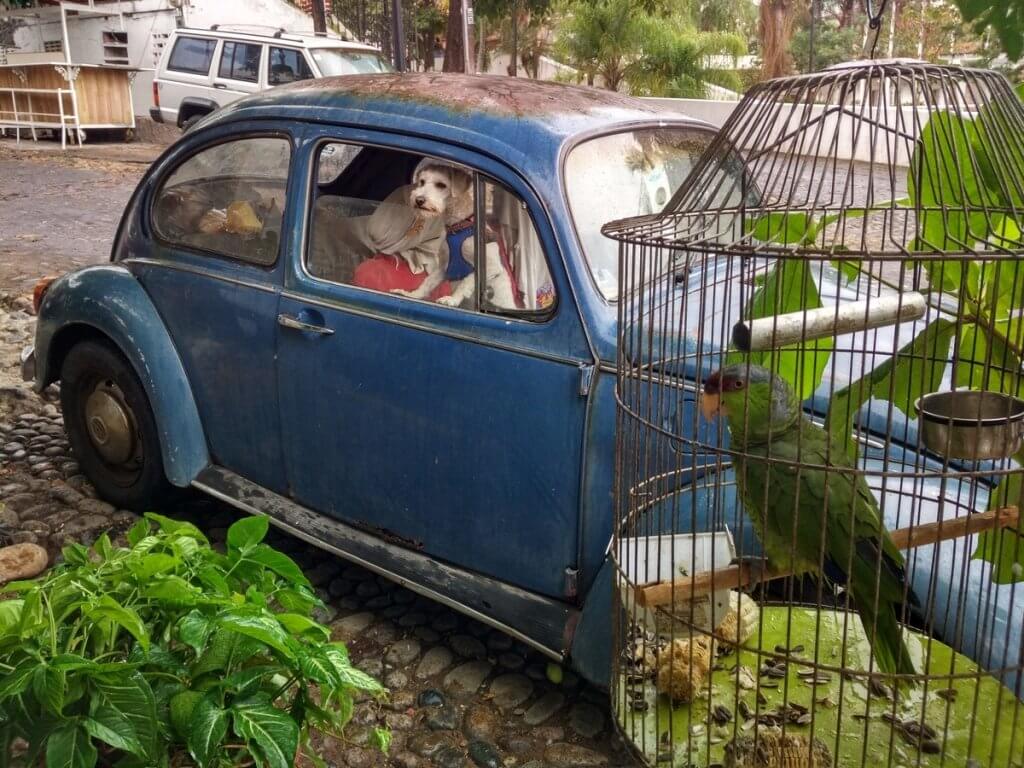 FOOD & DRINKS: 2058 pesos (141 CAD)
In Vancouver I work at nice, luxurious restaurant. I get to eat delicious seafood every day. Therefore, when I am on my travels I prefer something more local. More typical. Like Mexican street food. And that is pretty cheap in Puerto Vallarta. Good portion of quesadillas or tacos with fresh orange juice may cost your around 50 pesos (3 CAD). The most expensive meal I got there during my vacation was for 170 pesos (around 12 CAD) and it was at a beach restaurant in touristy San Pancho. Margaritas cost around 100 pesos at beach restaurants.
It is recommended to leave at least 10% tip, I usually left between 15 %and 20%, even to street sellers. 🙂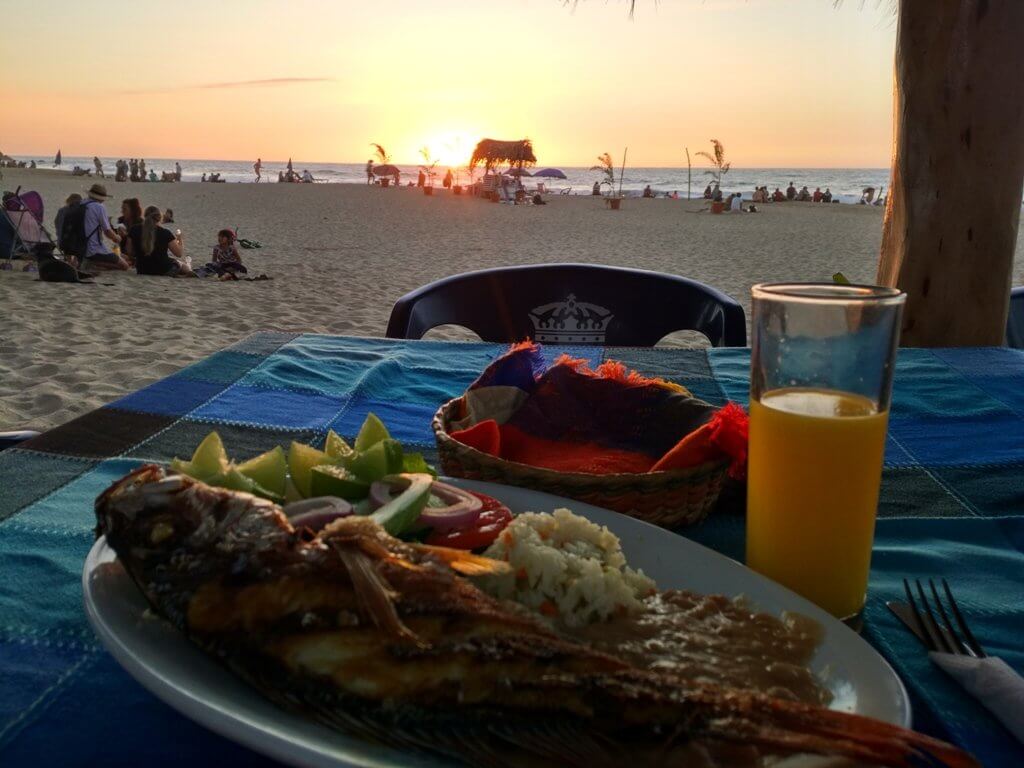 TOURS & EXCURSIONS: 2400 pesos (165 CAD)
 I am not a big fan of travel agencies and mass touristic excursions but if I am recommended to do something that seems interesting and I don´t have my own ways how to do it, then I will take a help of agencies. Around Vallarta I took few boat trips. First one was to protected islands of Marietas. I travelled to Punta de Mita in order to get greater prices. Two and half hour boat tour cost me 585 pesos excluding famous Hidden beach (Playa del Amor). To get there for extra 20 minutes you would have to add extra 1200 pesos which was unreasonable for me. Another boat trip I made was in Los Ayala where half day trip to Isla del Coral and whale watching cost me only 300 pesos. Other expenses were for ATV renting in San Sebastion del Oeste. 400 pesos per hour per ATV. Moreover, I always left some tips for local guides. 😉
OTHER: 1068 pesos (73 CAD)
My other expenses during travels usually include gifts, souvenirs, medicine (I got food poisoning), street tips (for artists), phone credit, etc…
TOTAL – 5940 pesos (1000 CAD)
This prices includes flight tickets, food and drinks costs, local transportation, excursions and tours. Not that expensive for seven day vacation in Mexico, right? 
Do you have more questions about my 7 day vacation in and around Puerto Vallarta? Feel free and leave your questions in the comment below. Happy travelling. 🙂
And if you want to have more information about this magical Mexican city, visit official Puerto Vallarta Tourism Board page. 🙂
If you wish to receive my latest articles on your email, sign up below.
And if you want to contribute for MiliMundo travels, don´t hesitate and do it now. 🙂
And if you are interested in articles on CENTRAL AMERICA – click HERE. On SOUTH AMERICA click HERE. 🙂
PS: Looking for great travel insurance with great prices? Insurance which you can book even when your journey has already started? Have a look at The True Traveller. I am more than happy with them. 🙂

Please follow and like us: