Hits: 3411
Most people I know stayed on the Garden island of Hawaii – KAUAI – less than a week. And that´s a pity. I stayed there 10 full days and I can imagine spending more time on the greenest island of Hawaii. In this article I will sum up my 10 day itinerary on Kauai and what I got to do and see on the oldest Hawaiian island in 10 days.
Btw, Kauai is a super small island and it´s easy to travel. From the most Western part to the most Northern part you can get  within 2 hours by car. So jumping from South to North is not  an issue. 😉 
If you are interested in traditional Hawaiian Luau with Hula dancers, click HERE for more info. 
DAY n. 1  – KOLOA surrounding
My very first day my couchsurfing host living in Koloa took me for great places around this tiny and cute town. My first stop was famous Poipu Beach. After that I explored town itself and head to secret place of huge turtles  where no tourists go (I love couchsurfing!). At the end of the day we enjoyed amazing sunset at Spounting Horn, place where in the middle of a beach cliff is a hole and there is a huge stream of ocean coming out of it.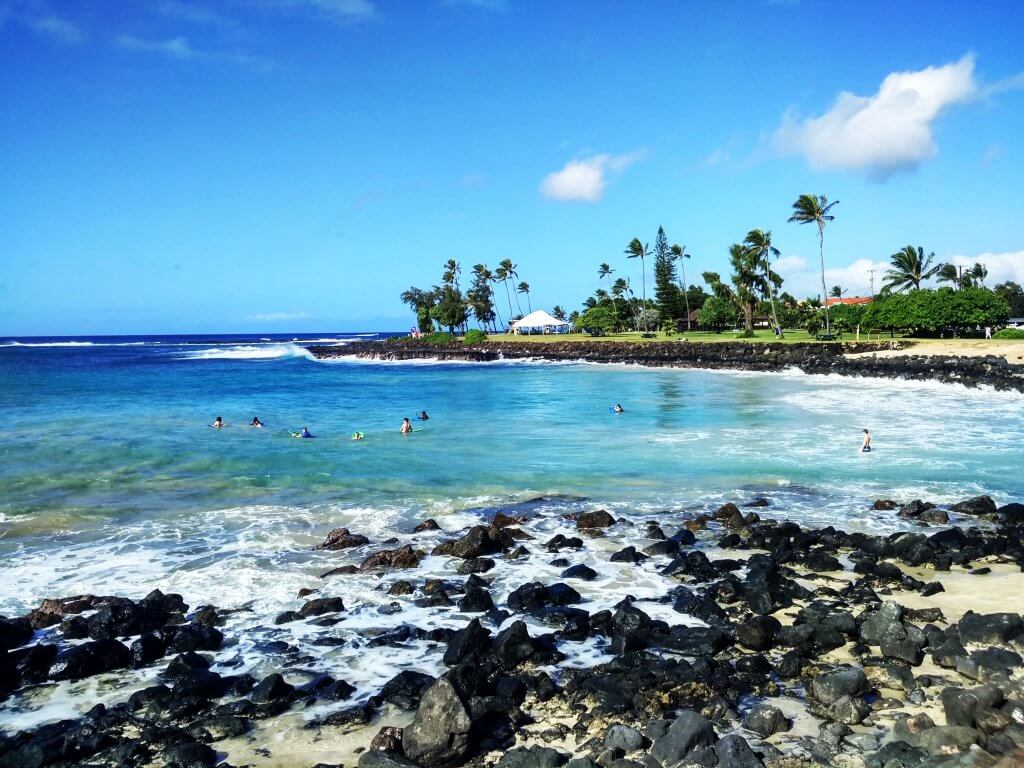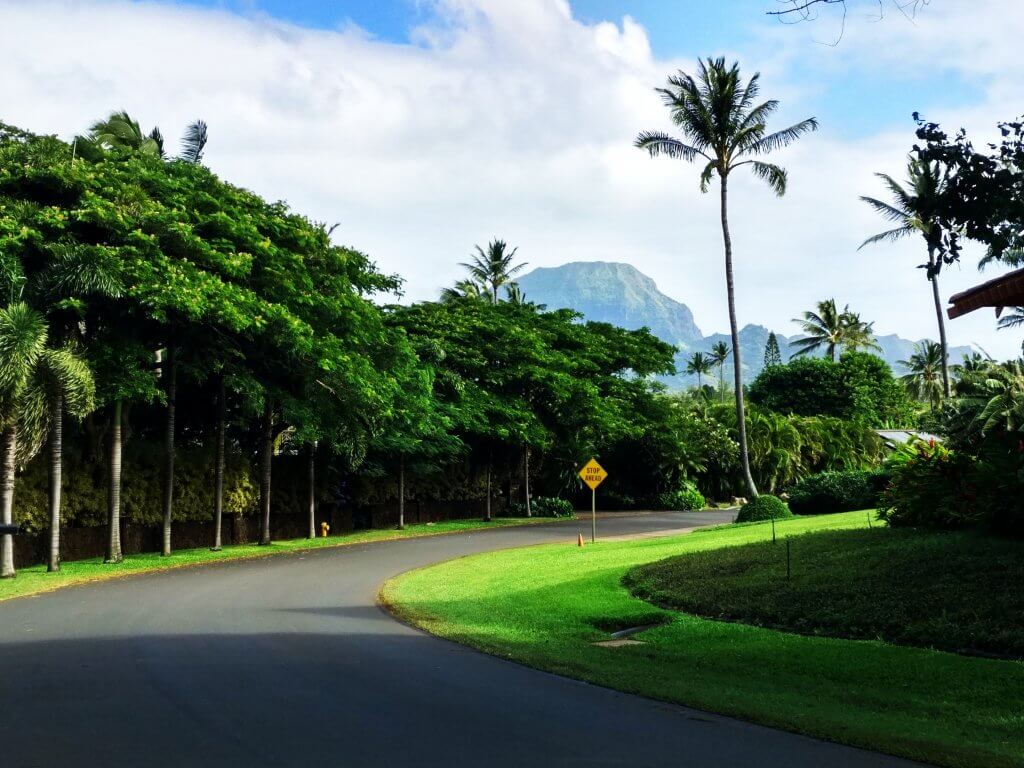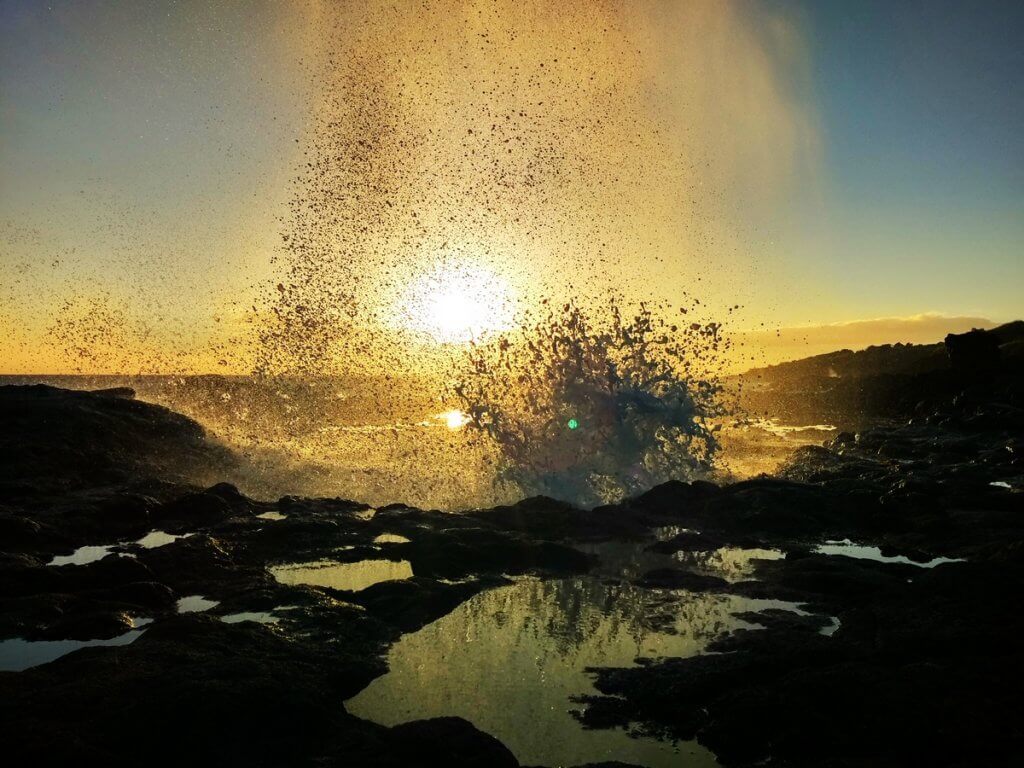 DAY n. 2 – WAIMEA CANYON
My second day I spent with Valerie, another couchsurfing girl and we decided to hitchhike to Waimea Canyon. Canyon with a nickname "Grand Canyon of the Pacific". We were lucky enough to stop a car with 3 locals who went for a day hike in the surrounding of Waimea Canyon and took us for an amazing day hike called Sugi Grove. On our way there and back we got an opportunity to observe breathtaking views over Waimea canyon.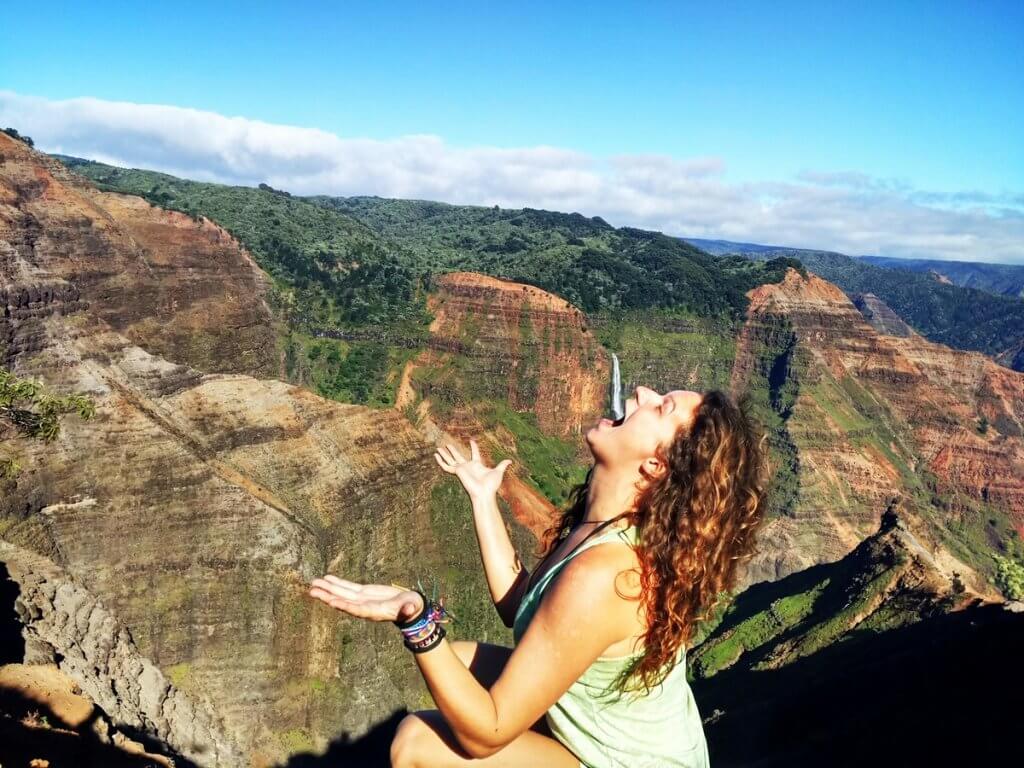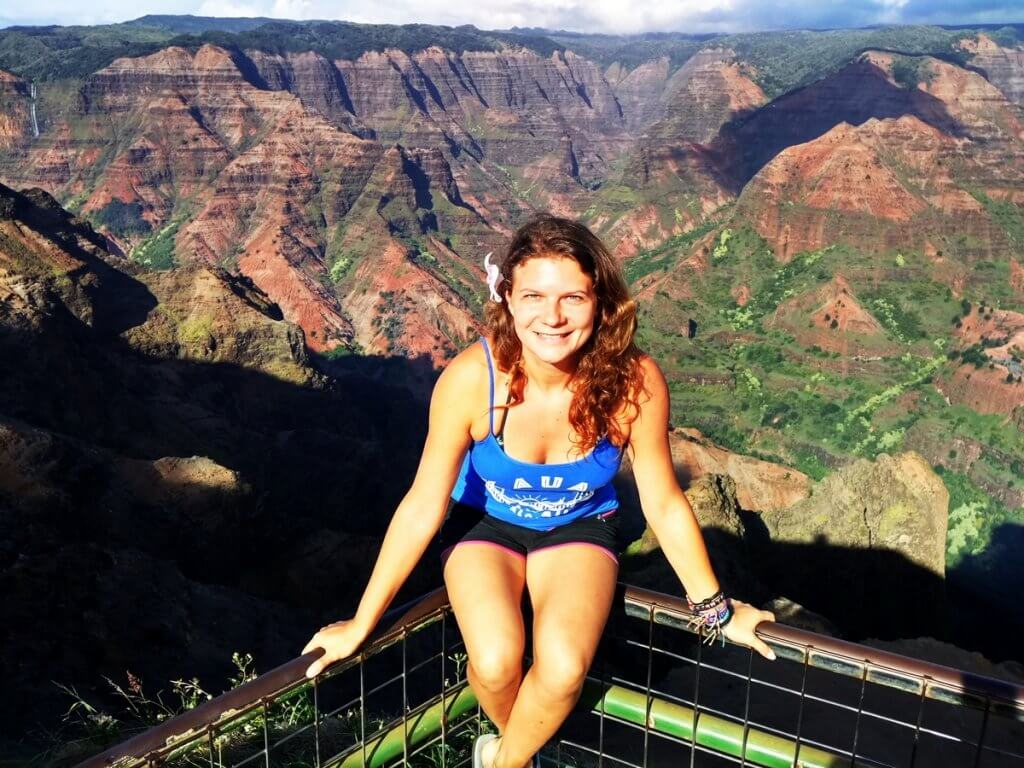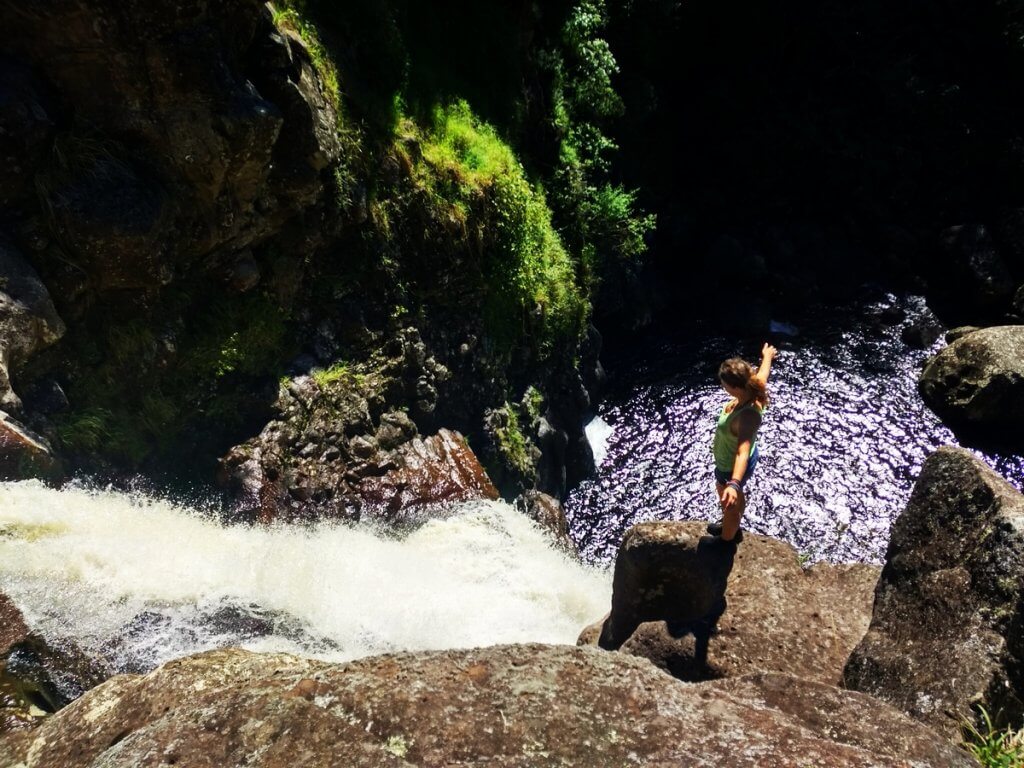 DAY n. 3 – WAILUA WATERFALLS
On my day 3 my couchsufing host took me to a marvellous waterfall called WAILUA located on the East of the island, close to town Wailua. It is not recommended to descend and go down to waterfalls, however, it was a dry day without any mud and I took that risk and swam in the water of Wailua waterfalls. Double rainbow over my head while swimming made this moment even more special. Another magical sunset at the end of this day was spent on Shipwreck Beach, not far away from Poipu Beach in the South.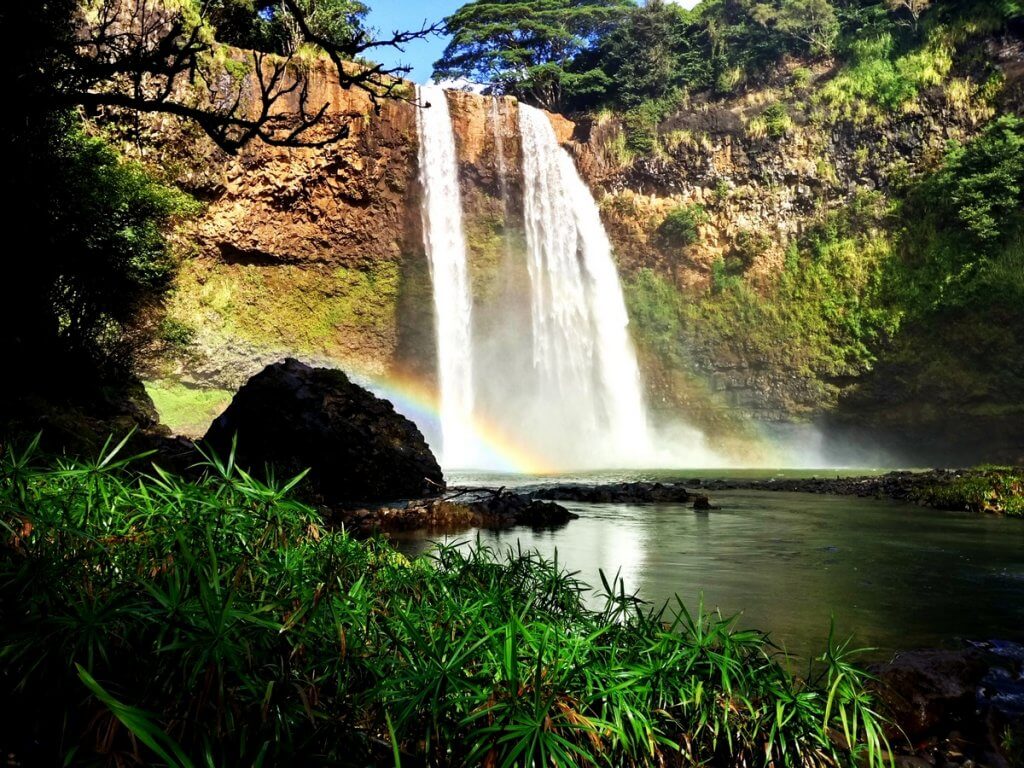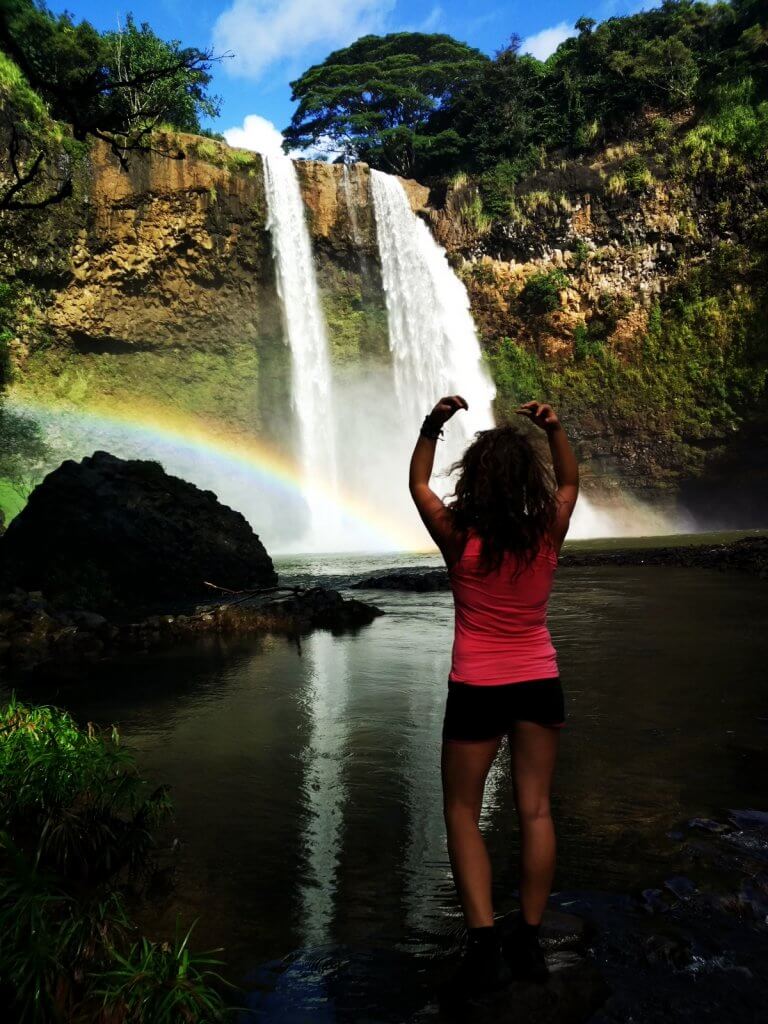 DAY n. 4 – KEKAHA & SALT POND BEACHES
Day n. 4 was devoted to relaxing and sunbathing. Me and Valerie hitchhiked to the beach of town Kekaha in the South-West of the island. It was middle of the week, so no overcrowded beach. Actually there was almost no one, just kilometres long beach with white sand and ocean with huge waves. Because I am afraid of waves and I didn´t dare myself to jump into the water, later on after we ate in Da Booze Shop in Waimea Town, we headed to Salt Pond beach in the South. Beach famous for great camping spot and calm area of ocean where I enjoyed my swimming.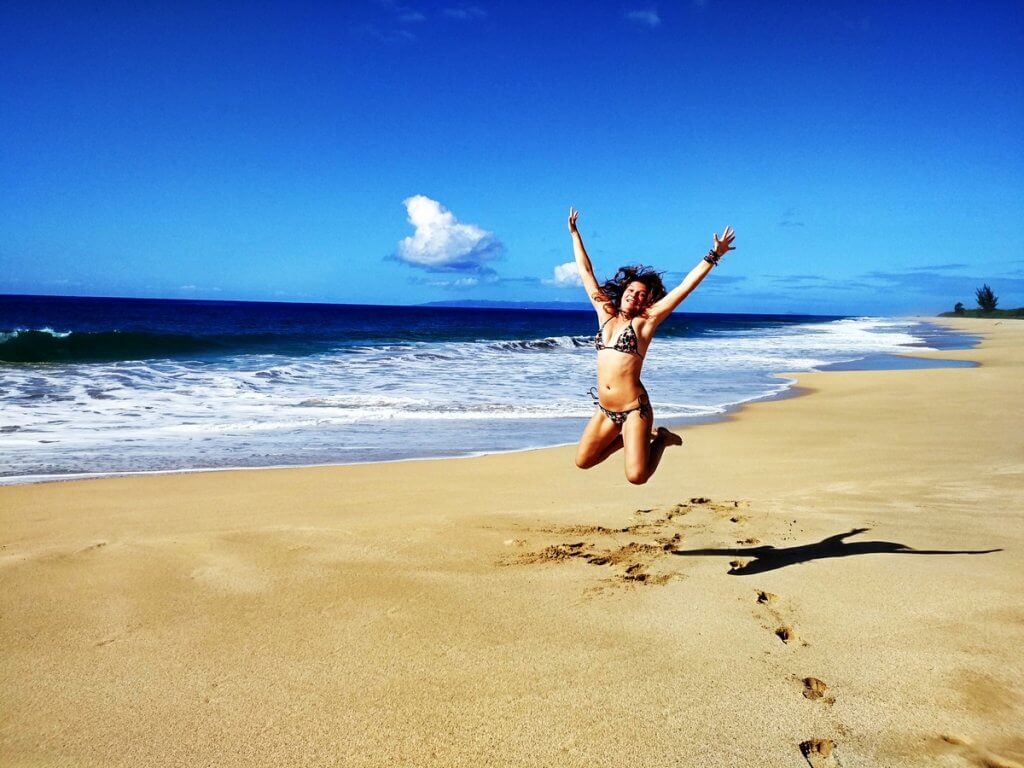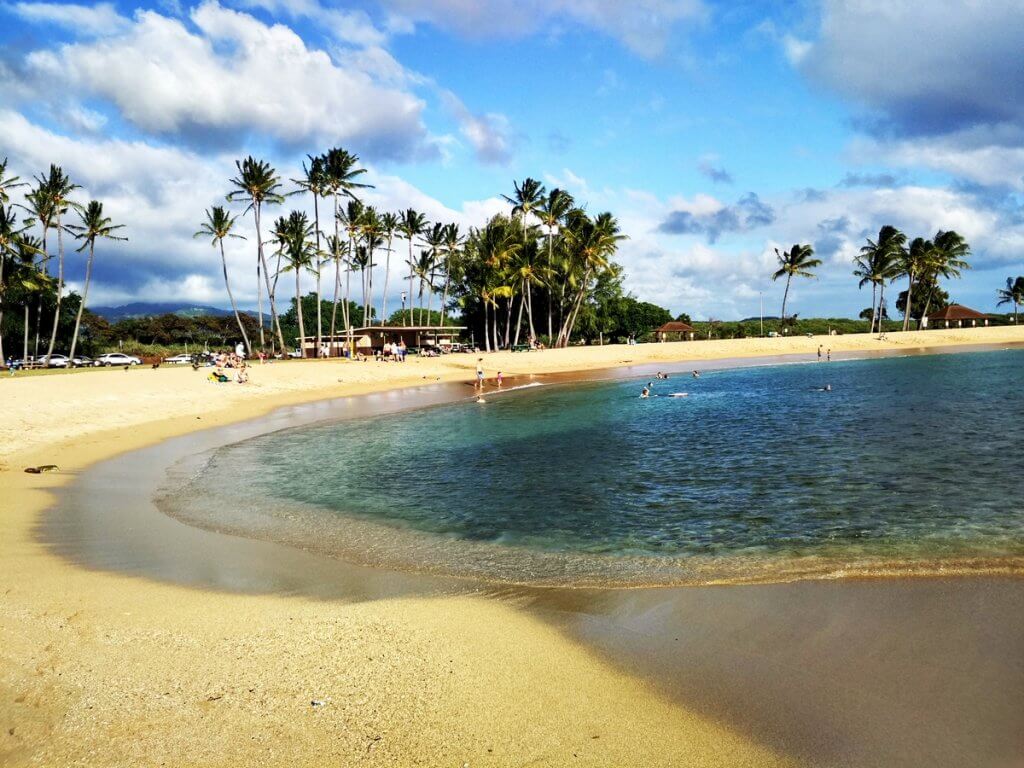 DAY n. 5 – KAPAA TOWN & Lyndgate Beach
On my day n. 5 I moved from my couchsurfing host from Koloa to another one to the town of Kappa in the East of the Island. This is actually a town with kind of more active night life, as the rest of the island is pretty peaceful and nothing was going on after 8 or 9 pm. While in Kapaa you get to listen to live music even in the middle of the week at 11pm. 🙂 On this day I walked few miles from Kapaa town to Lyndgate Beach Park through nice pathway designated for lovers of walking.
Btw, the only 2 hostels of the whole island are located in Kapaa. One of them is called Beach House hostel, where a night in a shared room costs around $40. And I checked that hostel and has great location. With great views over the ocean and located close enough to all the restaurants and bars of Kapaa.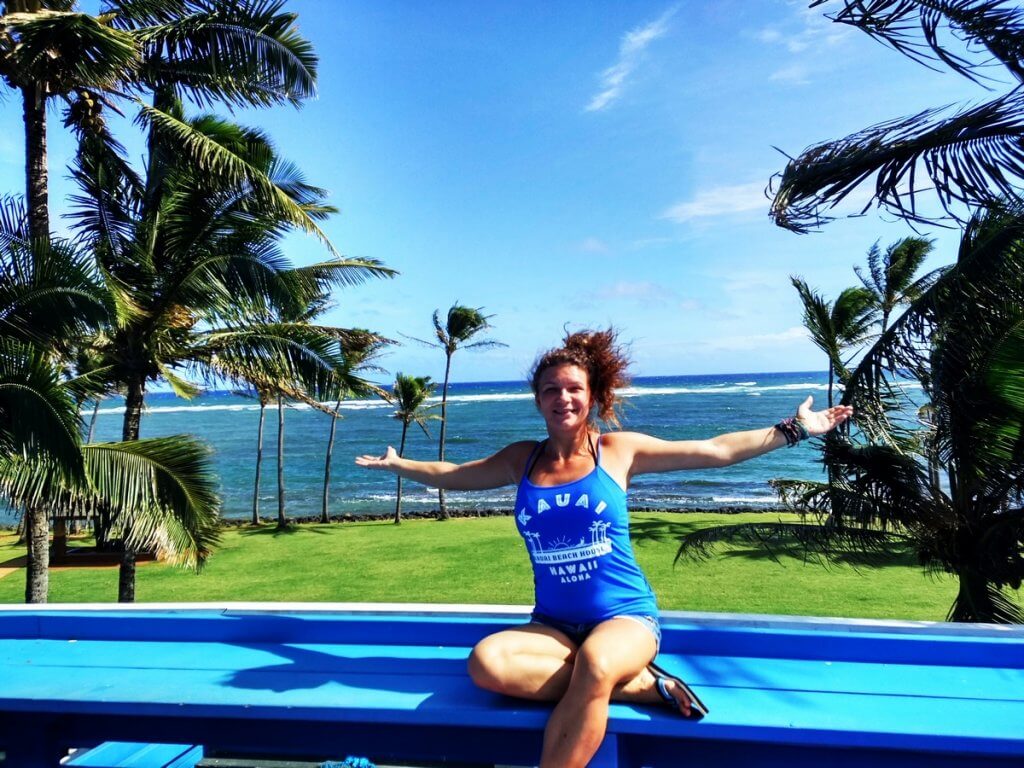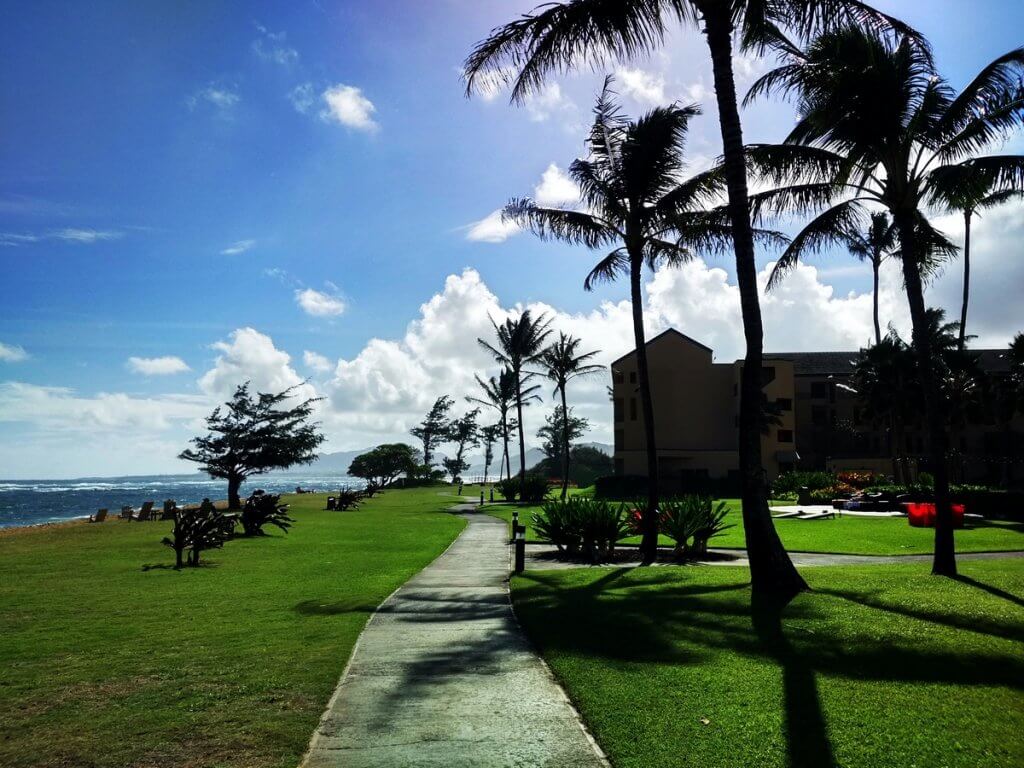 DAY n. 6 – ANINI BEACH & PRINCEVILLE
In the second half of my adventurous vacation I decided to finally explore a bit of the North of Kauai. Therefore, me and two other couchsurfers hitchhiked from Kapaa to the North and our driver was nice enough to give us a ride to peaceful Anini beach where you can enjoy swimming without any huge waves. After that it started raining heavily (nothing new in the North) and we moved to the town of Princeville for some shopping. If you are fan of art, I recommend you to visit Fish Eye Kauai art gallery where I found incredible pieces of art, mainly photographs of Kauai. At night, I stayed at another place of another couchsurfing host in a village Wailua in the South of the island.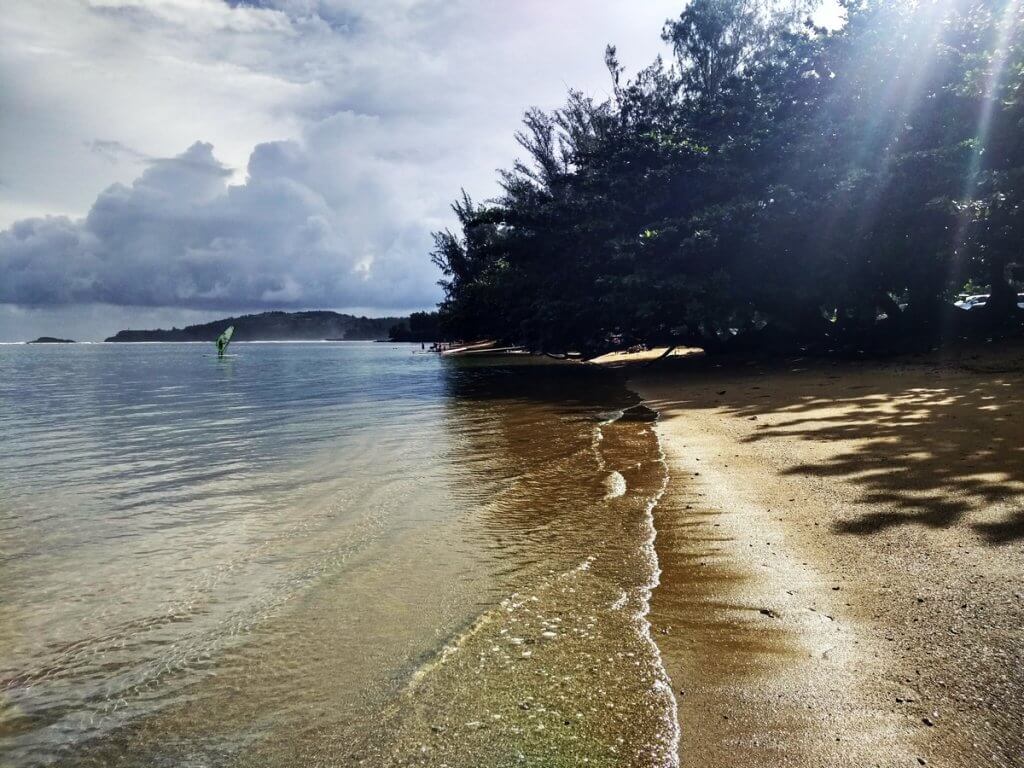 DAY n. 7 – SLEEPING GIANT HIKE & HANAPEPE
In the morning of my day n. 7, my friend Dominik arrived to Lihue airport from Vancouver and we decided to rent a car for $30 a day. Feel free to WhatsApp Honza +1 808 651 8730 to rent your car on Kauai. 😉
The first day with Dominik was devoted to hiking of Sleeping Giant mountain located in Wailua village (South-East). It was an easy hike with beautiful views over the Kauai mountains, Kapaa town and ocean. Highly recommended. In the evening we went for famous live music and food  and art event in town Hanapepe in the South of the island. It was a full moon, atmosphere was magical, food was delicious and we tried traditional relaxation drink called "kava".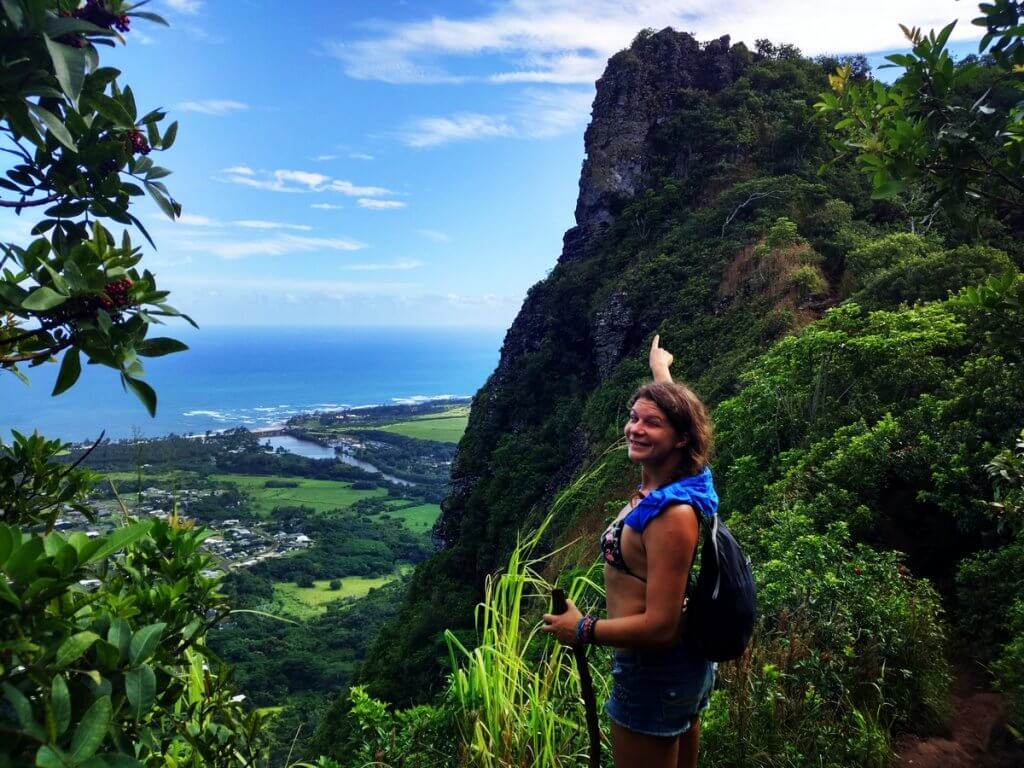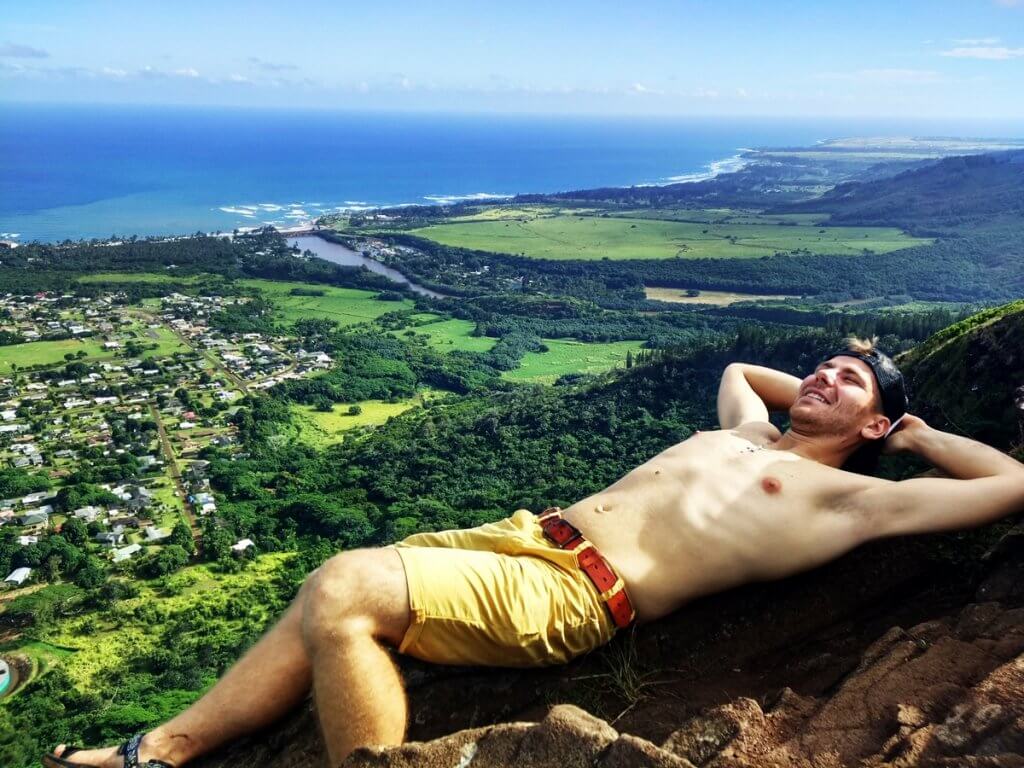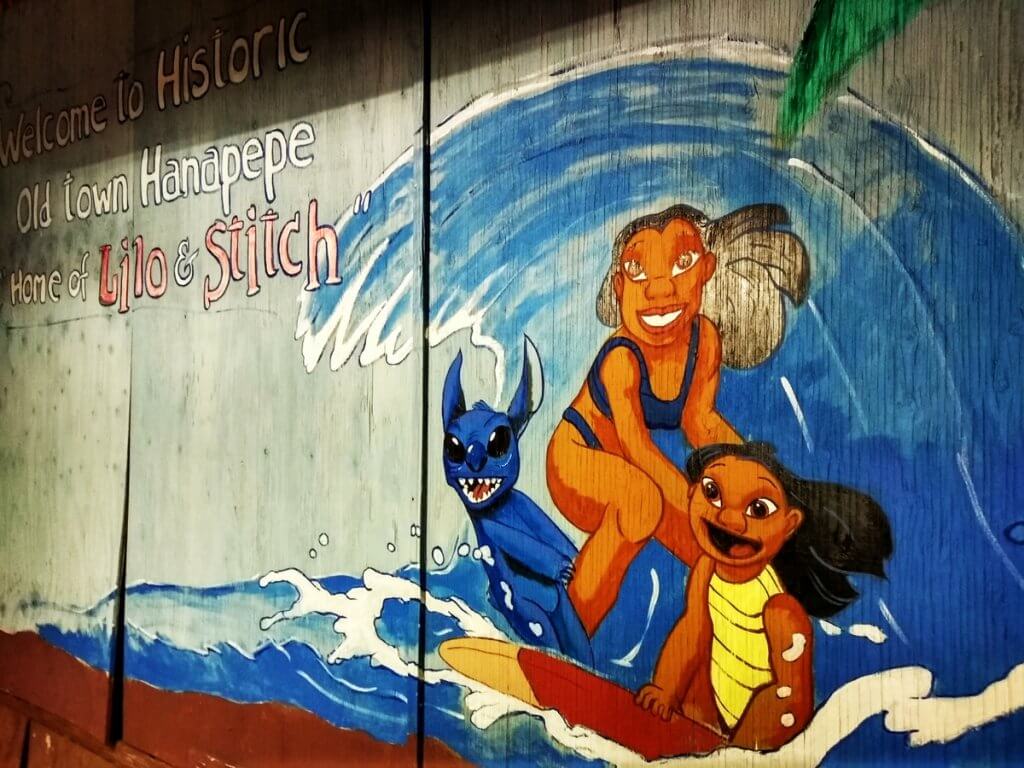 DAY n. 8 – AWA AWA´PUHI HIKE & KALALAU LOOKOUTS
After early wake-up call from all around roosters on Salt Pond beach, we decided to go for a recommended hike Awa Awa´Puhi which is located on the way through Waimea Canyon, very close from Kalalau lookouts. The whole hike took us only 3 hours but you need to save one extra hour for relaxation at magical, breathtaking viewpoint over the Napali coast. The views literally took my breath away and those 3 sweaty hours were definitely worth it!
After the hike we headed to Kalalau Lookouts (me already for the second time) where we spent an extra time to enjoy these amazing views over the Napali coast.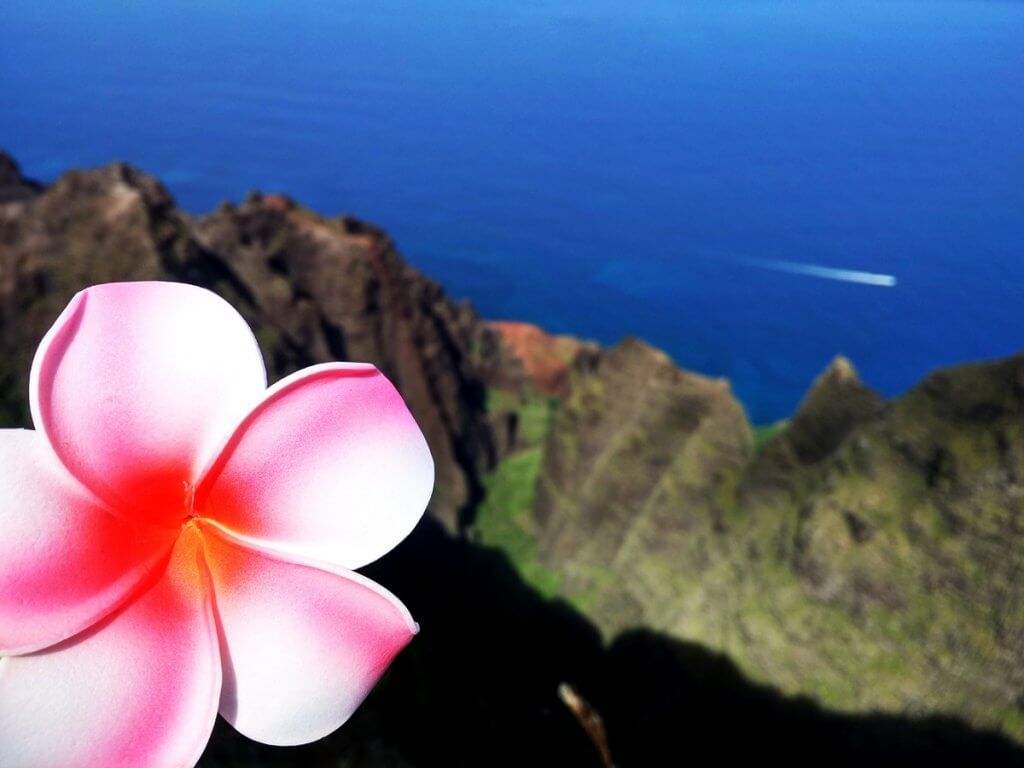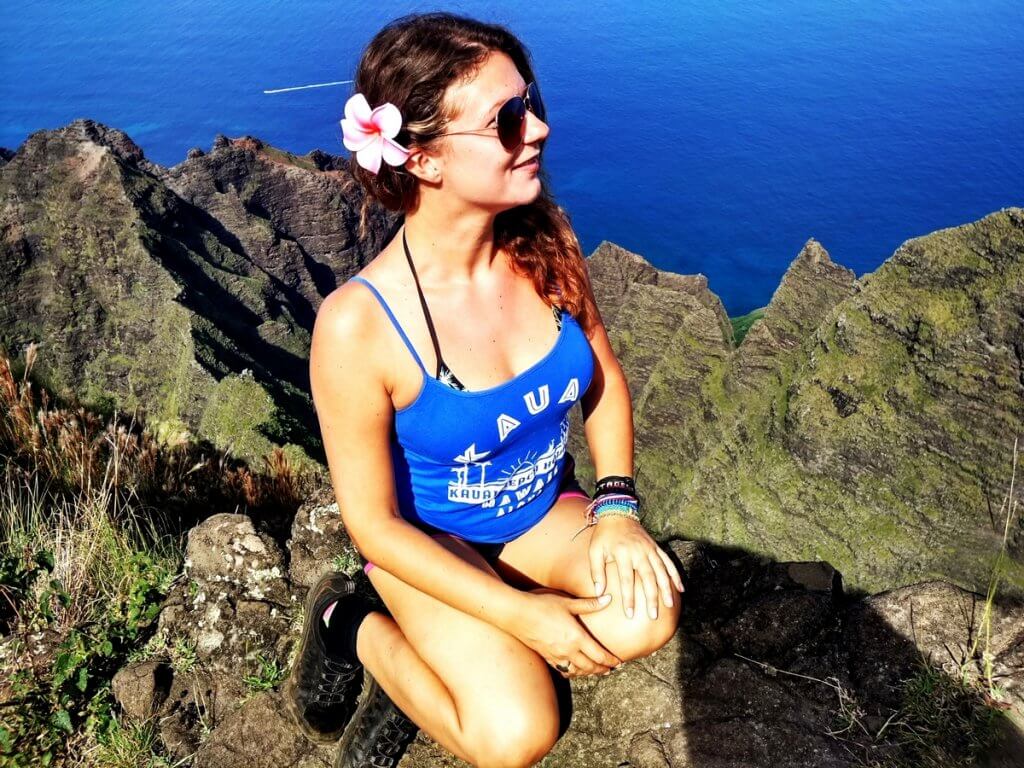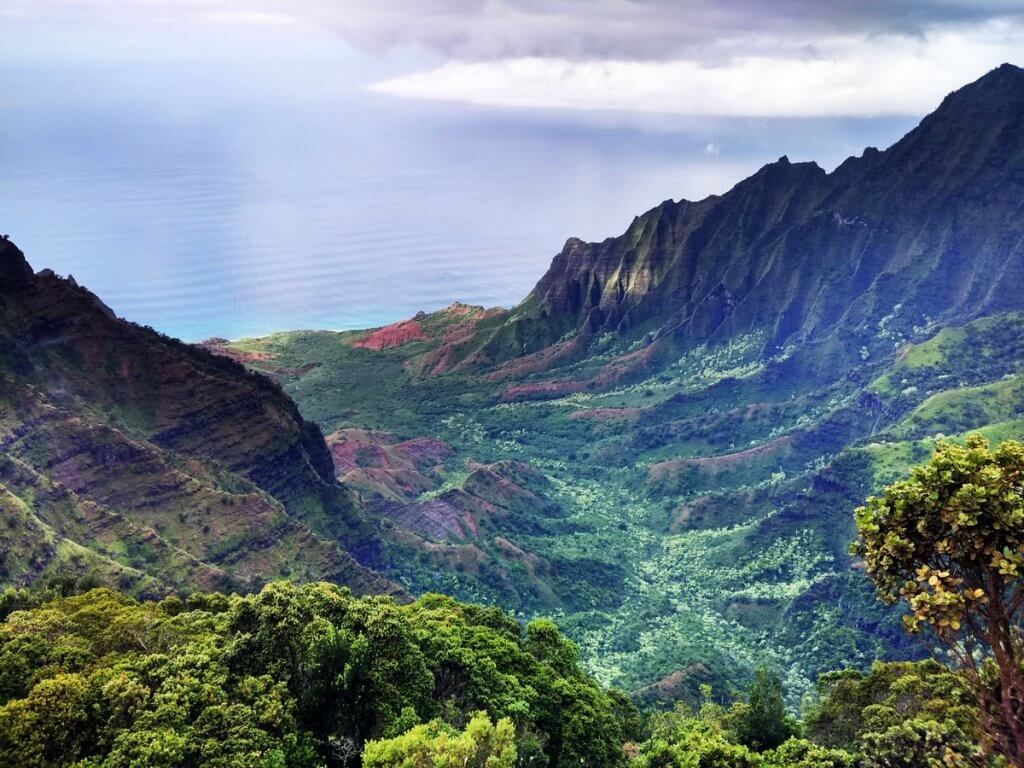 DAY n. 9 – POLIHALE & HANALEI BAY
Previous day we decided to stay overnight at Polihale camping spot. It is the most Western by car accessible place of the island. So our day n. 9 started with amazing views from our tent over the ocean with crazy huge waves. I took courage and entered the ocean till my knees. Haha. No deeper as the waves would probably kill me. After half day spent on Polihale we decided to drive to the most Northern part of Kauai – to Hanalei Bay. It is actually not a most Northern part, however, because of the serious flooding, the road officially ends in this town and you are not allowed to get any further. The first hour we got lucky and it was not raining so we enjoyed walking through beach and famous Hanalei Bay pier, however, then it started to rain and we decided to spend our last night sleeping in a car. Well, great end of my luxurious vacation on Kauai. 😀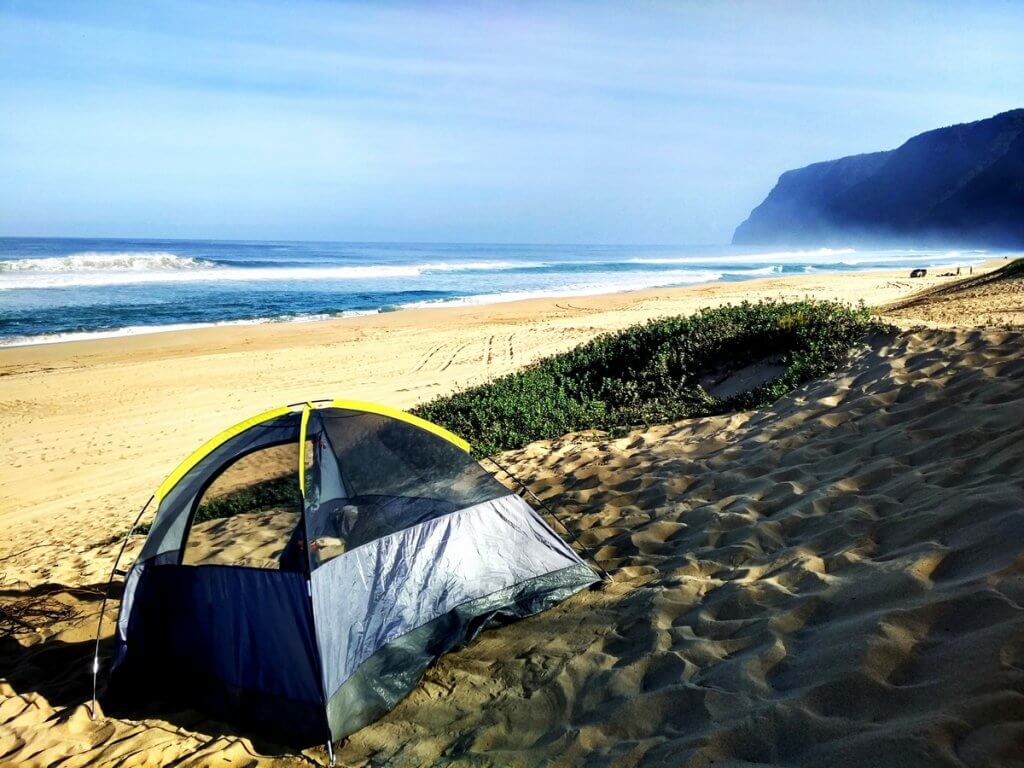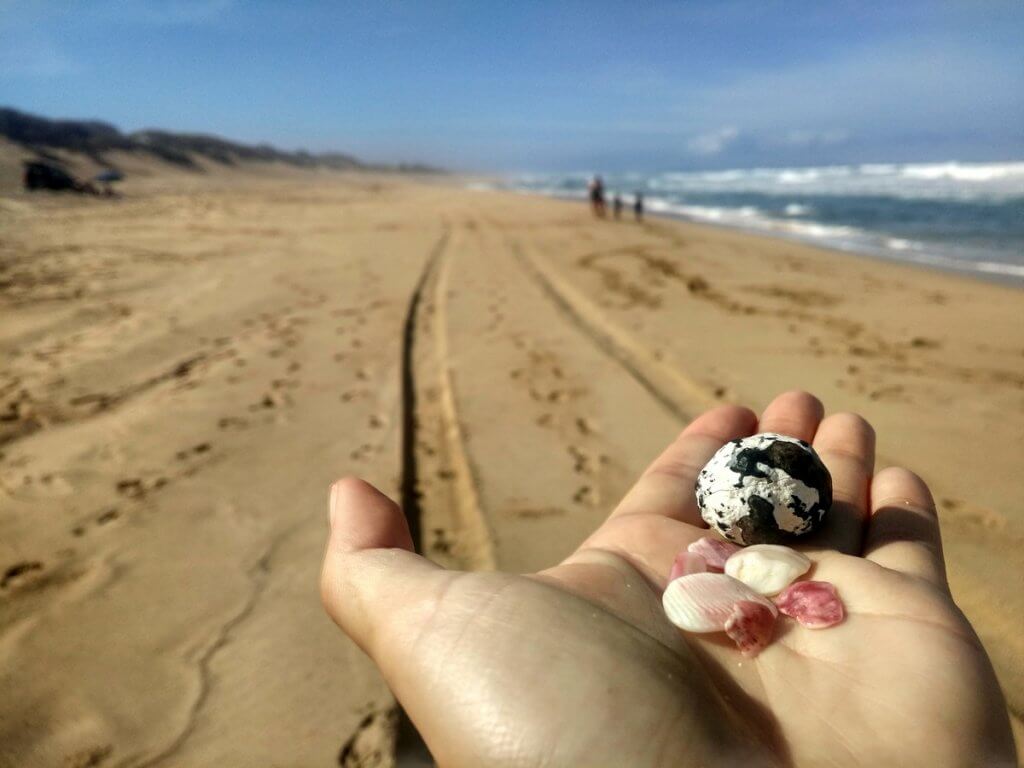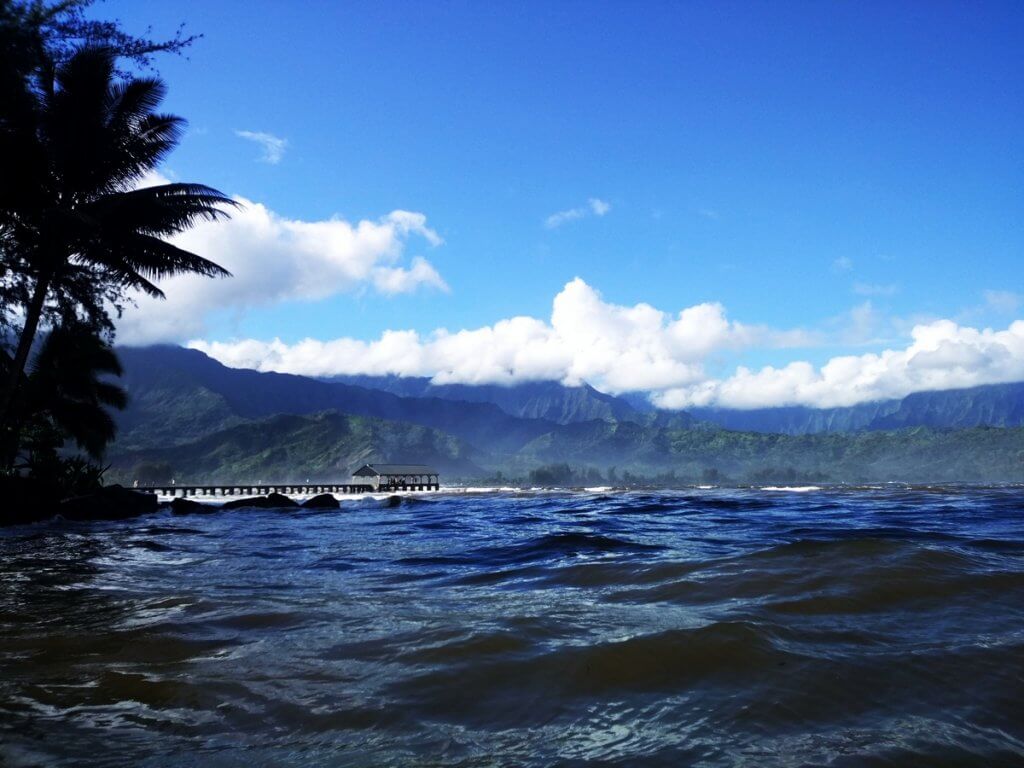 DAY n. 10 – KAYAKING & HELICOPTER RIDE
My very last day on the Garden island of Hawaii I decided to make it special and unforgettable. That is why we started our morning off with active kayaking on Hanalei River. We rented double kayak for $32 per person directly in Hanalei Bay town and spent few hours enjoying precious views over the greenery of the island. In the second half of my last day on Kauai I experienced my very first helicopter ride which I took through Island Helicopters for $180. And the ride was worth every cent. The views you get to experience are incredible and the bird perspective of Kauai is actually a must-done/seen thing on this island. Highly recommended!
Our last sunset on Kauai was spent in the South of the island, on Poipu beach where two marvellous huge turtles came to say BYE to me. One of the most unforgettable sunsets I have ever seen in my life…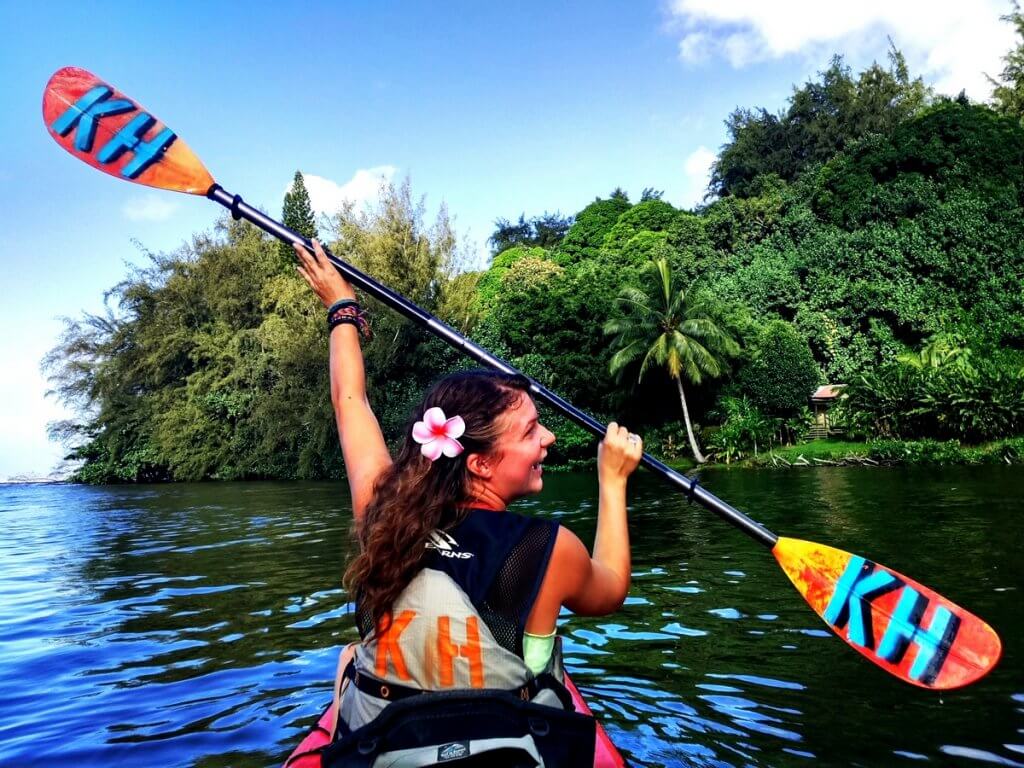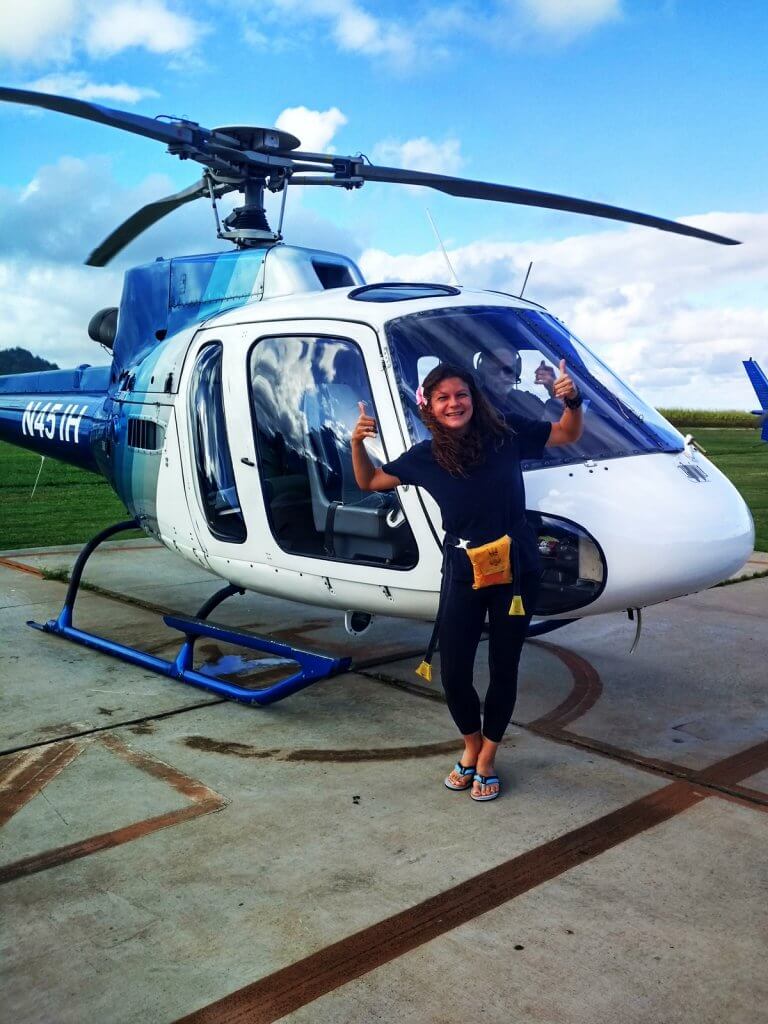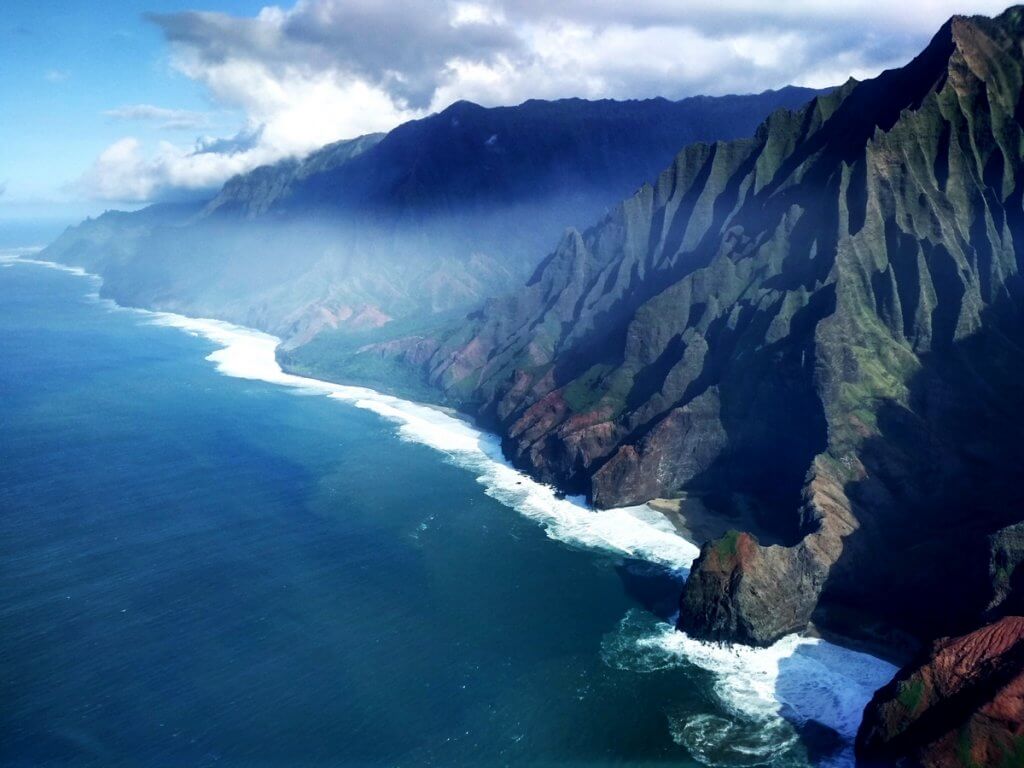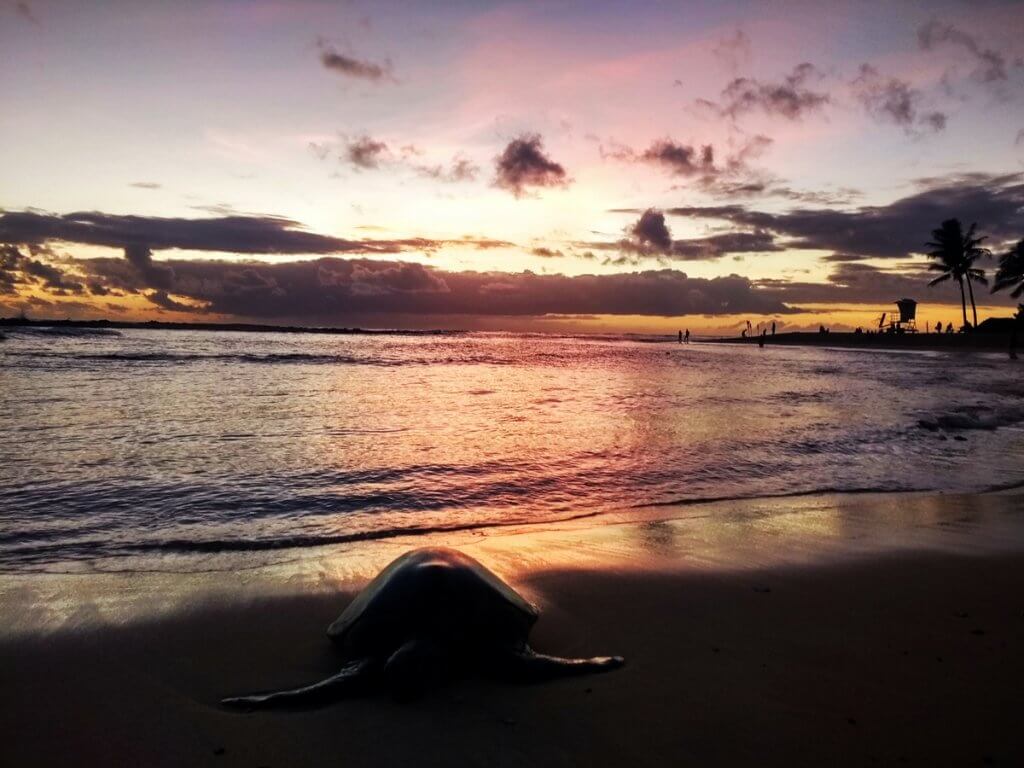 So what do you say about my 10 day itinerary for Kauai? Feel free to check my previous articles on Kauai such as 7 Curiosities about Kauai or TOP 5 Places of Kauai. My next article will focus on $$$ and my financial budget for 10 days. Feel free to sign up and get my articles on your email.
Mahalo for reading and sharing my article. 🙂
And if you want to contribute for MiliMundo travels, don´t hesitate and do it now. 🙂
And if you are interested in articles on CENTRAL AMERICA – click HERE. On SOUTH AMERICA click HERE. 🙂
PS: Looking for great travel insurance with great prices? Insurance which you can book even when your journey has already started? Have a look at The True Traveller. I am more than happy with them. 🙂

Please follow and like us: