Hits: 473
This article won´t be too long. It will sum up 10 best places of South Island of New Zealand which I visited within my 3 month-stay there.
I travelled across South Island also with a friend in our campervan called Bula (read an article "Everything you need to know about buying a campervan in NZ"). Therefore, I got a chance to travel the South Island pretty thoroughly and I decided to give you a short list of my favourite and nicest and one of the best places of South Island (in my humble opinion).
1 Angelus hut (Nelson lakes national park)
Hike (or tramp as local kiwis would say) towards Angelus hike was definitely the best hike of our stay. It was tough and challenging but the views from Angelus hut over the mountains and lakes were a great reward. 6 hours going up, 1 night at the hut for 30 dollars and 4 hours going down of breath-taking scenery.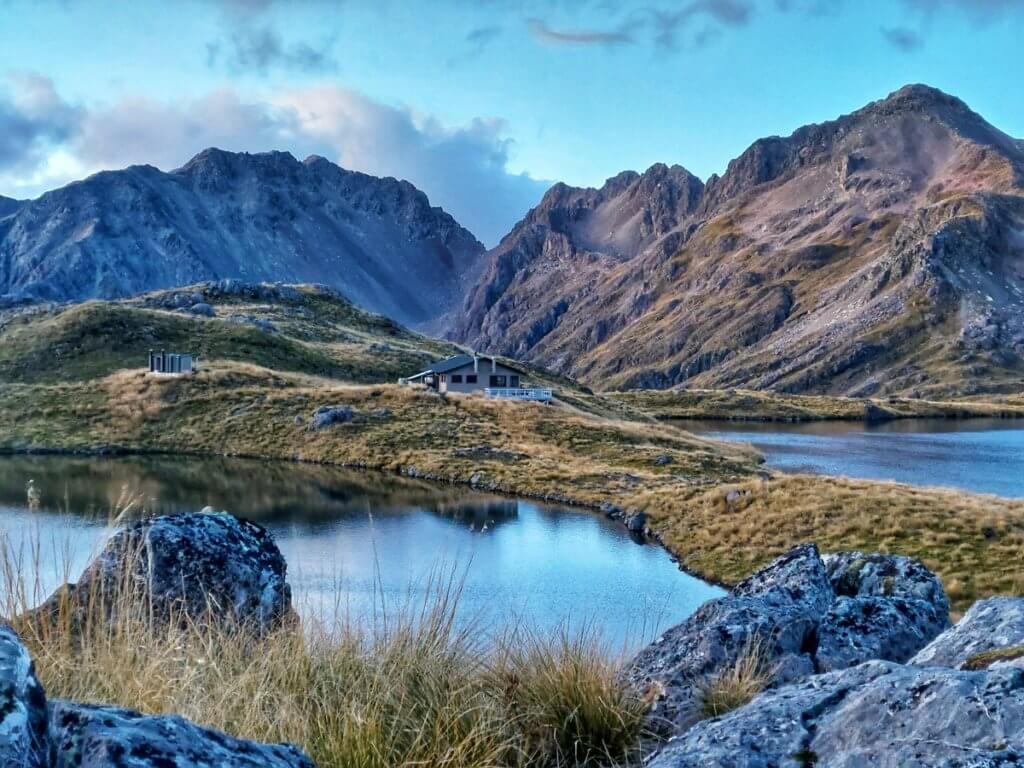 2 Hooker lake
Walk across the Hooker valley was our favourite. Easy two hour walk towards Hooker lake belongs to touristy things, however, so worthy. Hooker lake is filled up with little icebergs and surrounded by close-by mountains covered by snow. We couldn´t resist and we took a short swim in the lake, too.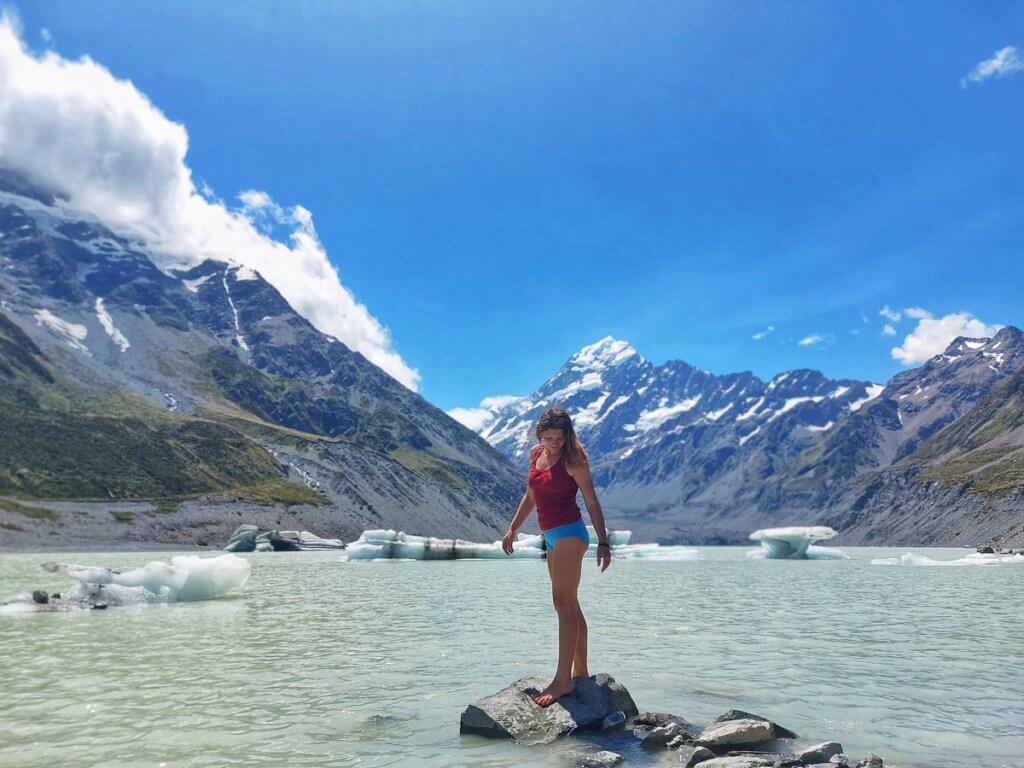 We planned to stay in Queenstown around 3 days, we stayed 3 weeks. It´s a beautiful touristy town surrounded by freezing cold Wakatipu lake and couple of mountain ranges such as The Remarkables. The highlight of my stay there was my very first experience with skydiving.
4 Brewster hut
Hiking towards Brewster hut was a pain in the ass. Two terrible hours of constant bitching and hating hiking in general. However, once you reach the ridge, you start to realize how stunning the mountains are. Not mentioning super cute red Brewster hut. We were even lucky to meet typical mountain parrots called "keas".
5 Rob Roy Glacier around Wanaka
If people are in Wanaka, everyone usually hikes up to Roys peak (we did, too), however, I truly recommend to hike up to Rob Roy glacier, too. There is 30km of gravel road though, however, so worthy. One of the nicest glaciers we have seen in New Zealand. And the hike was pretty chill.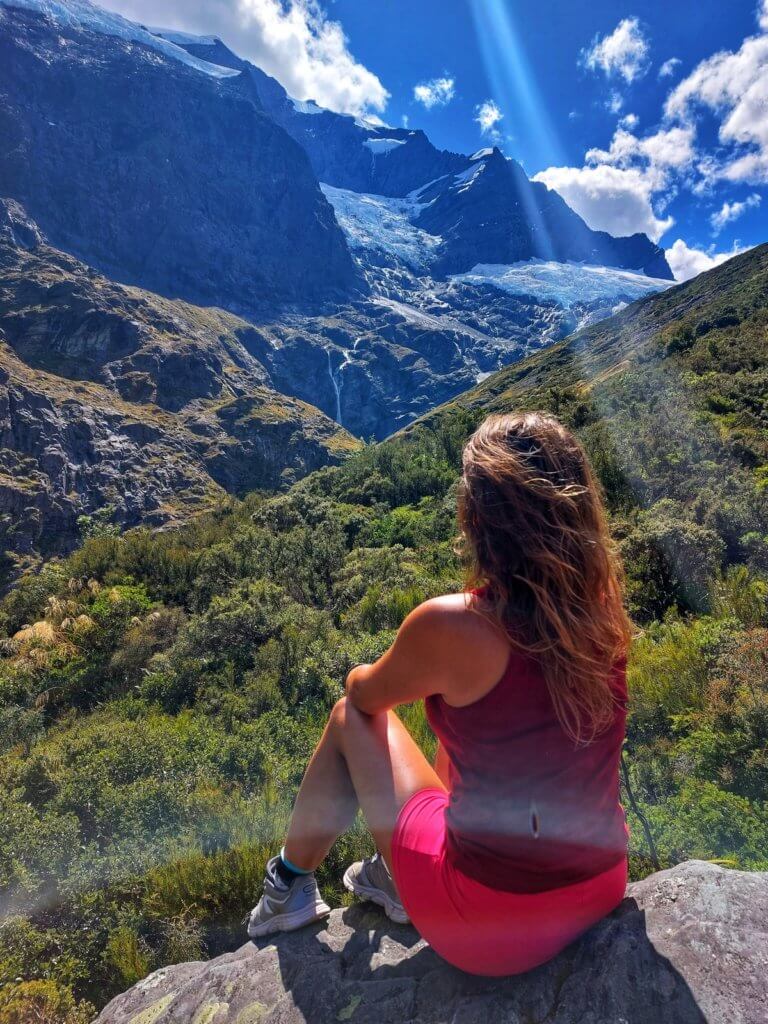 6 West Coast drive towards Pancake Rocks 
Everyone will be telling you how beautiful the West Coast is. And damn, it´s true. However, the best driving part was from the town Greymouth to famous Pancake Rocks of Punakaiki. Unnatural New Zealand jungle on one side, rough Tasman sea on the other side. Just a drive will take your breath away. And then you stop at the Pancake Rocks and you feel like in a different world. So unbelievably beautiful!!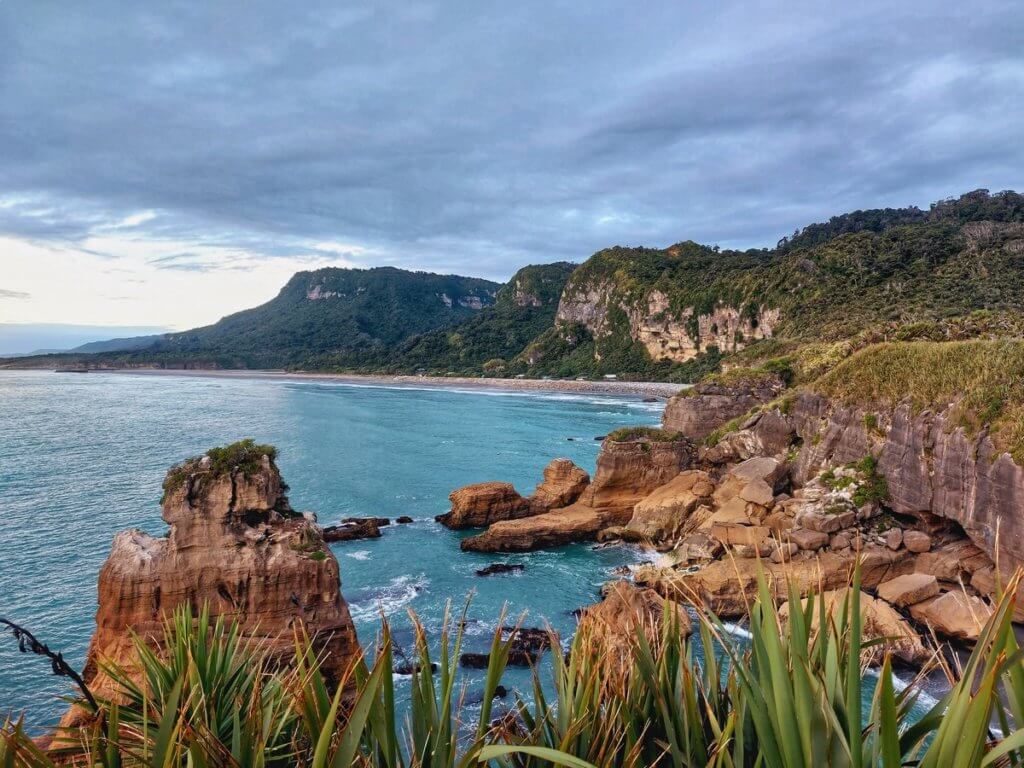 7 Cape Farewell Point
The most northern point of South Island called Cape Farewell is a place you should definitely put into your bucket list of places you want to visit in New Zealand. Green meadows on high cliffs, astonishing Tasman sea, hundreds of sheep. And as a bonus you can walk from there towards Wharariki beach where you can watch baby fur seals from pretty close distance.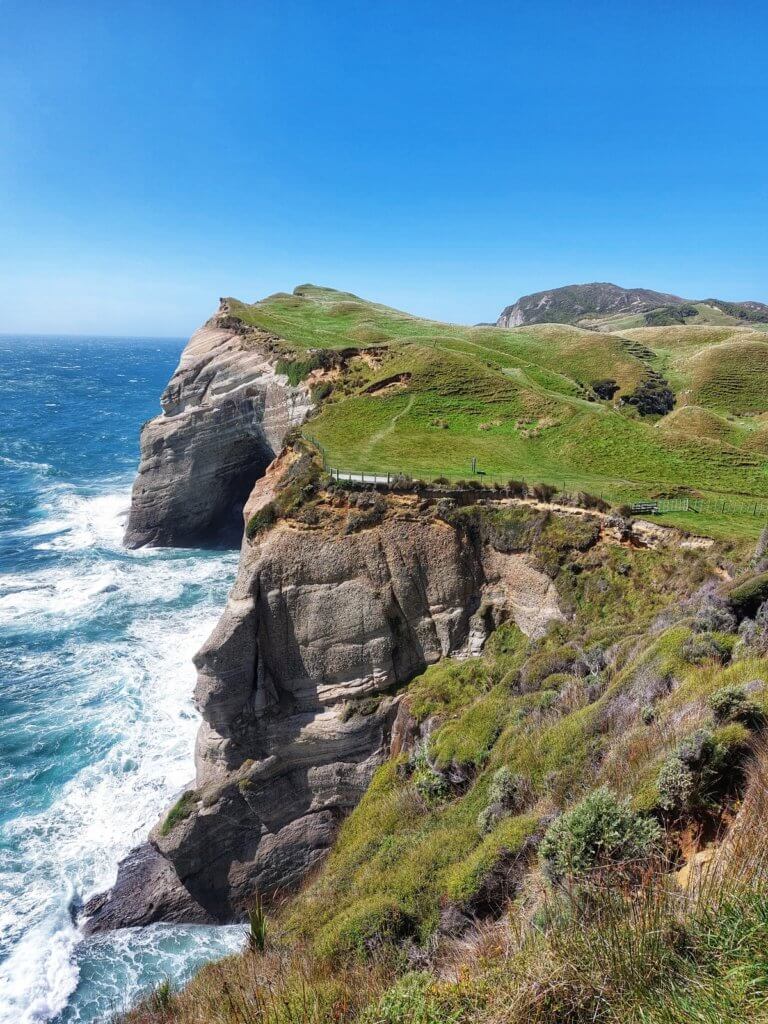 8 Nugget Point lighthouse
Nugget Point lighthouse is a little gem of Catlins area located in the Southeast of South Island of New Zealand. We observed magical sunrise from Nugget Point lighthouse where you are supposed to go either while sunrise or sunset. So worth waking up soon.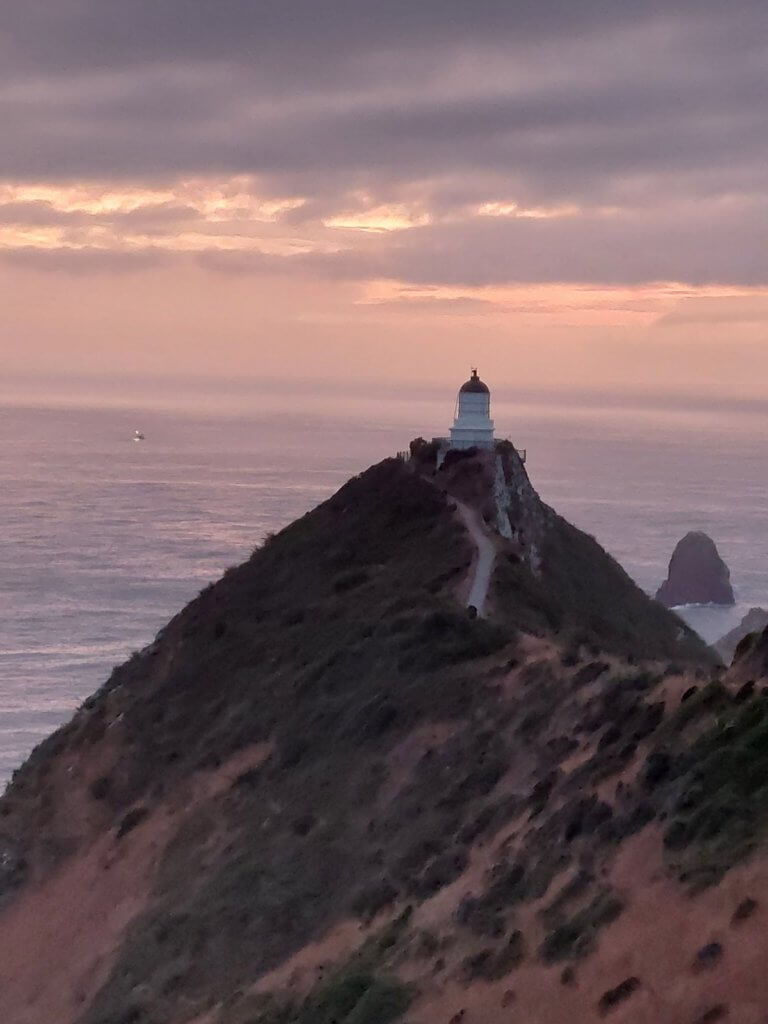 9 Oamaru
Oamaru is located on the East coast of South island and might be considered to be a little hole of nothing, yet, we found it beautiful. It´s a small charming town in which its centre got stuck in the past. The town´s vibes are charming and we felt like we were living in a different century. We watched another stunning sunrise from there and drank hot chocolate in one of many cute small cafes. And if you like museums, then this is a place for you. There are couple of extraordinary museums you can visit.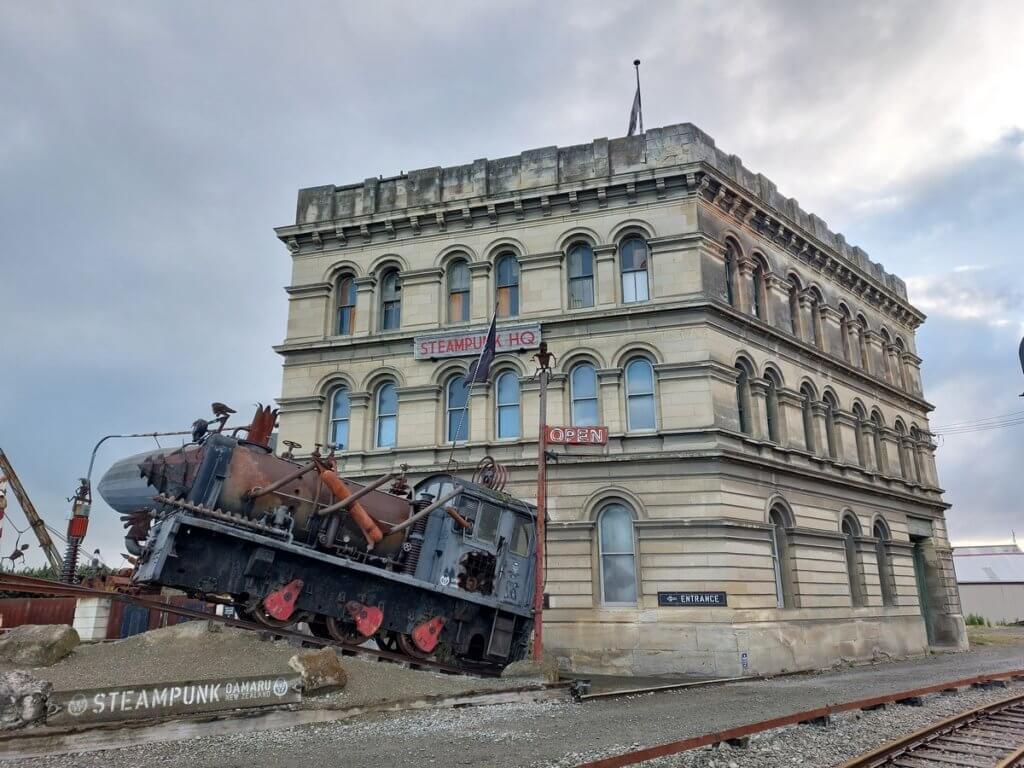 10 Abel Tasman national park
There are 13 national parks in New Zealand, 10 of them located in the South Island. We visited most of them and I can say without any doubts that Abel Tasman national park belongs to the nicest ones. Why? Super green rainforest walks alongside small secluded beaches where you can do skinny dipping at any time. We took a water taxi to Anchorage for 48 dollars and from there we walked around 15km back to Marahau enjoying every bit of it.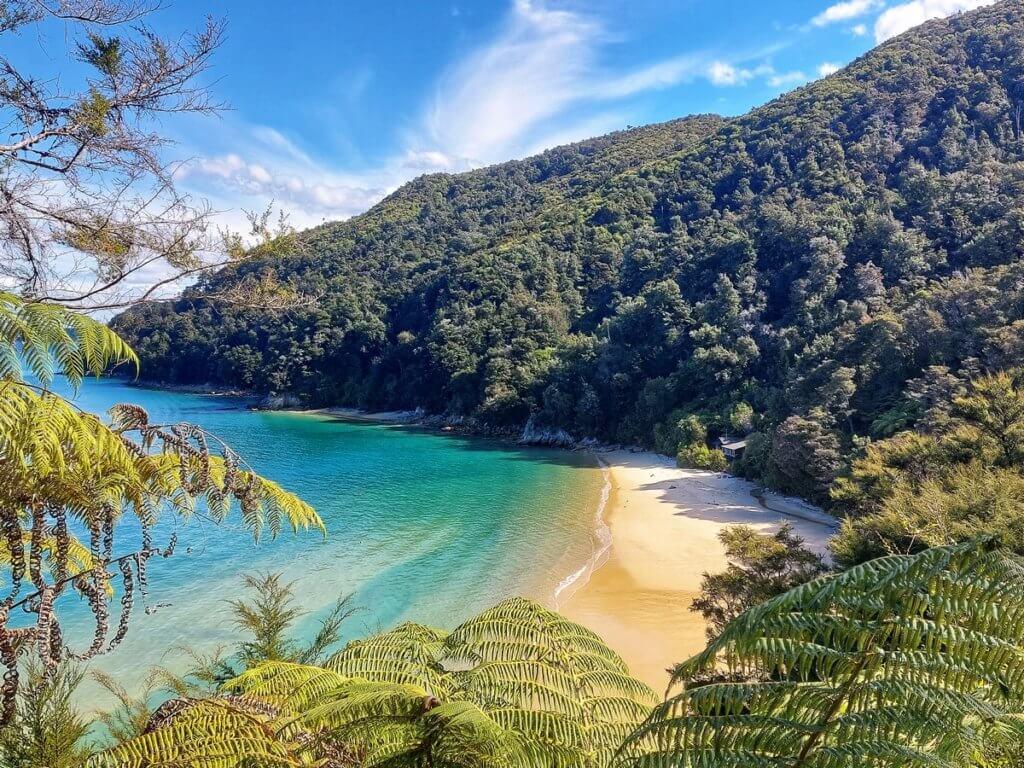 I hope this article comes in handy for all the people heading to New Zealand with an intention to explore its beautiful places. Happy travels. 😊
DO you want to read more about NEW ZEALAND? Click HERE.
If you want to receive all articles which I publish, feel free to sign up below.

And if you liked the article and you want to contribute for my future MiliMundo travels (hopefully accident free), don´t hesitate and do it now.
And if you are interested in articles on CENTRAL AMERICA – click HERE. On SOUTH AMERICA click HERE.
YOLO my dear MiliMundo followers.
PS: Looking for great travel insurance with great prices for your future travels? Insurance which you can book even when your journey has already started? Have a look at The True Traveller. I am more than happy with them.

Please follow and like us: