Hits: 14173
In this article I would like to provide you with information about my itinerary through South America within 154 days I spent travelling and some practical tips on where to go and what to do on this amazing continent. If you are interested in financial tips for South America, then have a look at my BUDGET article. 
I have also travelled through the whole CENTRAL AMERICA and you can also read my article about my 3 month itinerary for Central America and also about my budget for Central America.
So first of all let me tell you about my time frame for travelling. I spent total of 8 months and 6 days in South America. Out of this period of time I spent more than 3 months working as English teacher at the University of Sinu in Monteria, Colombia. The rest I spent backpacking or volunteering in Banos de Agua Santa, Ecuador.
Let me tell you that it was my first time backpacking SOLO, and my first time without any set itinerary at all. Sounds adventurous?! 🙂

So let´s have a look at my itinerary (which was not planned in advance and which was as much spontaneous as possible). I firstly arrived to Rio de Janeiro (return ticket was 375 euro from Budapest) where I  spent around 10 days and from where I had to book incredibly expensive flight ticket to Monteria (450 euro one way) where I started my life changing internship for the period of 3 months. After I completed the contract, I began to backpack and my itinerary and time frame was following:
Cartagena and islands of Rosario & Baru
Santa Marta & Taganga & Playa Costeno
Bogota
Medellin & Guatape
Eje Cafetero region (Pereira & Santa Rosa de Cabal & San Vicente Termales & Armenia & Valle de Cocora)
Cali & Festival del Petronio
Ipiales


Tulcan & Chachimbiro thermal
Quito & Otavalo & Mindo & Mitad del Mundo
In case you are interested in a guided tour and  train ride of Tren de los Volcanes, CLICK HERE to get more information.
Laguna Quilotoa
Banos de Agua Santa & Chimborazo & Riobamba
Puyo & AMAZONIA
Ruta del Sol (Canoa, Puerto Lopez & Isla de la Plata, Montanita & Olon)
Cuenca & Ingapirca
Banos de Agua Santa AGAIN for my VOLUNTEERING JOB (15 days working as guide for extreme sports activities)


PERU / 21 dní:
Mancora & Nuro & Los Organos
Lima
Ica & Huacachina
Aplao & Querulpa (small unknown Peruvian villages close to Arequipa)
Cusco
Puno & Lake Titicaca
In case you are interested in a guided tour around Sacred City of Caral with a roundtrip from Lima, CLICK HERE to get more information.


BOLIVIA / 15 days:
Copacabana & Isla del Sol
La Paz & Death Road
Cochabamba
Sucre
Potosi & Ojo del Inca
Salar de Uyuni & Southern Bolivian Lakes


Tilcara & Las Salinas & Purmamarca
Salta
Cafayate
Tucuman
Mendoza & Lujan de Cuyo
Buenos Aires & Tigre
In case you are interested in La Ventana TANGO show in Buenos Aires, CLICK HERE to get more information.


CHILE / 5 days:
Santiago de Chile
Valparaiso
Vina del Mar

Florianopolis
Picarras
Sao Paolo
Caraguatatuba
Ubatuba
Paraty & Trinidade
In case you are interested in a guided tour Rio de Janeiro with a cable car ride to Sugarloaf Mountain, CLICK HERE to get more information.


All together 154 days, 7 countries & around 14 000 km on buses. Sounds a lot?!
 Well, when I started travelling I had no return ticket back to Europe. However, after I finish my Ruta del Sol in Ecuador I decided to buy one for Christmas. So from then on I knew that my time in each country would be limited to certain period. But I still tried to stay at one place as much time as I wanted and skip the others which didn´t call my attention.
How did I plan my itinerary?!
At the beginning only thing I knew was the place from where I was about to start – from Monteria, Colombia! Only within some time I set my goal to finish everything where I originally started – in Rio de Janeiro, Brazil!
Almost no planning in advance. Most places I travelled to where on my list because of COUCHSURFING. My CS hosts were writing me by themselves and were inviting me to their home villages/towns/cities in order to get closer to their culture and traditions…
Sometimes I didn´t even know where I was about to go on the day of travel!!! For example at the borders between Bolivia and Argentina at 6am I was still not sure which way to go till I started talking to some locals who recommended me small town called Tilcara. 🙂
I NEVER booked any hotel/hostel online through any booking web during my backpacking in South America! In case I didn´t arrange any couchsurfing in advance, I simply got to the town or village and found some hostel close to centre or bus station. Easy, without complications and never had a problem to find anything cheap… The best deal was on Isla del Sol, Bolivia where I found a room shared with a French girl for 3 euro a night 🙂
I NEVER booked any bus/train online during my backpacking in South America! I simply got to the station (usually the same day) and negotiated prices of tickets with sellers. Once I almost didn´t get to Cusco from Arequipa but it was the only time I was "struggling" with buying transport tickets 🙂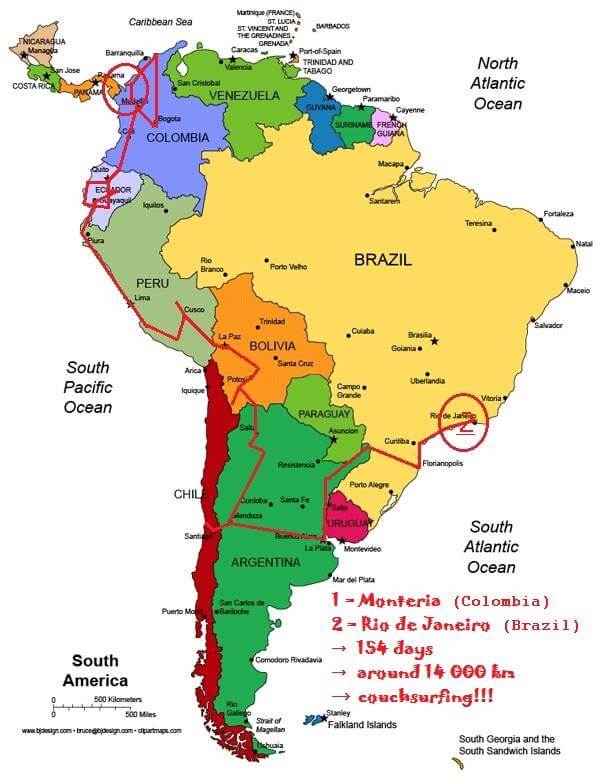 So what do you say about my itinerary through South America? I know I have skipped many beautiful places such as Patagonia or north of Brazil but I had to leave something for future. 😉
Any questions??? Don´t hesitate and ASK! In case you liked the article, feel free to share 🙂
PS: Looking for great travel insurance with great prices? Insurance which you can book even when your journey has already started? Have a look at The True Traveller. I am more than happy with them. 🙂

SUBSCRIBE to MiliMundo
And if you want to contribute me for my travels, don´t hesitate and do it now. 🙂
Please follow and like us: