Hits: 1961
Ecuador -small South American country full of volcanoes, breath-taking natural landscapes and kind people. Country surrounded by Pacific ocean on one side and by Amazonia jungle on another side. Who wouldn´t like to explore its beauty?!
In this article I will give you tip for possible itinerary for Ecuador as well as information on how much I spent in this beautiful country. Surely, it all depends on personal preferences and priorities so take this into account and keep in mind that your journey may be completely different.
All together, I spent 41 days in Ecuador out of which I volunteered in Banos de Agua Santa for around 15 days. So I devoted around 26 days to "pure travelling" around Ecuador. And based on my personal experiences I would like to propose nice itinerary for the first comers to this country of volcanoes.
My itinerary through Ecuador within 26 days:

Tulcan & Chachimbiro thermal →→ Quito & Otavalo & Mindo & Mitad del Mundo →→ Lagoon Quilotoa →→ Banos de Agua Santa →→ Puyo & AMAZONIA →→ Chimborazo & Riobamba →→Ruta del Sol (Canoa, Puerto Lopez & Island Plata, Montanita, Olon) →→ Cuenca & Ingapirca

SOME ADDITIONAL INFORMATION ON MY ITINERARY
Tulcan & Chachimbiro thermal
Tulcan is small town located close to border with Colombia and has one of the most interesting cemeteries I have ever seen. Close to this town you can relax in thermal waters of Chachimbiro where my couchsurfing hosts took me for a day trip.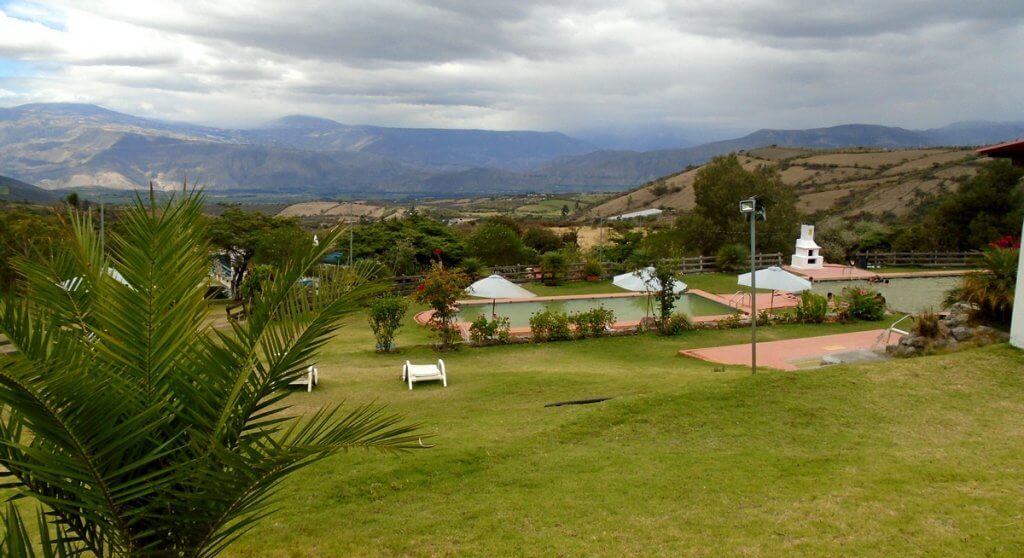 Quito & Otavalo & Mindo & Mitad del Mundo
Quito is the capital of Ecuador at the altitude around 2,500 m. It prides itself with beautiful cathedral and many option of day trips in its surrounding. Nice options are trips to Otavalo where on Saturdays you can find one of the largest indigenous local markets of South America or also town Mindo which is a cool place for relax in the nature. Quito is also famous for being "Mitad del Mundo" – Middle of the Earth and lies on Equator line.

Lagoon Quilotoa
This breath-taking lagoon lies South of Quito and was formed by the collapse of the volcano. And if you don´t know, Ecuador is home for many volcanoes, and many of them are still active such as Cotopaxi or Tungurahua. Lagoon has a freezing cold water but I didn´t hold up and jumped into it and enjoyed swimming for a while. 🙂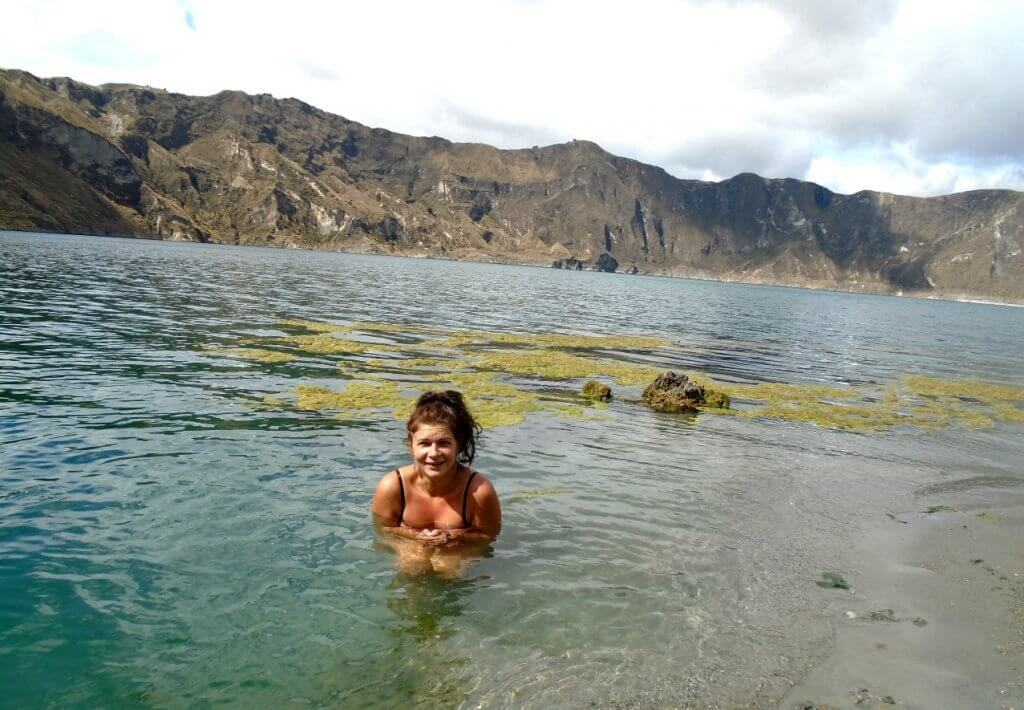 Banos de Agua Santa
Banos de Agua Santa is a place which simply cannot be skipped while travelling through Ecuador. For me, it is a paradise on Earth full of amazing waterfalls, green mountains and rich variety of extreme sport activities. Therefore, I stayed there for 3 weeks and worked as a volunteer for travel agency AningaTravel where I gained new unforgettable working experience as a guide.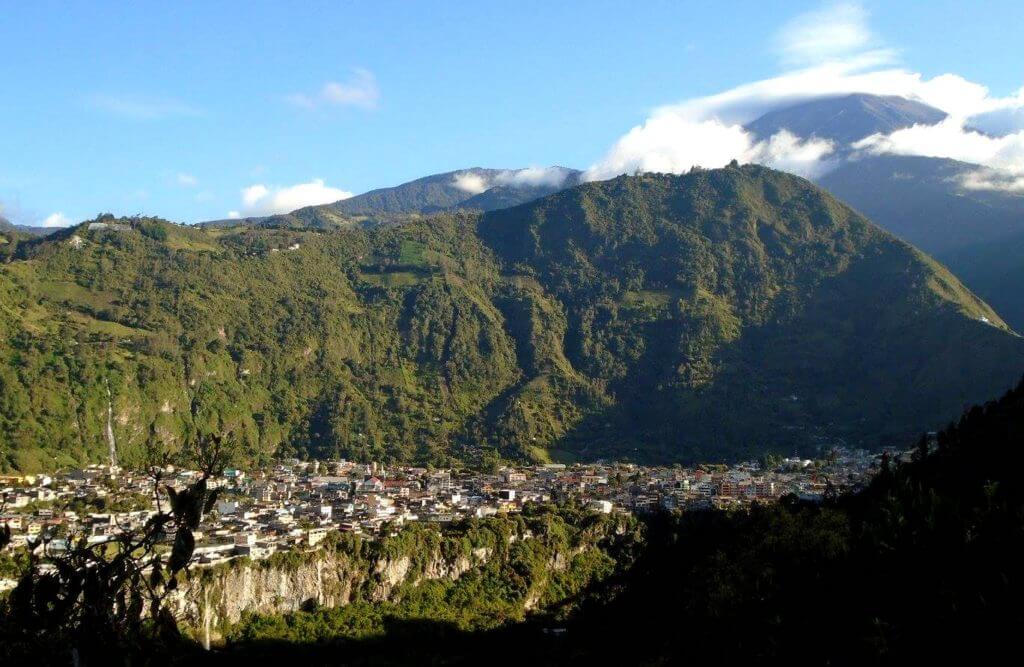 Puyo & AMAZONIA
Ecuador is home for Amazonian jungle together with other South American countries. One of the gates for trip to Amazonia is also town Puyo from where you can reach part of Amazonia called Puyopungo. I stayed there for 2 nights, 3 days and experienced cultural diversity of local indigenous people, tried their special drink "chicha" and learned a lot about beauty and power of mother nature. If you want to know more, read my article How I almost died in Amazonia.

Chimborazo & Riobamba
These days Chimborazo is inactive volcano with the altitude over 6,000 meters above sea level. Thanks to my volunteering job in Banos I was lucky to make a day trip to close by town Riobamba in order to experience atmosphere of local market and subsequently to reach summit of Chimborazo called Whimper at the altitude of 5,100 m. Trust me, sorroche or so called altitude sickness is not easy to handle. Better be prepared for it. But in spite of the trouble with altitude sickness, this hiking followed by mountain biking was more than worth it.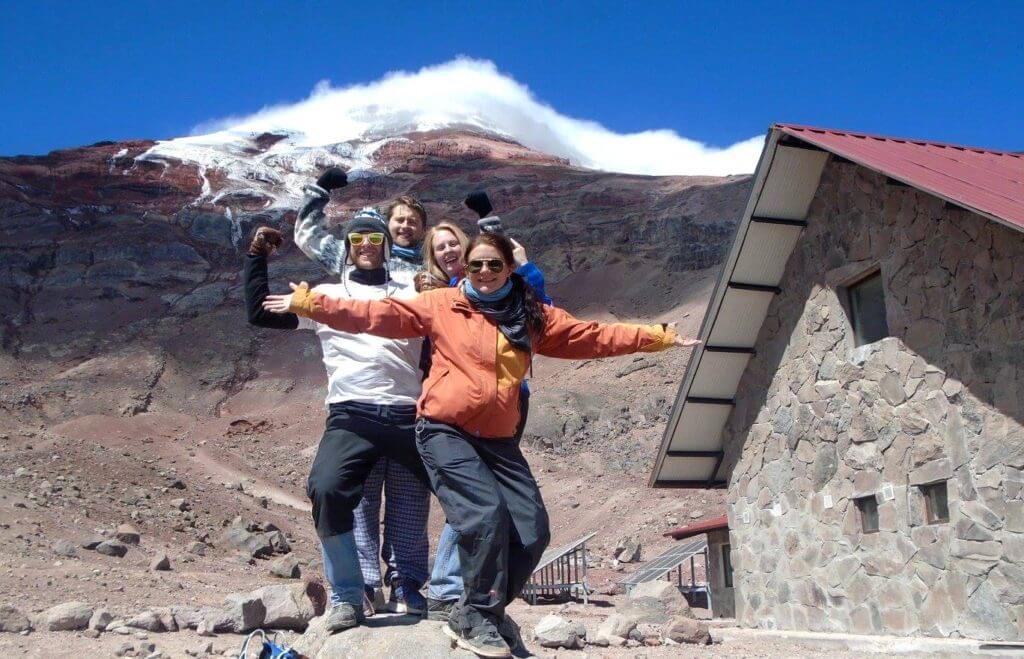 Ruta del Sol alias Route of the Sun
If you want to relax on the beaches then so called "Ruta del Sol" – Route of the Sun is exactly what you are looking for. Ruta de Sol represents costal towns such as Canoa, Puerto Lopez, Montanita, Olon and many others. I highly recommend town Puerto Lopez from where you can take a day trip to Isla de la Plata – fake Galapagos – fake because it is not real island of Galapagos but its sauna and flora is the same. Also a great tip for hidden and beautiful beach close to Puerto Lopez is Los Frailes.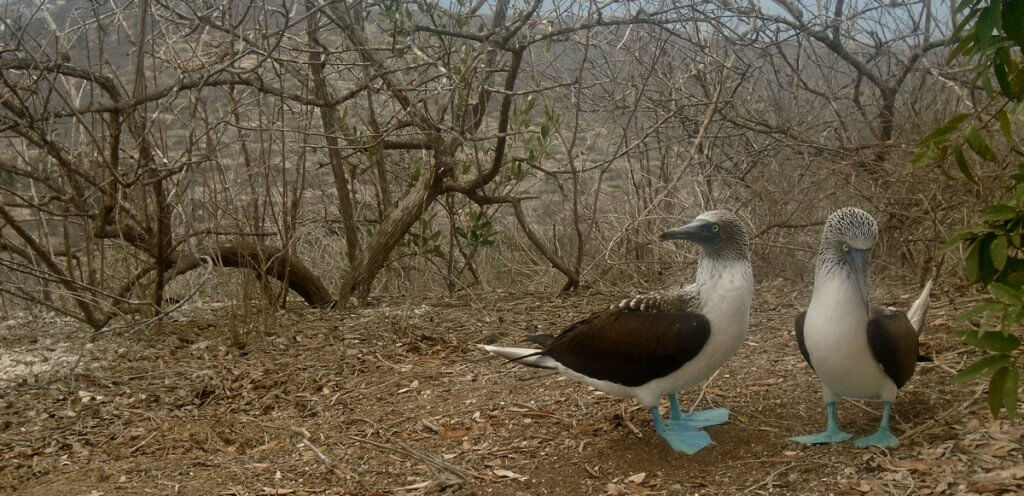 Cuenca & Ingapirca 
My last stop of exploring beauty of Ecuador was city called Cuenca. This city has stunning architecture and its city centre belongs to UNESCO World Heritage Trust site. In its surrounding you will find many things to do and see but I personally recommend to visit Ingapirca – Ecuador´s largest Incan ruins.

BUDGET on ECUADOR
Did you know that official currency of Ecuador is an American dollar?! Well, I didn´t know it before my travels to Ecuador. Within 41 days in Ecuador, including my volunteering experience where my accommodation and food was paid for 15 days, I spent total of 890 euro ($ 980).
More specific information on my budget in Ecuador
↓↓↓
Transportation from point A to point B: 90 euro ($ 100 – only buses, average is $1,5 per hour in bus )

Accommodation: 77euro ($ 85 – mainly hostels at Ruta del Sol where I travelled in a couple)

Day trips & entrances: 137 euro ($ 150 including Amazonia, Ingapirca, Isla de la Plata, extreme sports activities such as bridge jumping, canyoning, … )

Food & the rest: 586 euro ($ 645 including private course of Spanish)

TOTAL: 890 euro ($ 980) in 41 days

Average per day: 21,70 euro
To sum up, Ecuador thanks to its natural beauty belongs to my favourite country of South America. Not only I was given the opportunity to learn a lot about mother nature thanks to my trip to Amazonia, but also a lot about the life of local indigenous people which are seen on each corner of this country. Ecuador prides itself by its breath-taking natural landscapes, volcanoes, waterfalls, beaches and jungle. It has a lot to offer and I am amazed by rich cultural and natural variety of this country. In addition, costs for travelling within this country are not very high so budget travellers will enjoy their time in Ecuador.
I made similar article on COLOMBIA – budget and itinerary. Have a look and in case you find it useful, I will be grateful for sharing my articles.
More questions or hesitation? Don´t hesitate to comment below or contact me directly on FB of MiliMundo or milimundo88@gmail.com.
SUBSCRIBE to MiliMundo
Please follow and like us: