Hits: 1212
Prague is a magical European city especially when it comes to Christmas time. Last year according to USA Today readers, Prague was the world´s TOP Christmas destination. Prague Christmas markets light up city and give a sparkle to Christmas atmosphere in Czech´s capital. Everything is beautifully decorated, lighten up, and Czech Christmas carols are played and sung all over the markets. And most of the tourists head to the Old Town Square to experience "real" atmosphere of Prague´s Christmas. But are the Christmas markets located only on Old Town Square? Can you actually enjoy authentic atmosphere of Christmas on this place?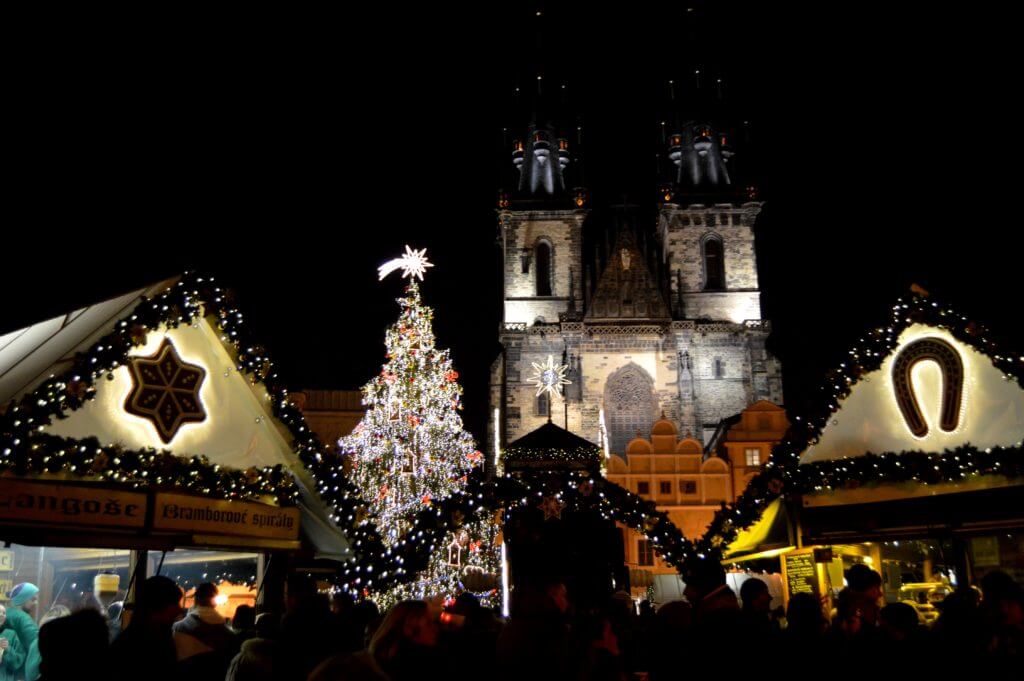 Well, let me tell you that Old Town Square Christmas markets look incredible as during the day as during evening hours. However, it is a challenge to get a cup of hot wine or so called "medovina" over there. And why?! This place is simply TOO OVERCROWDED! These markets are full of tourists from all over the world, waiting in the long queue to get a piece of "klobasa" (sausage) or such a famous "trdelnik" (impossible to specify). Uff, and in case you wanna experience spectacular views from the Tower of Astronomical Clock, well get prepared and immune yourself with a dose of patience because lines are way too long.
In addition to that, you won´t find that many local people coming to Old Town Square (I say it as a local). Not only because it is overcrowded but also more expensive. Most prices are almost double compared to other Christmas markets in Prague and are unfortunately set for tourists. Sad, but true.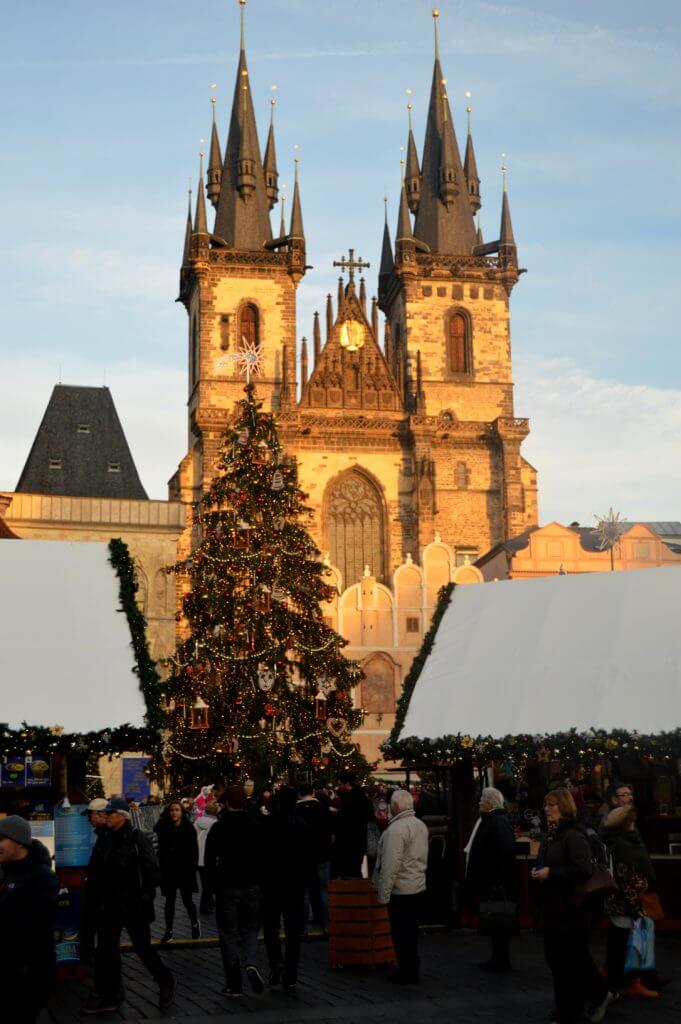 So what are the other options of Christmas markets in Prague? Where else can you go to get what you have come for while visiting Prague at Christmas time? Honestly, there are plenty of markets.  You can visit some on Wenceslas Square, Republic Square, at Havel´s Market, and even at Prague castle.
But where do you truly experience real and authentic Christmas atmosphere with locals in Prague?
Christmas market at "Namestí Míru"
In my honest opinion, I would say that best place to enjoy a cup of hot wine with bunch of locals is Christmas market at "Namestí Míru" (Square of Peace) which is actually not that far away from centre. Prices are definitely lower, it is less crowded and the Cathedral of St. Ludmila located on the square simply adds a sparkle to whole Christmas atmosphere.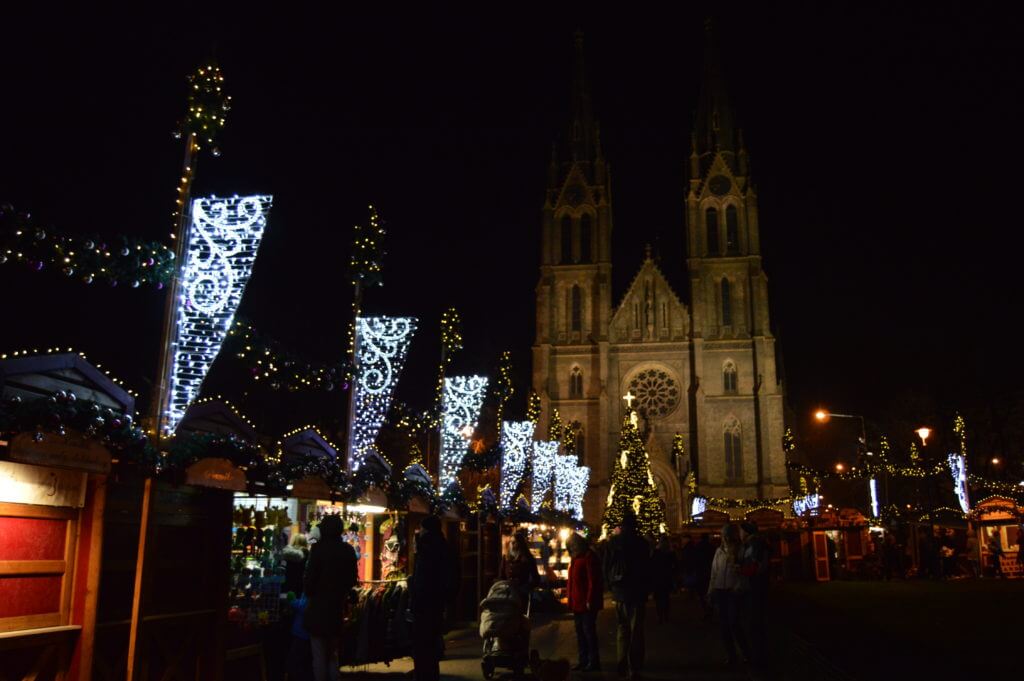 Christmas markets at Jiriho z Podebrad
Apart from the Christmas markets on Namestí Míru, I would suggest you to go and check Christmas markets at Jiriho z Podebrad. This area is inhabited by many expats living in Prague but you will still find a lot of locals enjoying Christmas moments while listening to daily Christmas concerts. And if you are lucky enough, you can also experience this Christmas market at breath-taking sunset with a sky full of pink clouds. 🙂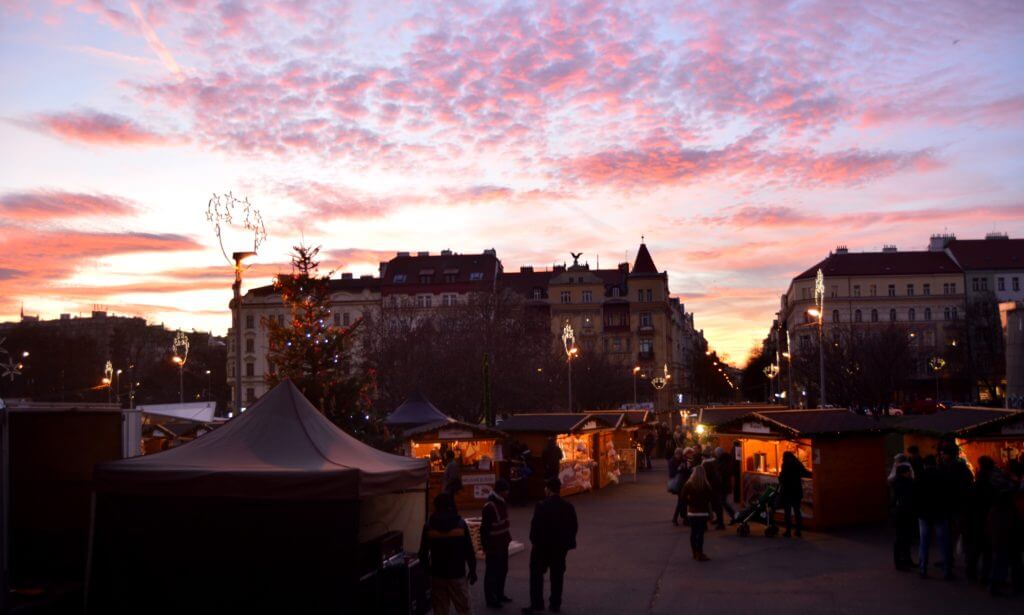 You have more suggestions or tips for Prague´s Christmas markets? Don´t hesitate and leave your comments below.
Merry Christmas my fellow readers & let the next year be full of travels. 😉
And one more thing, if you are interested in Advent Prague river cruise with mulled wine, hot chocolate and Christmas carols, then definitely have a look at the offers of Active Czech! The price for the following days is around 14 euro per person and children up to 3 years sail for free. 😉
Active Czech also offers Christmas market and food tour, just have a look. 😉
<a href="https://www.activeczech.com/?a_box=f23grrbf"><img src="https://c2495.affilbox.cz/data/kampan/1/728×90-bubliny.jpg" width="728″ height="90″ alt="728×90-bubliny.jpg" /></a>
And in case you would like to read an article which has nothing to do with Christmas, but definitely with Prague as such, then have a look at my article "Prague – centre of crazy stag parties". I used to work there as a guide at stag parties. 😉
SUBSCRIBE to MiliMundo
Please follow and like us: