Hits: 525
I have written many articles on budget for different countries or continents. The most popular ones are articles about "Budget for South America for 5 months" and "Budget for Central America for 3 months". All those articles on budget were written for a solo travellers. However, this article about budget for the Dominican Republic is meant for two people as I was travelling with my travel partner. Therefore, all information you will find here will be costs & expenses for two, not for one. And for 30 days exactly.
The main currency in the Dominican Republic is Dominican peso – around 60 pesos represent 1 euro (October 2019).

FLIGHT TICKETS – 300 euro
We booked only one way ticket from Brussels, Belgium to Punta Cana, The Dominican Republic for 300 euro for both of us. It was middle of September, therefore, low season. Maybe that is why the flight tickets were so cheap. The airline company was TuiFly.   
ACCOMMODATION – 12 750 pesos (217 euro)
Out of 30 nights spent in the Dominican Republic, we spent 12 nights for free thanks to couchsurfing. Other nights were spent in hotels or apartments which we were looking for on a spot, never booked anything in advance. Besides the first two nights in Punta Cana on Bibijagua beach.
Usually the prices of private room with private bathroom with fan or AC are between 10 and 20 dollars.
All needs to be negotiated of course. 🙂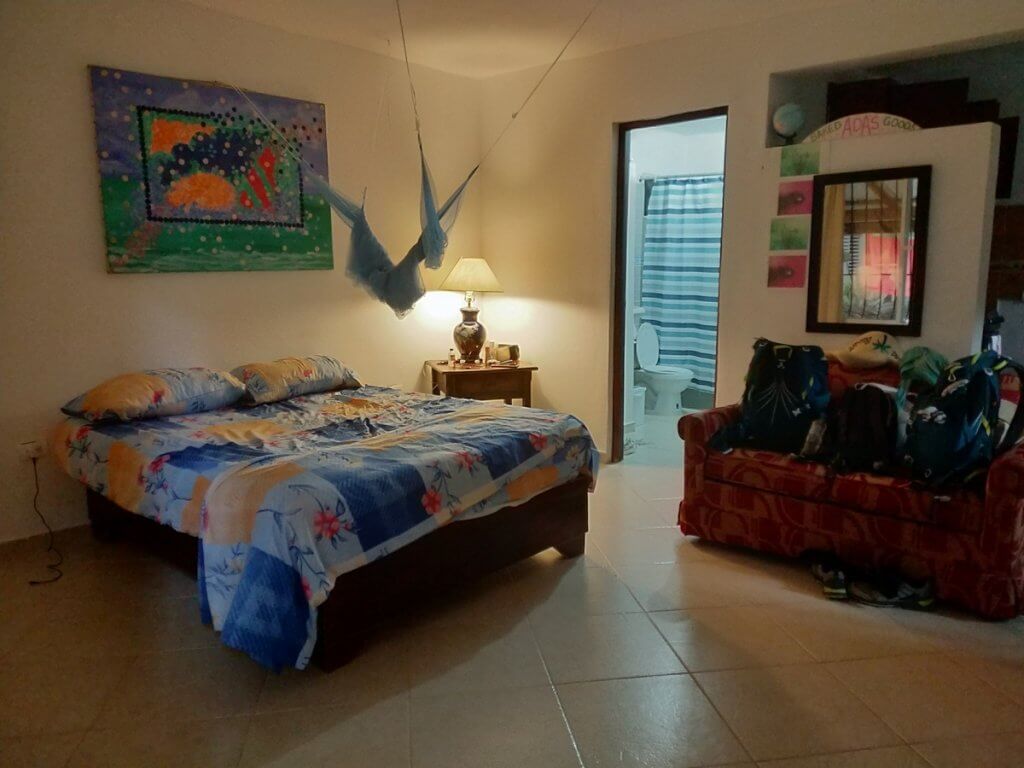 TRANSPORTATION – 4025 pesos (69 euro)
We didn´t spend too much money on transportation as we hitchhiked most of the country by ourselves with help of locals. It was a great experience and will never be forgotten.
The most expensive transport was a mototaxi ride from Pedernales to Bahia de Las Aguilas (the most beautiful beach of the Dominican Republic) and it cost us 1000 pesos which is around 17 euro.
If you don´t want to hitchhike, transportation throughout the island is pretty cheap. One guagua (like a minivan) costs around 100 pesos (around two euro) per ride, depending how far you want to travel. Mototaxi cost around 100 pesos on small distances, too.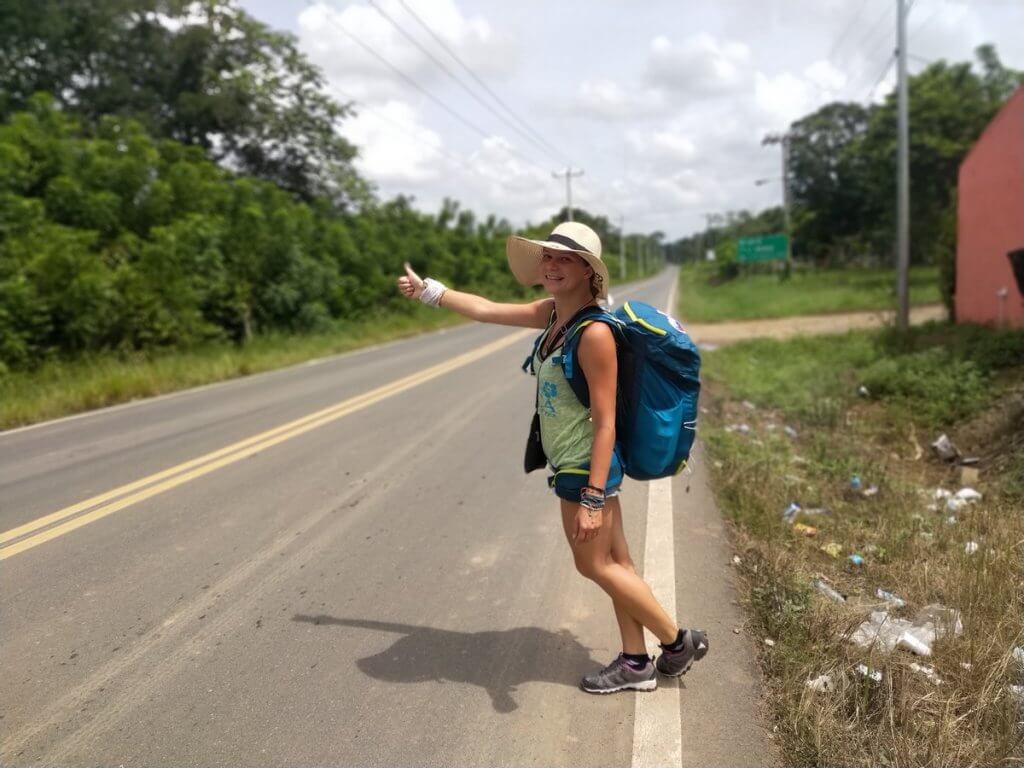 EXCURSIONS & ENTRANCES – 550 pesos (9 euro)
We have never taken any tour or excursion in the Dominican Republic. We don´t like mass touristy attractions and we try to avoid them. The only fee we paid was for the entrance to the most beautiful beach of the Dominican Republic – Bahia de las Aguilas. And it was 150 pesos per person (almost 3 euro). And the entrance to Aguas Calientes in San Jose de las Matas which was 125 pesos per person.
FOOD – 25 145 pesos (428 euro)
You can find pretty cheap meals in local "comedores" which usually cost around 150 pesos (3 euro). A glass of natural juice around 50 pesos pr less (1 euro). A large beer (one litre) around 150 pesos (3 euro). However, if you want to dine out in more luxurious restaurants, well prepare your wallet.
Small bottle of rum Brugal cost 300 pesos (6 euro), if you go to the club you pay double.
How much you spend on food and drinks depends solely on you.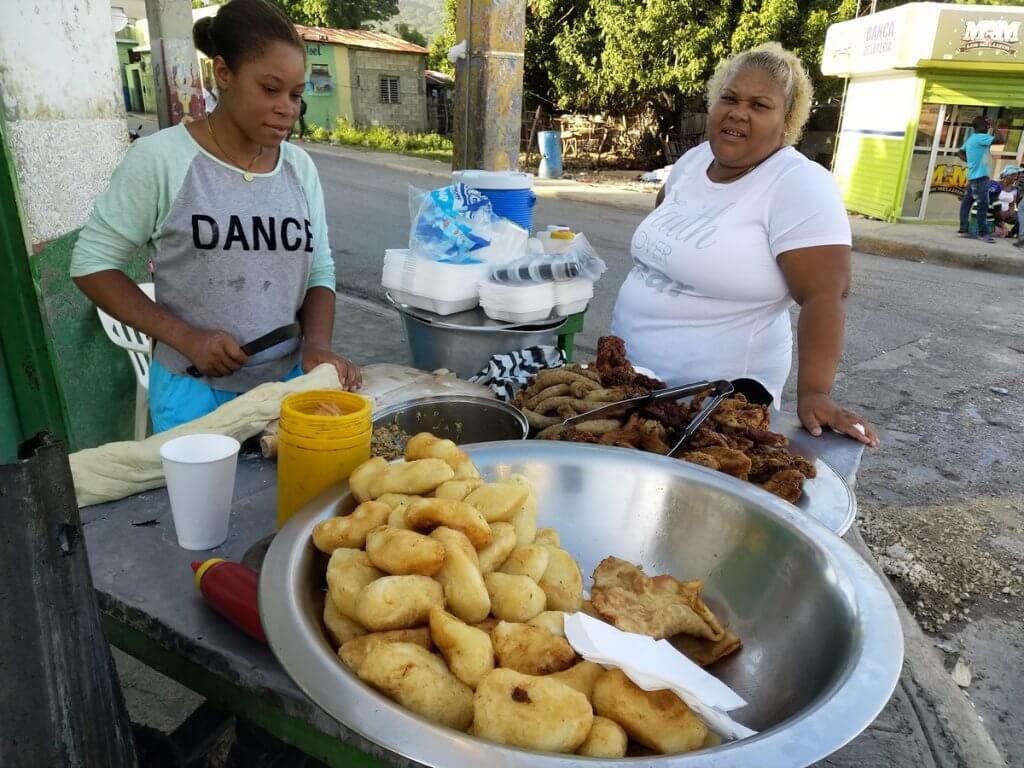 OTHER EXPENSES – 19 530 pesos (332 euro)
There are always some other expenses such as sim cards, souvenirs, snorkel rent, laundry, medicine or cosmetics. CLARO sim card cost us 500 pesos with internet for 5 days, then we had to recharge 150 pesos every 5 days to have data and unlimited calls. I also include parties, some bottles of rum and beers into other expenses. And surfing which cost my boyfriend 2000 pesos in Cabarete.
BUDGET SUMMARY excluding FLIGHTS:
Accommodation: 12 750 pesos (217 euro)

Transportation: 4025 pesos (69 euro)

Excursions: 550 pesos (9 euro)

Food: 25 145 pesos (427 euro)

Other: 19 530 pesos (332 euro)

TOTAL: 62 000 pesos (1054 euro)
How do you find our budget for the Dominican Republic? Pretty cheap, right? A month spent in the Dominican Republic travelling all over the country cost us 1054 euro and it makes an average 35 euro per day per two people. I find it pretty ok. 🙂  
On our last day in the Dominican Republic we took a ferry towards Puerto Rico and you can read about this experience with all the useful info in the following article.
More articles about the Dominican Republic can be found HERE.
Subscribe for more articles from my crazy travels around the whole world. 🙂  
If you wish to receive my latest articles on your email, sign up below.
And if you want to contribute for MiliMundo travels, don´t hesitate and do it now. 🙂
And if you are interested in articles on CENTRAL AMERICA – click HERE. On SOUTH AMERICA click HERE. 🙂
PS: Looking for great travel insurance with great prices? Insurance which you can book even when your journey has already started? Have a look at The True Traveller. I am more than happy with them. 🙂

Please follow and like us: