Hits: 3191
What is the first thing which comes to your mind when someone says the Philippines?? Crystal clear sea, beautiful beaches with white sand, rocky mountains in the middle of the Philippine sea … But what about the magical greenery of the rice terraces of Northern Luzon? Well, this article will be exactly about it!
WHERE TO EXPLORE RICE TERRACES IN THE PHILIPPINES
The Philippines consists of more than 7000 islands. The biggest one is called Luzon which also hides treasure of the Philippines – RICE TERRACES. There are many rice terraces, however, the most popular are located around the town BANAUE.
The second most favourite spot surrounded by rice terraces is a small village Batad. However, my favourite village was Bangaan. Or Hapao. All mentioned villages are located in the surrounding of Banaue and to get there you will need to rent a tricycle, your own motorbike or do some trekking.  There are many options of getting to these places. Another great recommendation for town surrounded by breathtaking rice terraces is town called Bontoc.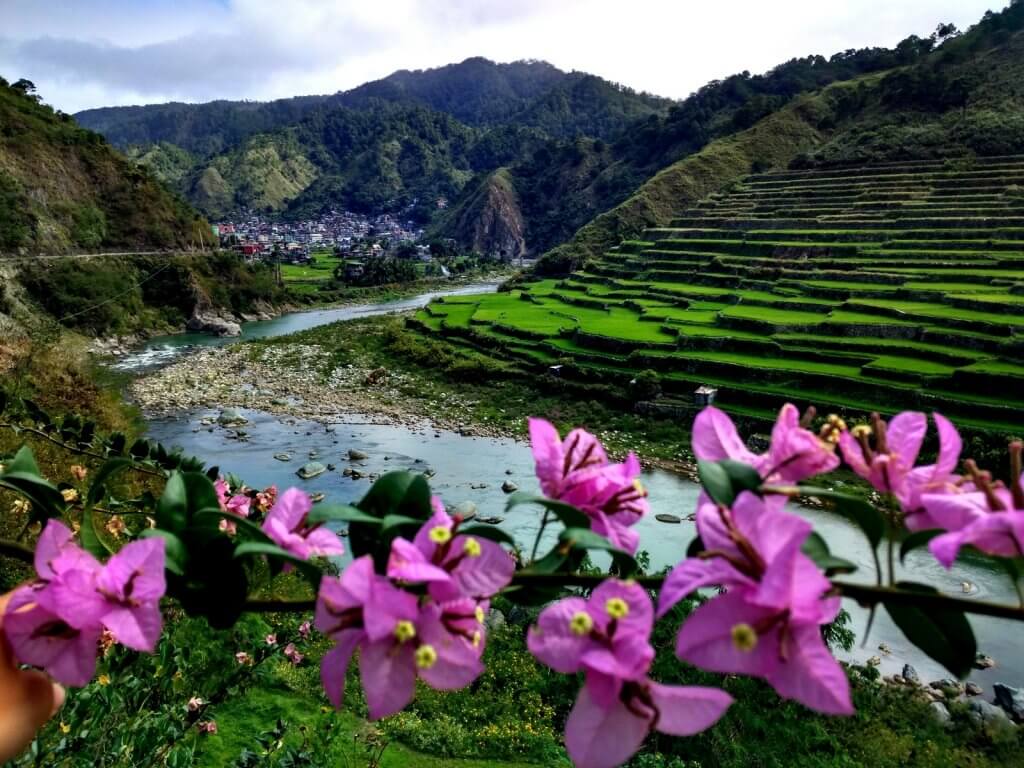 WHEN TO EXPLORE RICE TERRACES OF THE PHILIPPINES
The most convenient time for exploring rice terraces of Banaue and its surrounding are months MARCH & APRIL. According to local people, these months offer the best views over the greenest rice terraces of the whole year.
I was there by myself in December. Rice terraces of Banaue in December are green enough taking into consideration it´s not the best time of the year. However, rice terraces of village Batad or Hapao were all covered in mud and clay. Nothing green at all. All rice has been harvested.
However, on the way to Sagada we were passing through Bontoc town which offered breathtaking green rice terraces even in December. Like in the fairytale. So I believe that such beauty would wait for me in Batad if I came there in March or April.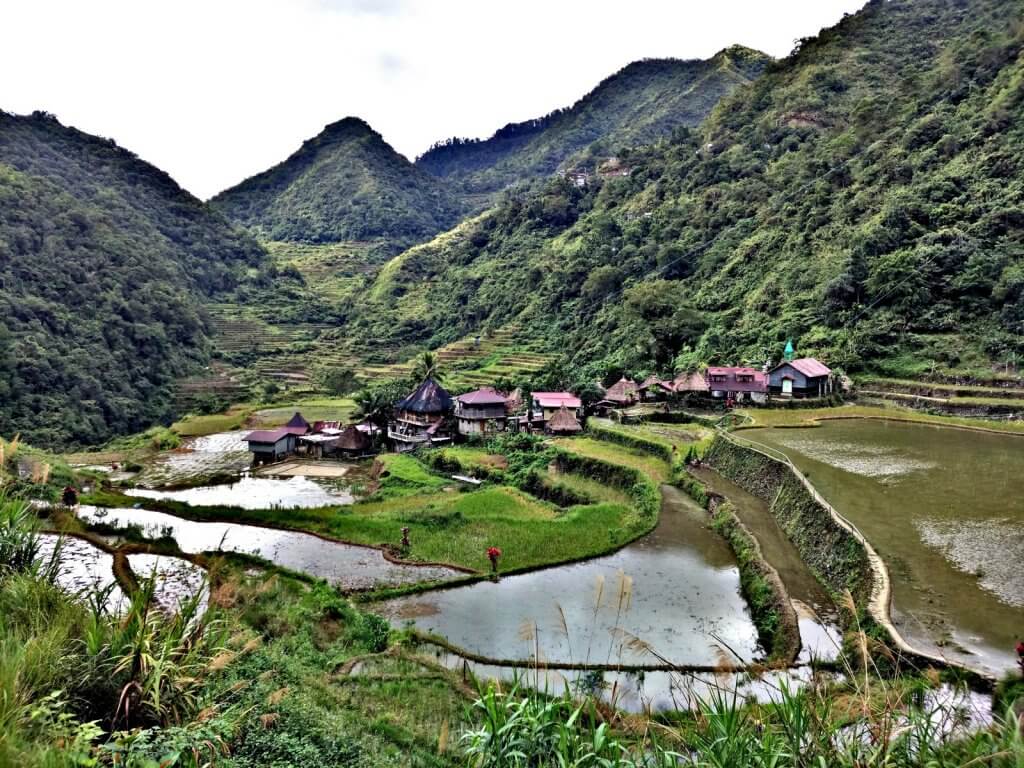 HOW TO GET TO BANAUE
Banaue is located in the Northern part of the island Luzon – in the North from its capital Manila. You can get to Banaue from Manila by DIRECT BUS Ohayami. The journey takes around 10 hours and costs around 555 pesos (around 9 euro).
Journey itself isn´t that bad, however, get ready that the AC will be working on 110%. Therefore, it is pretty cold in the bus. Prepare your warm clothes, including hat & scarf. There is no toilet in the bus, however, every 3 or 4 hours you will have short breaks where you can use toilet and get some refreshment.
I booked my ticket through easybus.ph in advance, however, I am sure you can get your tickets also directly on a spot in Manila. So it´s up to you.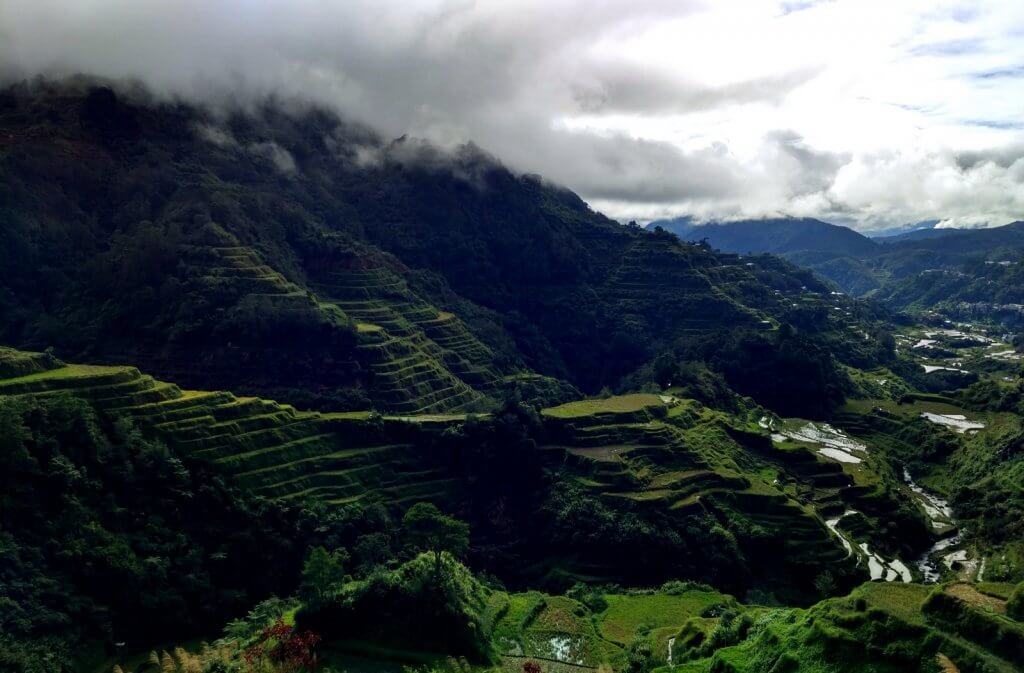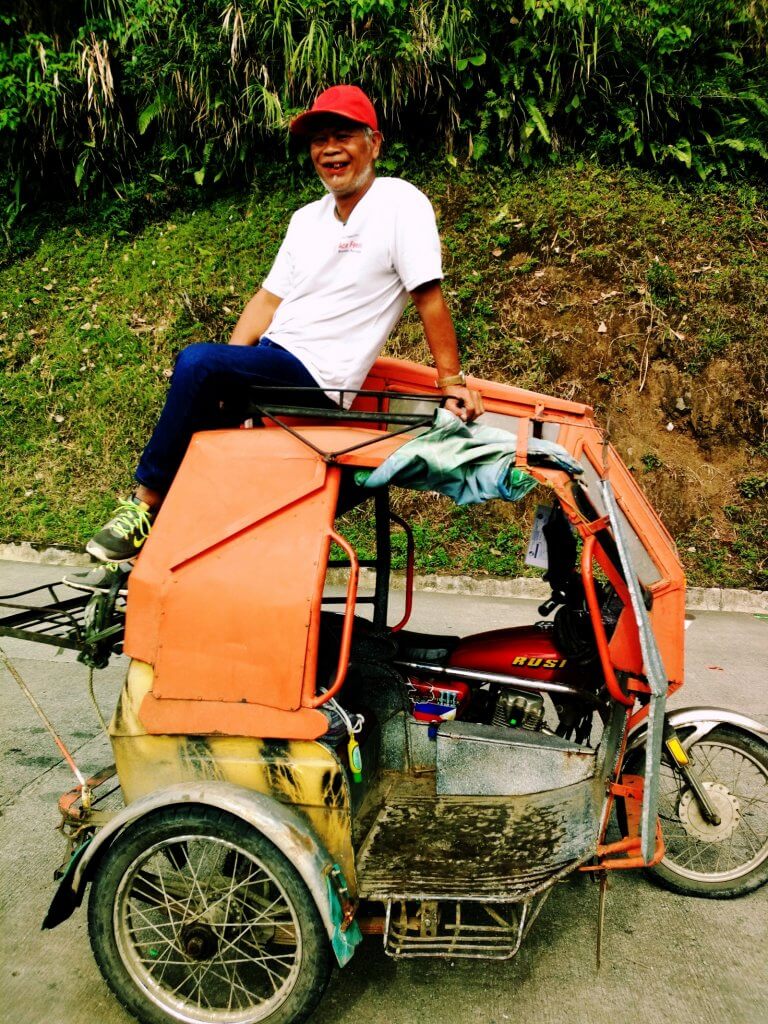 TIPS & TRICKS FOR BANAUE
– my recommended accommodation is Evergreen Banaue Hostel (price per private double room costs 800 pesos & the views from hostel are breath-taking). Use booking.com to make reservation and receive $15 as a reward!! 😉
– my recommendation for excellent guide service goes to Abner and his AB´s Banaue Tours
– price for all day guided tour on tricycle in the surrounding of Banaue can cost you between 700 and 1400 pesos – depends on your negotiation skills
– there is so called curfew in Banaue after 9pm – after such hour you won´t find anything open
– my recommendation for nice restaurant with nice prices is Las Vegas restaurant
– so called "MOMMA" is local light drug which is used by local people – in the past they started using it in order to get warm while work – its main ingredient is bitter nut & tobacco leave – doesn´t taste very good 😉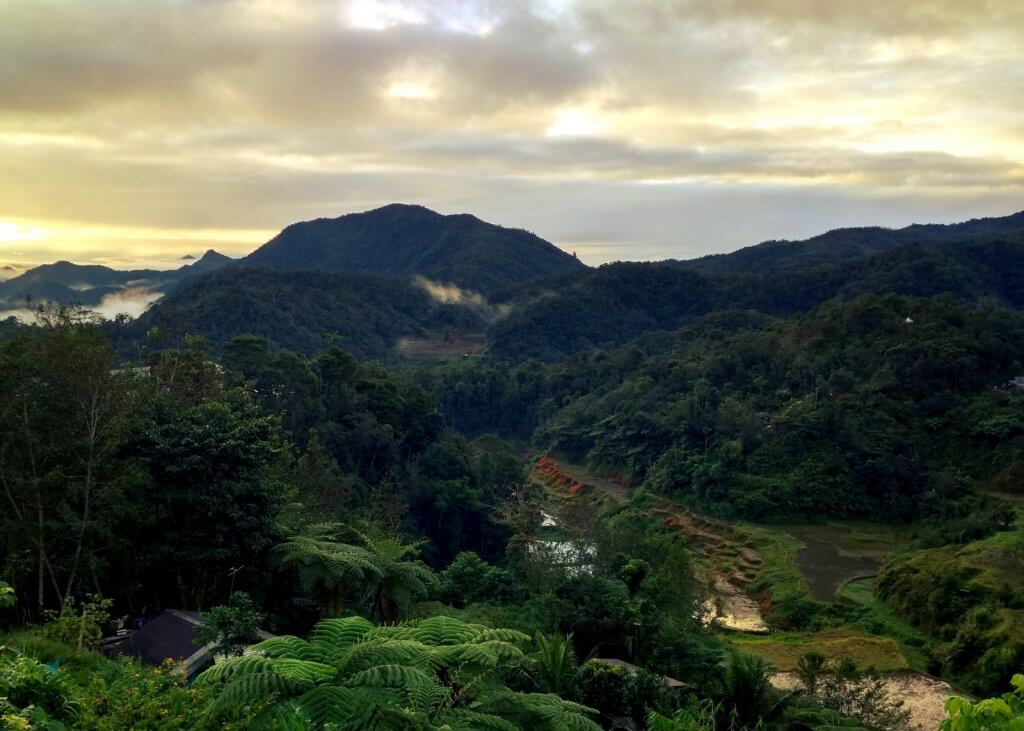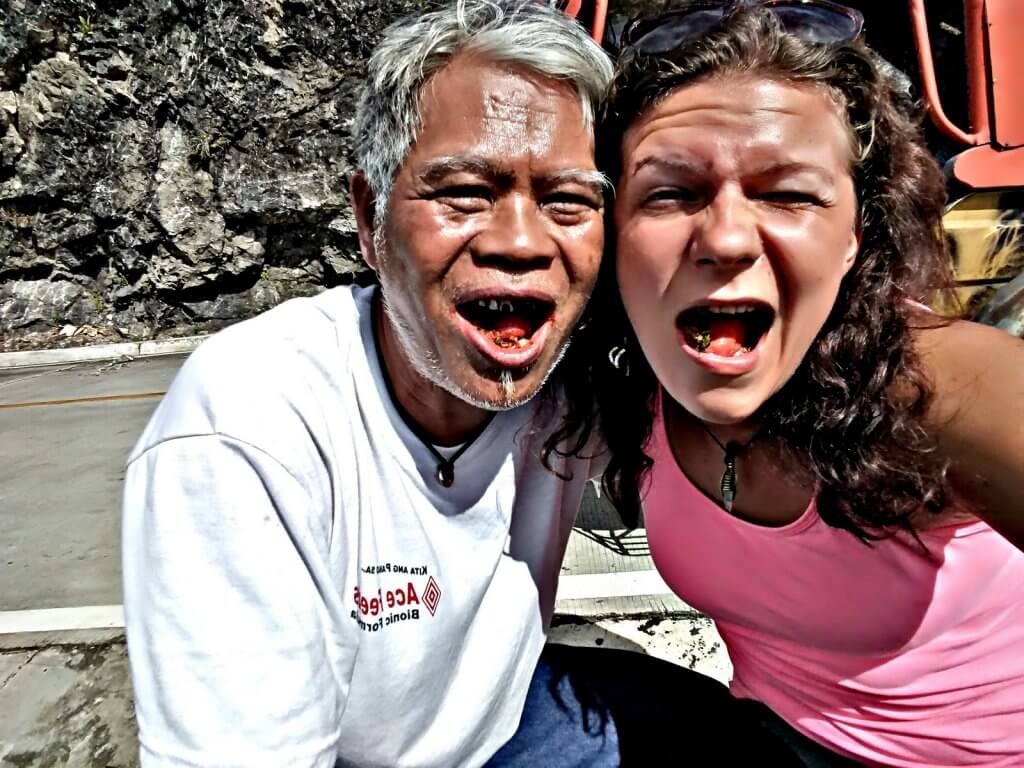 SUGGESTION OF ITINERARIES IN (the surrounding of) BANAUE
– suggestion n.1 – village Batad, Snake River & village Bangaan (many travellers enjoy staying in Batad overnight and doing some treks, however, I didn´t stay as the all rice terraces were in mud)
– suggestion n. 2 – all viewpoints of rice terraces over Banaue (my favourite one was Dayanara viewpoint) & mini trek over rice terraces in village Hapao with a visit of hot thermal pool (where you will be forced to take a guide however I managed to avoid it and get there by myself 😉 )
– suggestion n. 3 – few day trip to Sagada – town surrounded by breathtaking nature & famous hanging coffins (journey from Banaue to Sagada takes 3 hours and costs 300 pesos)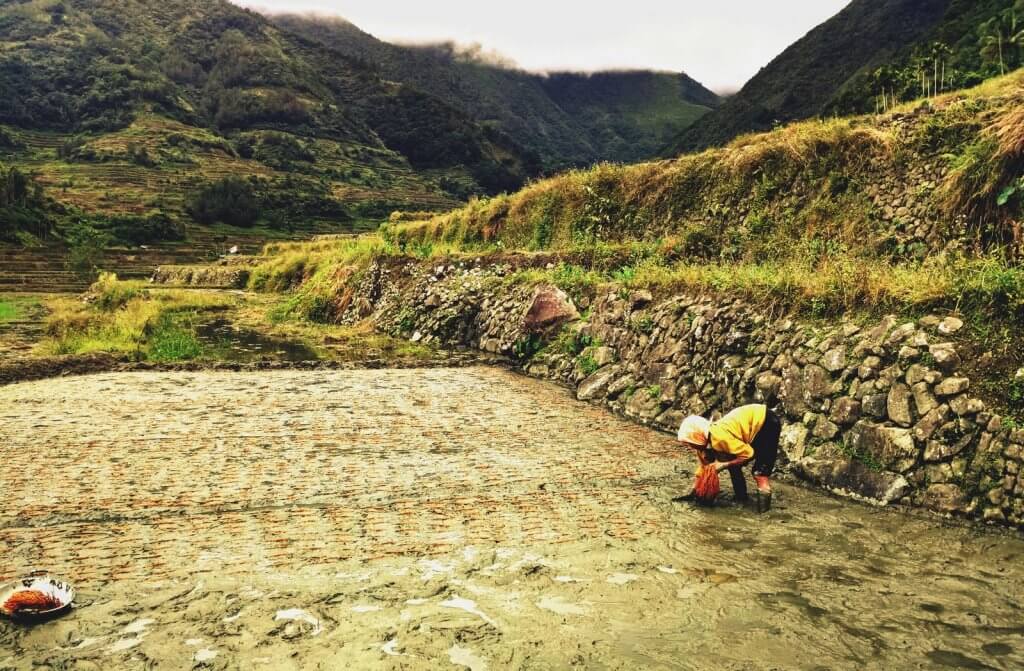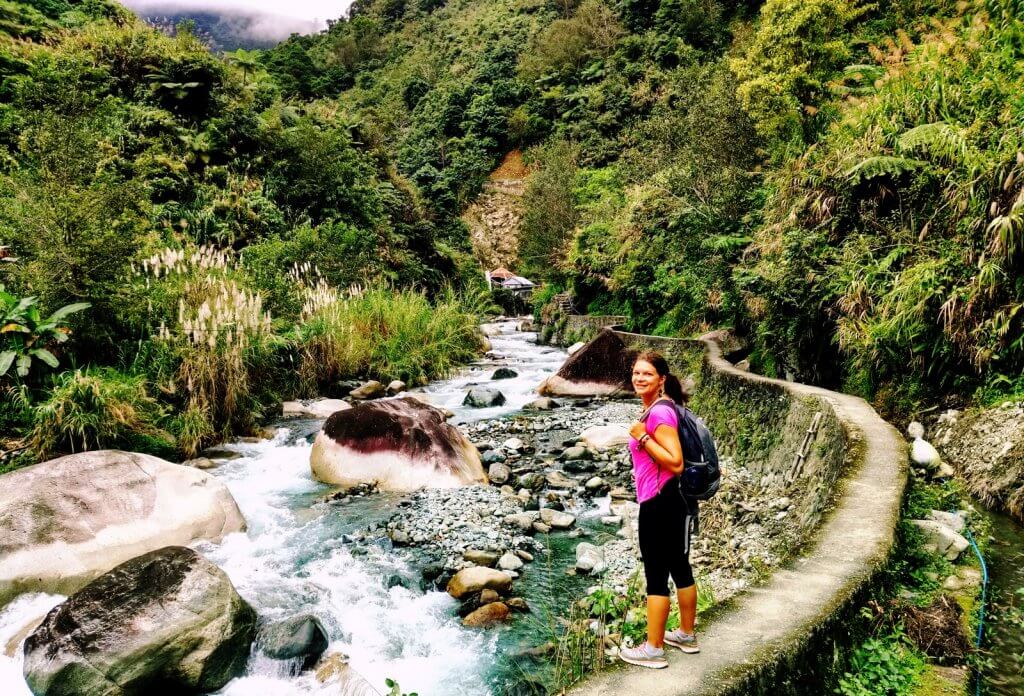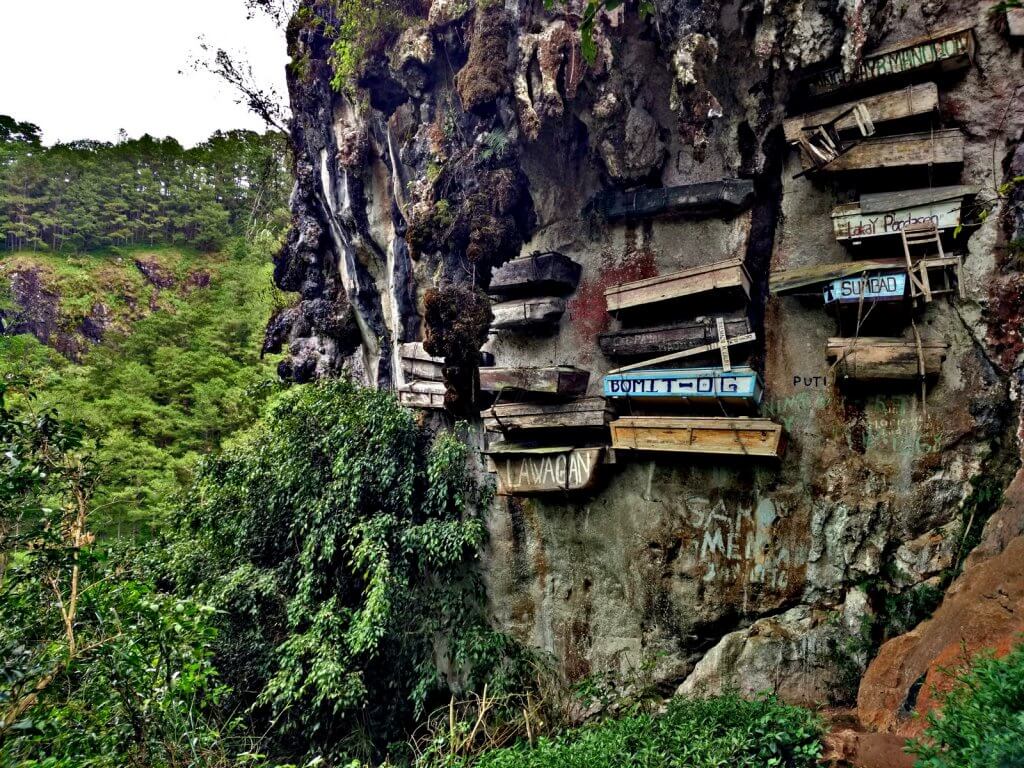 If rice terraces are not your cup of coffee, then I highly recommend you island Palawan. Find some inspiration in my articles about Puerto Princesa – capital of Palawan, Island Hopping of El Nido, magical islands Coron & Busuanga or how my dream came true in the island Bayaca.
I also recommend you to check the article of Melissa from Canada about Trekking to Banaue-Batad Rice Terraces who describes her trek with many useful tips.
So when NOT to explore rice fields of the Philippines? I believe they are always worth visiting. Whether they are green or muddy, they are still magical. But I would try to come back one more time in March or April. 😉
If you wish to receive my latest articles on your email, sign up below.
And if you want to contribute for 2018 MiliMundo travels, don´t hesitate and do it now. 🙂
Please follow and like us: