Hits: 534
This little hidden gem called Samoa lies halfway between Hawaii and New Zealand in the Polynesian region of the Pacific. This island with the population of around 200K is not very well known, yet one of the best islands I have ever visited.
In this article I will give you a suggestion for 10 day itinerary for Samoa including the information about the local prices and our budget for this little paradise of the Pacific.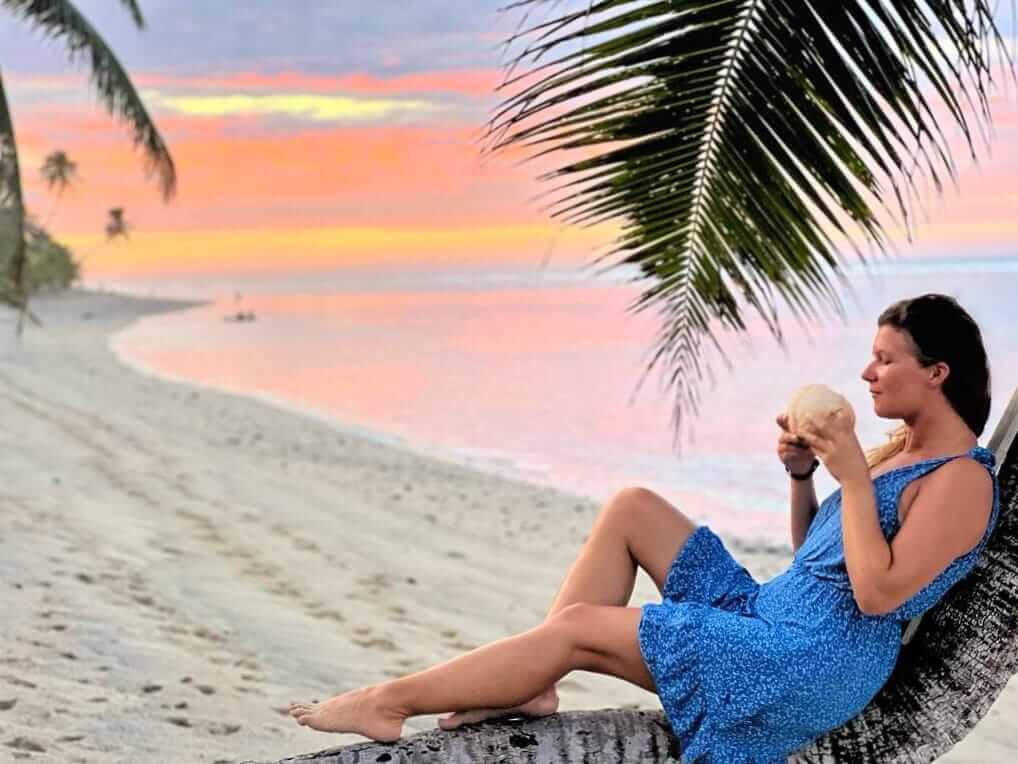 Basic information about Samoa
Samoa consists of 2 main islands – Upolu & Savaii. Upolu is the main and more touristy island with Samoan capital Apia. While Savaii is the less populated and less touristy island which I find more interesting.
The local currency is Samoan Tala (1 euro = 3 tala as of June 2023).I recommend to either exchange your money to the local currency or withdraw money from the ATM at the airport, because this country is "cash-based country". It was very rare to be able to pay by card and if yes, 4% extra charge was added to the bill.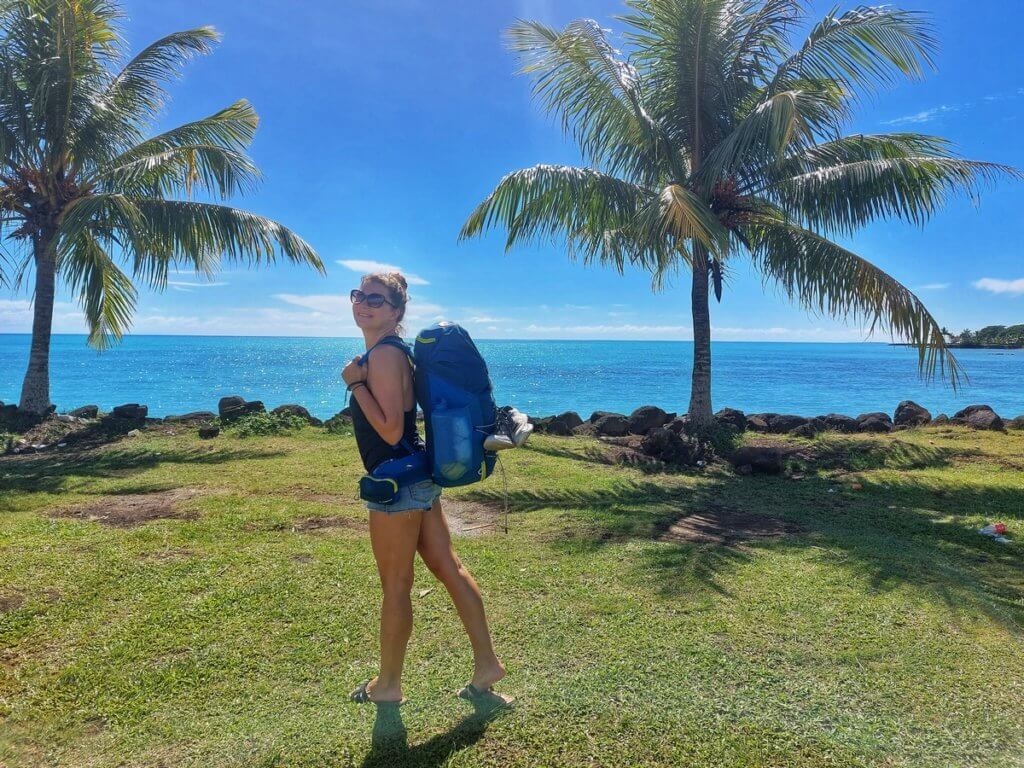 Accommodation and food in Samoa
The most typical accommodation of Samoa is so called "beach fale". Beach fale is a small, simple, thatched hut built directly on the beach providing you with the roof above your head, mattress, pillow, blanket, mosquito net (very important in Samoa!) and electricity (light). Generally, it is difficult to book them in advance as most of them don´t have websites and are not listed in the booking app, but many of them can be sort of booked via email or via FB message. I will include contact on each fale where I stayed below.
When it comes to food, there are not many restaurants in Samoa, especially in Savaii. Therefore, the owners or employees of the beach fales will also prepare dinner and breakfast for you (and that is already included in the price of your stay). The usual price of beach fales varies from 70 to 90 tala (23 to 30 euro) per night per person with two meals included. Super cheap, right?!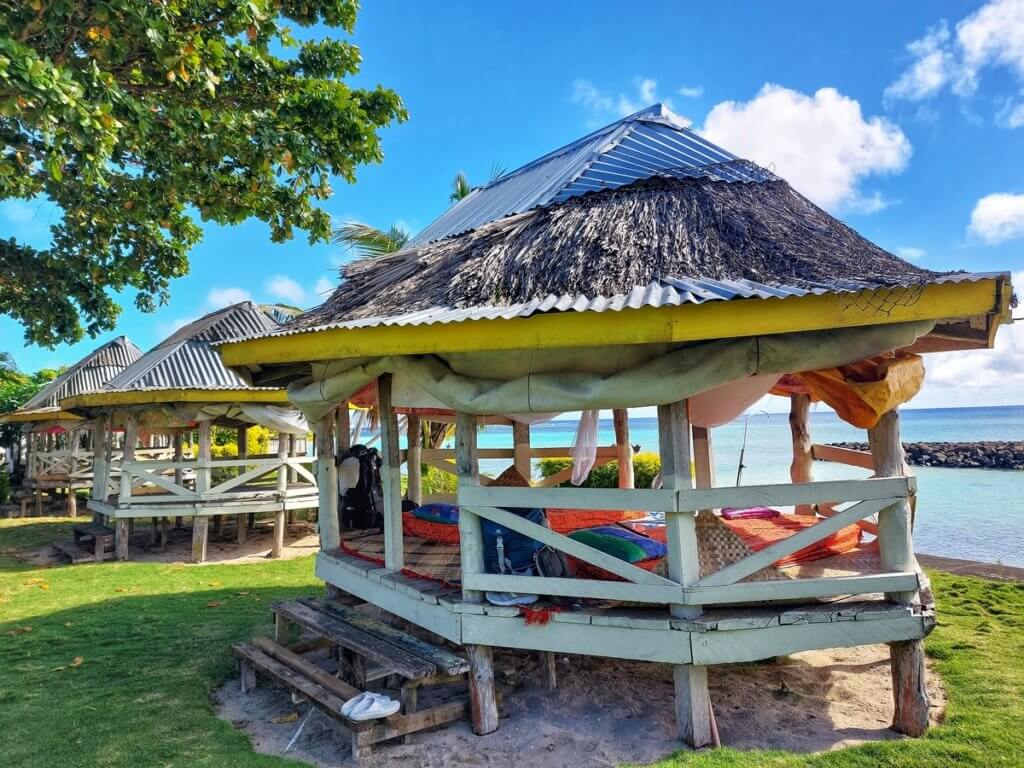 10-day itinerary for Samoa
Day n. 0 – Arrival to Samoa (Upolu)
On the day 0 we arrived to Samoa with Fiji Airways from Auckland, New Zealand in the late afternoon hours, therefore, we were not able to take the ferry to Savaii. The last one leaves at 4pm (check the ferry schedule online as it changes every month).
As the Faleolo airport is located 32km from Apia and only 4km from Mulifanua ferry terminal, we decided to stay one night at Transit Motel nearby the airport and the wharf. Take into consideration, there are no restaurants in the area so come prepared with your own food for the first day in case you decide to do the same thing as we did.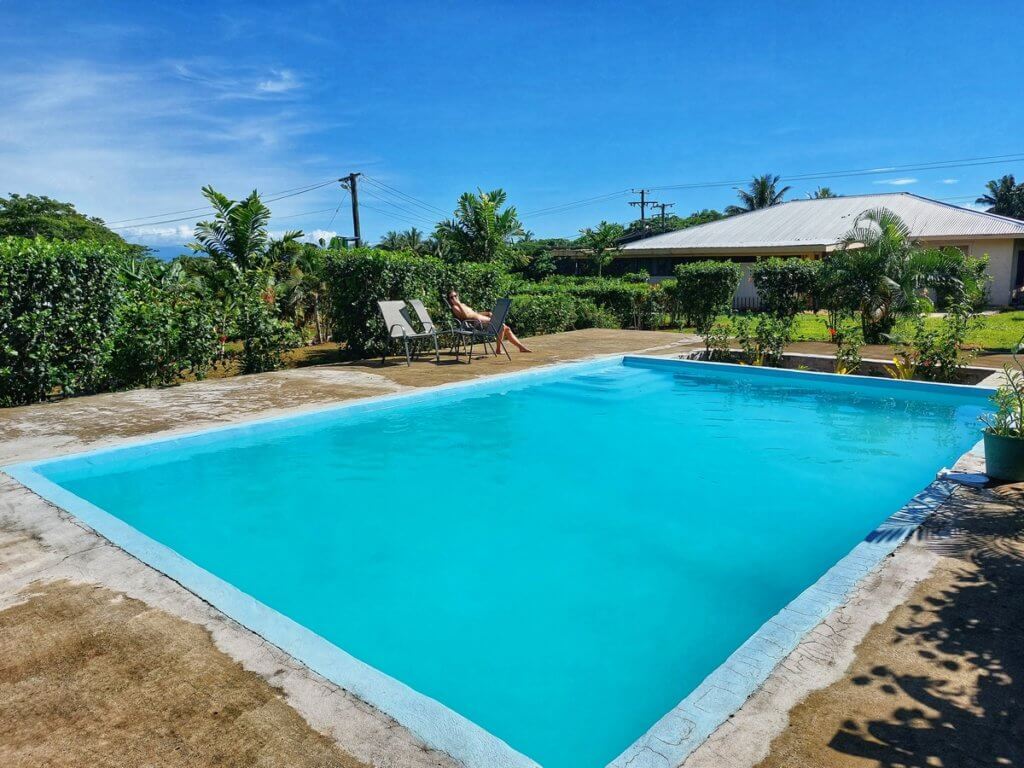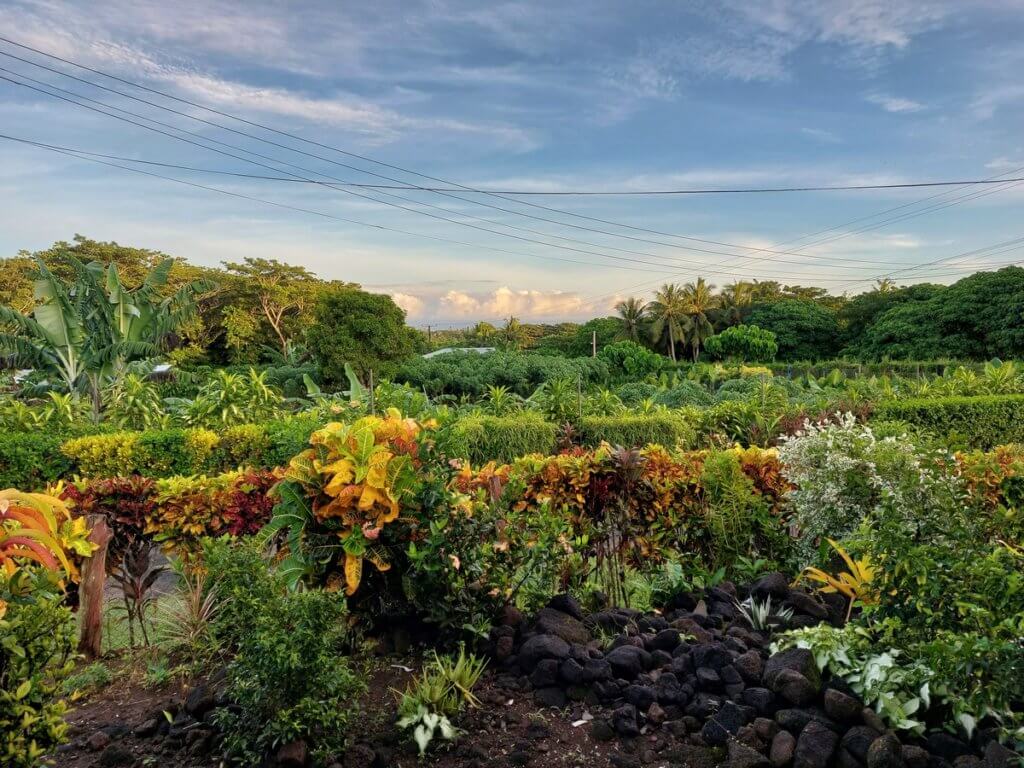 Day n. 1 – Crossing from Upolu to Savaii /Lauiula beach fale
As we decided not to rent a car and make our trip more adventurous by hitchhiking, there was no need to book the ferry in advance. We just arrived to the ferry terminal one hour before its departure and bought the tickets on a spot (10 tala – €3).
After we arrived to Salelologa (the main city of Savaii), we realised everything was closed as it was Sunday. What a bummer! So we started hitchhiking and a lovely local lady gave us a ride all the way to our very first beach fale called Lauiula fale.
Lauiula beach fale was one of the best (among TOP 3) fales we had stayed in Samoa. The owner Richard is super friendly, his wife, daughter and niece were incredible and they made our stay super special. Our fale was directly on white sand beach and this was the only fale which besides light also offered electric socket to charge our phones. And the food? DELICIOUS!! We paid 90 tala (€30) per person per night at this fale and again this was the only fale where we could pay our stay by card.
Lauiula beach fale contact:
email – lauiulabeachfales@gmail.com & phone: + 6857759743, FB page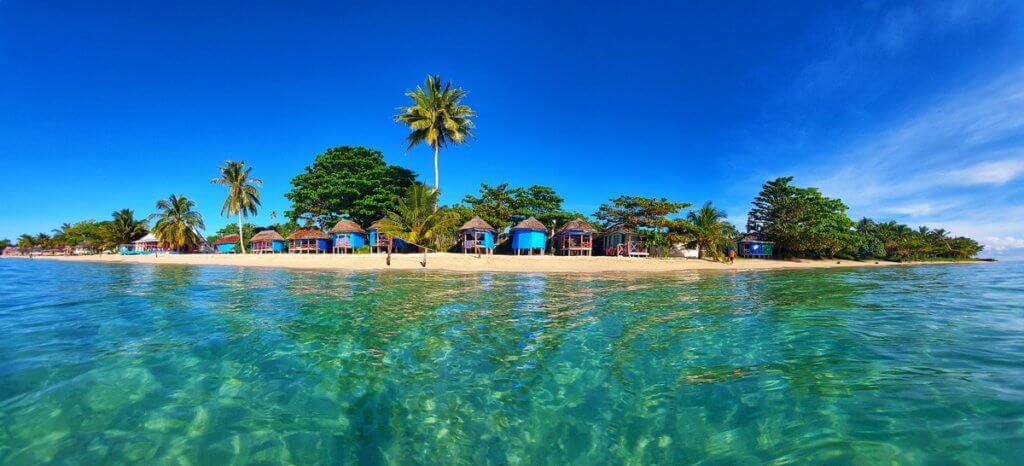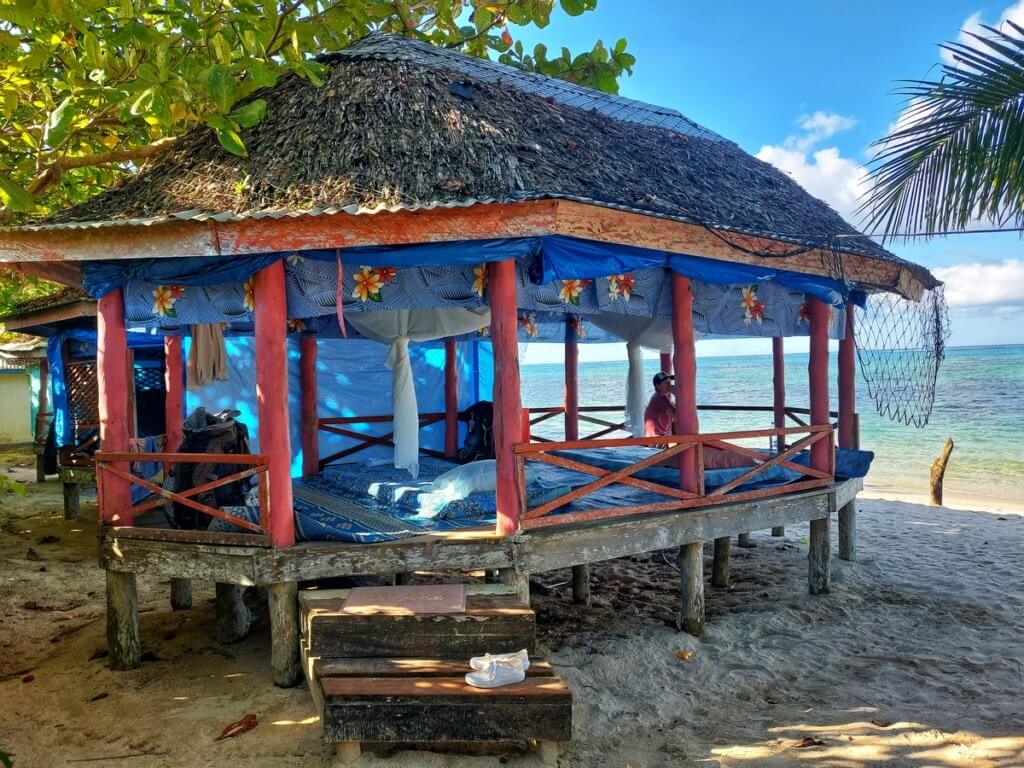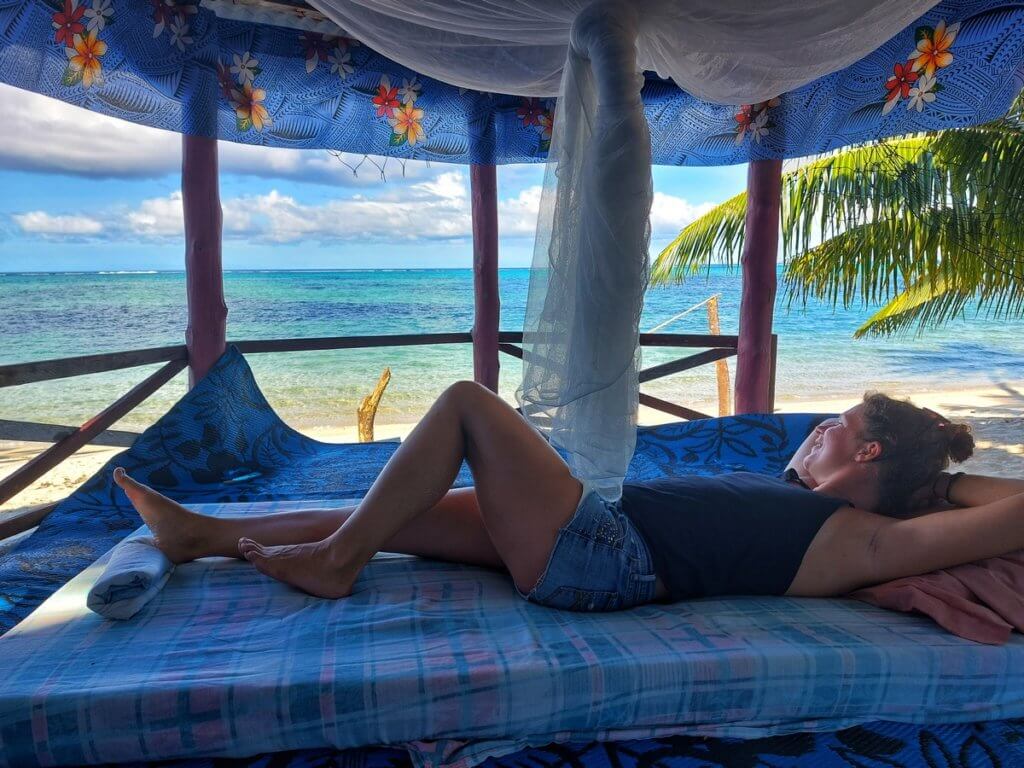 As we booked 2 nights at this fale, our initial plan was just to chill at this beautiful beach, to sunbathe, relax, drink coconut water… In the late afternoon we walked around 15 mins from the fale and bumped into a local guy called Kouky who took us to the natural pool hidden in the middle of the Samoan "jungle" (for only 5 tala). It was recommended to us by Richard´s wife and this small trip was so worthy. We spent the rest of the day in Lauiula fale enjoying the peaceful vibe of this place.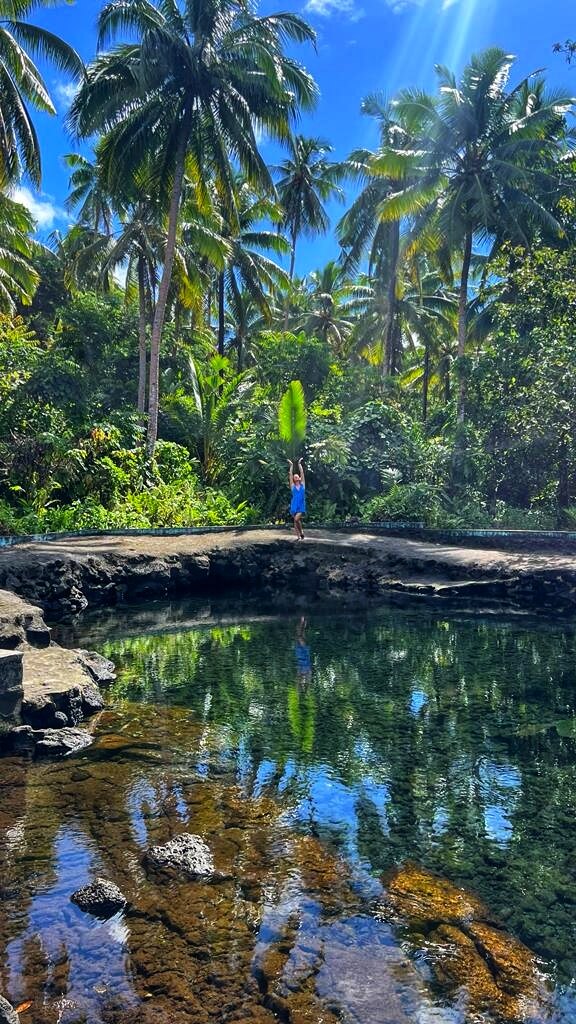 After another delicious breakfast we started hitchhiking which went pretty smoothly (only 2 rides) and we moved ourselves 30km further from Lauiula towards amazing Regina Beach fale (70 tala per person per night). We hadn´t made any reservation for this one and luckily it was not needed. Liano was super welcoming, he made someone prepare our fale immediately after our arrival, offered us fresh fruit, water and coffee. This fale also belongs among the TOP 3 fales we had stayed at.
Regina beach fale is set in the grass area (meaning no sand inside our fale, a nice change), Liano went above and beyond, took us to his garden, showed us how to open coconuts, gave us all the possible fruit options and his son took us up to the hill with the nice view over the whole area.
Besides chilling at Regina fale (where we should have stayed at least 2 nights, not only one), we went hitchhiking again and explored the surrounding colourful villages and more famous Lava Fields (10 tala entrance) with the ruins of the church covered by lava from the volcano which erupted many years ago.
Regina beach fale contact:
Phone: +6857726179, FB page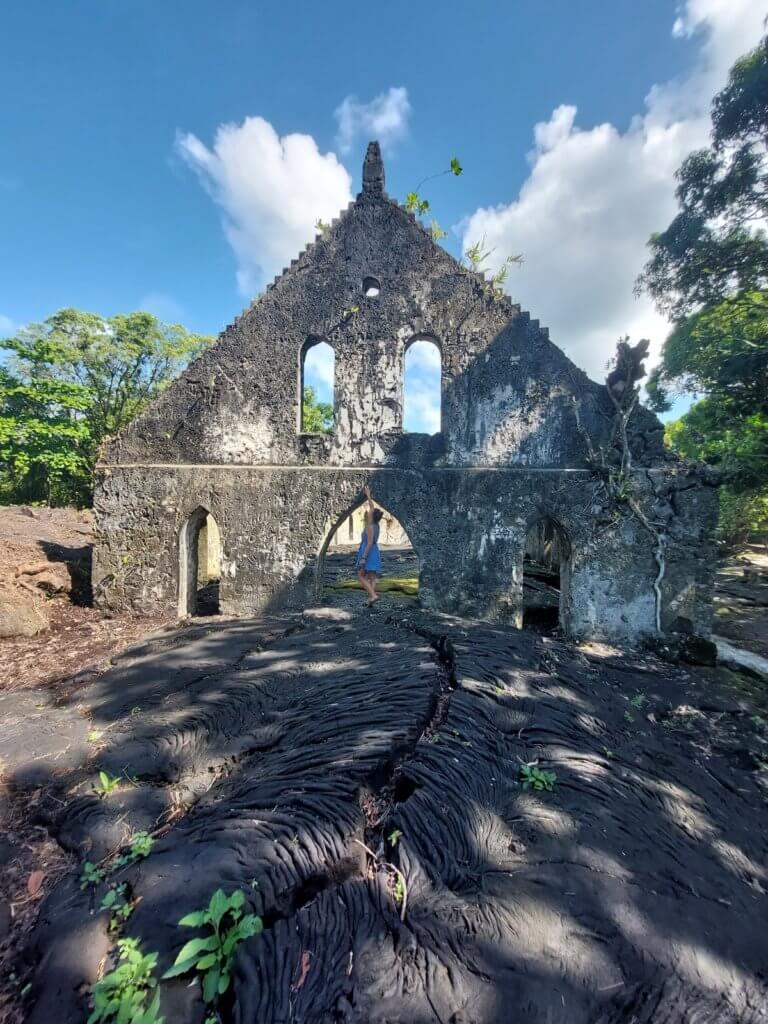 On this day after delicious breakfast at Regina beach fale, we hitchhiked all the way to Falealupo beach fale (80 tala per person per night) which is known for its breath-taking sunsets. We loved the place, its white sand beach, palm trees and peaceful vibes.
However, we didn´t enjoy the food over there as much as in the previous fales. Moreover, I missed the human aspect of the stay. Richard and Liano went above and beyond in previous fales, here I felt like a typical tourist in kind of resort separated from outside world by huge stone brick wall. We stayed here only one night and enjoyed the breath-taking sunset.
Falealupo beach fale contact:
Phone: +6857747420, FB page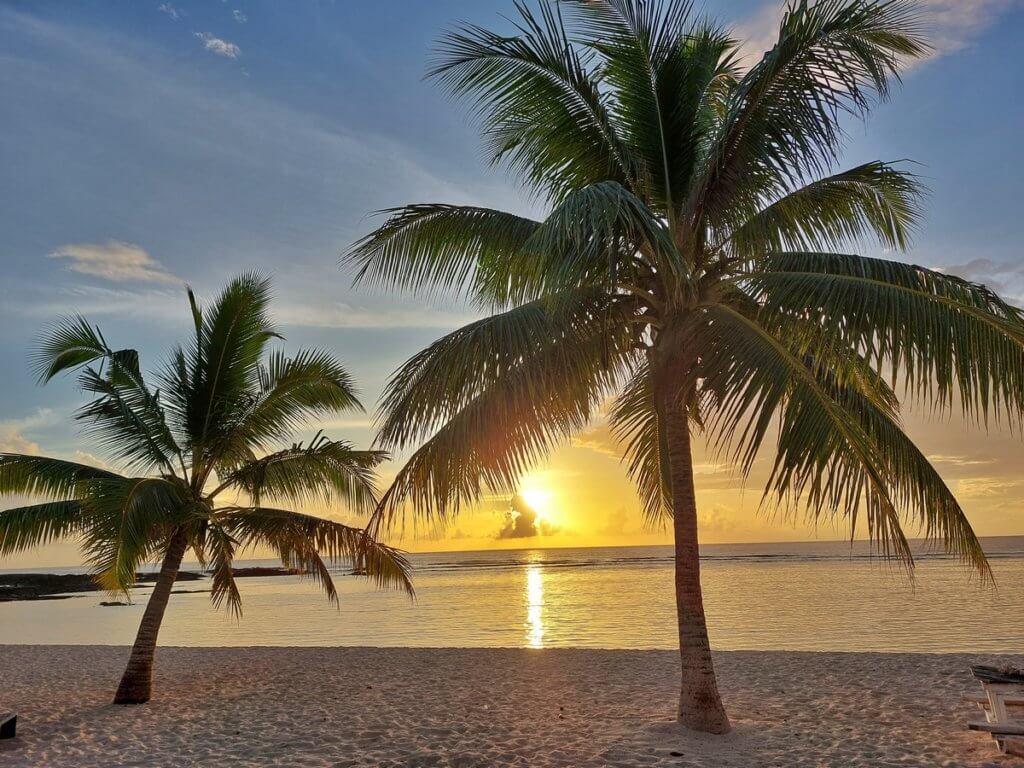 After early breakfast we hitchhiked all the way to the other side of the island towards Satuiatua beach fale (80 tala per person per night) and I must say this one was probably our least favourite one on Savaii because of its shady setting. The fales were in the shade, under the trees, it felt pretty dark and not as clean and nice as the others. However, the dinner and breakfast were spectacular. We decided to stay here only one night.
During the day we were lucky enough to meet Senio (while hitchhiking) who spent the whole day with us and took us to beautiful places such as Alofaaga Blowholes and Afu Aau waterfalls (both places require small 10 tala fee per person). Senio also took us to the house of his family, opened heaps of coconuts for us and introduced us to his family. What a lovely local experience!
Satuiatua beach fale contact:
Phone: +6858464119, FB page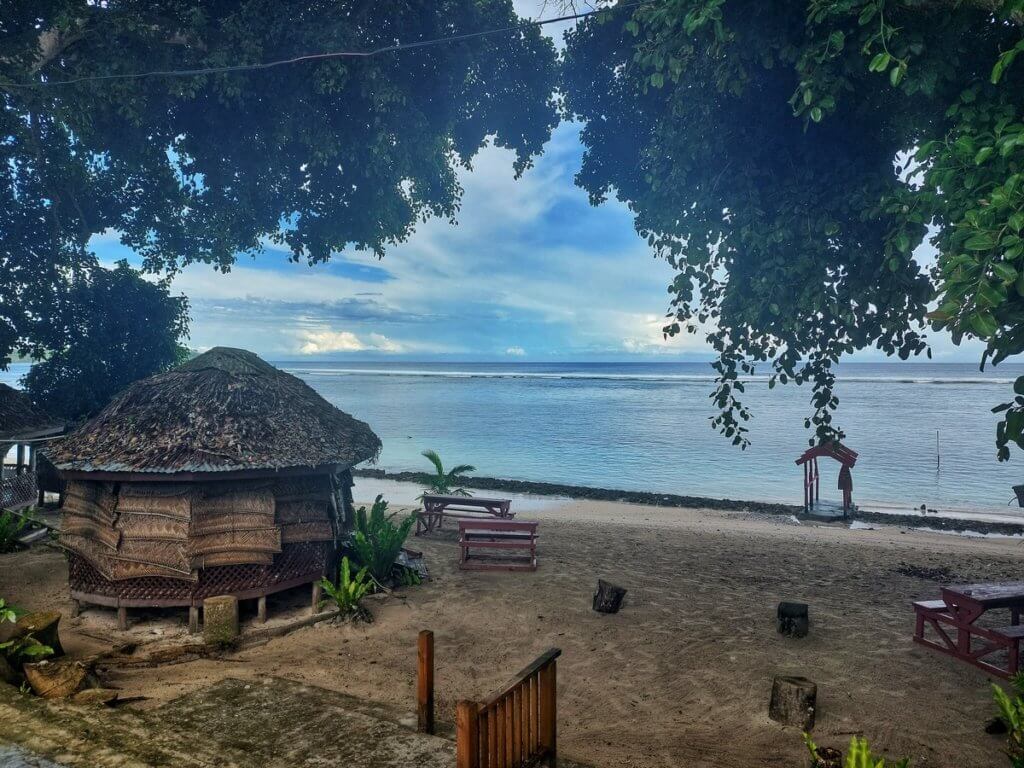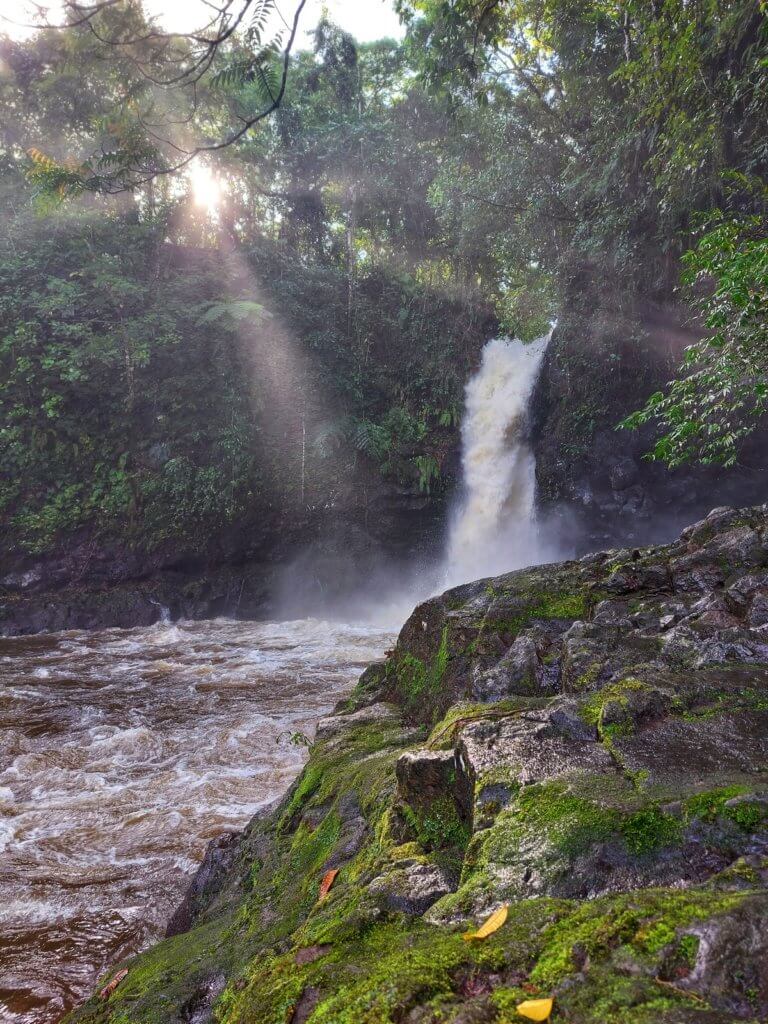 Day n. 6 – Vaiula Beach fale (Upolu)
Today after delicious pancakes we decided to take our first Samoan bus for 5 tala that took us all the way to Salelologa to the ferry terminal. What a fast ride it was! Full of loud music and lovely people.
From the terminal we took another (this time nicer and bigger) ferry back to Upolu island and within 90 mins and 4 different hitchhiking rides we got to Vaiula Beach fale (90 tala per person per night). We stayed the rest of the day here just chilling, talking to other Czech girls that also stayed at his fale and ended up having some cocktails in a local bar owned by an Aussie guy. This fale was nice, however, one night was enough.
Vaiula beach fale contact:
Phone: +6857792754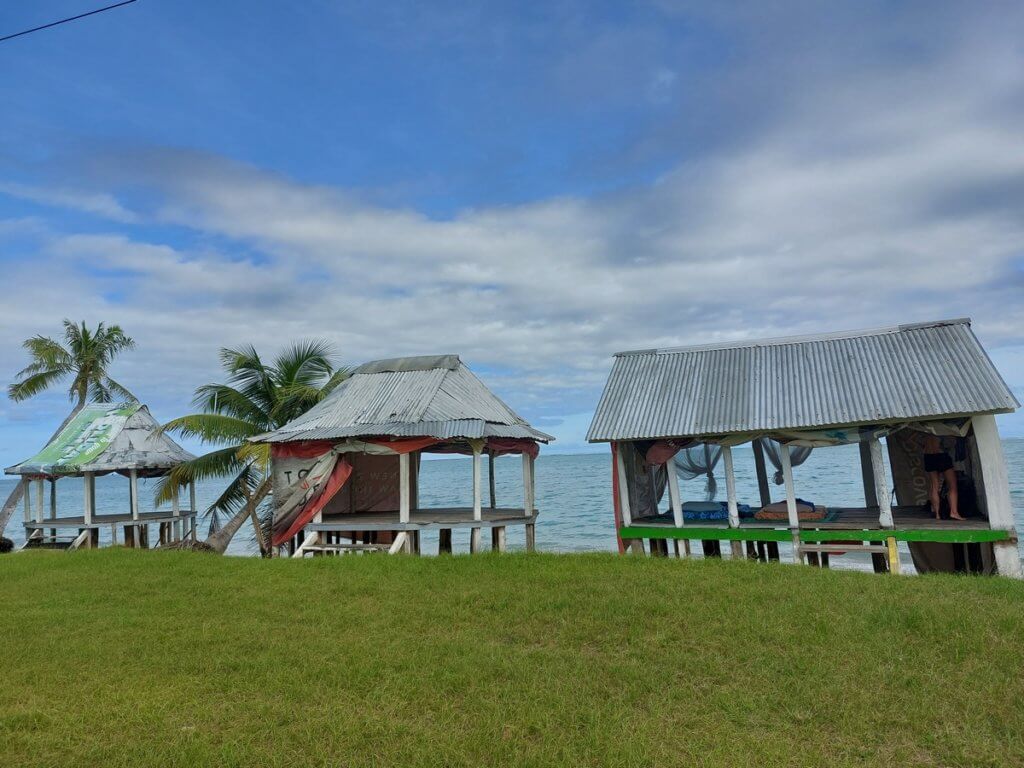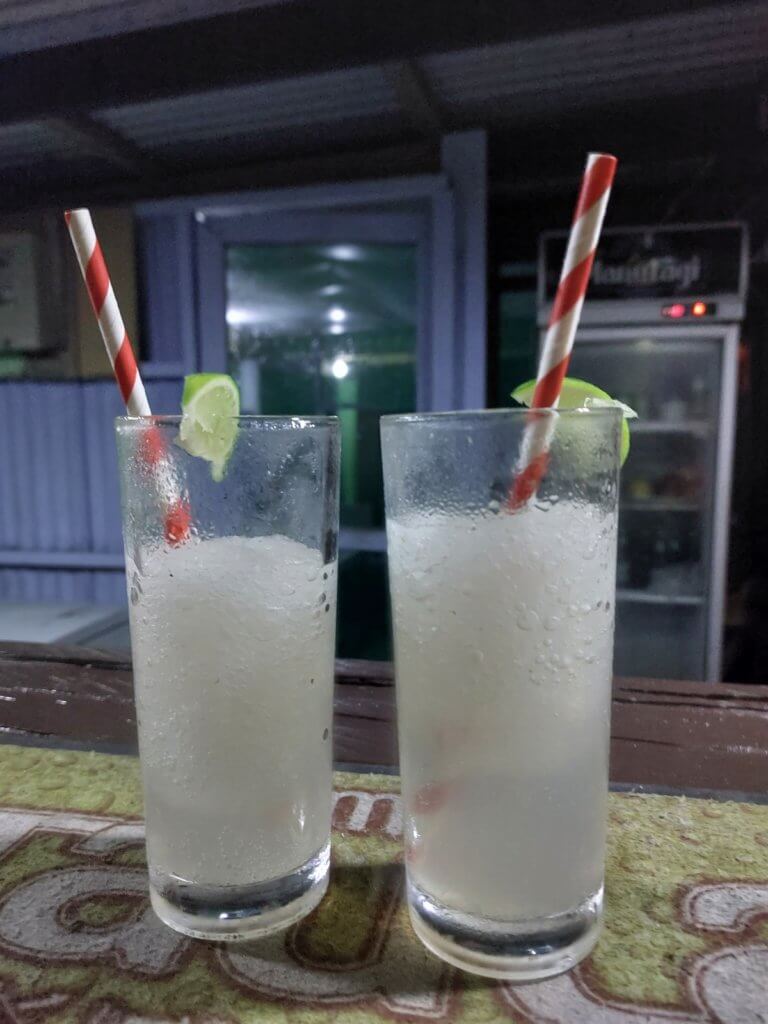 In the morning after breakfast, the Aussie guy took us for a boat trip to close-by Nuusafee (octopus) island for some snorkelling for 50 tala (17euro) each. It was a wonderful half day trip accompanied by his little kiddies who made our day unforgettable. After the boat trip we hitchhiked further towards Faofao beach fale (70 tala per person per night) which belongs to our TOP 3 fale in Samoa. The beach was beautiful, our fale was gorgeous, meals were delicious.
On the way there we also stopped for some swimming at To Sua Ocean Trench – probably the nicest place of whole Samoa. It looked like a typical Mexican cenote, however, without people. Entrance fee was 20 tala (7 euro). Definitely worth the price!
Faofao beach fale contact:
Phone: +6858441067, FB page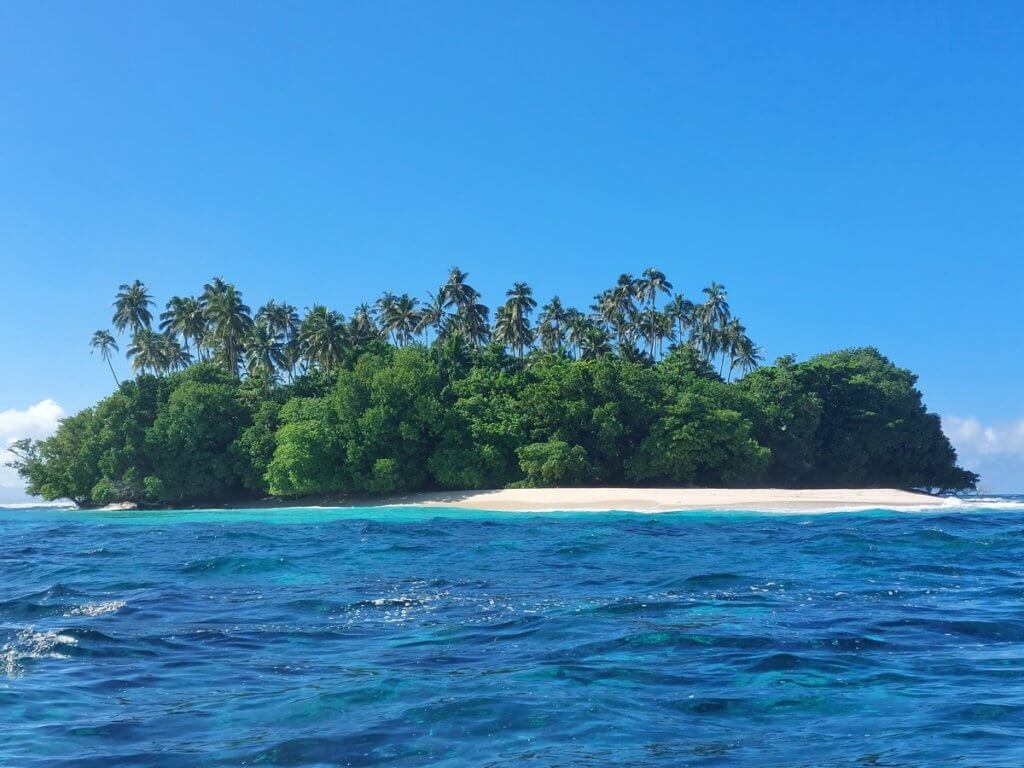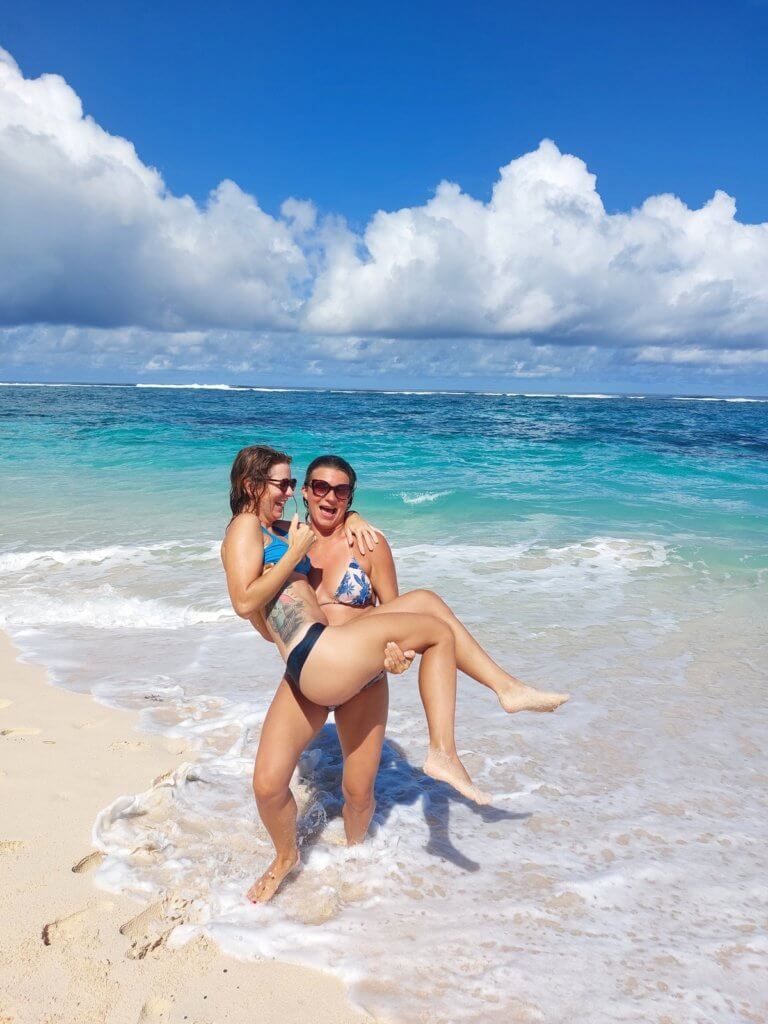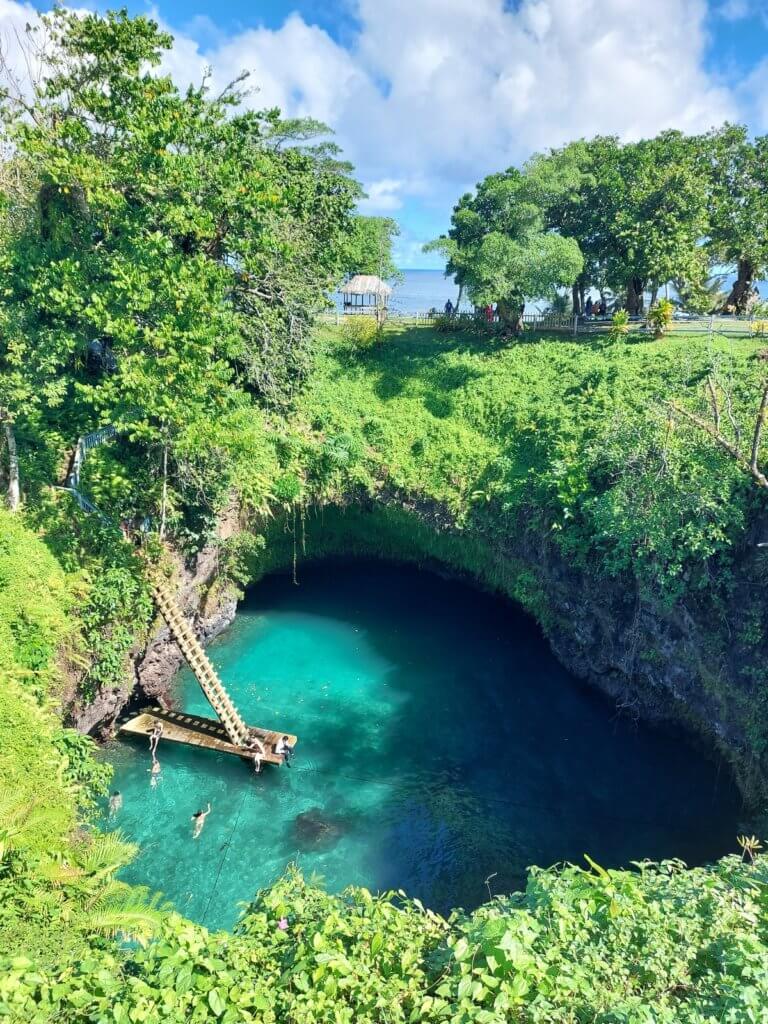 Day n. 8 Faofao Beach fale (Upolu)
After waking up and realizing it was Sunday, we decided that today was the perfect day for sweet nothing-doing. Sunday is a very special day for Samoans. It is a day when no one works, everything is closed and everybody goes to the church. Therefore, we followed the crowd and ended up in a small local church for 90 min mass in Samoan language. However, the priest was very welcoming and happy to see us – palagi (white tourists) and we experienced beautiful singing in the church (no translation needed for that).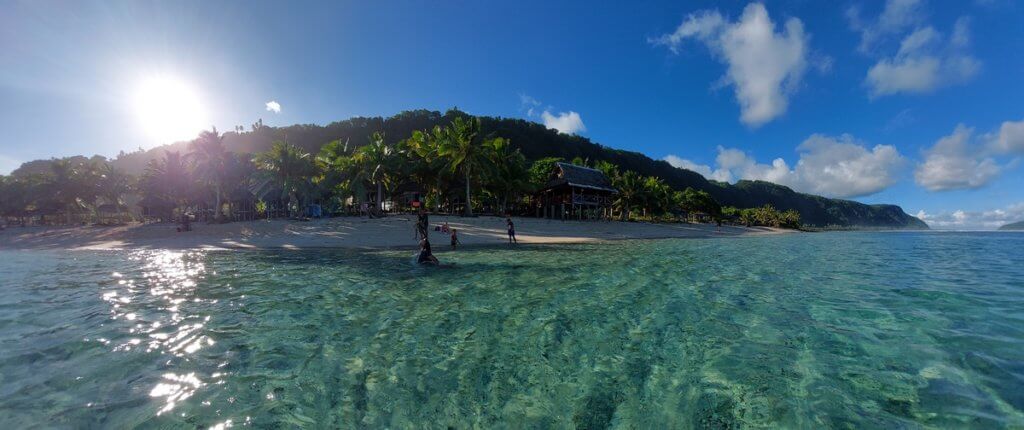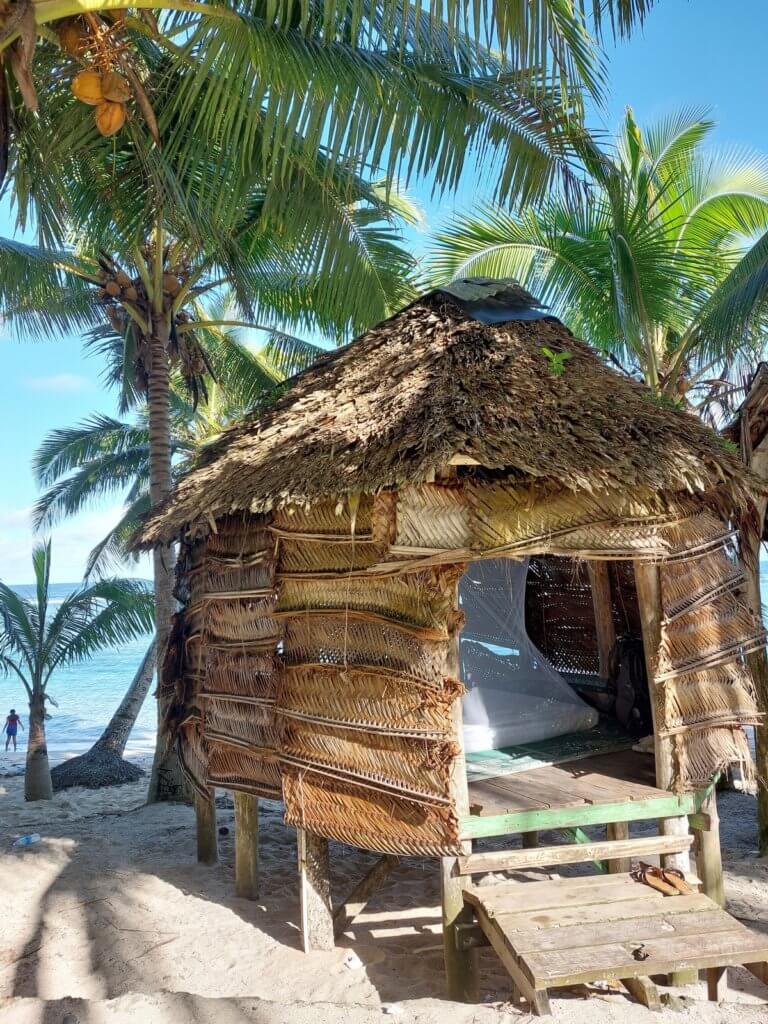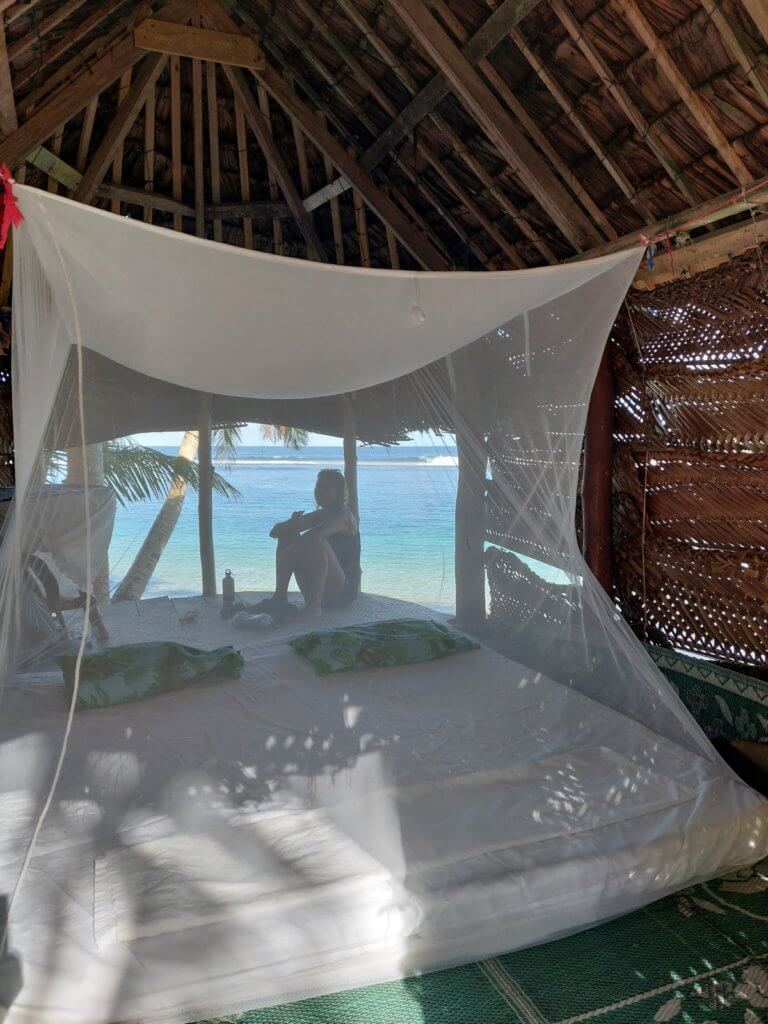 Day n. 9 Faofao Beach fale (Upolu)
In the morning we decided to extend our stay (again!) at Faofao beach fale (as we really liked it and the price/quality ratio was perfect. And we hitchhiked to beautiful Fuipisia waterfalls (20 tala entrance fee) which was surrounded by amazing greenery and peace. We were the only travellers there.
  On the way back, a local priest gave us a ride to his small village Vailoa where we explored a beautiful Methodist church and from where we walked to stunning Lalomanu beach where we spent the rest of the day sunbathing and swimming.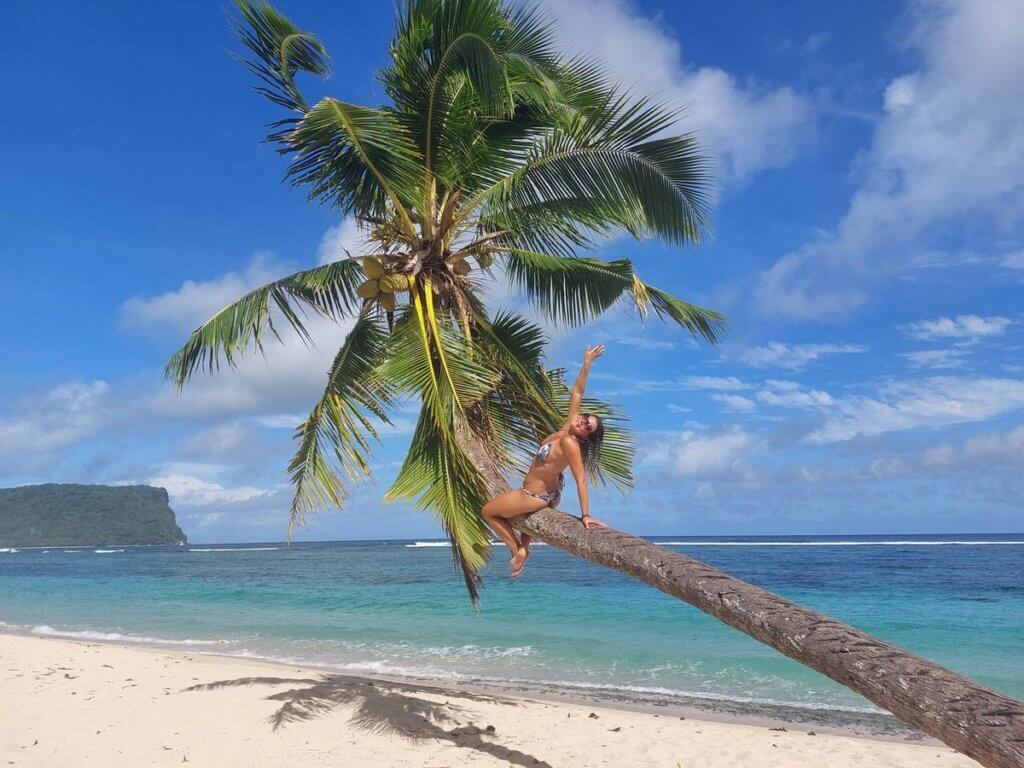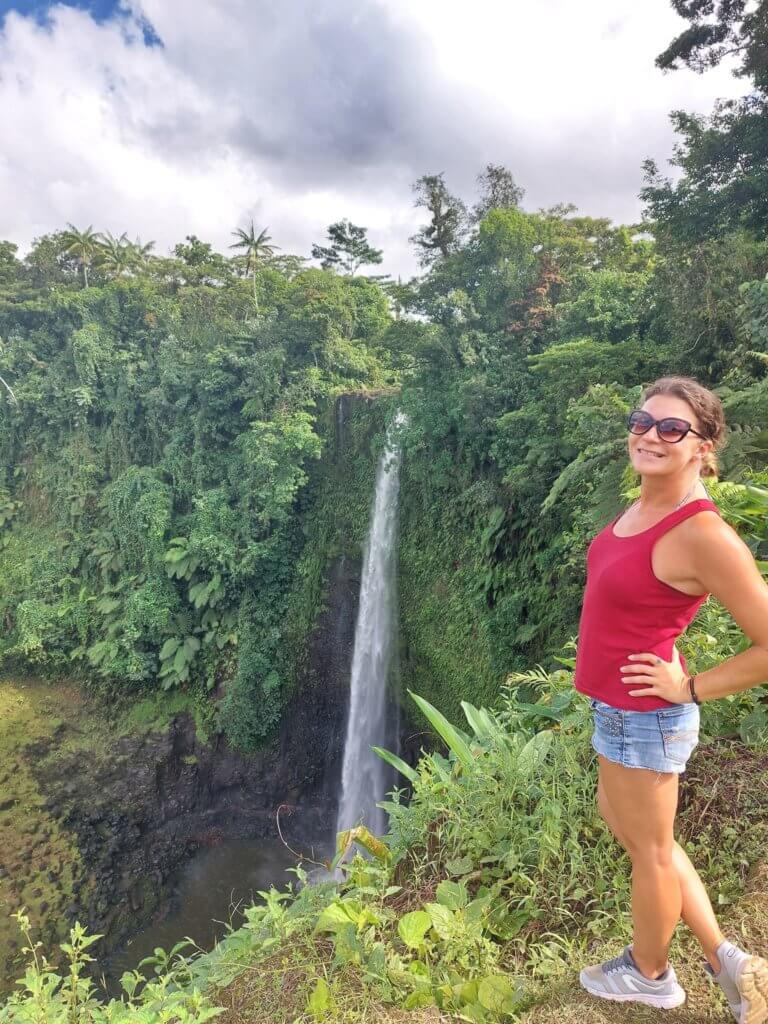 Day n. 10 – Apia (Upolu)
In the morning we packed our stuff and headed towards Apia where we booked one night at Olivias accommodation (€49 per AC room with breakfast included). We spent the day walking around Apia (not much to see honestly) and snorkelling at Palolo Deep Marine Reserve where we rented snorkel equipment of a very low quality. Not recommended as we couldn´t see properly and the water was getting inside of the tube all the time.
However, what I can recommend is to have nice fancy dinner at Paddles Restaurant (reservation recommended) – half Italian and half Samoan restaurant with excellent service and meals.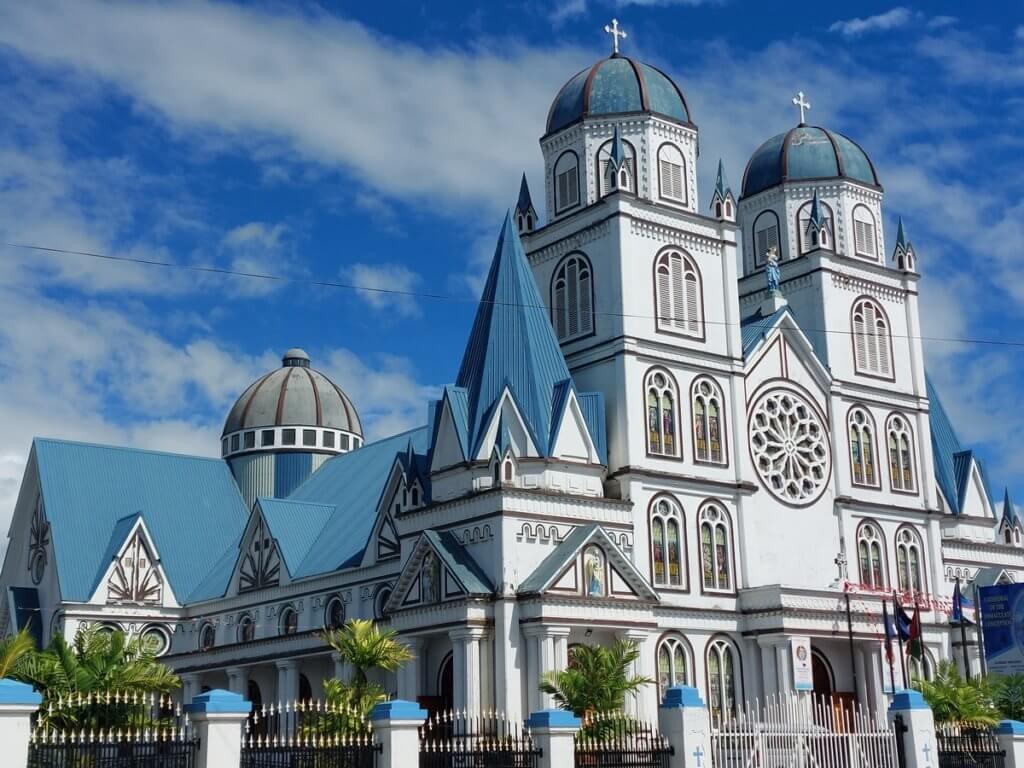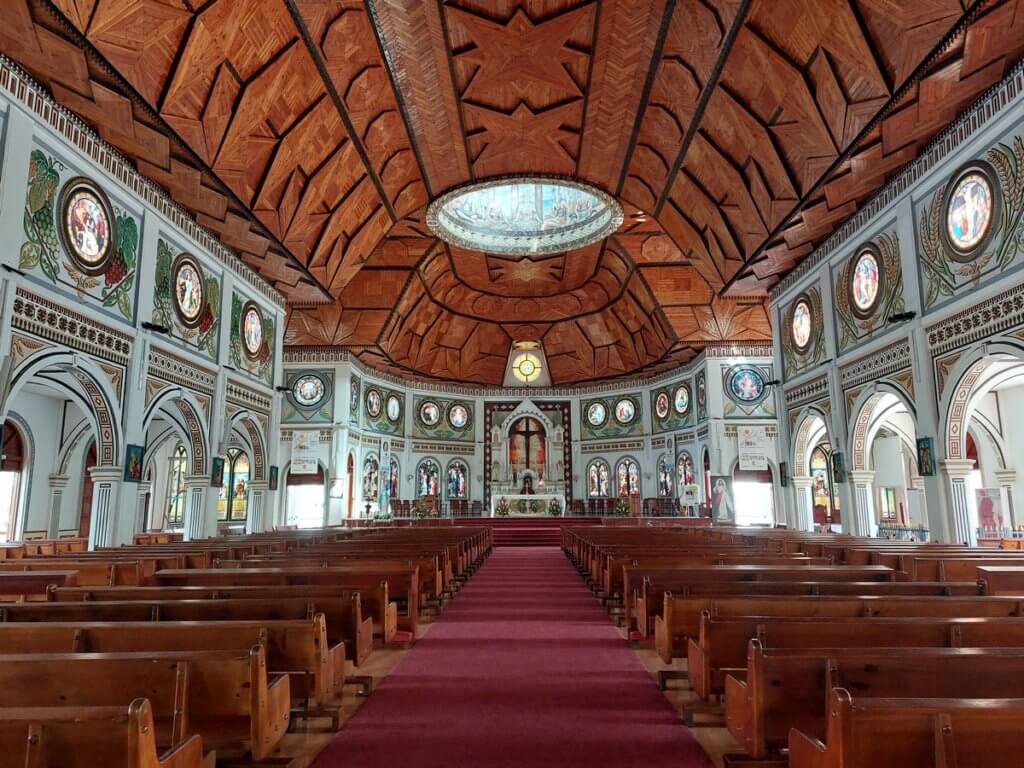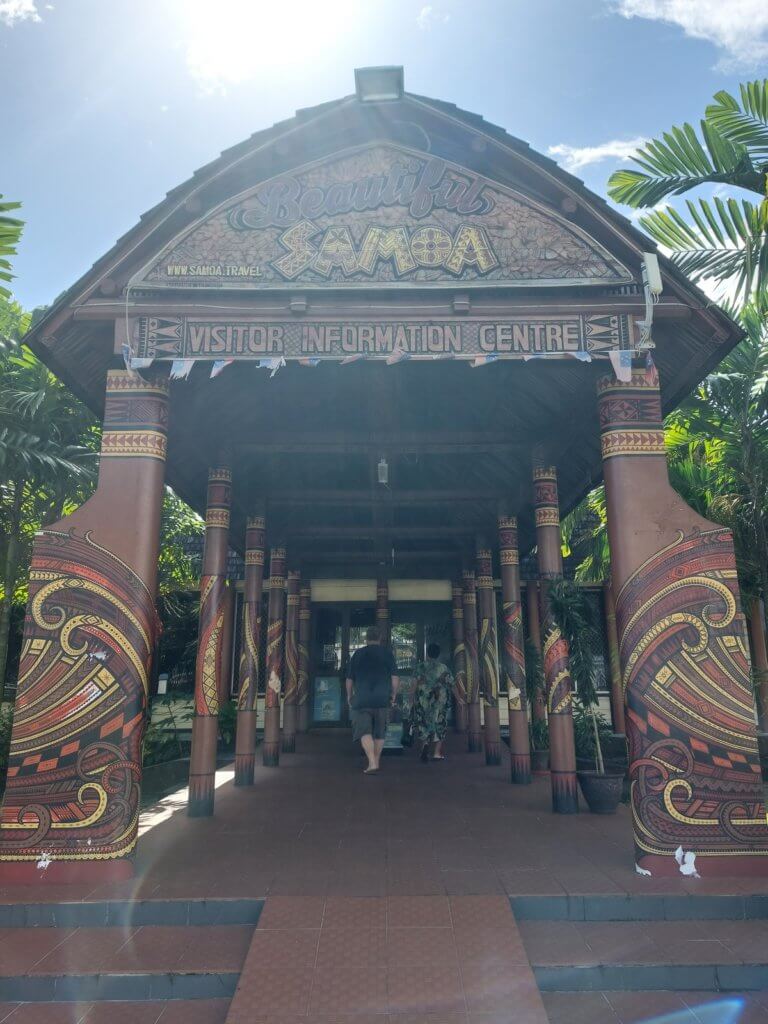 Last day – Apia
On my last day in Apia with my flight at 5pm I decided to attend a Samoan cultural show at Samoa Cultural Village (in the heart of Apia). The entrance was only 10 tala (€3) and it was super cheap considering what this cultural show included. It was actually one of the best cultural shows I have ever experienced. The main moderator Alofa was doing great job entertaining us and explaining us a lot about Samoan culture. We learned how to make our own plate from palm tree leaves, how the Samoan men cook, curve and get painful tattoos. We also experienced incredible singing, dancing and fire show. All in less than 3 hours.
And at the end, a person working in that centre took me all the way to the airport as he was heading there, too. What a cherry on the top of my Samoan vacation!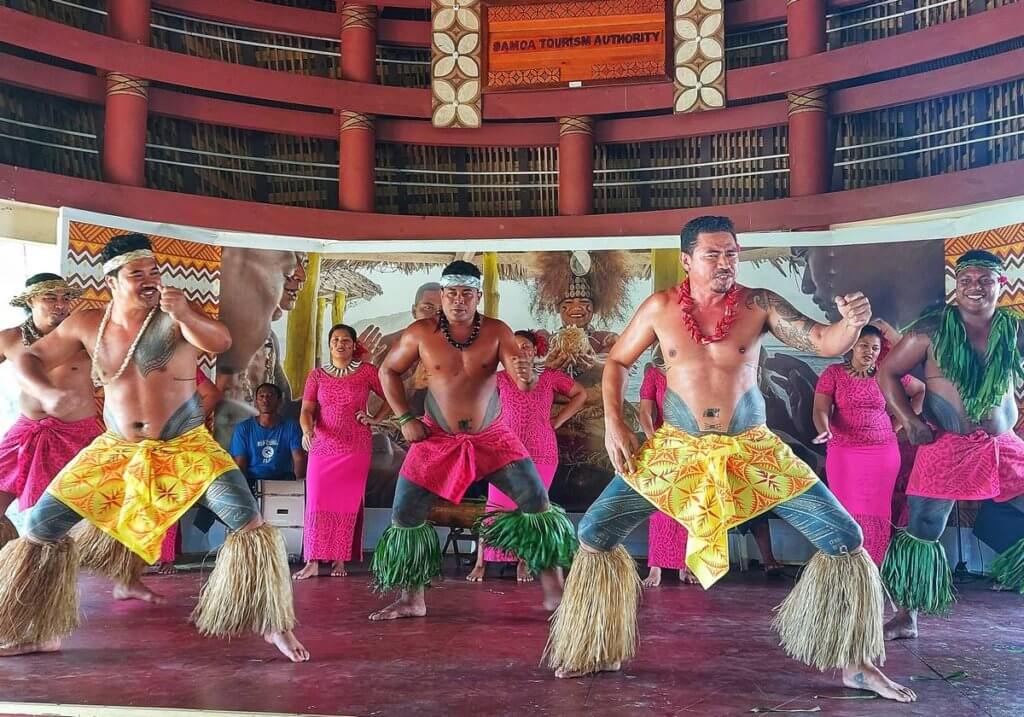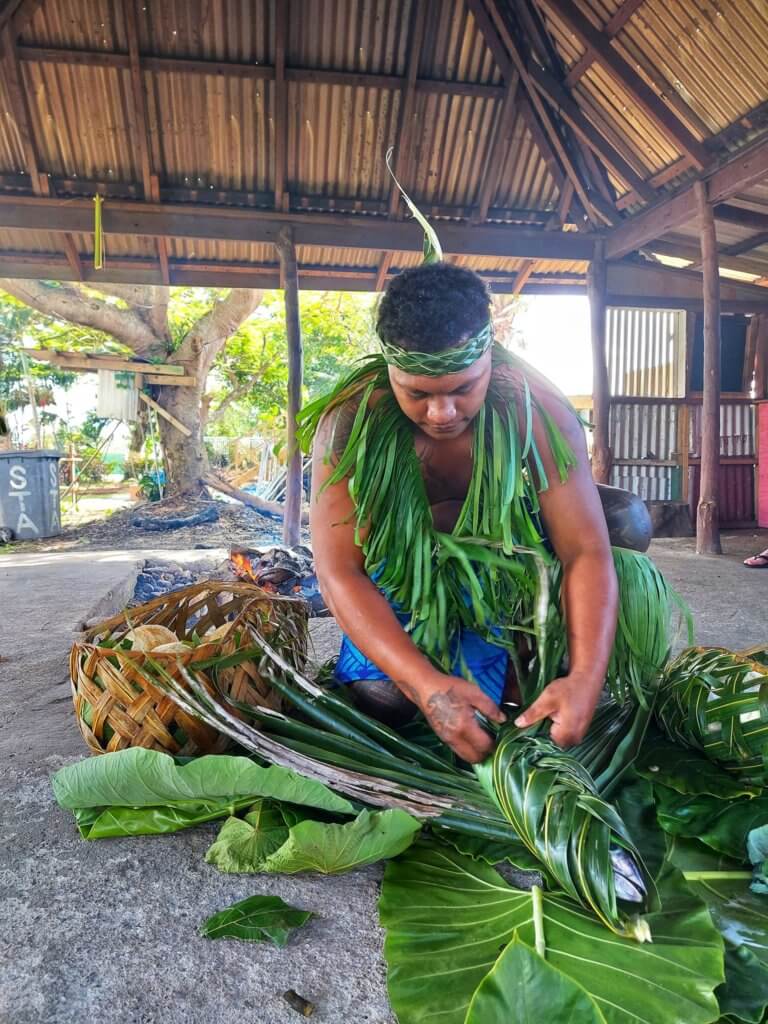 My budget for Samoa
As mentioned above, the price of beach fales varies from 70 to 120 tala/€23 to €40 (our most expensive one was 90 tala) and this price already includes dinner and breakfast. There are some extra expenses for entrance fees to waterfalls, blowholes, beaches (usually varying from 10 to 20 tala).
In 10 days (and 2 extra days for arriving and departing Samoa) I spent €470, making it around €40 average per day.
Our budget would significantly increase if we had rented a car of course, however, besides that, Samoa is a paradise which can be also afforded by people with lower budget.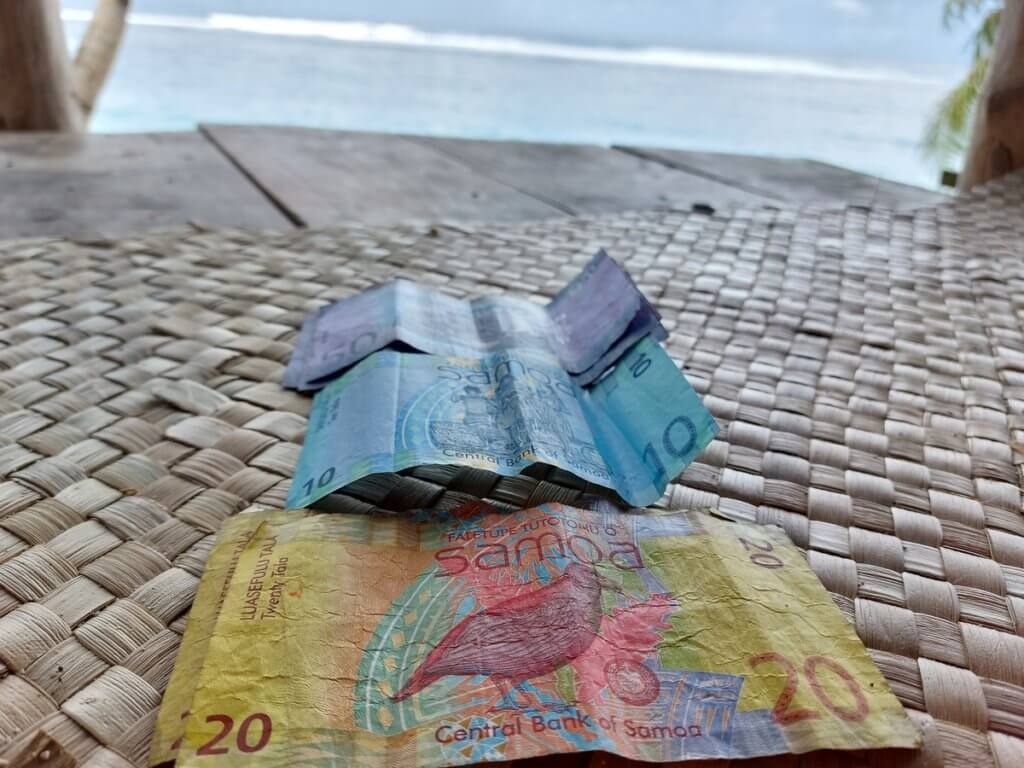 What do you say about Samoa? And its beach fales? Is it something you would like to try and experience on your own? I hope this article has inspired you to give Samoa a chance to experience one of the best holidays of your life.
If you want to receive all articles which I publish, feel free to sign up below.

And if you liked the article and you want to contribute for my future MiliMundo travels (hopefully accident free), don´t hesitate and do it now.
If you are interested in CENTRAL AMERICA – click HERE.In SOUTH AMERICA click HERE.
PS: Looking for great travel insurance with great prices for your future travels? Insurance which you can book even when your journey has already started? Have a look at The True Traveller. I am more than happy with them.

Please follow and like us: